Blog

1 min
Strain Review: Pineapple Chunk
1 min
Pineapple Chunk is one of Amsterdam's favourite indica strains, bringing together world class genetics into potent and sumptuously exotic experience.
If you have ever been to Amsterdam, then you may have come across a small yet bustling coffeeshop known as Barney's Farm. They have a reputation for producing some of the finest marijuana around, and are consistently winning awards at the Cannabis Cup. Pineapple Chunk is a strain of theirs that doesn't deviate from the trend, having won Best Indica during the 2009 Cannabis Cup. It has built a name as an all-star strain, brining quality and great taste to the table.
THE PINEAPPLE CHUNK EXPERIENCE
Straight away Pineapple Chunk struck us with its pungent earthy aroma and taste, both of which ride on a tasty pineapple wave of an undertone. Being heavily indica dominant, it induced an extremely potent body stone, easing us down into relaxation. Due to the sheer strength of Pineapple Chunk (you are looking at 25% THC), it is easy to become couch-locked, so novice smokers should approach with a little bit of caution. None the less, Pineapple Chunk makes for a great end of day experience, either by yourself in front of the TV, or sitting in the garden with friends.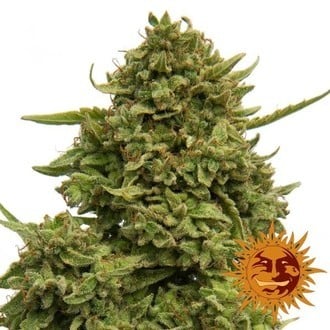 View
THE MEDICAL POTENTIAL
If you are more interested in the medicinal potential of Pineapple Chunk, you are unlikely to be disappointed. There are other strains out there with a much more balanced THC/CBD ratio – but Pineapple Chunk can certainly offer a degree of relief. It has a CBD content of 1.1%, which is fairly strong for a strain that has not been specifically grown for medical purposes. As a result, the Pineapple Chunk is anecdotally reported to offer decent pain and stress relieving qualities.
PINEAPPLE CHUNK IN THE GROW ROOM
In the grow room, we found Pineapple Chunk to be a fierce and vigorous grower, but despite this, only really reaching up to 80cm in height. Don't let this fool you though, although short, its energy seems to be redirected into producing copious amounts of bud (up to 650g/m²). In addition to this, Pineapple Chunk is extremely resilient to mould and pest infestations, is novice friendly, and has a flowering time of just 57-63 days – making it a grow room superstar.
CONCLUSION
On the whole, if you are looking for an exotic twist to the indica experience, you can't really go wrong with Pineapple Chunk. It has the power, taste, aroma, and grow room traits you would expect of an award winning strain, and is sure to please novice and veteran alike.