Blog

4 min
Product Review: Arizer Solo

4 min
At the time of its release, the Arizer Solo was hailed as one of the best portable vaporizers around. We take a look back at it and see how it has stood the test of time.
The Arizer Solo is one of the most recognisable and well-known vaporizers on the market to date. Upon its release, it made waves through the cannabis community for its combination of quality and affordability, making vaporizing much more accessible. Today, it is still going strong, with a loyal following of fans; so we take a look a little deeper, to see how great it really is.
SIZE
One of the Solo's draws is that not only can it vaporize weed; it can do it with a small stature. The vaporizer is about as tall as a soda can but narrower. Its size, combined with its cylindrical design, allow it to sit snugly in the hand. It also has a very reassuring weight (230g), producing a feel of quality. Without its mouthpiece inserted, it is a size and weight that lend well to easy storage and transportation, making it great for traveling, taking over to a friend's house, or storing away discreetly at home.
EASE OF USE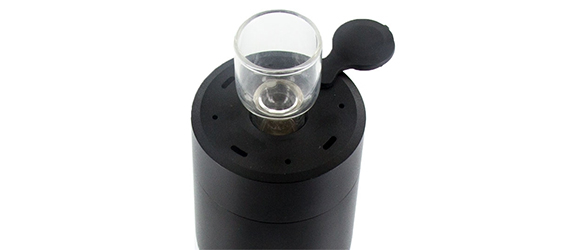 Unlike many other portable vaporizers, your dry herb is actually put into the bottom of the mouthpiece, instead of directly into the heating chamber. The vaporizer then needs to be flipped upside down as you insert the mouthpiece without spilling your herb everywhere.
In terms of functionality, the Arizer Solo is extremely easy to use. The vaporizer is turned on by holding down both of its buttons down at the same time for a few seconds. Once switched on, the light display on the front lights up to show you the current battery status. Each one of these lights also defines a temperature present, ranging from 1 to 7. By using the up and down button it is possible to select a temperature setting for the Solo. As it gets hotter, the temperature lights turn on one by one, showing you where the current temperature level is. I personally found the heat settings of 4-5 the most preferable.
Once the lights reach your set temperature level, the vape is ready to use. This takes roughly 1-2 minutes. However, I found it was a good idea to leave the vape for an additional minute after it heats up before drawing on it. This gives the weed ample time to heat up, and results in a much denser cloud of vape from the first draw.
The Arizer Solo has an automatic shut off timer that powers down the vaporizer after 12 minutes. This is normally long enough for a session, but if it's not, it is simply a case of holding down both buttons to turn it back on and resuming. You do not have to wait for these 12 minutes to pass, though; holding down both buttons while it is one will shut down the vape should you be done early.
BUILD QUALITY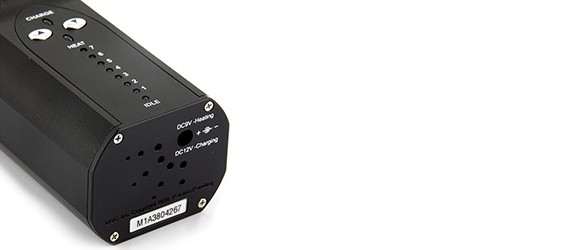 There is a reason the Arizer Solo feels so weighty in the hand; its outer shell is made from sandblasted anodised aluminium, giving it a strong and protective casing. The glass mouthpieces are also custom made for the vaporizer, ensuring a clean and clear vapour path. The whole unit is assembled in Canada, using high-end components. It all comes together into a vaporizer that has obviously been designed with quality and reliability in mind – it is one of the reasons it has gained such a popular reputation since its release.
In terms of looks, the Solo is nothing particularly special. It looks like a battery pack, or some kind of generic electronic device. It is certainly not sleek like some of the more modern vaporizers, but at the end of the day, it doesn't really matter. It is small and well built, allowing it to be sorted and transported with relative ease – which is what portable vaporizers are about.
VAPOUR QUALITY
Vapour quality is one of the most important aspects of a portable vaporizer, and the Arizer Solo doesn't disappoint. Its long glass vapour path ensures vapour is cool and crisp, and the patented hybrid convection/conduction heating element produces cloud after cloud of dense vape. For such an affordable vape, it is remarkable. It is, once again, easy to understand why the Solo has been so popular. I did note that the herb chamber in the mouthpiece is quite small, so if you pack it tightly, it can cause quite a lot of draw resistance. However, this doesn't take away from the actual vapour quality.
BATTERY LIFE AND CHARGING
The Arizer Solo's battery, in today's market, is nothing particularly remarkable, but neither is it bad. On average, I managed to get 1:30 hours of continuous use (roughly eight 12 minute sessions) before it needed recharging. This sits around the middle of the market for battery life, allowing the Solo to still compete against newer models. Unfortunately, the Solo doesn't have a charging bypass mechanism, meaning it cannot be used while charging. However, as you get a good read of the battery every time you turn it on, it is easy to avoid a juice failure mid-session.
PRICE
The Arizer Solo comes in at a roughly €170, putting it at the mid to lower end of the vape market in terms of price. It makes the Solo extremely affordable, and an excellent entry model for those taking the first step into vaping. Considering the quality on offer, it is an excellent price.
ADDITIONAL OBSERVATIONS
In addition to the glass mouthpiece, the Arizer Solo also comes with a glass aromatherapy bowl. This can be put into the heat chamber to vaporize aromatic oils and help spread the vapour around a room. It is not intended for use with bud, but for setting the scene in more spiritual or relaxing practices. The oils never actually come into contact with the heating element, allowing them to slow heat and disperse in a room.
CONCLUSION
The Arizer Solo may be old, but it still holds up to the test of time. It doesn't have the many fancy bells and whistles that some of the sleeker and modern portable vaporizers have, but it still competes with its exceptional build quality, vapour production and affordability. It is the ideal choice for novices, or anyone wanting a cheap, reliable portable vaporizer to add to their collection. The Arizer Solo has secured its place as one of the top vaporizers around, and it isn't going anywhere.
Written by: Josh
Writer, psychonaut and cannabis aficionado, Josh is Zamnesia's in-house expert. He spends his days nestled out in the countryside, delving into the hidden depths of all things psychoactive in nature.

Find out about our writers
---