A highly respected name throughout the Dutch cannabis scene, Vision Seeds has been breeding and refining an established line of genetics for over fifteen years. With a fantastic selection of strains suitable for indoor and outdoor growers, the seed bank has built an outstanding reputation over a relatively short period.
Considering the competitive nature of the Dutch cannabis industry, the success experienced by Vision Seeds is an outstanding achievement, and a testament to the quality of their cannabis seeds.
The Story Behind Vision Seeds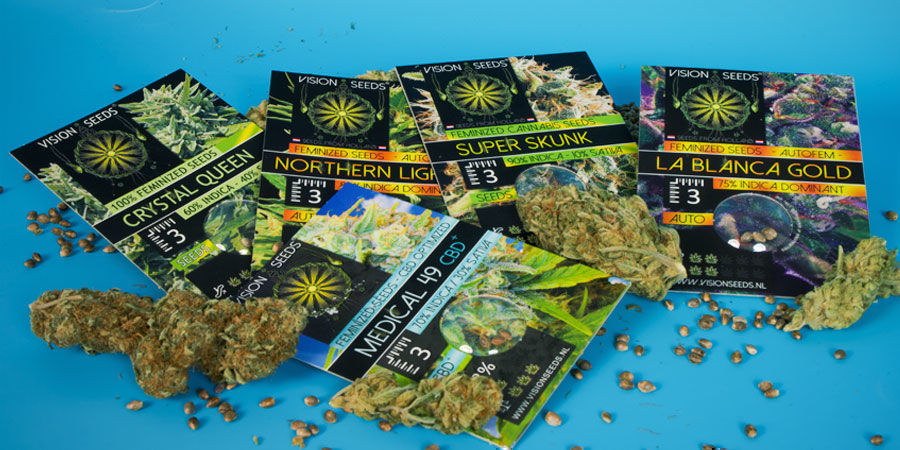 Vision Seeds is, in fact, the vision of one man, Danny B. Over fifteen years ago, Danny decided to take his passion for growing cannabis one step further, establishing a catalogue of high-quality strains. Over time, that range has grown to include dozens of feminized seeds, each offering something unique.
After several years as a solo act, Danny B added legendary cultivator Herbal Harald to the Vision Seeds roster. Together, the two worked tirelessly to select and cross only the best phenotypes. Vision Seeds isn't just about offering a selection of the finest Dutch genetics, but also developing new and exciting variants.
The pair's hard work and dedication paid off, with Vision Seeds officially releasing its completed lineup of feminized seeds at Cannafest 2010. Vision Seeds' influence has since spread far and wide, thanks to a killer seed catalogue and an innate passion for cannabis. While they will never forget their Dutch roots, Vision Seeds now has global appeal, and rightly so!
Vision Seeds is a Dutch seed bank that ships a wide selection of feminized cannabis seeds worldwide. They made their debut at Cannafest 2010 and continue to develop a catalogue of high-quality cannabis seeds.
Vision Seeds: Available as Feminized Seeds Only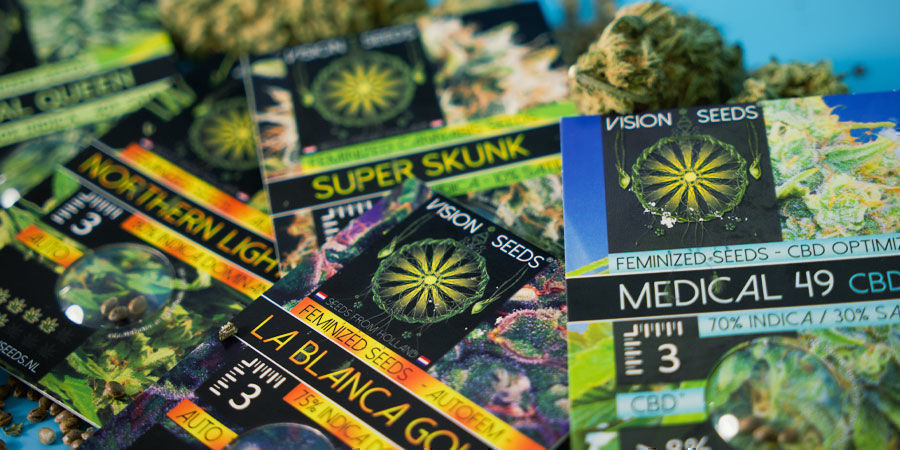 If you're looking to grow cannabis for abundant flowers and dense trichomes, feminized seeds are the way to go. Not only are buds virtually guaranteed, but you don't have to worry about selecting and refining desirable phenotypes like you would with regular seeds. Instead, seed banks like Vision Seeds have done the hard work for you.
Vision Seeds' selection of photoperiod and autoflowering cannabis seeds take the guesswork out of yield, flavour profile, and THC content. Simply pick the cannabis strain that catches your eye, germinate your seeds, and away you go. Whether you're a total novice or an experienced hand, feminized seeds are the simplest way to ensure a successful harvest.
Most Popular Cannabis Seeds by Vision Seeds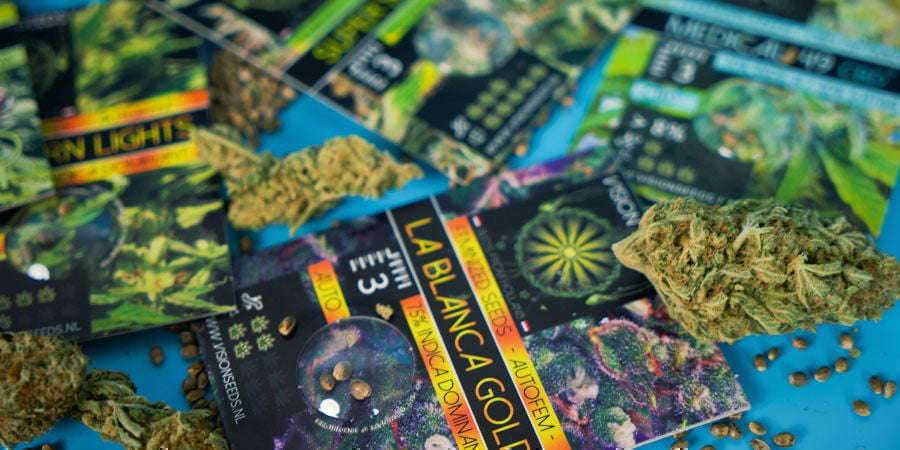 Whether you're looking for a high-THC strain or a mellower experience with CBD, Vision Seeds has a seed for every occasion. But if you're not sure where to start, we've picked three of our favourites.
What are the best cannabis seeds by Vision Seeds?
No matter which strain you choose, all are backed by Vision Seeds' commitment to quality and outstanding genetics. If you're still unsure, try the Zamnesia Seedfinder to narrow down the selection based on desirable attributes.
Super Skunk
Vision Seeds takes their genetics seriously, an approach that's evident with Super Skunk. This indica-dominant strain features genetics from both Skunk #1 and Afghan—plants revered throughout cannabis culture for their outstanding productivity and resilience. Super Skunk inherited massive indoor yields (650–700g/m²), a flowering time of 8–9 weeks, and a THC content of up to 16%.
If you're after a bumper crop, you can't go wrong with Vision Seeds' Super Skunk. But that's not all. Did we mention the smell? This strain is worth growing for its intense Skunk flavour alone!
Jack Herer
Few strains are as synonymous with cannabis culture as Jack Herer, and this variant from Vision Seeds takes quality to new heights. By crossing Skunk #1, Northern Lights #5, and Haze, this sativa-dominant lady grows loud and proud. In fact, you may need to consider the size of your indoor grow space, as she can reach a dizzying 180cm under ideal conditions!
Give this lady the love she deserves, and buds with up to 20% THC will be yours in 9–10 weeks. Don't let the "sativas are harder to grow" stereotype put you off—this is one strain we promise won't disappoint.
Blueberry Bliss Autoflowering
Blueberry Bliss Autoflowering delivers exactly what it says on the tin—an intense blueberry flavour and a blissful high. The addition of ruderalis also makes growing a breeze. No need to worry about switching light schedules; just stick to 18/6 and let nature do the rest.
Another reason for Blueberry Bliss Auto to be on your must-buy list is its versatility. This hybrid strain feels at home indoors, outdoors, in soil, in hydro—pretty much every configuration you can think of. So, the next time you're looking for a jack of all trades, you know what to pick!
How Are Vision Seeds' Cannabis Seeds Packaged?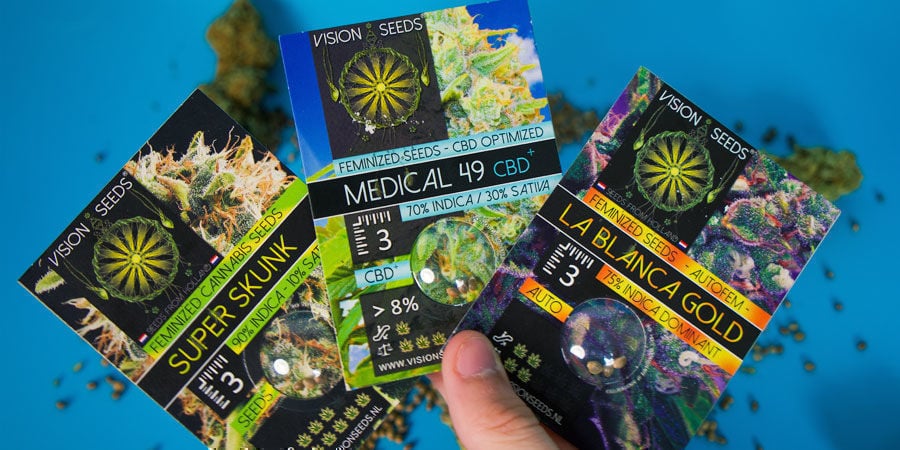 Distinctive packaging is the name of the game for Vision Seeds. From the bold Vision Seeds logo to the cannabis plant backdrop, their packaging style screams "classic". The blister pack keeps seeds protected while offering you a glimpse of what's to come, and the colour indication for auto or photoperiod seeds makes picking a strain super simple.
How are Vision Seeds cannabis seeds packaged?
Packaging is straightforward, with a protective blister pack and a vibrant design. Autoflowering and photoperiod strains are colour-coded, with all the strain's key details visible at a glance.
Vision Seeds: A Pillar of Dutch Cannabis Cultivation
With such a deep-rooted connection to the birthplace of European cannabis culture, it's no surprise Vision Seeds' catalogue features a stellar lineup. From dozens of classic strains to high-CBD variants and everything in between, you can't beat the reliability of their high-quality feminized marijuana seeds.
Whether you're looking to grow something different or stick to tried and true genetics, Vision Seeds is bound to scratch that cannabis cultivation itch. Grab yours from Zamnesia today!
---