Grinders are a vital accessory for any smoker. At Zamnesia, we stock a variety of high-quality grinders capable of milling through any herb. From rustic wooden models to flashy novelty items, we're sure you'll find the perfect weed grinder in our Headshop to add to your collection.
To browse our full collection, check out the subcategories above. For more information on why to use a grinder, how to clean one, and more, keep reading.
What is a cannabis grinder?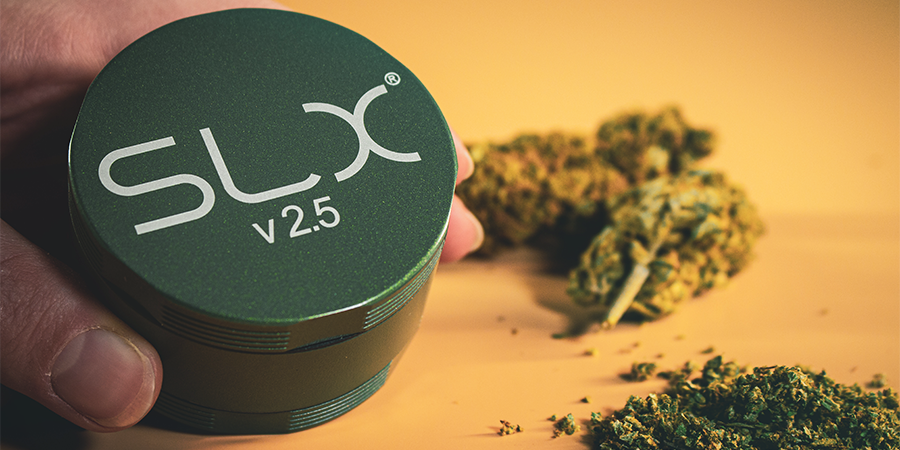 Whether you prefer to smoke, vaporize, or make edibles, a grinder allows you to break up your cannabis flowers before use. With your herb all nicely ground up, you can enjoy a better cannabis experience every time.
Now, not all weed grinders are equal. Just as with bongs, pipes, and other accessories, you can get all kinds of different grinders at different price points. They range from simple and cheap to elaborate, multi-chambered models.
How to use a weed grinder?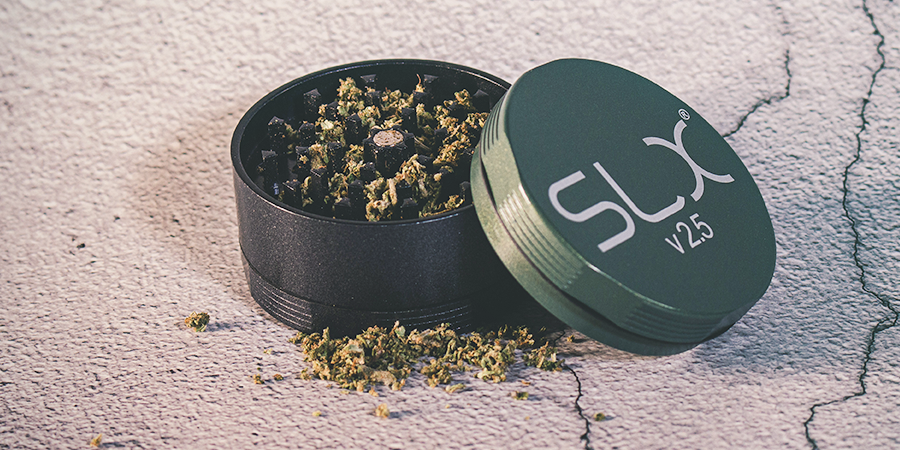 Pretty much all manual weed grinders, no matter how fancy, work by the same general principle. You start by placing some weed in a chamber with spiked teeth on the bottom and the lid. You then close the lid and turn it a few times, rendering the cannabis inside down to smaller pieces. Simple, but effective!
How do I use a dry herb grinder?
Using a dry herb weed grinder is simple. Simply place the weed into the grinder, close it, and twist away until you've ground your herb into fine little bits.
Although this is how a typical weed grinder works, you can also find electric grinders that are handy if you have loads of weed to grind and are not keen on using a manual one all day long (carpal tunnel, anyone?). Other cannabis grinders look like a miniature cheese grater: the so-called "card grinder". These types, however, are not as common.
Benefits of using a weed grinder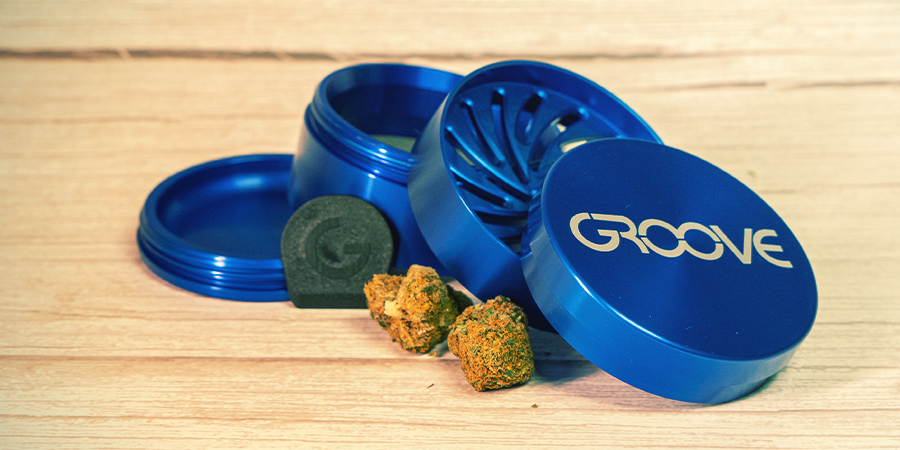 Now that you have a general idea of what a grinder is and how it works, you might be asking yourself, "But why would you want to grind up your weed in the first place?". What makes ground weed so much better? Well, there are some good arguments:
By grinding up your weed, you're increasing the available surface area. This makes it easier for cannabinoids, terpenes, and other compounds to be released from the plant material when smoking, vaping, or making edibles. Said differently, grinding your weed allows you the best access to the good stuff in your weed.
Likewise, grinding your weed will help it burn/vape more evenly. You don't want large chunks of weed in your cookies and brownies, either. For making edibles, finely ground weed will be much better.
Some grinders have a kief sieve. Every time you grind, you will collect and store highly concentrated trichomes at the bottom chamber of the grinder. These multi-chambered grinders are a little more expensive, but totally worth it.
How fine or coarse your weed will be depends on your method of intake and your personal preferences. If you're planning on using a bong or pipe, you'll generally want to leave your weed a little more coarse to avoid sucking any smaller pieces through the bowl.
If you want your weed finer, for instance when making edibles, all you need to do is grind a little longer. This way, you can grind your weed exactly like you want it for the most tailored cannabis experience.
Types of weed grinders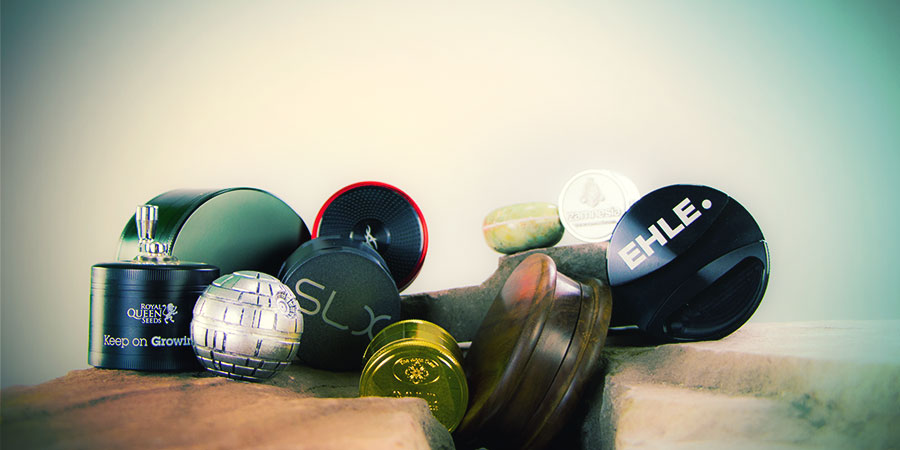 Although most weed grinders work in a similar fashion, they can differ in some important aspects. The main differences between them are the materials they are made of, how many parts they consist of, and whether the grinder is manual or electric. Let's take a look at each of these types and their pros and cons.
Material: what is the cannabis grinder made from?
Material arguably plays the largest role in a weed grinder's quality, as different types are much more efficient at milling than others.
What kind of marijuana grinders are there?
Grinders come in all shapes and sizes, and usually feature 1–4 chambers. In terms of materials, you can get: metal grinders, wooden grinders, plastic grinders, acrylic grinders, and novelty grinders.
Plastic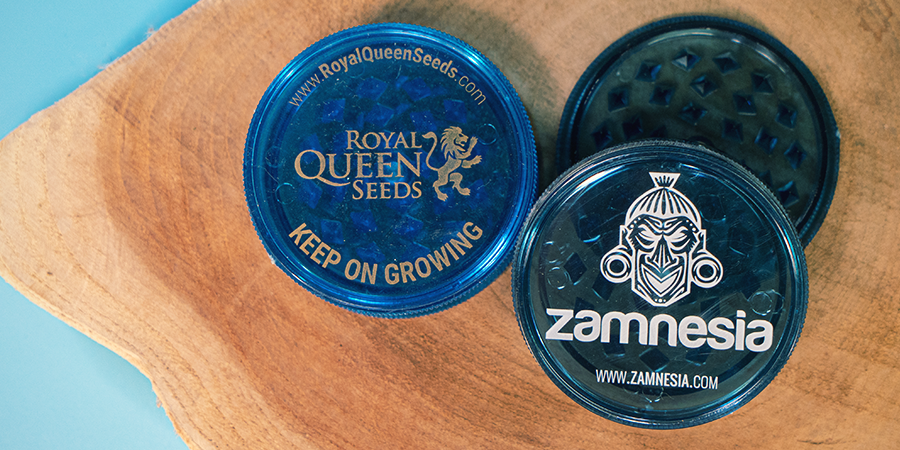 Plastic weed grinders are very common and usually inexpensive. They can do the job just fine, but rarely are they deemed the "best" option. Their biggest advantage is that they are cheap and come in lots of cool colours and designs. But to be honest, this is how far it goes when it comes to their pros. Most of them are made overseas and their quality is more often than not "meh". They can be harder to grind with over time and are at risk of breaking more easily than other kinds.
| | |
| --- | --- |
| Pros | Cons |
| The cheapest grinders | Not very sturdy |
| Colourful/fun | Grinding ability degrades over time |
| | Not suited for tough pieces |
Wood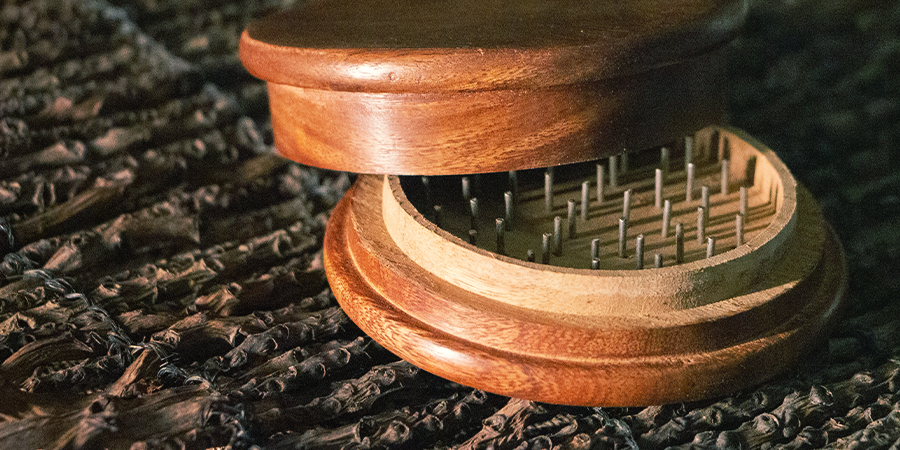 If you ask someone who uses a wooden grinder why they chose it, they will most likely respond with "I like the feel". After that, it would have to be the aesthetic of these pieces. Wooden weed grinders are typically hand-made, which makes them relatively rare. These devices are very often streamlined and don't come with a ton of chambers or extras.
A wooden grinder may look and feel nice, but their performance doesn't match that of a sturdy metal grinder. On the other hand, a wooden one can make a great collectible. And, let's be honest, when have you ever impressed your friends with a cheap plastic grinder?
| | |
| --- | --- |
| Pros | Cons |
| Look & Feel | Not suited for tough jobs |
| Natural | Simple |
| | Difficult to clean |
Metal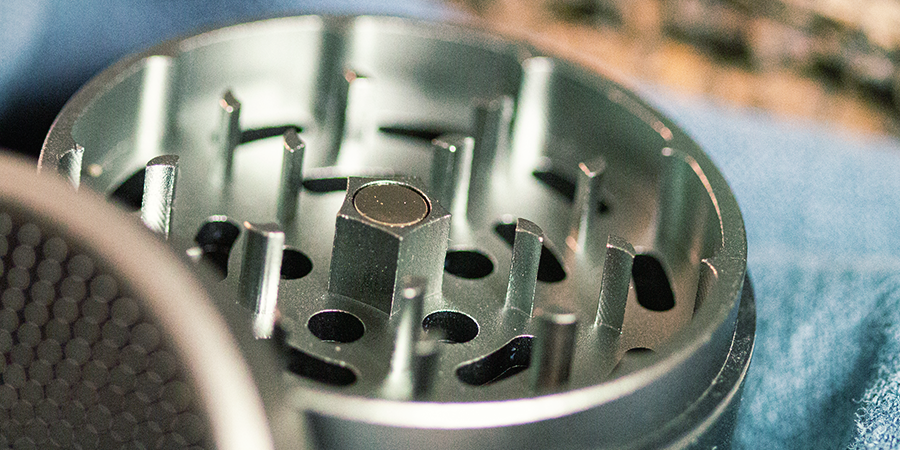 Weed grinders made from metal are arguably the best types. They are sturdy enough to tear through even the densest of nugs. They can last long and don't have the "cheap look" of plastic ones. They feel satisfyingly weighty in the hands, hinting at their grinding prowess. If you're shopping for a metal grinder, know that you will find both aluminium and titanium options. The latter is the sturdiest, but won't come cheap. Most good 3-part and 4-part grinders featuring multiple compartments and kief filters are made from metal.
| | |
| --- | --- |
| Pros | Cons |
| Sturdy | Expensive |
| Will last a long time | |
| Available as 2-part, 3-part, 4-part grinders | |
Number of parts: how many chambers does the grinder have?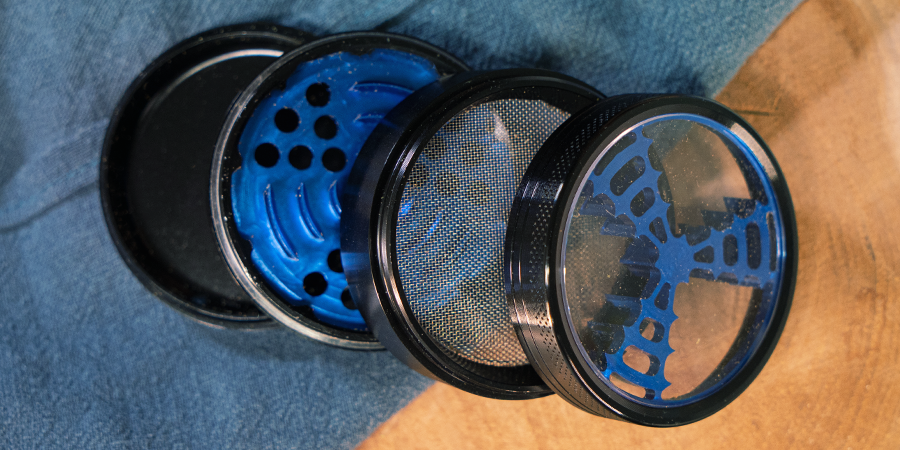 The number of parts a grinder consists of is another important criteria to consider. You will often come across 2, 3, and 4-part grinders:
A 2-part grinder is the simplest type. It has a chamber for your weed and a lid. These are simply used to shred your weed, and can be a bit messy.
A 3-part grinder has two chambers. The main "grinding chamber" has holes at the bottom. As your grind, your bud will fall through the holes into the bottom chamber. Larger pieces will stay in the top part, and you can collect your filtered, ground weed at the bottom. This gives you an overall better grinding result.
A 4-part grinder has 3 separate chambers. The difference to the 3-part grinder above is that it has a kief sieve above an additional chamber at the bottom. With these grinders, you can collect and store the kief separately in the bottom chamber for future use.
Electric vs manual: how is the weed grinder operated?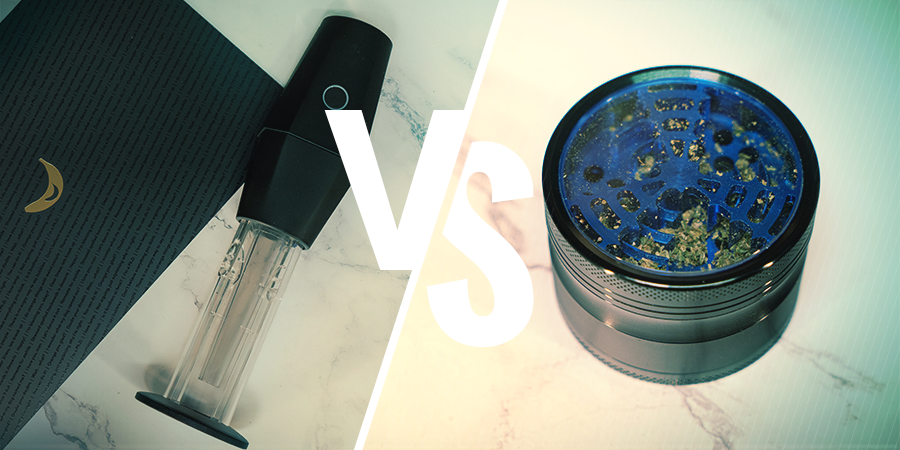 Whether you choose a manual or electric grinder will primarily come down to how much weed you need to grind, and how hard you want to work.
Should I get a manual or electric grinder?
Electric grinders are efficient and grind your weed up very well. However, they are susceptible to malfunction, loss of power, and so on. Manual grinders are simple, robust, and reliable. And, let's face it, grinding up weed isn't a massive effort.
If you're just grinding a few buds every now and then, you may do fine with a simple manual one. On the other hand, you don't want to get sore arms grinding up a huge harvest. In such a case, consider an electric weed grinder.
Most of the time, electric weed grinders are similar to small coffee or herb mills. You fill the grinder with weed, push a button, and a sharp blade will shred it. Nifty!
Common manual grinders require you to turn the lid until your weed is sufficiently milled. This isn't a big deal if you're just grinding up enough for a smoke or two. Some manual weed grinders even come with a crank to make the job easier.
Cannabis grinder size and why it matters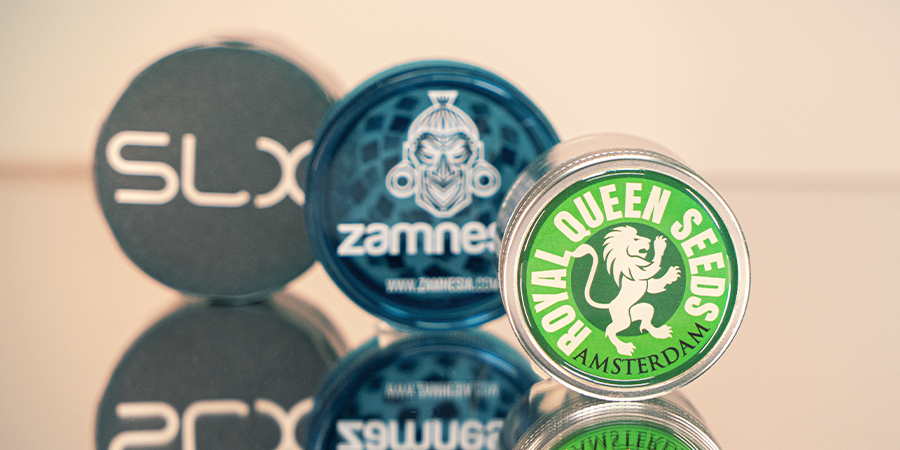 Before you go and get a weed grinder, consider another important factor: size! Typically, they have a diameter of 4–6cm, but there are other sizes beyond that.
If you're often on the go and want something small, portable, and unassuming, a smaller one (e.g. 4cm in diameter) may serve you well. But if you're often grinding batches for smoking at parties, you may want a larger model that can hold more. In this case, go for a medium-sized one 5–6cm in diameter. These will also be good for using at home.
If you're a very heavy smoker and/or you often need to grind large batches of cannabis, you can find XXL grinders with a diameter of 7–8cm.
Cannabis grinder teeth differences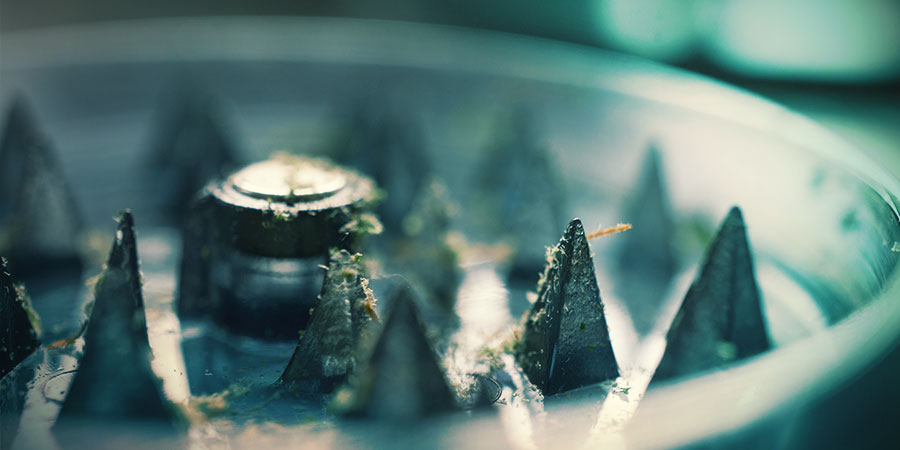 The performance of your weed grinder will largely depend on the shape and material of the teeth. Better grinders have diamond-shaped teeth that do an excellent job shredding your weed. Some older grinders still have peg or nail-style teeth. Instead of really milling it, these "nails" tend to rip and crush weed. The pegs can also be difficult to clean.
The other thing to look for is how many teeth the grinder has. Then again, there is no general recommendation here. Most of the time, how sharp the teeth are and how they are cut will determine the efficacy of the device. Some manufacturers advertise "special cuts" for better performance.
Special features you can find in weed grinders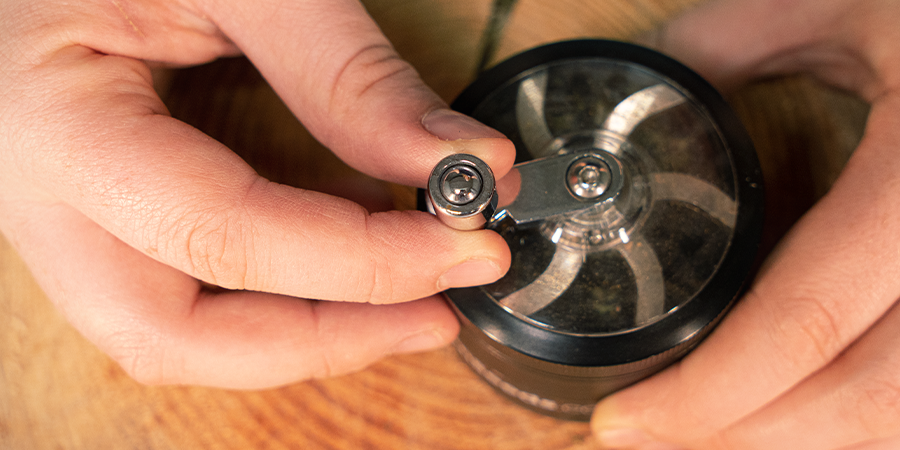 Magnetic closing or airtight seal
Many grinders feature magnets so the lid stays safely on at all times. This isn't just beneficial as you grind; some grinders also serve as storage containers. It can then be advantageous if the grinder also has an airtight seal. No "suspicious" smells will escape!
Transparent tops or view windows
Not really essential, but these can be useful if you want to see your weed as you're grinding along. Practical to reduce your chances of overgrinding.
You can find grinders in all kinds of fun shapes, from Poké Ball grinders to Star Wars BB-8 grinders and everything in between. Some grinders are designed with camouflage in mind. They won't raise suspicion as they look like a toy, battery, lipstick, or some other regular everyday item. And, of course, all these novelty grinders make great stoner gifts!
Best way to clean your cannabis grinder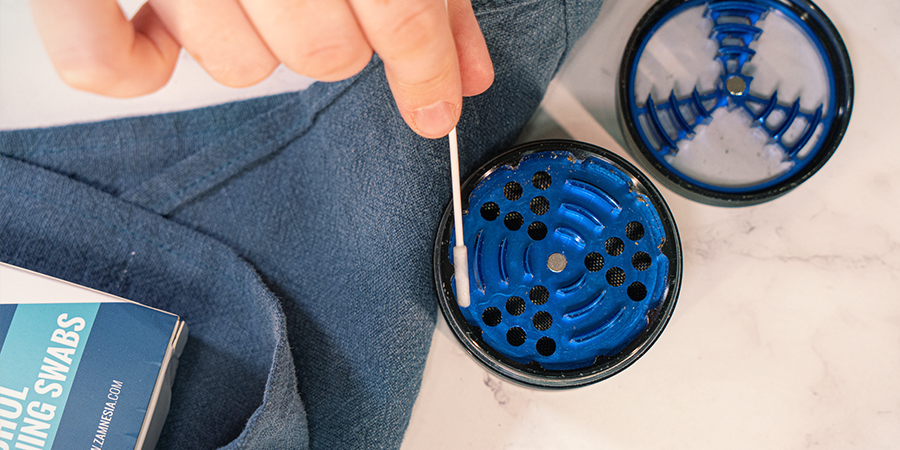 Like most other smoking tools and accessories, your weed grinder will get icky in time. It won't take many uses before it's covered in sticky resin, attracting dirt and bacteria. The accumulated ick won't just hamper your grinder's performance, but will likely spell a premature end for your grinder. It can also be a health hazard if you happen to grind your weed with a dirty, mouldy, and bacteria-laced grinder…
How do I clean my weed grinder?
Clean it often, as this will make things much easier. Using a toothpick or toothbrush, scrape out all the collected resin. Over time, this will severely limit its grinding abilities. If you have a mesh grinder, be careful not to damage it.
Here's the best way to clean your grinder:
Disassemble your grinder and put all the parts on a clean desk or tray.

Using a toothbrush and a toothpick, coarsely clean and scrape the larger grinder pieces. But be careful if your grinder has a fine mesh!

As you go along, if you happen to collect kief that's not old and mouldy, KEEP IT! This is also why you want a tray for cleaning your grinder!

Once you've brushed and scraped, place the grinder parts on a towel.

Use Purilizer Grinder Cleaner and spray all the parts, including the filters.

Wait a minute or two for the cleaner to dissolve the nasty stuff.

Grab the toothbrush again and give all the parts, including the kief filters, a final scrub.

Rinse the parts under warm water.

Put the grinder pieces somewhere to dry.

Reassemble the grinder. It will work like new!
For more tips on how to clean your grinder, see our post about cleaning grinders.
How Do I Grind Weed Without a Cannabis Grinder?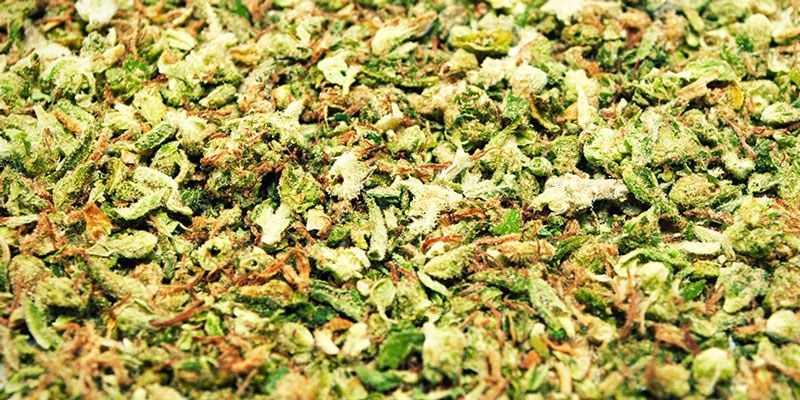 The popularity of weed grinders should indicate that they're far and away the best method to grind weed. Nevertheless, sometimes we find ourselves without one. But that doesn't mean we're helpless. There are plenty of other ways to break up and grind weed without using a purpose-built weed grinder.
Fingers
We've all used our fingers. In most cases, they do the job pretty well, especially if you've got crumbly, bone-dry weed. If you've got the dankest of the dank, though, it can be a little more difficult. In this case, try placing little bits of baking paper between your fingers. This will limit your dexterity, but it'll keep the resin (mostly) off your fingers. Just make sure not to rush it and smoke big chunks, as these will burn ineffectively and compromise the smoking experience.
Sharp Object
Like any other vegetable or herb, you can cut and grind weed using sharp-edged objects. Dry herb can be chopped and crushed with almost anything, such as a credit card or a key. More resinous weed, on the other hand, is likely to benefit from the keen edge of a well-sharpened knife. This last part is key, as a dull blade will simply smoosh the flower and make for a sticky and ineffective process.
Blunt Object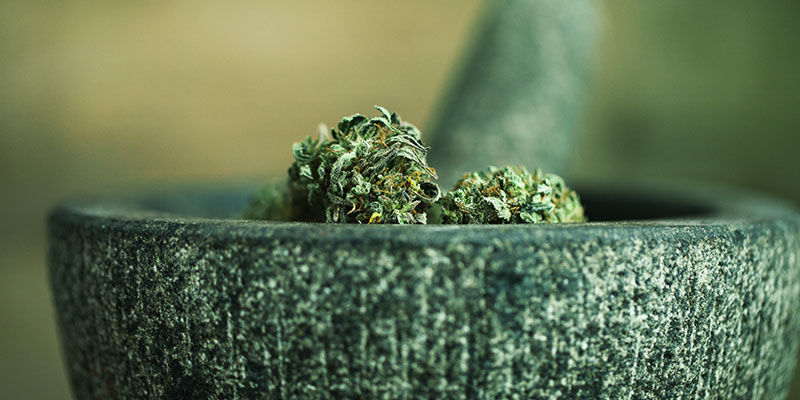 Blunt, heavy objects can be used to grind weed. Although anything appropriate could suffice, your best option in terms of dexterity is going to be a mortar and pestle. With a little patience, a once-whole flower can be carefully ground up into a satisfying pile of tiny bits of weed, just waiting to be smoked. Just be sure to scrape up any kief remaining in the mortar so none of that potency goes to waste.
Container & Coin
You can create your own grinding chamber using a coin and a container. This method is much more suited to herb that's on the drier side. By placing the weed inside a container (anything will do, but something like a metal cigarette tin is perfect) alongside a coin, and shaking it violently, you will grind your weed. It's important not to stuff it too full, else it will all just grind to a halt.
Microplane/Grater
The smaller the plane, the better the grind. Something like a nutmeg grater is perfect. This option gives great consistency, making rolling an absolute pleasure. A sharp grater will make a world of difference here. Sticky weed and blunt edges will just render mushed-up weed blocking the holes. If they're razor-sharp, though, you'll have perfect little bits of weed to play with. Just make sure to watch your fingers when grinding close to the blades!
Coffee Grinder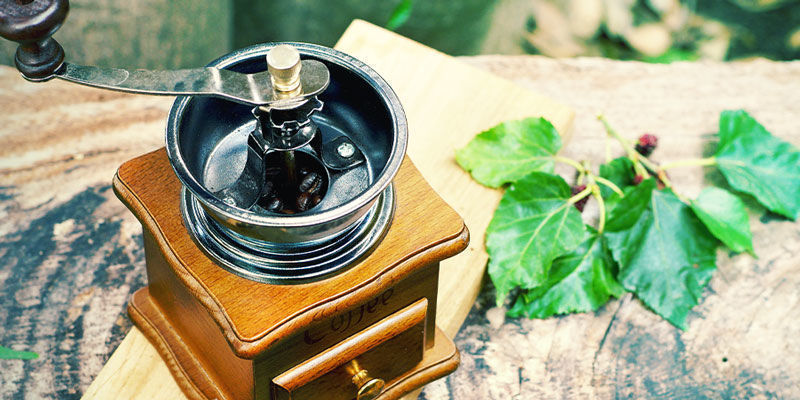 This is a great option if you have a larger amount to grind up. Coffee grinders are, of course, purpose-built grinders. Therefore, they do the job very well. If you're going to opt for this option, though, it's probably worth investing in a separate coffee grinder dedicated solely to weed. Otherwise you might have some strange-smelling coffee! If you don't want to have two coffee grinders on your hands, just make sure to clean all the weed particles out—or don't, if you're okay with a bit of a morning buzz!
Scissors & Shot Glass
You can grind your weed in two different ways using scissors and a shot glass. The first simply involves cutting your weed up over a shot glass (or anything else). This allows you to cut it from the stem, but won't result in a very fine grind. The other method involves using the scissors like a pestle, and the glass like a mortar. The upside is that you also cut with the scissors while you're grinding. Note that this method can only handle small amounts at a time.
Weed Grinders: Questions & Answers
🤔 How do I use a dry herb grinder?

Using a dry herb weed grinder is simple. Simply place the weed into the grinder, close it, and twist away until you've ground your herb into fine little bits.

🧹 How do I clean my weed grinder?

Clean it often, as this will make things much easier. Using a toothpick or toothbrush, scrape out all the collected resin. Over time, this will severely limit its grinding abilities. If you have a mesh grinder, be careful not to damage it.

🔆 What kind of marijuana grinders are there?

Grinders come in all shapes and sizes, and usually feature 1–4 chambers. In terms of materials, you can get:

Metal grinders

Wooden grinders

Plastic grinders

Acrylic grinders

Novelty grinders

🔌 Should I get a manual or electric grinder?

High-tech gadgets are always fun, but it can be hard to beat the reliability of a manual grinder. Electric grinders are efficient and grind your weed up very well. However, they are susceptible to malfunction, loss of power, and so on. Manual grinders are simple, robust, and reliable. And, let's face it, grinding up weed isn't a massive effort.

🤲🏼 How do I grind weed without a weed grinder?

There are many ways to grind weed without a grinder. You can use:

🏆 What is the best weed grinder?

This is subjective, however, our top 5 favourite grinders at Zamnesia are:
---