There's nothing quite like the taste of a smooth and flavourful beer. What's even more satisfying is brewing your own beer to enjoy whenever you want. Well, here at Zamnesia, we can provide you with everything you need to make a delicious brew right at home. You might be thinking that the task is tricky, but we're here to say that it's anything but. Let's break down everything you need to know about brewing beer from the comfort of your home.
How to start with beer brewing?
As a process that dates back to around 7000 BCE, there are many, many different ways to brew beer, and these have only been refined and streamlined in modern times thanks to the advent of brewing kits. Of course, there are really only four ingredients needed to make beer: malt, hops, yeast, and water. But it's how they're utilised that will determine the type, flavour, and overall quality of the brewed beer.
While it's completely possible to buy all-in-one brewing systems, they are often expensive, bulky, and can be tricky to operate. You can also individually purchase each item needed for brewing beer, including large containers, but this too can become a costly endeavour.
Not everyone will have the space, time, or budget for a full-scale beer brewing operation. That's why starter brewing kits are the perfect option for many. These kits contain everything you need for a successful brew, and are entirely accessible, regardless of prior experience. They are certainly a great place to start, giving users a taste of what to expect from brewing beer without having to invest too much time and money.
What do you need for easy beer brewing?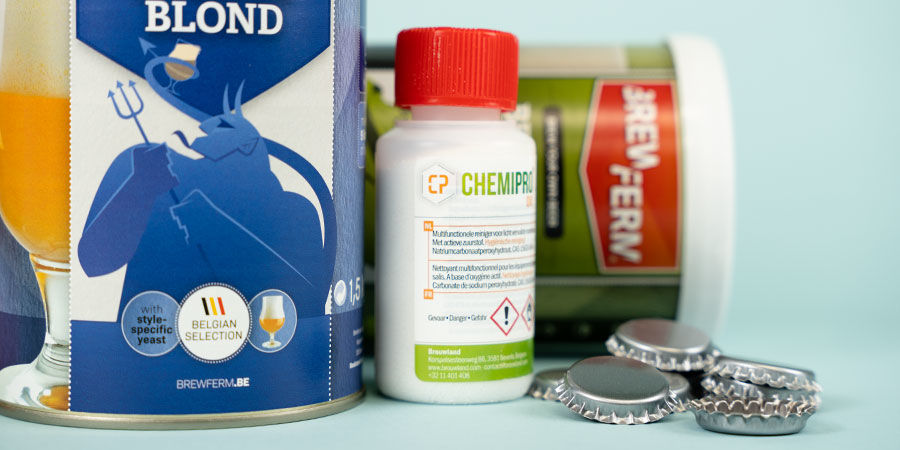 While we've touched upon the bare necessities for successfully brewing beer, there are a few more items that will make the process effortless and enjoyable. Fortunately, they are all available right now from the Zamnesia store.
1️⃣ Ingredients
As mentioned, the key ingredients for brewing beer are malt, hops, yeast, and water. However, there's a little more to it than that. If you've got your mind set on creating a beautiful Belgian Brown or an English IPA, it will take the right know-how to put it together, and can be a tall order for a beer-brewing newcomer. With the help of brew kits, you can assemble all of the ingredients you need to make high-quality and, most importantly, tasty beers.
But that's not all; if you're looking to improve body, flavour, and head retention for your beers, you can even pick up Beerkit Enhancer products that will truly bring out the best in your brews. Or, if you're looking for faster and fuller fermentation, adding a batch of glucose by Vinoferm could very well do the trick.
2️⃣ Equipment
With the ingredients sorted, what tools will you need for a successful home-brewing project?
The Starter Kit from Brewferm has all the essentials required for your homebrew. This includes a 30l fermentation bucket with an included tap and airlock. This bucket will provide you with more than enough space to get at least 50–60 pints of beer. But how can you measure sugar levels and alcohol content? That's simple; with a hydrometer, you can get an instant readout of exactly what your beer is shaping up to be.
Keeping the right temperature for your beer during the brewing phase is paramount to overall performance; that's why a thermometer is hugely important. As many of these tools are reusable, keeping them clean for the next brewing project will save a lot of headaches. Pick up a product like Chemipro OXI to keep your beer gear gleaming.
3️⃣ Bottling & storage supplies
Once your beer has finally finished brewing, it's time to bottle and store it. You might just want to grab a mug and start chugging directly from the bucket, but taking the time to properly decant will work wonders for your homebrew. So stock up on glass beer bottles and seal them with a cap or cork. Or, you can even pick up a Mini Keg that's perfect for gatherings with your friends and family. Impress all with your carefully curated home-brewed beer.
Begin your brewing journey today
As you can probably tell by this point, brewing beer at home really is a cinch. The task might seem daunting at first, but with just a few ingredients and some carefully selected equipment or a starter pack, you'll be ready to go in no time at all. Fortunately, you don't have to look far for said items, as Zamnesia stocks everything you could want for a successful homebrew. All we ask is that you raise a glass to Zammi once it's ready!
---