Storm Vaporizer
4.5

5

1

(

159

)
Put simply: Storm Vaporizer - sturdy, discreet, and incredibly simple to use, highly versatile and reasonably priced. Herbs or concentrates, this is one of the very few portable vaporizers, that works with all of those. All functions are accessible by pressing a single button and within only one minute it is ready for use. The isolated air path ensures for pure and incredibly tasty vapour.
Out of stock
You will be notified as soon as the product returns to stock
Product accessories: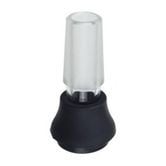 Storm Water Tool Adapter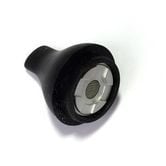 Storm Mouthpiece
Check all accessories
More info
This Vaporizer can be used with:
Storm Vaporizer - Small yet powerful high-quality engineering marvel
This small yet powerful high-quality engineering marvel combines affordability with unrivaled quality and versatility. The Storm vaporizer pen is one of the very few portable vaporizers that works with herbs and oils - and if they do, they cost twice as much.
The Storm vaporizer pen definitely stands out when it comes to the casing, because unlike other vaporizers of a similar style it is housed in an aluminium casing and not in some kind of hard plastic, making it sturdy, sleek and stealthy.
Using the Storm vaporizer pen is dead easy - all functions are accessible by pressing a single button (as explained further in the manual). Upon power-up, it starts heating up to the selected temperature - selectable from 5 factory-set temperatures, ranging from 180 to 220°C. To preserve battery life, the automatic shutoff turns off the unit after 5 minutes of inactivity. The Storm is powered by a removable and replaceable battery, which provides enough juice for up to an hour of vaping, depending on the temperature setting used.
The Storm has a ceramic chamber and its air path is completely isolated from all electronics, which results in pure and incredibly tasty vapour. Sturdy, discreet, and incredibly simple to use, highly versatile and reasonably priced - what more can one ask for?
Contrary to the official Storm manual we highly recommended draining the battery completely before charging the first time.
Please note, despite its packaging/manual, Storm Vaporizer no longer provide mains adaptors with their USB charging cable. You can use the supplied USB charging cable to charge from a USB power supply.

This was a decision made by the manufacturer.
Scope of delivery
Storm vaporizer pen
Glass mouthpiece
Rubber mouthpiece
Screens
Battery
Stainless steel wax chamber
Cleaning brush
Packing tool
Tweezers
USB charging cable
User manual
2 Year manufacturer's warranty
Storm Vaporizer data sheet

| | |
| --- | --- |
| Vaporizer Compatibility | Concenrates, Herbs |
| Brand | Storm |
| Type | Portable |
| Heating Technique | Conduction |
More information related to this product:
Reviews (159)
23/Aug/2022

Ne fonctionne pas.
Je ne sais pas comment contacter le SAV... La vapo ne fonctionne pas.

24/Jul/2022

Ottimo rapporto qualità/prezzo
Prodotto compatto di ottima fattura. Dotazione di serie molto ricca. Ripeterei l'acquisto. Lo consiglio per un primo approccio al mondo dei vaporizzatori.

11/Jul/2022

Impeccable
Superbe vape, facile et moins nocif

22/Jun/2022

Quality product
It's a quality product. Easy to use. I can change the temperature too. I'd hope that little more "stuff" would fit into the chamber. It looks like an e-tobacco device, which is cool. The battery area gets pretty hot and vaping time before the device shuts down is pretty short compared to WISPR 2. I give 4 stars because of the good price/quality -ratio.

11/Jun/2022

het werkt
De klantenservice van Zamnesia is geweldig, mijn vape deed het niet en kreeg een nieuwe. Deze vape werkt goed, is alleen beetje lastig om hem te vullen.

27/May/2022

Alles Super !
Schnelle Lieferung, gutes Produkt, guter Servic. Bin sehr zufrieden. Danke

10/May/2022

Just Great
This is my first vaporizer. It just changed my life. I waited 3 months before writing this to remove the initial hype. I had been smoking joints for 25 years and the day I received my vaporizer was my last. No more tobacco and combustion for me. I wish I had met him sooner. I guess this can be said of all the vapos, but the experience with Storm is amazing. Very happy, now I have no anxiety and I choose the moments in which to consume

20/Apr/2022

Simple
C'est mon premier vapo. Contente de mon achat, bon rapport qualité - prix je trouve! Simple d'utilisation.

05/Apr/2022

Il top di gamma
Faccio uso di cannabis terapeutica perché affetta da SM, e da 2 anni la vaporizzo, perché è il modo migliore di trarre tutti i benefici miorilassanti della marijuana. Dopo tre vaporizzatori non molto efficaci e duraturi, finalmente ho trovato quello ideale: massima efficienza; semplicità nella pulizia e nell'uso; leggerezza e robustezza e ricambi tutti disponibili. Inoltre ho potuto acquistarlo su zamnesia ad un ottimo prezzo scontato: decisamente un ottimo acquisto. Unico neo è che usandolo per tempo prolungato, diventa molta calda la batteria, si potrebbe isolare con una custodia apposita.

02/Mar/2022

Prima apparaat
Prima kwaliteit. Snelle levering en goede service.

You cannot post a review because you have not purchased this product
Restrictions
Please note that if your country is not on our general shipping list, we're unable to ship any item on our website to it. For more information check out the list here: Ordering & Shipping
Video (1)
Video: Storm Vaporizer Review

In this video we are reviewing the Storm vaporizer. The Storm vaporizer pen is a simple, high quality and well build vaporizer for your dry herbs, Resins and oils. The storm has a replaceable battery which gives you roughly 1 hour of constant vaping. Now go ahead and check the video to see it all in action!