Storm Vaporizer
4.5

5

1

(

132

)
Put simply: Storm Vaporizer - sturdy, discreet, and incredibly simple to use, highly versatile and reasonably priced. Herbs or concentrates, this is one of the very few portable vaporizers, that works with all of those. All functions are accessible by pressing a single button and within only one minute it is ready for use. The isolated air path ensures for pure and incredibly tasty vapour.
Product accessories: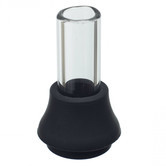 Storm Glass Mouthpiece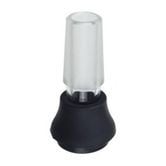 Storm Water Tool Adapter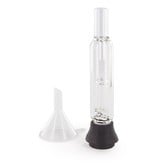 Storm Bubbler Mouthpiece
Check all accessories
More info
This Vaporizer can be used with:
Storm Vaporizer - Small yet powerful high-quality engineering marvel
This small yet powerful high-quality engineering marvel combines affordability with unrivaled quality and versatility. The Storm vaporizer pen is one of the very few portable vaporizers that works with herbs and oils - and if they do, they cost twice as much.
The Storm vaporizer pen definitely stands out when it comes to the casing, because unlike other vaporizers of a similar style it is housed in an aluminium casing and not in some kind of hard plastic, making it sturdy, sleek and stealthy.
Using the Storm vaporizer pen is dead easy - all functions are accessible by pressing a single button (as explained further in the manual). Upon power-up, it starts heating up to the selected temperature - selectable from 5 factory-set temperatures, ranging from 180 to 220°C. To preserve battery life, the automatic shutoff turns off the unit after 5 minutes of inactivity. The Storm is powered by a removable and replaceable battery, which provides enough juice for up to an hour of vaping, depending on the temperature setting used.
The Storm has a ceramic chamber and its air path is completely isolated from all electronics, which results in pure and incredibly tasty vapour. Sturdy, discreet, and incredibly simple to use, highly versatile and reasonably priced - what more can one ask for?
Contrary to the official Storm manual we highly recommended draining the battery completely before charging the first time.
Please note, despite its packaging/manual, Storm Vaporizer no longer provide mains adaptors with their USB charging cable. You can use the supplied USB charging cable to charge from a USB power supply.

This was a decision made by the manufacturer.
Scope of delivery
Storm vaporizer pen
Glass mouthpiece
Rubber mouthpiece
Screens
Battery
Stainless steel wax chamber
Cleaning brush
Packing tool
Tweezers
USB charging cable
User manual
2 Year manufacturer's warranty
Storm Vaporizer data sheet

| | |
| --- | --- |
| Brand | Storm |
| Type | Portable |
More information related to this product:
Reviews (132)
11/Jul/2021

My First Vaporizer
This is my first vaporizer for dry herbs. Until now I never tried vaping my weed, now im sold. No more combustion and no more tabaco! It heats up pretty fast and is clear how to use. I use it with the glass mouth piece that came with it and I love it. The rubber piece on the mouth piece could've been made from other material, now its sometimes a little hard to get in. Also the first time using it, it is advised to charge it but when i plugged it in there was no indication LED, wich was confusing. This just meant it was fully charged. I recommend this product!

06/Jun/2021

Très bien !
Il marche très bien, il brûle pas la bouche, esthétiquement il est vraiment stylé avec son bouton unique avec l'éclair et les 5 led multicolores, on dirait une technologie extra-terrestre, heureusement simplissime à prendre en main. ça chauffe assez vite, c'est rapide à vider et à recharger, ça tartine bien la tronche. Le seul petit reproche que je pourrais faire, c'est l'autonomie, surtout en chaleur max, qui est un peu courte, mais pas génante. Sinon j'en suis très content :)

20/May/2021

vapo moyen
Après quelques soucis techniques avec la charge initiale, aucun voyant allumé lorsque l'appareil est branché sur le secteur, il ma fallu décharger totalement la batterie pour obtenir un fonctionnement satisfaisant. L'appareil est esthétique et semble robuste, mais je m'attendais à mieux niveau de son fonctionnement, comme de son utilisation.

14/May/2021

pratique mais... assez moyen en soit
l'appareil visuellement est sympathique, il fait bien son taff, bon vapo pour débuter quoi, mais on va rentrer dans le sujet négatif, le vaporisateur doit charger entre 2 et 3h quand il est vide ce qui est logique, sauf que, la batterie ne dur même pas 10 minute, je prends l'appareil il est en point blanc (batterie pleine) je fais 4-5 taff dessus et je me retrouve déjà en point vert (parfois ça s'éteint avant même 5 minute) donc je reste constamment en chauffe minimum (rouge) car j'ai remarqué que quand je passe du minimum au maximum, il s'arrete aussi des que l'appareil est un peu trop chaud, je l'utilise pour la cbd personnellement et je trouve que la chambre pour mettre l'herbe est quand même super petite (à peine l'équivalent d'une pincée de sel) certe c'est économique, mais en 4-5 taff ça a déjà un gout un peu charbon qui fait tousser, le cbd colle aussi beaucoup à la grille qui bloque la vapeur (même quand c'est peu charger) dû à l'inspiration. par exemple aujourd'hui: je l'ai chargé de 16h à 18h je viens de l'utiliser pendant 5 minute (avec de la cbd banana) et re 5 min 1h apres et je suis déjà en batterie faible lol, mais sinon ça reste un bon appareil c'est juste que je ne peux pas l'utiliser dehors quoi.

13/May/2021

Fijn dingetje
Een fijne vape is dit. Voor de 2de keer gekocht nu. Enige nadeel is wel dat hij snel omvalt. Maar verder een prima dingetje! Echt een aanrader!

02/May/2021

Annoying Technical troubles...
Well, first of all it's my first vape! But of course I did read all about it, and vapes before I made the purchase... It's not bad... but not quite what I expected either... It has a tendency to start flashing red in while it's warming up, and then shutting down, even tho it's fully charged, it has problems showing it's charging half the time, and the glass mouthpiece has trouble fitting and the filter pops out of it now and then, and that's really annoying... The silicon mouthpiece doesn't really work at all, can't figure out why... When you get through all of the technical troubles tho, it does work for a lot of different herbs and resins and it delivers in getting you high.

28/Apr/2021

Woooowww
Mi primer vaporizador, y realmente no tenia espectativa, pero la verdad me ENCANTO, un golazo de media cancha, es de metal, te viene con boca de silicona y de vidrio, no tiene sabor a nada de plastico, es de un lindo peso, de muy buena calidad.... La verdad 10 estrellas, super recomendado... ya lo vengo usando 1 mes, en un tiempito hago un video de como usarlo y les dejo el link....

23/Apr/2021

De momento estoy encantado
Me ha gustado, nunca había probado, y si bien no puedo comparar, si puedo decir que a mí me gusta mucho y lo recomiendo, pero es diferente a fumar. El colocon muy bueno y discreto, nada de olor, fumo en todos lados.

21/Apr/2021

Super vapo
Très satisfaite de cet achat . Les terpènes ressortent bien . L'embout en verre est très agréable. Facile à démonter et nettoyer .bonne autonomie . Deux petits défauts: 1. Chauffe pas mal au niveau de la batterie au boit de 10 mn 2. Il faut bien tasser sinon les herbes remontent et bouchent la grille de l'embout buccal à l'inspire .

14/Apr/2021

Cool vape
Cool vape, not to expensive.

You cannot post a review because you have not purchased this product
Restrictions
Please note that if your country is not on our general shipping list, we're unable to ship any item on our website to it. For more information check out the list here: Ordering & Shipping
Video (1)
Video: Storm Vaporizer Review

In this video we are reviewing the Storm vaporizer. The Storm vaporizer pen is a simple, high quality and well build vaporizer for your dry herbs, Resins and oils. The storm has a replaceable battery which gives you roughly 1 hour of constant vaping. Now go ahead and check the video to see it all in action!