So, you've saved up and treated yourself to that vaporizer you have been after for a long time. Congratulations! It's now yours to enjoy, but if you are looking to get as much use out of it as possible, you'll need to make a conscious effort to keep it clean and well maintained. Although this may sound like a seemingly obvious observation, the upkeep of all your smoking devices is hugely important. Below, we offer a few tips and product suggestions to help you keep your pipe, bong, or vaporizer (and its accessories) clean and operational for a long time to come.
WHY CLEAN A SMOKING BONG, PIPE, OR VAPORIZER?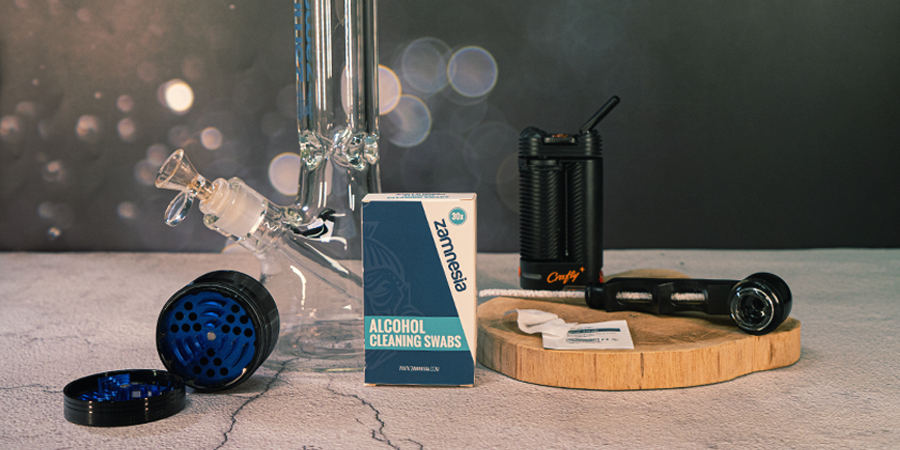 Although the answer may be quite clear, it is perfectly valid to question why you would need to clean your device. After all, you spent a substantial amount on it. Why should you then have to clean it too? Well, trust us when we say it's in your best interest to keep your device clean. You will thank us in the long-run.
A primary reason for keeping it clean is to remove any leftover residue from the previous smoking sessions. Any remaining resin can clog the device, and it acts as a hazard. Maintenance will only increase the longevity of your device; it will also provide cleaner vapor/smoke and give you an overall much smoother pull, resulting in a better smoking experience.
A sanitary device is also a hygienic one! Meaning, if you are looking to share with friends, you and they needn't worry about an unhygienic mouthpiece. It is good to get into a routine of cleaning after a smoking session with your buddies (but more on that later!).
You've spent your hard-earned money on your new device. Why not keep it looking brand-new and functioning the same way for as long as you can? Simply keeping it clean will give the appearance that it is fresh out of the box. This is especially the case with ornate glass pipes and bongs that feature varied and unique designs.
SO, HOW OFTEN SHOULD YOU CLEAN YOUR BONG, PIPE, OR VAPORIZER?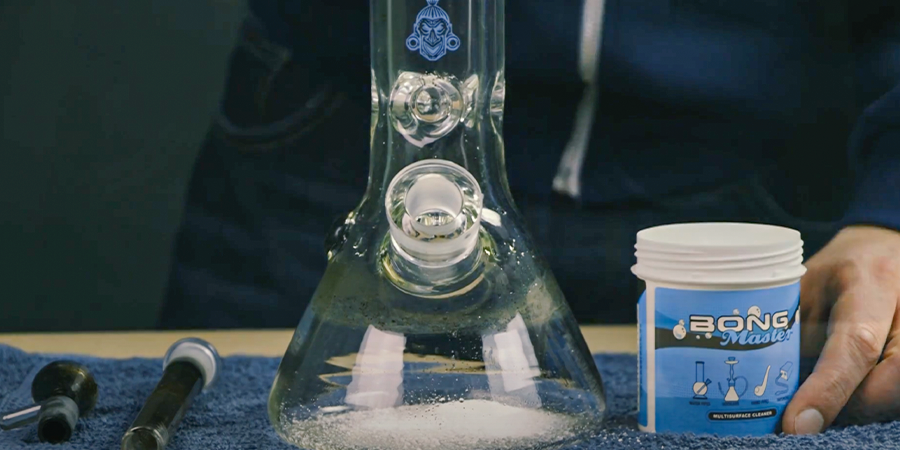 Good question! But this depends on your overall usage. If you find yourself smoking or vaping several times a week, you may want to look at cleaning your device after each use. There is absolutely no harm in that whatsoever; it's just common practice.
Vaporizer owners often give their device a deep clean about once a month. However, you can use brushes and alcohol wipes for the more day-to-day cleaning tasks of eliminating leftover residue. Those using bongs will want to change the water frequently too. Fresher water makes for a smoke that is smoother and much more flavourful by far.
HOW TO CLEAN SMOKING DEVICES
Now that we're on the same page when it comes to cleaning your smoking or vaping device, this next section will offer you a short breakdown, as well as a few handy tips, on how to keep things clean.
HOW TO CLEAN A BONG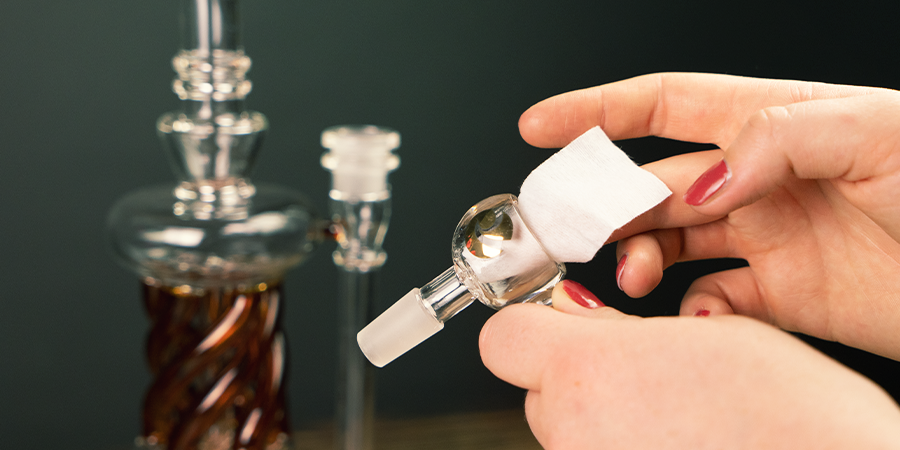 The process of cleaning your bong should begin with emptying the chamber. Again, this may sound obvious, but removing the water and any loose residue will save you trouble further down the line. Once emptied, completely take apart all the removable pieces of your bong. Now disassembled, you can begin cleaning properly. Running the parts under hot water will remove a lot of the surface gunk and residue that your bong may have acquired since its last clean.
You can then place the parts, including any bong bowls, into either a Ziploc bag or a small container. Once inside, add a little concoction of baking soda, a small splash of vinegar, and then fill roughly halfway with warm water. It is possible to use rubbing alcohol/isopropyl alcohol with Epsom salt instead, should you prefer. Give the bag or container and little shake and then leave it to rest; you'll be back for it soon.
Now, empty a tablespoon of baking soda into the chamber of your bong, cover any holes with Higher Standards Tube Tops, and vigorously shake. Because of the rinse earlier, you will notice the baking soda coating the inner walls. Using a bong brush, you can begin to clean the inside. Once you are satisfied with your cleaning job, add a tablespoon of vinegar and fill the chamber with warm water, cover the holes once again, and shake. Shaking will loosen any leftover residue. Once done, pour out the liquid. There are specialised bong cleaners available, such as Bong Shine, that you can add to the chamber instead of the vinegar method that will leave your bong looking all shiny and new. A bong cleaner takes a lot of the hassle and effort out of the process.
You can now go ahead and get your bag or container full of your other bong parts and begin cleaning them. Open the container and pour out any liquid inside. You will notice everything already looking pretty clean. We'll give them a once over with some warm water and use a cotton bud to remove any stubborn remaining pieces. For your chillum, a pipe cleaner comes handy.
There you have it! You have one clean bong that is ready for action once again. It is possible to adapt our cleaning tips to your liking. There are numerous other cleaning products available on the market that will make the task much less strenuous. Bong brushes or a pipe cleaner will help you tackle those hard to reach areas.
HOW TO CLEAN A PIPE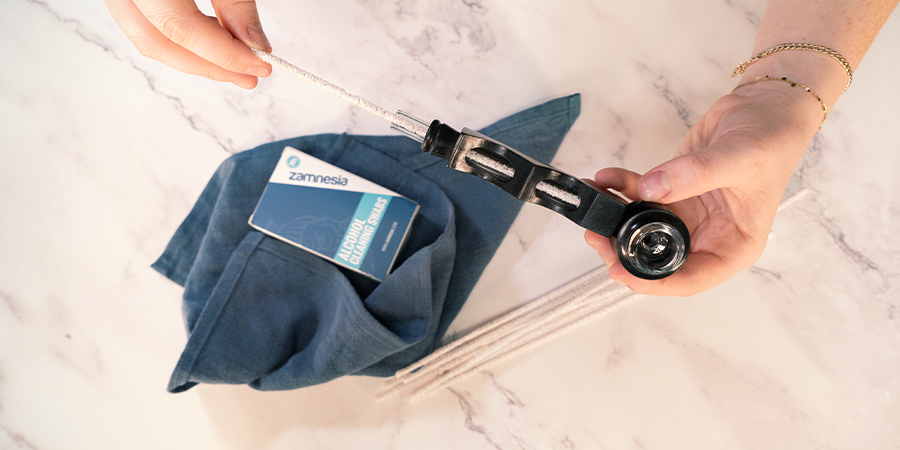 Next up is how to clean your pipe. Although technically easier to clean as they usually do not have any removable parts, pipes should still be given the same amount of care you would give accessories with more features. Cleaning a pipe is similar to cleaning a bong, and there are even a few unique cleaning products to make your life a whole lot easier when doing so. Pipes also tend to lose their shine and can get pretty dirty after multiple uses. Time to bring that shine back.
Begin by using pipe cleaners to shift any outstanding residue left inside, especially in the pipe stem. Once you have removed any surface dirt, it's time for a deep clean. As mentioned before, you can use the vinegar and baking soda method or the isopropyl alcohol/rubbing alcohol and epsom salt approach. But those looking for a thorough clean should look to products such as Pipe Kleaner Concentrate. This is a robust universal cleaner that you can use to restore your pipe's perfect shine.
Like before, place your pipe into a Ziploc bag or container and add some Pipe Kleaner with a little bit of water. If you pip has a detachable pipe stem, be sure to take it apart for more coverage. Shake the bag, then let it sit for about 10 minutes. This will allow the Pipe Kleaner to work its magic, removing any leftover resin as well as those stubborn stains. Now, remove the pipe from the bag and give it a rinse under warm water. We're nearly done, but it's time for one more clean around the bowl and through the pipe using the brushes and pipe cleaners from before. Lastly, one more rinse under the tap will reveal the extent of your cleaning. It really could not be simpler than that. Your pipe is now spotless and looks exactly like when you first bought it.
Also, don't forget to give your pipe screens some attention. The small mesh can make it difficult to clean thoroughly, which is why there are specific screen brushes made to solve this problem.
HOW TO CLEAN A VAPORIZER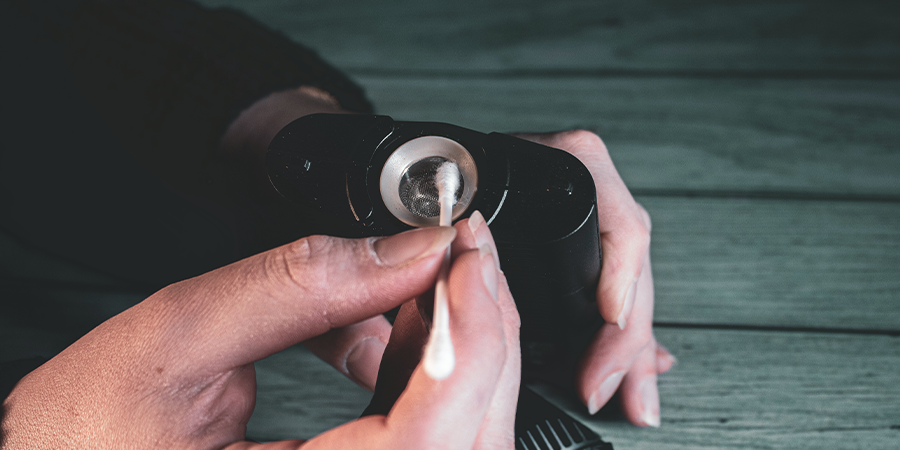 OK, now this one may seem a little intimidating, more technical, and trickier to clean, but your vaporizer is designed to be taken apart for this very purpose. So, when unscrewing and removing parts, don't worry—they will all fit back together with no problems. By doing so, you will be adding countless more hours to the lifespan of your vaporizer.
As mentioned previously, it is good to get into the routine of cleaning after each use. With most vaporizer purchases, you will get a small cleaning kit that might contain a brush and some alcohol wipes. These are perfect for those smaller cleaning jobs. Emptying the chamber of your vaporizer after each use and giving it a brush to remove leftover herb will curb any tacky residue. Unlike the other paraphernalia mentioned, it is not a good idea to rinse or let your vaporizer come into contact with water if it is electronic, as this will undoubtedly affect its performance.
Make sure you pay particularly close attention to the mouthpiece of your vaporizer; this is the main part of the device you make contact with. This part can be cleaned with isopropyl alcohol wipes, or you can look to invest in some alcohol cleaning swabs for a more intensive clean of your vaporizer. A pipe cleaner is also once again a good option.
HOW TO CLEAN A WEED GRINDER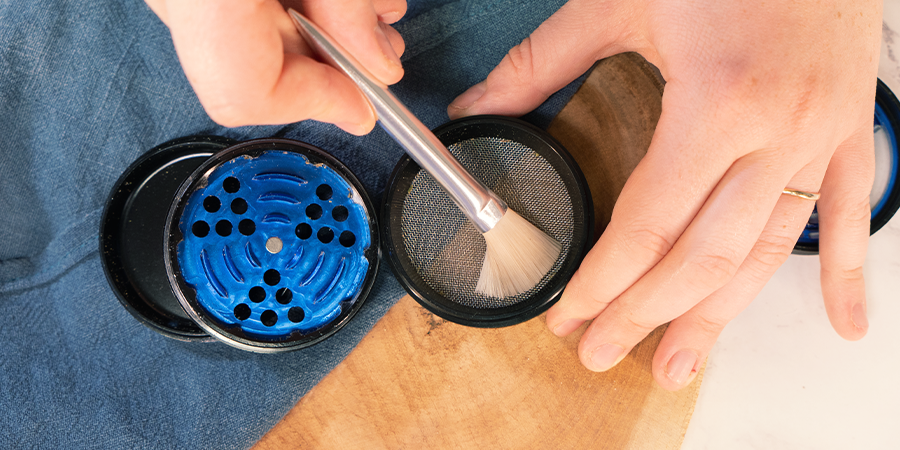 A weed grinder can be one of the most neglected cannabis accessories. As long as it's working fine, many people will not look to clean their grinder. But after processing enough sticky buds, your grinder will amass a look of grime and residue before you know it. Now is the time to do something about it— and fortunately there are many cleaning products to do it.
Unscrew and use a grinder brush to get in between the teeth of your grinder. You never know; you may have enough leftover weed in there to do something with later on, so leave it to one side in the meantime. But for now, let's concentrate on getting it clean. It is possible just to run your grinder under a warm tap, and while this will get the surface clean, it won't do a proper job. Using a specific grinder cleaning product such as Mix'n'Ball Purilizer will undoubtedly get your trusty grinder clean. Simply spray the Purilizer over the teeth and use a brush to remove any remaining residue. Rinse the grinder parts and allow them to dry, and there you have it! One clean and fully functional weed grinder. Now, where did you leave those leftovers?
HOW TO CLEAN A WEED CONTAINER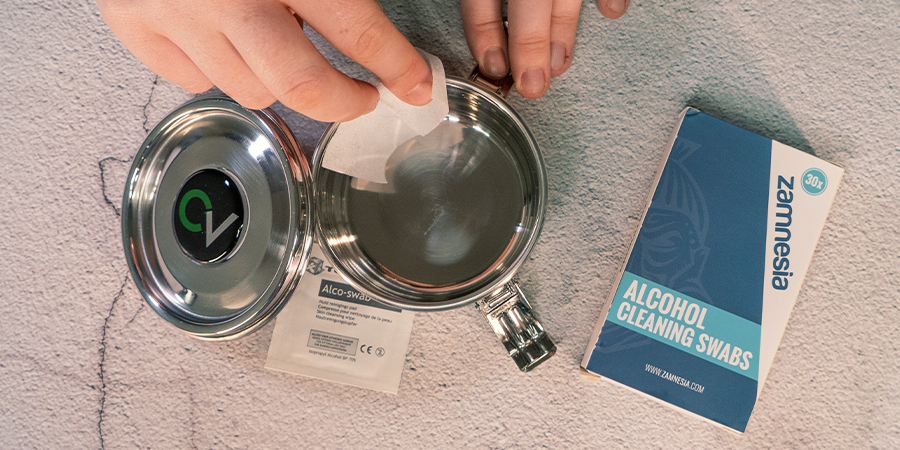 Alongside a grinder, weed containers seldom see their share of cleaning attention. Time for that to change. After a while of using your weed container, you'll notice the walls have collected a substantial amount of resin. This is a huge clue that your container needs a clean. Any leftovers have the potential to attract mould and bacteria, which will certainly hamper your next smoking session.
Using several of the cleaning products we have mentioned will bring your container back to its former glory. Alcohol wipes, swabs, and brushes all play a part in the cleaning process. You can also use specific products to really restore your containers, such as CVault Cleaner. Make sure to thoroughly rinse your container afterwards, and allow it to dry fully so your herb isn't sullied by a damp atmosphere.
There you have it; just a few suggestions and tips to help you thoroughly, and safely, clean your smoking and vaping paraphernalia!
---