Top 3 Hybrid Vaporizers
3 min
Hybrid vaporizers are the next generation of vape evolution. It's no longer a contest between conduction and convection vaporizers. These 21st century vapes are powered by synergy. In this blog, we breakdown hybrid vapes and take a look at 3 classy models.
WHAT'S THE BEST KIND OF VAPORIZER?
When it comes to contemporary vaporizers, be they desktop devices or portable units, the two most common heating systems are conduction and convection. In ordinary decent stoner terms, conduction vapes were first to hit the market and operate by sort of "cooking" your cannabis in direct contact with a heating element. The convection vape, however, is more modern and operates by flowing hot air around your cannabis, rather than it being in direct contact with the heat source.
In reality, the best kind of vaporizer is neither a conduction vape nor a convection vape. It's both. Instead of weighing the pros and cons of the two heating systems and choosing one over the other, there is a third option. Choose a vaporizer that gives you the best of both worlds.
WHAT'S A HYBRID VAPORIZER?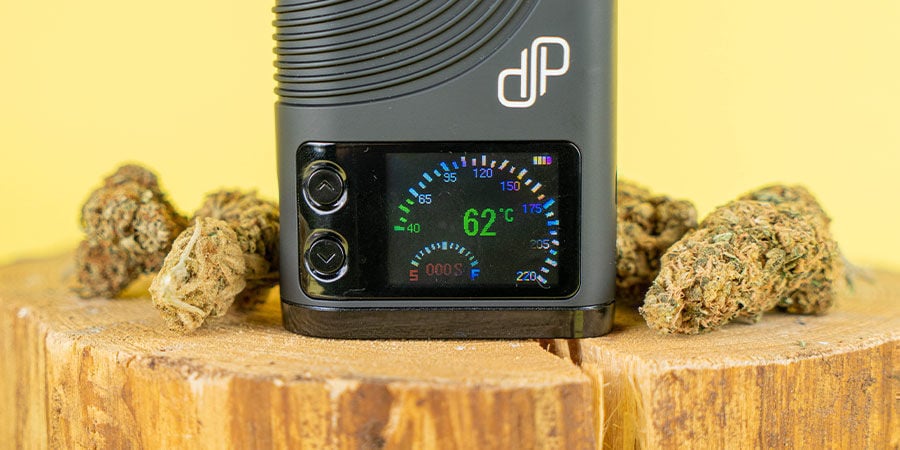 A hybrid vaporizer essentially runs a 2-in-1 heating system. There is quite a bit of confusion surrounding the use of the term hybrid. A vape that can handle dried herbs, concentrates, and oils is a really functional vaporizer, but not a true technological hybrid. The Fenix Hybrid Vaporizer can vape all kinds of cannabis, but is actually a convection vape. Similarly, the Boundless CF Hybrid is also a fantastic, multi-use vape for flowers and extracts. But the big difference is it utilises both conduction and convection heating. Therefore, it's a true hybrid.
To be classed as a genuine hybrid vape, the device must have a combined conduction and convection heating system; kind of similar to how petrol-electric engine cars are called hybrids.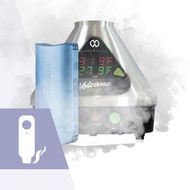 Vaporshop
Shop for the best portable and desktop vaporizers from the world's top manufacturers here!
View category
WHY CHOOSE A HYBRID VAPE?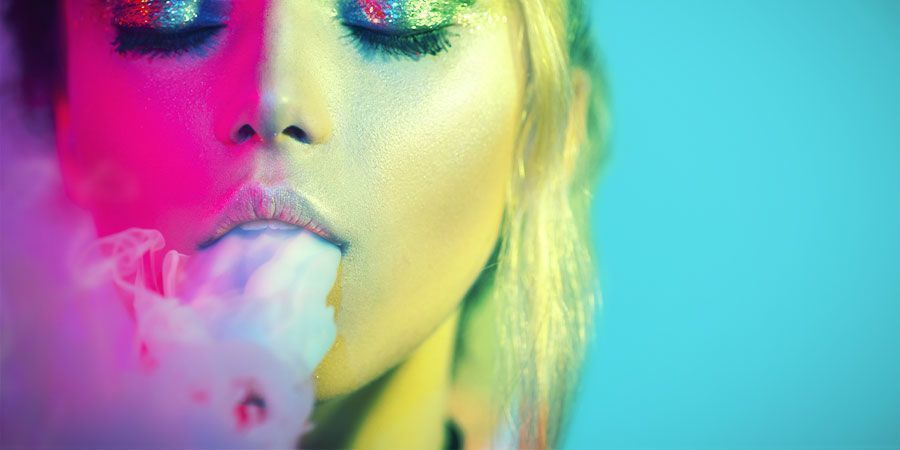 The obvious reason to choose a hybrid vape is to get more bang from your bud. Hybrid vaporizers heat up fast and deliver a pure draw without the hassle of tinkering with the unit every couple minutes. Conduction vapes usually require the buds to be stirred after a few hits, and every now and then, they combust. Some convection vapes, on the other hand, can take forever to reach the optimal temperature and are hard to draw from. Legacy system vapes can be awkward to use, bringing more frustration than relief - especially when they refuse to cooperate or deliver a decent draw for no good reason at all.
A hybrid vape is headache-free in comparison. Vaping is not supposed to be a chore. If you want a enjoyable vaping experience every time, you need to upgrade to next-gen technology. The 2-in-1 heating system of hybrid vaporizers is what separates them from all the rest. These babies are in a league of their own. Expect rapid heating and consistently flavoursome vapor from the latest hybrids.
OUR TOP 3 HYBRID VAPES
To make the cut for our top three, these hybrid vapes had to be uber-functional, reliable, and pretty cool looking too. All three of our picks are user-friendly, portable hybrid vapes that you can enjoy at home or out and about. Now, without further adieu, let's get down to our top 3 hybrid vapes.
G Pen Elite II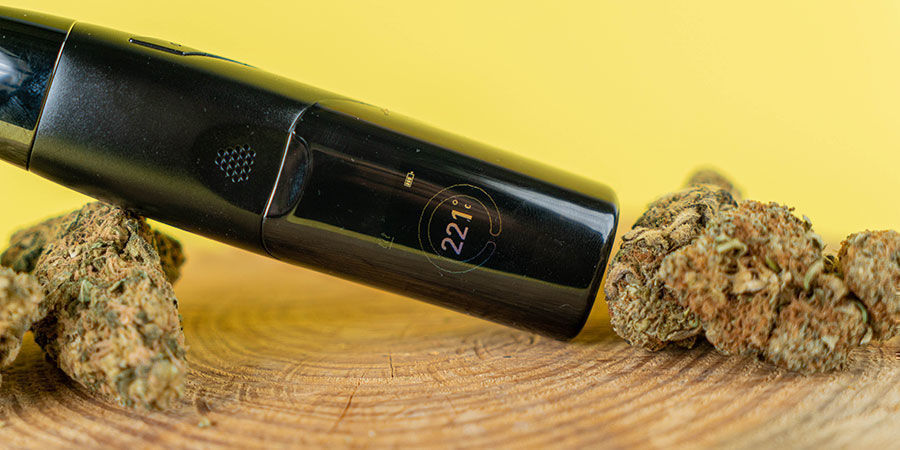 The Elite II is a new and improved version of G Pen's classic hybrid vape pen. Its innovative dual heating system heats up extremely quickly and evenly vaporizes dry flower/herbs, while its patented clean air intake system and airpath help to maximise flavour. Plus, the Elite II's temperature can be set to anywhere between 93–221ºC to perfectly suit all preferences.
Air enters the Elite II via a patented clean air intake system, which basically keeps air from cycling past delicate electronic components. As air enters the pen, it automatically triggers the ceramic convection/conduction heating mechanism to begin vaporizing the cannabinoids and terpenes in your flower. As the air exits the heating mechanism, it passes through a ceramic spiral cooling filter to preserve flavour and cool the vapor before you inhale. Finally, as you exhale, the Elite II's heating mechanism automatically switches off, meaning your flower only gets heated as you inhale, eliminating the risk of it burning.
If you're looking for a sophisticated, modern, portable hybrid vaporizer, the Elite II by G Pen is a great choice, offering excellent components and design at an affordable price.
MIGHTY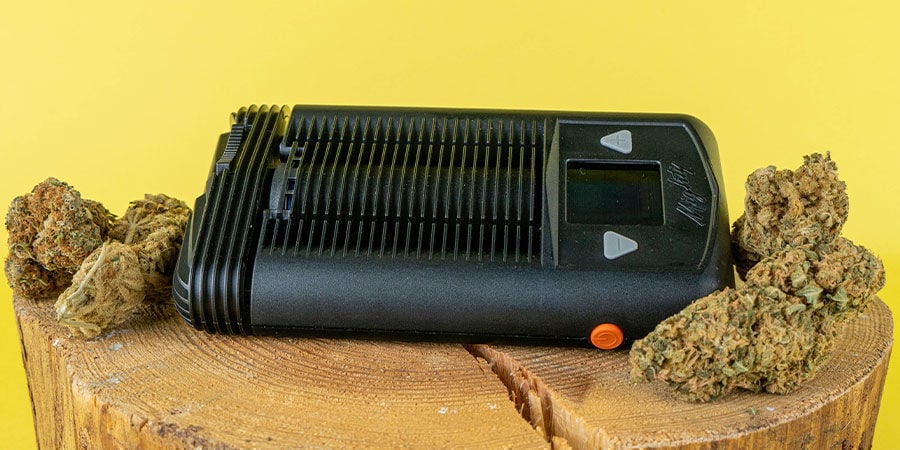 The Mighty by Storz & Bickel is a top of the line portable hybrid. This is the company that brought us the Volcano, so they have a proven track record for innovative vapes. If you want to enjoy the finest dry herb vaping experience, this is the vape for you. The Mighty has a compact, slim-line design so it can fit in your pocket. Moreover, it's comfortable to hold and even vibrates when you switch it on. Furthermore, the cooling system is really unique and ensures vapor is maintained at the optimal temperature for a smooth draw, every time.
Mighty is stoner-friendly too, with an easy-to-operate LED display. You can dial-in precise heating temperatures to the degree. Best of all, you can literally vape continuously for up to 3 hours as the pack includes two lithium-ion batteries. This hybrid vape is jam-packed with the latest technology, yet is still completely stoner-friendly to even the most technophobic users. For a pure, pleasant vaping experience, this portable hybrid is our top choice.
BOUNDLESS CFX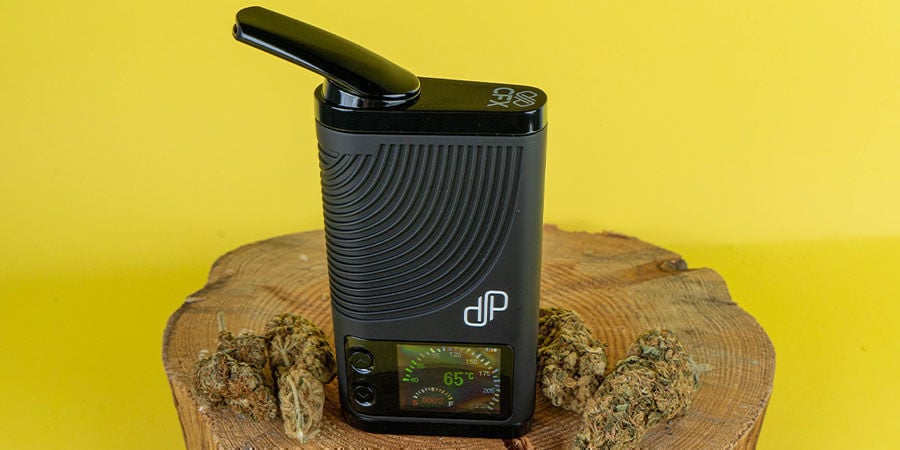 The Boundless CFX is one of the most versatile and eye-catching hybrid vaporizers on the market. This incredibly functional and cool vape has a huge LED display and durable feel. What really makes this vape special is that it's a hybrid in every sense of the word. The Boundless CFX is triple banging; just pack loads of herbs, concentrates, or resins, and vape away.
Although the Boundless CFX is a little too large to fit in your pocket, it's compact enough to toss in a backpack or handbag. You are gonna want to take this masterpiece everywhere. Aside from the envy of other stoners, this piece provides a real high-performance experience and heats-up up in 20 seconds or less. The Boundless CFX also has an impressive chamber capacity and provides a great draw with large or small loads. If you want to vape it all, you need a reliable device that's easy to operate. The Boundless CFX ranks as the best in mid-priced hybrid vapes.