Blog

6 min
The Difference Between Portable And Desktop Vaporizers
6 min
In this article, we take a look at the differences between desktop and portable vaporizers, the pros and cons of each, and how to choose the right one for you.
Vaping has become a huge hit, and new-and-improved vaporizers are beginning to flood the market. When choosing a vaporizer, there's plenty to keep in mind, including what features a device has, what heating method it uses (convective or conductive), and much more.
However, one of the biggest decisions you'll have to make in your quest for a new vape is whether to choose a portable or desktop model. In this article, we take a look at the differences between desktop and portable vaporizers, the pros and cons of each, and how to choose the right one for you.
WHAT IS A VAPORIZER AND HOW DOES IT WORK?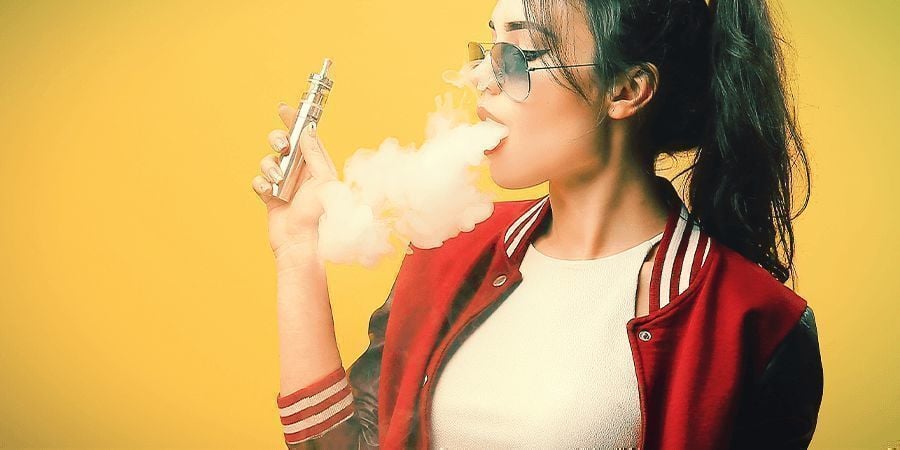 Before we get into the specific differences between portable and desktop vapes, here is a quick rundown of how vaporizers work. A vaporizer is a device used to extract the compounds out of dried plant matter, concentrates, or e-liquids without actually burning the substance.
Traditional forms of enjoying cannabis, tobacco, or other herbs involve combusting plant material and inhaling smoke. Inhaling any kind of smoke creates damage to the lungs and other parts of the body. Vaporizers offer an alternative to traditional forms of consuming these products that do not involve combustion, allowing users to avoid some of the dangers of inhaling smoke.
Vaporizers work on the principles of convective or conductive heating. Convective vaporizers work by heating the air around the product in the chamber to a point where the compounds in the product start converting into vapor. Conductive vaporizers, on the other hand, work by heating a surface and then placing the desired product on top of that surface (similar to a dab rig). Conductive vaporizers usually need to be shaken during use to avoid burning the product.
EVERYTHING YOU NEED TO KNOW ABOUT PORTABLE VAPORIZERS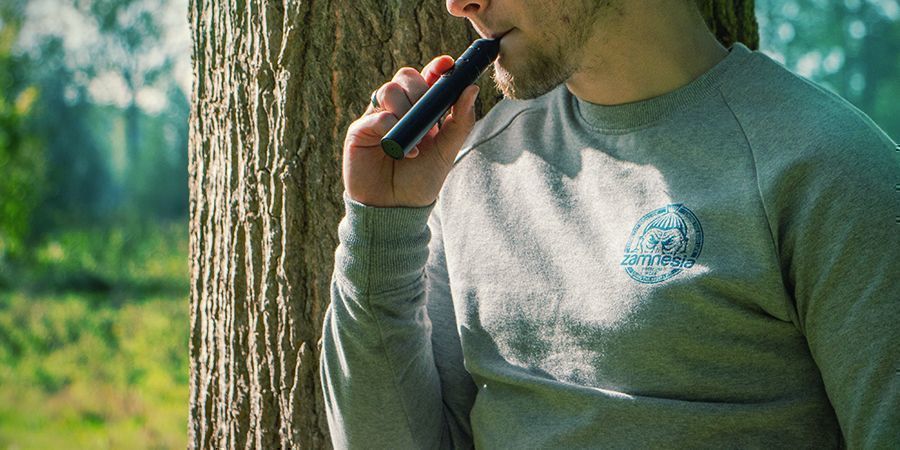 WHY SHOULD YOU SELECT A PORTABLE VAPORIZER?
While portable vaporizers are treasured by users for a plethora of reasons, the main argument behind buying one of these vapes is, well, because they're portable. Portable vaporizers are noticeably smaller compared to their desktop counterparts, meaning they'll easily fit into a pocket, backpack, or even a purse. They can generally be used to vaporizer dry product (such as cannabis flowers or tobacco) or liquid concentrates, resins, or e-liquids.
Portable vaporizers are generally easier to load and control compared to desktop counterparts, as they generally lack more sophisticated features such as temperature controls or different intake methods (such as balloons, whips, or water pipe extensions).
They run on a rechargeable battery (which usually lasts between 1-2 hours on a full charge) or gas, whereas desktop vapes need to be plugged into a power source in order to function, making them extremely popular among users who want to be able to vape on the go.
Most portable vapes will also come with portable chargers or even car adapters, and may be designed to look like pens, walkie-talkies, cell phones, or other regular items to avoid suspicion. Finally, because of their small and simple designs, portable vapes are usually more affordable than big, sophisticated desktop units.
THE BEST PORTABLE VAPORIZERS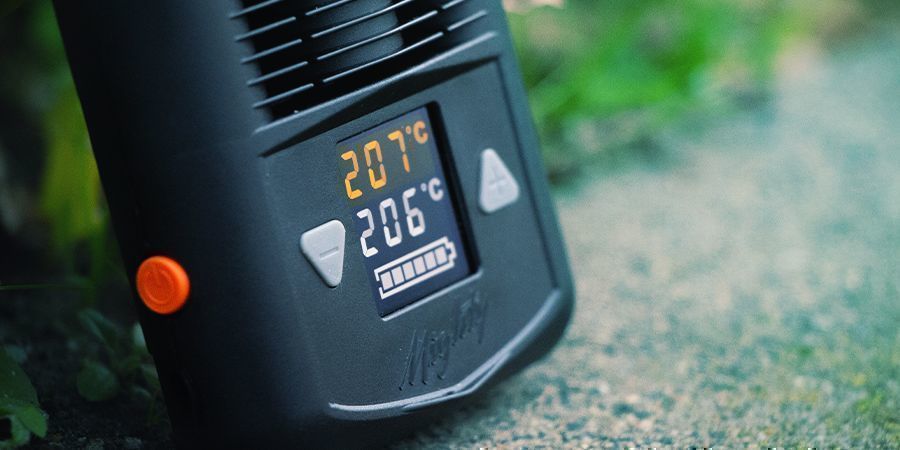 Is there anything more satisfying than vaping some premium-grade herb while on the move? We don't think so, and that's why we have put together three of the best portable vaporizers on the market right now. Each one has been selected for its intuitive design, flawless flavour, and portability.
AIRVAPE XS GO
The AirVape Xs GO boasts an ultra-lightweight body designed for vaping on the go. It weighs a mere 57g and has a compact length of 9.6cm. You can hit this thing almost anywhere without raising an eyebrow. Although she's small, she packs some impressive tech. Her onyx black body is home to a ceramic heating chamber and a partially isolated EZ Airpath featuring dual-filter ceramic airflow. The hybrid convection and conduction heating system converts dried flowers into buttery smooth vapor.
The device heats up within 20 seconds. Use the single-button controls—in conjunction with the LED display—to choose from five different temperature settings. You can set the device to 180°C, 190°C, 200°C, 207°C, and 215°C. Once the session ends, use the built-in packing tool to clean out the chamber for the next session!
DAVINCI MIQRO
Probably one of the most stylish vaporizers on the market, DaVinci MIQRO has a colour scheme to suit any style. This portable herb vaporizer is more than just a fashion statement; it also comes with some incredibly useful features. Three control options allow the vaping experience to be specifically tailored to the user. It is also one of a few units on the market that has a replaceable battery. If you know you have a day of heavy use ahead, a spare battery can be swapped in to keep you vaping late into the night.
The only downside to the MIQRO is actually a blessing in disguise. This unit weighs 100g, which makes it wonderfully convenient, but also easy to lose in the bottom of a bag. Keep track of its whereabouts, and the MIQRO won't disappoint—good things do come in small packages.
MIGHTY
Revamped for 2018, the MIGHTY by STORZ & BICKEL has been the bedrock of the vaping market for many years. This vaporizer proves you don't need smart app functionality and fancy temperature profiles to deliver fantastic vapour, day in and day out. MIGHTY in name, and MIGHTY in stature, this unit is not as sleek as the previous nominations on our list. That doesn't mean you should write it off; the extra size is to accommodate the excellent battery life and isolated vapour path.
Only three buttons exist, a solitary on/off switch and two separate buttons for adjusting the temperature up or down. The only other giveaway to its capability is a simple-to-read LCD display that indicates the current temperature. Other than that, all users need to do is load the herb chamber at the top and start vaping. Simple and effective, we do not doubt that the MIGHTY will remain a top choice for many years to come
EVERYTHING YOU NEED TO KNOW ABOUT DESKTOP VAPORIZERS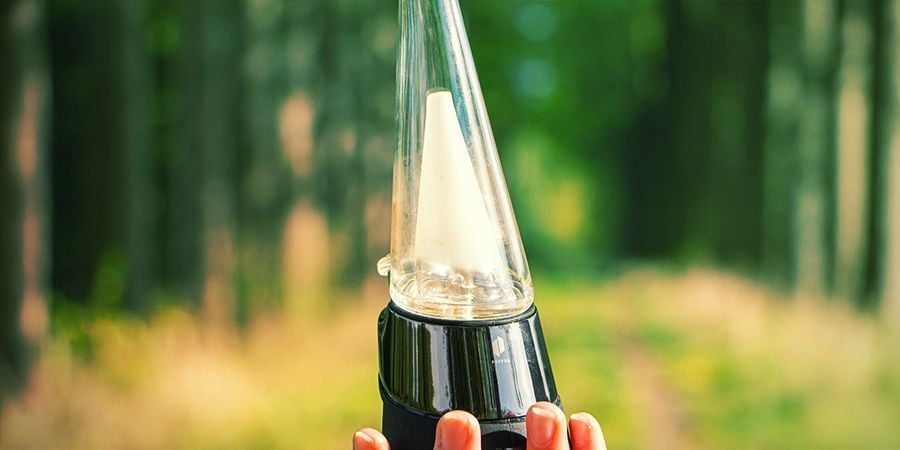 WHY SHOULD YOU SELECT A DESKTOP VAPORIZER?
Unlike portable vaporizers, desktop vapes are usually large, sophisticated devices that aren't designed to be used on the go. While they may not be the ideal choice for users looking for mobility, they come with a variety of complex features that portable vapes just don't offer, making them almost irresistible for anyone looking to vape at home.
Desktop vapes are stationary devices that usually need to be plugged directly into a power source in order to function. This means they have a strong, stable power source, which usually makes for stronger, bigger vapor and better usability.
Desktop vapes generally also have larger chambers and, if they run off a battery, longer battery lives, meaning they require less refills and recharges than portable devices. This makes them ideal for longer sessions involving multiple people.
Finally, they usually feature a variety of intake methods, such as balloons, whips, or water pipe extensions. The fact that they come with all these features, however, also means that desktop vapes are usually much more expensive than portable units.
THE BEST DESKTOP VAPORIZERS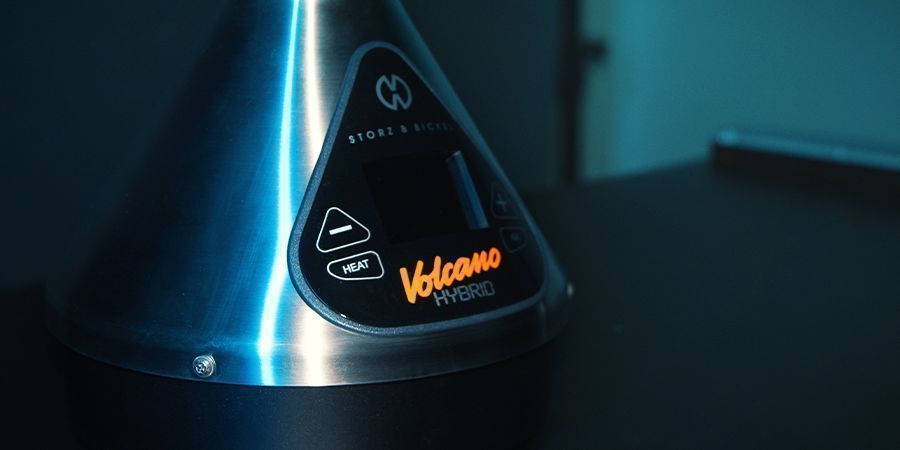 Sometimes, sitting down with a movie, some junk food, and a bucketload of high-quality weed is just what you need after a long week at work. Desktop vaporizers make the most of this endeavour by having a larger capacity than their portable counterparts, and endless performance. The following three desktop vapes represent the cornerstone of high-performance vape technology.
VOLCANO CLASSIC
When you think desktop vaporizer, the Volcano Classic is the first unit that comes to mind. Its bold stainless steel construction, bright orange valve, and subtle branding have made it a mainstay in many a vaper's home. If you haven't had the pleasure of using a Volcano, you are in for a treat. An adjustable temperature dial provides a range of 130–230°C, while two LED lights signify when the unit is ready.
The Volcano is designed for those who don't want to compromise on quality; as such, expect to pay a premium for it. Don't let that put you off though; the high price is worth it for the build quality alone. When you add in the reliability, feature set, dual compatibility (herb/concentrate), and incredible vapour that the Volcano produces, you won't think twice about the price.
ARIZER EXTREME Q
If you want the pinnacle of desktop vaporizer innovation, you needn't look much further than the Arizer Extreme Q. It may look ominous, but the feature set makes this vaporizer a thing of beauty. Compatible with both a balloon and a whip attachment, you aren't short of ways to inhale the vapour. Speaking of vapour, the inbuilt temperature-sensitive fan ensures you get an even and consistent stream of flavoursome vapour. In combination with the high-quality ceramic construction, any toxins are completely burnt off to give you a genuinely divine vaping experience.
The unit's outstanding functionality, LCD display, cyclone bowl design, and lifetime warranty on its heating element make the Arizer Extreme Q a force to be reckoned with. In fact, the only thing it cannot do is pack the weed itself!
WHAT ARE THE DISADVANTAGES OF BOTH?
Both portable and desktop vapes each come with their own set of disadvantages. Due to their size and budgets, most portable vapes don't allow for extra features, therefore limiting your vaping experience. They also have smaller batteries and chambers, meaning they aren't ideal for longer sessions involving multiple users.
While desktop vapes generally have more advanced and personalized features, their design simply doesn't render them useful for anyone looking to vape on the go. Even if they come with a rechargeable battery, these vapes don't make for a comfortable, discreet, portable vape experience.
WHAT IS THE BEST VAPORIZER FOR YOU?
Deciding on the perfect vaporizer can be difficult and should be completely based on the user's preferences. Think about how you plan to use your vape. If you're looking to have long sessions with your friends, we suggest opting for a desktop unit just because they have larger chambers and run off a stable power source.
Similarly, if you want to experiment with different temperatures, product, and intake methods, a desktop vape will generally offer a better experience. If, however, you lead a busy lifestyle and want to vape on the go, a portable vape is ideal. While they do not offer all the features of a desktop device, newer models are starting to include more sofisticated features.