Storing and stashing your weed correctly will extend its shelf life, maintain tasty terpenes, and keep it concealed from nosey landlords, roommates, etc.
Cramming your weed into an unsealed baggie in your pocket might work in a pinch, but your bud will most likely get crushed up and degrade fast. Thankfully, cannabis industry innovators have come up with better ways to stash your weed. Not only are they practical, but most of them also look pretty cool, too.
WHAT EXACTLY IS STASH GEAR?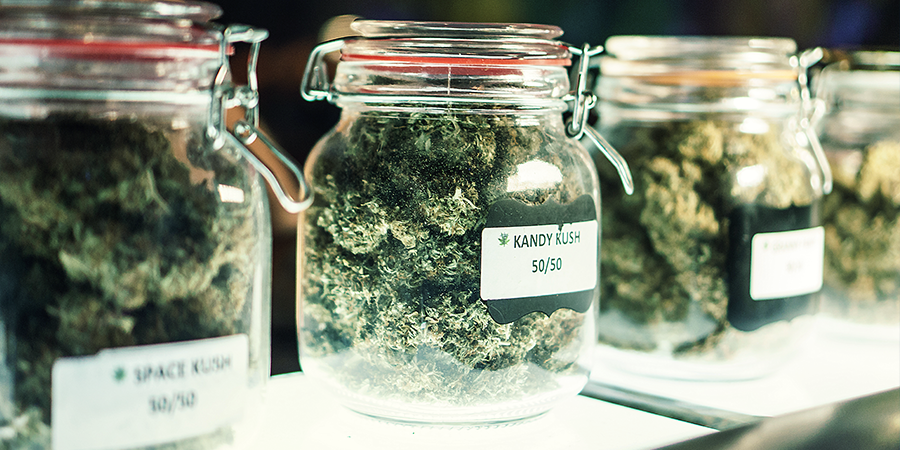 Smokers have plenty of options when it comes to stashing their bud, from basic stash bags and stash boxes all the way to high-tech containers designed to preserve every last constituent. Manufacturers have designed these devices, contraptions, and vessels specifically for keeping weed safe and secure during transit and while at home.
DIFFERENT METHODS (AND REASONS) TO STASH YOUR CANNABIS
Why bother stashing your weed? Leaving your stash on the coffee table might seem like an easy option, but air can degrade terpenes, cannabinoids, and more, and it can dry out your weed. Plus, you never know when your landlord might come knocking. Also, placing flowers in your backpack or pocket while travelling might release some funky and suspicious aromas, not to mention turn your weed into a two-dimensional puck by the end of the journey.
Stashing your weed—in the right way—will help you keep your private life to yourself while keeping each and every bud in the best shape possible.
STASH GEAR FOR SHORT-TERM AND TRANSPORTING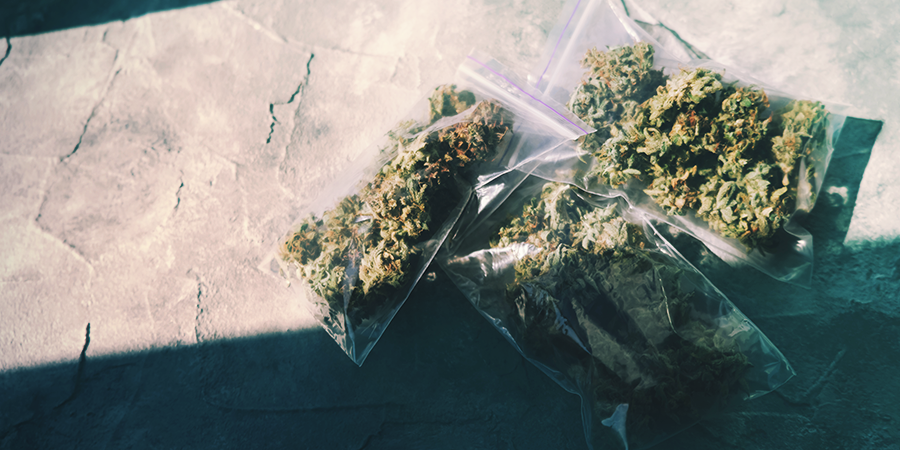 Sometimes, you only need to store your buds for a short period of time. Maybe you're catching the bus to your friend's house for a smoke. Perhaps you need somewhere to place a small amount of weed before you burn through it in a session or two.
Short-term stash gear needs to be lightweight, easy to access, and portable. The items below tick all of these boxes and will keep your stash fresh and safe.
Zip Lock Stash Bags
Zip Lock Stash Bags offer a reliable means of stashing weed in the short-term. They can be folded and moulded to fit into small spaces inside larger bags, pockets, and cases. Standard zip lock bags are perfect when travelling with a small amount of weed. The seal will keep your plant material tasting fresh, and will trap smelly terpenes inside.
If regular zip lock bags are too plain for your style, don't worry. You can get some that proudly feature a ganja leaf. Rock these bags to add a splash of colour to your short-term stash. They also make a cool package when dropping off herbal gifts to friends.
If you roll with a more stealthy style, check out our Aluminium Zip Lock Bags. Unlike the transparent options above, these stash bags are opaque and completely conceal your herb from the outside world. They also help to keep your bud fresh, as sunlight will degrade terpenes and cannabinoids over time.
Stash Box
Stash boxes are ideal for keeping your weed and a range of other smoking accessories together and easily accessible. These boxes are more firm than a stash gear bag and offer more protection as well.
The RAW Wooden Weed Stash Box provides enough space for some weed, a few papers, a lighter, and some cardboard for a roach. The sleek, natural look and portable size make this stash box perfect when blazing on the go, be that on the beach or out on the hiking trails.
Are you concerned about smelling like a ganja farm while on public transport? The Stashbox Tightvac provides a solution to this issue. The cylindrical storage device keeps dank smells under control and will fit in your smaller side pockets. The 0.57l and 1.3l sizes are great for a small amount of weed and some papers. You'll need the 3.8l beast if you're carrying around large quantities of herb.
If you really can't risk being caught with weed, the Secret Magnet Stash Box offers you the security and peace of mind you need. This hardcore piece of kit uses a strong magnet to securely attach itself to the stealthiest of places, including under your car!
Cone Tube and Saverette
Cone tubes and saverettes are ideal for carrying one or two joints or spliffs. They're highly portable and can fit into a small pocket. Roll at home and pull out a freshly crafted and protected joint whenever you see fit.
The Buddies Torpedo Cone Tube can carry one or two joints, depending on how fat you like to role them. Available in a variety of bright colours, simply pop off the lid when you're ready for a smoke and pull out a joint on the spot.
If you're highly protective over your joints and the fire weed they contain, you'll need something a little more bulletproof. The Green Jay Metal Cone Tube boasts an airtight, discreet, child-proof design. The lid even features a protrusion that prevents joints from rattling against the side of the tube. Choose between black, white, and rose gold.
Have you ever put out a joint halfway through and placed it in your pocket? We have. And we can tell you something: you'll end up smelling like Snoop Dogg's living room for the rest of the day. The Zamnesia Saverette sidesteps this problem. Simply place your burning joint into the device and close the lid. Job done!
Smoking Wallet and Pouch
Smoking wallets and pouches allow cannabis lovers to keep all of their things together. Have you ever gotten to your favourite smoking spot and realised you left your papers at home? Or even worse, your weed? Sucks, right? These tools will prevent that from happening ever again. They are less clunky than stash boxes, making them ideal for travelling.
Love all things cannabis? The RAW Smoking Wallet is made from a blend of cotton and hemp, allowing you to stash your bud in a pouch literally made from cannabis. It features three different pockets: a large one for your bud, and two smaller ones for your papers, tips, and lighter.
The RAW Smokers Pouch looks even more hemp-like in appearance. The container offers enough room to carry everything you need while keeping your belongings safe from spillages and rainfall.
HIDING YOUR SECRET STASH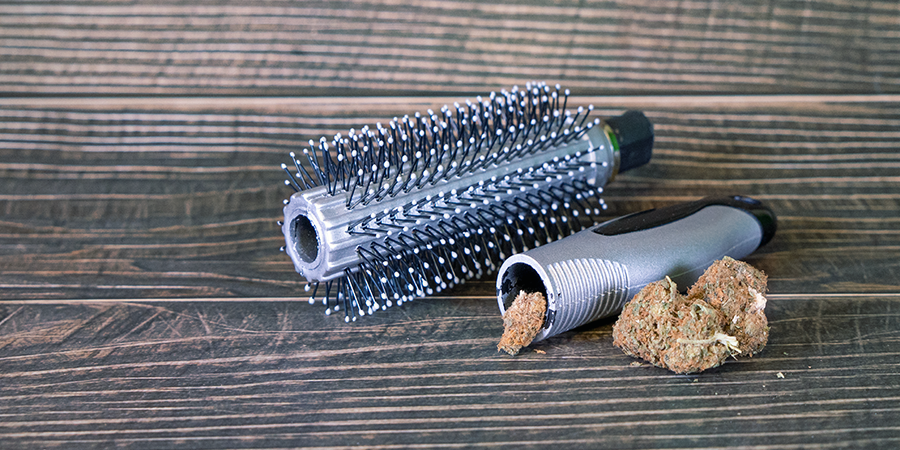 The stash gear above fulfils a purpose. All of the items are functional and allow users to securely transport their goods. However, sometimes discretion is a top priority. Some smokers prefer to sacrifice size and shape for a design that will keep their weed completely concealed.
Ordinary-Looking Objects
Some stash gear emulates the shape and look of various everyday items. People won't think twice if they happen to catch a glimpse of the inside of your bag or wallet. Check out these bags and containers made to look like camera lenses, hairbrushes, and even condoms.
Smell-Proof Stash Bag
Keep your gear both safe and smell-proof with the Avert Odour-Proof Pocket Bag. This handy device features enough room for a good amount of weed and other essential supplies. Plus, activated carbon lines the walls and keeps smells effectively contained.
The Sealable Odour-Proof Stash Bag also offers smell-proof passage to your destination of choice. Boarding a busy bus or train with a pocket full of weed never fails to turn heads and raise eyebrows. Put an end to unwanted attention with this helpful opaque stash bag.
The Stink Sack also provides smell-proof safety when picking up some weed from your friends or dropping them off some gifts. Made from 4.7mm-thick food-grade material, the sack keeps smells trapped for up to one month when sealed. Stash up to seven grams at a time.
WEED STASH CONTAINERS FOR THE LONG-TERM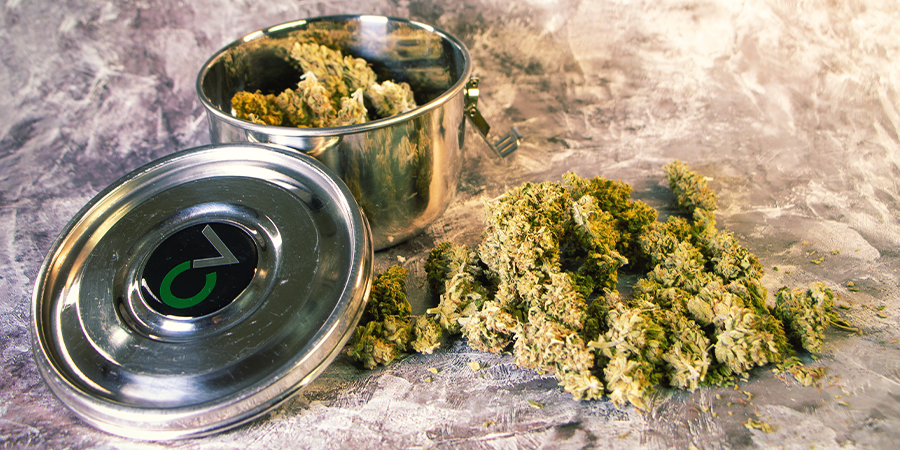 After harvesting plants at the end of the growing season, most growers are inundated with cannabis flowers. Impossible to smoke all at once, growers need to properly store their bud for long periods.
After harvesting, buds must be dried and cured correctly to ensure they don't become mouldy or degrade during storage. Growers also need to store their stash in the correct containers to keep it from reducing in quality.
Glass Stash Jar
Glass Stash Jars are the quintessential vessel when it comes to storing cannabis for longer periods. They're airtight and won't let any moisture or pathogens access your precious flowers. Plus, you can easily monitor the state of your stash without having to open them up. You can also easily "burp" the weed stash jars by simply popping open the lid for a short period.
Zamnesia Weed Curing Jars are available in four different sizes: small (225ml), medium (400ml), large (800ml), and xtra large (1140ml).
CVault
Want to store your weed like a pro? Although more expensive, designers specifically made the CVault to store cannabis. These weed stash containers are crafted from stainless steel and feature two-way humidity control.
Being airtight, the CVault preserves trichomes and all of the terpenes and cannabinoids that these glandular structures contain.
BUY WEED STASH GEAR AT ZAMNESIA
Why should you buy your weed stash gear at Zamnesia? Well, we know our stuff! Our huge online store features hundreds of cannabis strains and thousands of cannabis-related products. Our extensive testing, market research, and experience have enabled us to identify and provide the best weed stash gear available.
---