Vaporizers have become a must-have accessory for cannabis connoisseurs across the globe. At the Zamnesia Vapor Shop, we dedicate ourselves to stocking the best-selling vaporizers from the most reliable manufacturers, including Storz & Bickel, FireFly, Arizer, and plenty more.
Whether you want to browse easy-to-use portable vaporizers or sophisticated desktop vaporizers model like the Storz & Bickel Volcano, we guarantee you'll find the vape you're looking for right here. We also stock a variety of accessories for vaporizers, as well as spare parts for most of our vaporizer models. So, what are you waiting for? To buy your next vape or vape accessories, start browsing our vaporizer shop today. For more information about vaporizers, how they work and some of our top-selling vaping products, keep reading.
What's The Difference Between Vaping And Smoking?
While people tend to call vaping "smoking", the differences between smoking and vaping are profound. The key differences between the two, however, lies in the smoke—or lack thereof.
See, vaping involves carbonization, while smoking is an act of combustion. Using a vaporizer, you're not directly burning any plant matter or concentrate. Because of this, you're also not consuming the unwanted carcinogens you would if you were smoking it. With that said, both methods create unhealthy byproducts like tar (although it's minimized with vaping) and nitric oxide, which are natural irritants to your throat, mouth, and lungs.
What's the difference between vaping and smoking?
Vapor is much purer than smoke. Smoking involves an open flame, while vaporizing does not include setting your herb on fire at all. Rather, it heats it up to a temperature at which the cannabinoids and terpenes change from solid resin into vapor.
What Are Vaporizers And How Do They Work?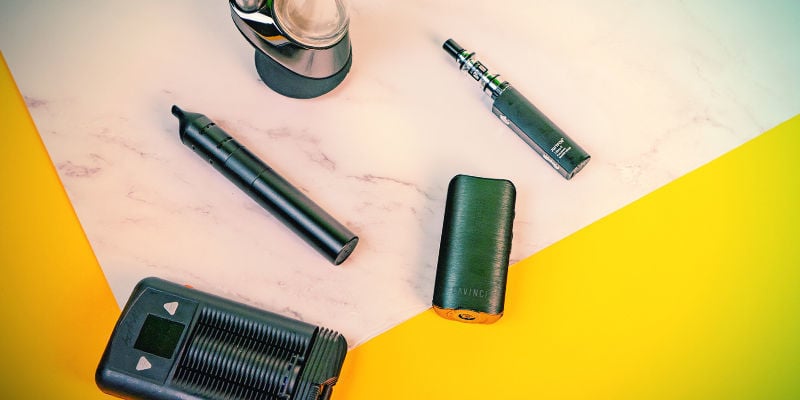 Vaporizers are devices used to extract compounds from dry herb, concentrates, or e-liquids without combusting them, offering a healthier alternative to traditional forms of enjoying cannabis or other dry herbs. Vapes come in a variety of styles, shapes and sizes, ranging from desktop vapes to discreet portable vaping devices. At Zamnesia we stock both portable vapes and desktop vapes, which are showcased further down this page.
Vaporizers work on the principles of conduction or convection heating. Convective vaporizers work by heating the air around the herb in the chamber to a point where the compounds in the product start converting into vapor. Conductive vaporizers, on the other hand, work by heating a surface and then placing the desired herb on top of that surface (similar to a dab rig). Conductive vaporizers usually need to be shaken during use to avoid burning the product.
Vaporizers can be further categorized as dry herb vaporizers or oil vaporizers. Dry herb vaporizers are best suited for vaping dried cannabis bud. Some models—with or without the aid of accessories and attachments, can handle waxes and concentrates as well. Oils, however, require a vaporizer that specialises in liquid products, such as vape juice, e-liquids and oils.
A vaporizer is a gadget that can heat herbs and/or extracts to the point at which the active compounds are released via vapor. Because there is no combustion, vaping is seen as a healthier alternative to smoking.
Conduction Heating Vs. Convection Heating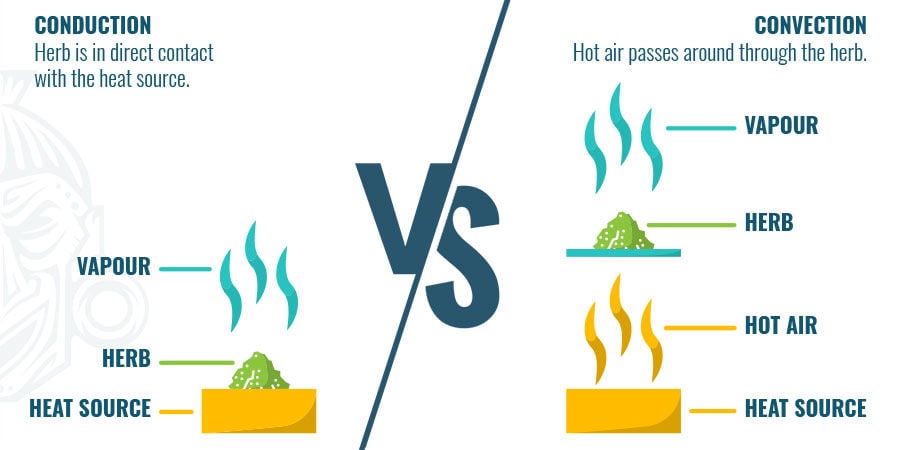 Simply enough, vaporizers work by evenly applying moderate heat to dry herb or concentrates. Since it's decarboxylated without being combusted, you'll be able to inhale a cannabinoid and terpene-filled vapor that is, ideally, tar-free. There are two ways in which they do this: conduction and convection. But what's the difference?
Conduction Heating
Conduction vapes work kind of like a traditional oven, or a hot plate. It's where plant matter heats up through contact with something that's already hot. The conduction method was the first people used when making vapes. Although it works decently enough, it also suffered from a major design flaw: poor and uneven heat distribution. Indeed, conduction only heats up parts of the herb, leaving the rest untouched. As a result, it's really hard to regulate the temperature on conduction vaporizers. Common conduction vaporizers include vape pens and e-cigs, as well as most portable vapes on the market.
Convection Heating
Convection heating involves hot air blowing over your herb to heat it up. When using convection vapes, the heating element and plant matter never directly touch. On the contrary, air simply circulates around your weed. Convection vapes are generally made of ceramic, stainless steel, or other types of metal. These retain heat super well and are unaffected by cool air.
How does a vaporizer work?
Vaporizers turn active ingredients into vapor via either convection or conduction heating, or a combination of both. Convection involves heating the air around the herb, whereas conduction involves direct heating of the herb.
Portable Vaporizers Vs. Desktop Vaporizers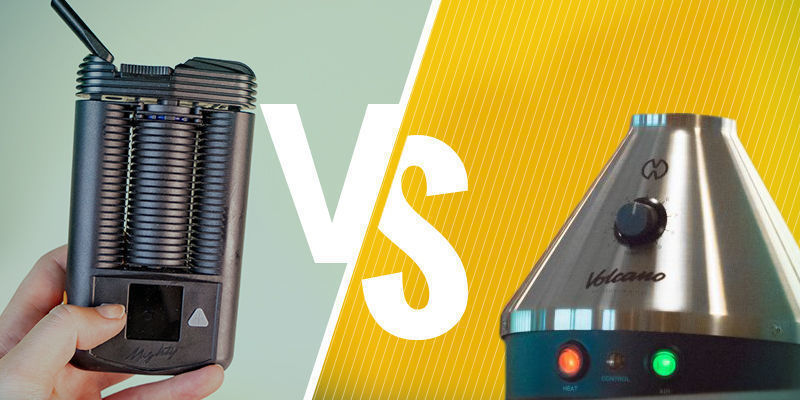 At Zamnesia, we stock a wide variety of desktop vapes and portable vapes. Portable vaporizers are best for users who plan to vaporize on the go. They are designed with mobility in mind and will easily fit into a backpack, purse, or even your pocket.
Portable vapes are super easy to use and usually lack the complex controls and settings of their desktop vaporizer counterparts. This will make for a super simple and fast way of vaporizing herb on the go but also means you'll have limited control over temperature or other aspects of the vaporizer functionality.
Desktop vaporizers, on the other hand, are not designed to be used on the go. These are complex pieces of technology that generally come with sophisticated temperature controls, large chambers, and a variety of intake accessories, such as balloons, whips, or water pipe extensions.
Desktop vapes usually need to be plugged directly into a power source. With a strong, stable power connection, these vapes are able to deliver top-notch vapor quality, making them ideal for vape aficionados or longer vape sessions with multiple people.
Manual Vaporizers Vs. Electric (Digital and Analog) Vaporizers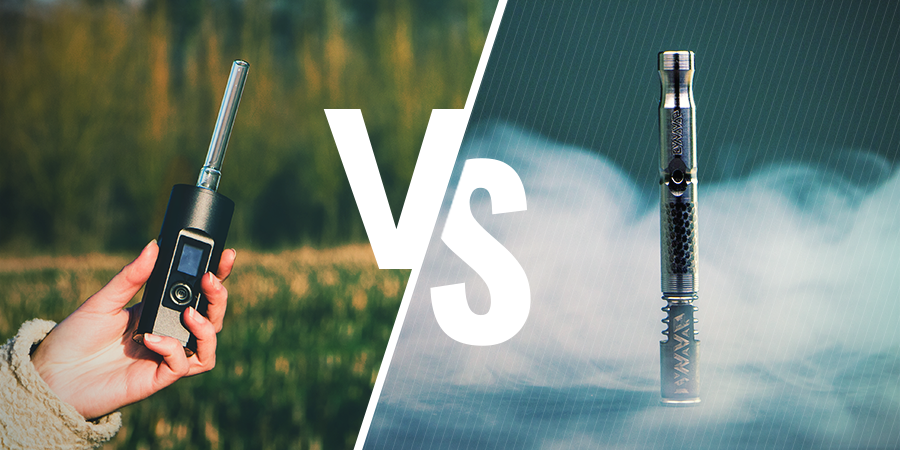 While most people will typically think of electric vapes when they think of vapes in general, they don't all rely on electricity. They're not often discussed, but there are quite a few "manual" vaporizers out there, meaning they don't use any sort of electricity to heat cannabis. This, of course, separates them from electric (battery-powered or plugged-in) vapes, which can be digital or analog. That just leaves one question: what are the differences between these types?
Manual Vaporizers
As we mentioned earlier, you won't need a battery or external power source when using a manual vaporizer. Rather, you'll utilize a lighter or torch to supply the heat, while some varieties have internal torch flames for added convenience. Note that this is different from smoking because the flame isn't directly applied to the cannabis. This requirement of external heat separates them from electric (battery-powered or plugged-in) vapes.
Good examples of manual vapes include the Eagle Bill, which is a sort-of a hybrid between a pipe and a manual vape, and the popular DynaVap Vapcap, which offers the sleek looks and portability of a vape pen without an electric power source.
Electric Vaporizers
Electric vaporizers are either battery-powdered or, as it goes with desktop vaporisers, plug into the wall. You'll also find that some of them feature nothing on the surface but a button or two, while others will have digital displays and other settings. Those, naturally can be categorized as analog and digital vaporizers
Analog electric vaporizers are a simpler variant of the conventional digital vapes. Analog vape pens may just have single button to heat up your cannabis and turn it on/off, plus they usually have limited (pre-set) temperature settings. No fancy features, no display with temperature readings, or other fancy features. A good example is the Storm, which we find to be sturdy, simple, and very effective.
When a vape is described as "digital", it usually means it features a display that gives you the temperature, power level, and other information. These vapes also typically allow you to do specific temperature adjustments, allowing you to enjoy different cannabinoids and terpenes within the same strain. There are many portable options out there, but the desktop Volcano Hybrid is one of our favorites. Along with a display and precise temperature controls, it features app connectivity and similar advanced features.
Why Use A Vaporizer?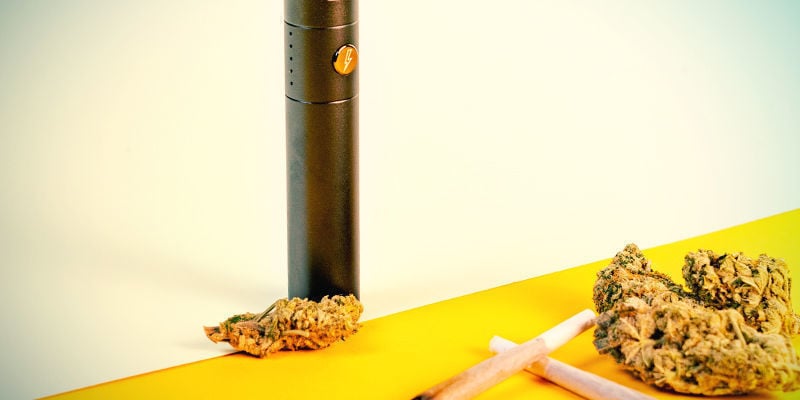 If you're tempted to start using vaporizers for your weed but still need a push, there are a host of benefits to vaping. Whether you're looking to quit smoking or are looking for a cheaper option, there are reasons to make the switch.
Although studies into the long term effects of vaping are still new, the consensus is that vaping is healthier than smoking. When you burn weed, the smoke contains more non-cannabinoid particles than active ones. You're getting more tar and harmful toxins than cannabinoids and terpenes in your lungs. When you take the smoke away, you get a purer and stronger high. As a result, it takes way less weed to get you high than you'd need if you were smoking a joint. With a vape, you're taking out the middleman. Instead of facing a packed joint to feel the start of a buzz, you'll only need a few hits.
What are the advantages of a vaporizer?
In the absence of combustion, vapor is free of the harmful toxins found in smoke, while still retaining maximum flavour and effects. Vaping is also more discreet and efficient than smoking, and will save you money over time.
It's much easier on your piggy bank, too. When it comes to concentrate, a gram can last you longer than an eighth, and that gram will often be less expensive than the eighth. Even if you're vaping dry herb, the fact you won't be burning off cannabinoids via combustion means you'll get the most out of what you've got. In short, you'll end up using notably less weed than you would otherwise.
In turn, you'll have much better control over your intake. Unlike something like a joint, vaporizers put you at maximum control of your dosage. It's easier to reach your desired high and it also hits you a lot faster. If you're a regular smoker, sometimes you think you can handle more than you actually can. Vapes give you that control back.
Along with that, you won't smell anymore! Nobody likes smelling like an ashtray. It's actually a big reason many tobacco smokers have made the switch to vapes. If there's no smoke in the equation, there's nothing to cling to your skin or your clothes. No longer will you be the friend who always smells like weed.
Lastly, a lot of people enjoy vaping because it's a stealthy and discrete method of enjoying weed. Vape pens are small, don't smell, and are easy to take with you wherever you go. With a vape pen, it's possible to have a nice daylight toke session without anyone noticing—or asking you for a hit.
What Materials Can You Vape?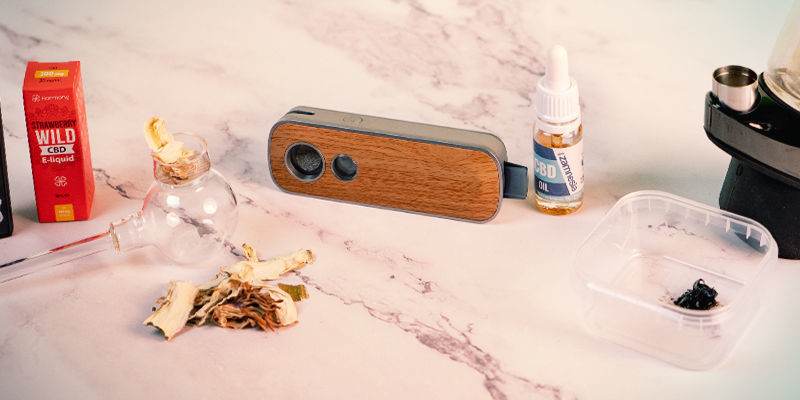 When it comes to vaping cannabis, most people assume you can only use concentrates. Dry herb vapes, however, are quite popular as well. You don't even have to be smoking weed in your vape pen, though! What do we mean, you wonder? We'll explain more below.
Dry Herb
Vaping the sweet, supple bud you have on hand is one of the best things about growing your own weed. After all, it's right there for the taking. You also get more out of your weed, as the process of vaping doesn't incinerate the cannabis flower. Instead, it leaves you with more clean, green goodness than you know what to do with. In order to vape the cannabis flower itself, you'll need to specifically look at dry herb vaporizers. While some vapes work with both concentrates and dry herb, they're usually in the high-end market. In turn, if you want to vape dried flower, you need to make sure the product says it's compatible with herb.
Concentrates
Processed to keep the most desirable compounds, cannabis concentrates are the closest possible thing you can get to pure THC. They come in a variety of forms and consistencies, all of which provide a more potent high than any actual bud could hope to. As with dry herb, not all vaporizers can handle concentrates, so you'll need to read up if you're planning on vaping them. Ensure you're looking at concentrate vaporizers or hash vaporizers, depending on which you're vaping.
Resins
You know that sweet, sticky sap you can feel on cannabis leaves? That's the collection of cannabinoids and terpenes known as resin. As it turns out, it's also a really popular product right now. Resin contains all of the good stuff from the cannabis plant, from terpenes to active compounds like THC and CBD. A simple form you'll already be aware of is hash, traditionally made by collecting and rolling it manually. Furthermore, resins have a more pungent aroma and deliver a much higher psychoactive experience than their counterparts.
E-Liquids
Made using vegetable glycerin, propylene glycol, or a mixture of both, e-liquids require the use of an e-cigarette, as opposed to the vaporizers used for dried herbs and cannabis concentrates. E-liquids can be infused with weed, CBD, nicotine, or any number of additional flavours. Typically packaged as pre-filled cartridges, you can buy them at most stores in most countries.
What's the difference between vaping dry herb and e-liquids?
E-liquids are liquids created for e-cigarettes only. Dry herb vaping refers to using a suitable vaporizer in combination with dried plant material, such as cannabis buds.
Herbs
People have smoked herbs for hundreds of years. They're at the root of many traditional herbal medicine practices, from teas to essential oils. There's a massive range of herbs you can vape, each of which has its own benefits. Not only that, there's also a bunch of herbs you can legally vape! Whether enjoyed alone or mix with your cannabis, these common herbs make for a delightfully aromatic experience.
How Do You Use A Vaporizer?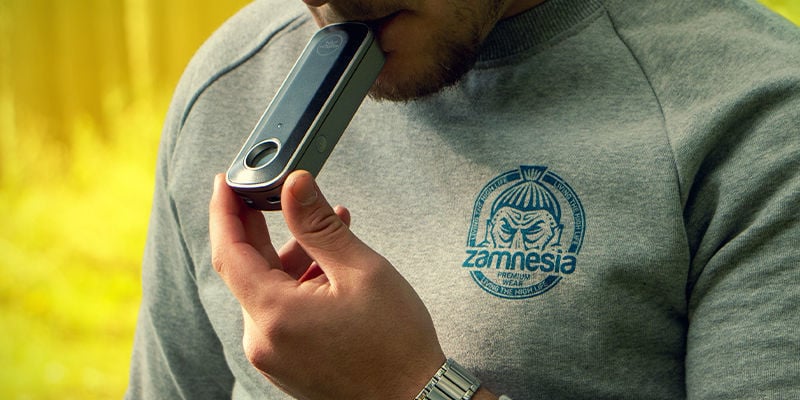 It's normal to have questions, especially if you're new to vaping or unsure how to do it. Let's start with the basics. When you first get your vape, what you want to do is burn off the unwanted oils and chems. Like getting a new glass or mug, you want it as clean as possible. To do this, let your device run for 2-3 heating cycles with nothing in the chamber, ensuring it's fully charged while doing so. After that, you can confidently pack and prepare your vaporizer.
How Many Hits Do I Need?
If you're new to vaping, we recommend 1-3 hits. The median is between 1-6. Overall, how many hits you take depends on your preference. Some people go as hard as they can, and others use just enough to get efficiently stoned. If you're unsure, ask yourself a couple of questions: "How high do I want to get?" and, "Do I want to conserve my stash?" As a rule, one hit every 10-15 minutes is a good place to start. Just remember, using a vape means you won't need to consume as much weed to get just as high.
How To Inhale From A Vaporizer?
Even if you're used to smoking, inhaling from a weed vaporizer can be tricky. That's especially the case if you're not used to it! Vapor and smoke feel different in your lungs. While the former is a lower temperature, it's more direct, so you still might end up coughing. The best way to avoid this is by learning how to inhale properly.
Once your vape reaches your ideal temperature, wait at least 30 seconds before your first puff.
Place your lips loosely against the mouthpiece.
Begin by priming your vaporizer with a few gentle puffs.
Slowly draw the vapor into your mouth.
Breathe in the vapor until it fills your lungs.
Exhale and enjoy!
Do All Vaporizers Produce Big Clouds Of Vapor?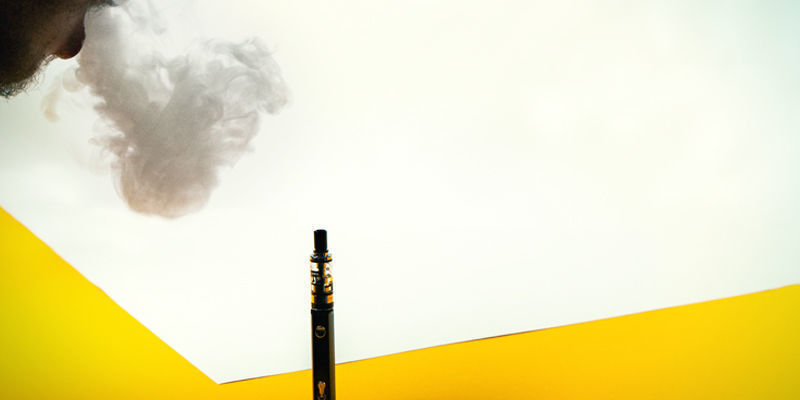 Some cannabis users are drawn to vaping because of those big thick clouds of vapour. Not only are they satisfying to produce, but they make it super easy to learn tricks such as smoke rings.
But not all vaporizers produce these large plumes. If you're a fan of making clouds, you'll need to purchase an e-liquid vaporizer. Also known as vape juice, e-liquid features a base of either propylene glycol (PG), vegetable glycerine (VG), or a bit of both. These liquid additives work to suspend cannabinoids such as THC and CBD and produce those large characteristic clouds of smoke when vaped.
If you'd rather do without the attention that those large plumes of vapour bring, opt for a dry herb vape instead. These models allow users to vape raw flowers, taste fantastic, and produce a much more subtle cloud of vapour.
How To Vape Discreetly?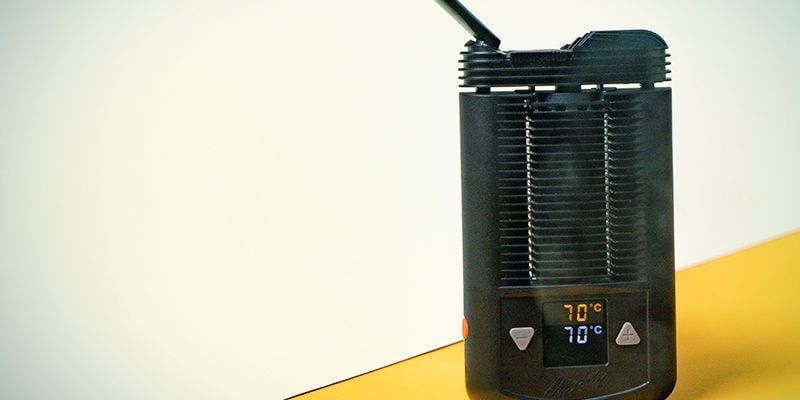 Vaporizers offer a healthier alternative to smoking joints and blunts. They look less suspicious when you're holding them in public and produce a lot less smell.
Still, you can take discretion to another level by choosing the right vape and changing the way that you use it. Use these tips to vape in the most subtle way possible:
Turn down the heat: Less heat means less vapour. Many vapes allow users to alter heat settings. If you're walking through town then dial things down for a stealthier hit.

Exhale slowly: Try and exhale that cloud slowly instead of all at once. Release the vapour bit by bit and let the wind whip it away.

Breath out through your nose: As well as exhaling slowly, breathing out through your nose will further help to cover your tracks. Sitting there with your mouth sealed looks a lot less obvious.

Use a herbal vape: Herbal vapes offer the advantage of smaller clouds of smoke. Although they do smell, they work great if you're vaping in a large open space.

Vape crystals: E-liquid vapes produce much larger clouds of vapour. But you can make it seem like you're just using a regular vape if you fill your mix with odourless cannabinoid crystals and no terpenes.

Hold it in for slightly longer: Holding in your hit for a bit longer will help to reduce the size of the cloud when you exhale.
How To Choose A Vaporizer?
The vaporizer market has exploded in recent years. Chances are you'll become overwhelmed when shopping around due to the sheer diversity available. To help you settle on a product, you need to consider exactly what you're looking for.
What Material Do You Want To Vape?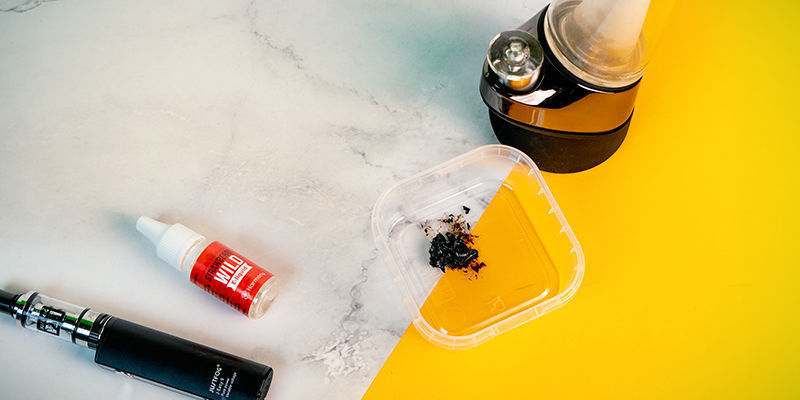 Before purchasing a vape, it helps to consider your favourite material to use when getting high or consuming CBD. Most vaporizers are only compatible with a certain type of material. Check out the different vaporizer varieties below:
Dry herb: If you're dedicated to smoking flowers, then you'll love this type of vaporizer. Experience the taste and effects of smoking a joint, only with zero smoke.

Concentrates: These vaporizers are made to use alongside concentrates such as hash, budder, wax, and crumble. They deliver high quantities of cannabinoids and help the taste of terpenes shine through.

Dual-use: Some vaporizers offer the option of smoking either dry herb or concentrates. They provide the best of both worlds and enable users to switch things up whenever they want. Heck, you can even sprinkle in some hash along with your dried flowers in some.

E-liquid: These vaporizers feature a tank that holds e-liquid. They produce massive clouds and a flexible vaping experience. Users can easily refill them and even make their own e-liquid blends to suit their preferences.
Where Will You Use Your Vape The Most?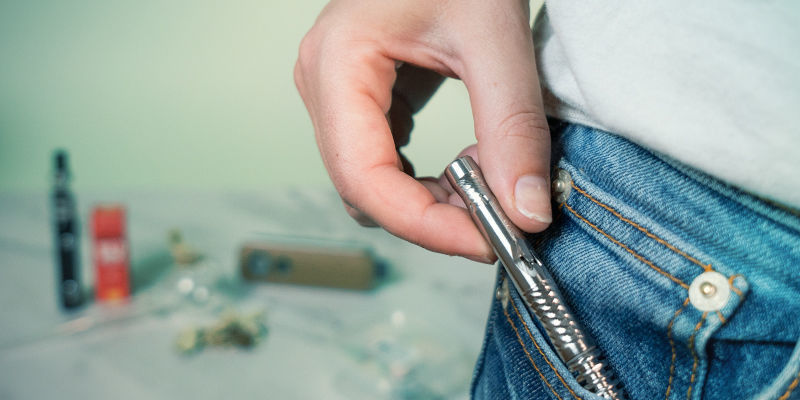 You should also consider where you like vaping the most before you make a purchase. Some models are portable and perfect for the road, some are designed for use in the home, and others are ideal for both.
Vaping on the road: Vape pens are the most portable and discreet kind of vaporizers. They fit easily into pockets and users can conceal them with the palm of their hands. They feature minimal settings and flashing dials—it's often just a case of pressing a single button and taking a hit.

Vaping at home: If you love nothing more than chilling on the couch at home when you blaze, desktop vapes are ideal. You can heat them, load up a bag, and hit them on your own time. Some of them also use long pipes, meaning you don't even have to move!

A happy medium: Handheld vapes are great for both of these settings. They're small enough to carry around unnoticed. They're also fun to vape at home and offer a wide range of settings that make the experience more fun and customisable.
Will You Mostly Vape Alone Or With Company?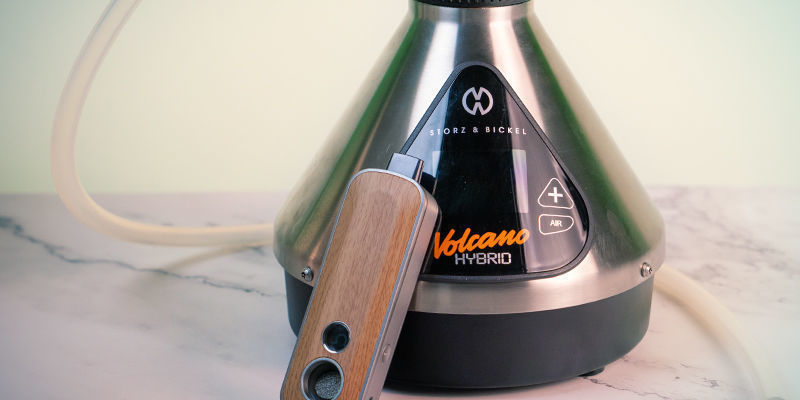 You'll also want to purchase a vaporizer based on your social preferences. Some users much prefer to vape in solitude, or at least like to use their own device when enjoying cannabis in a group. In this case, settle for a vape pen or a handheld vape.
If you much prefer to smoke with others and even like to share equipment, consider a large desktop vaporizer to bring your gathering to life. These large devices fill up bags with vapour, which are fun to pass around during parties and get-togethers.
How Much Can You Spend On A Dry Herb Vaporizer?
The price of dry herb vaporizers varies and depends on the features of the device and the materials used to make it. Cheaper dry herb vape pens offer fewer features and lower-quality materials.
In contrast, top of the range dry herb vapes are built from sturdy and strong materials, use more complex heating systems, and will even link up to your smartphone.
What Vaporizer Features Are You Looking For?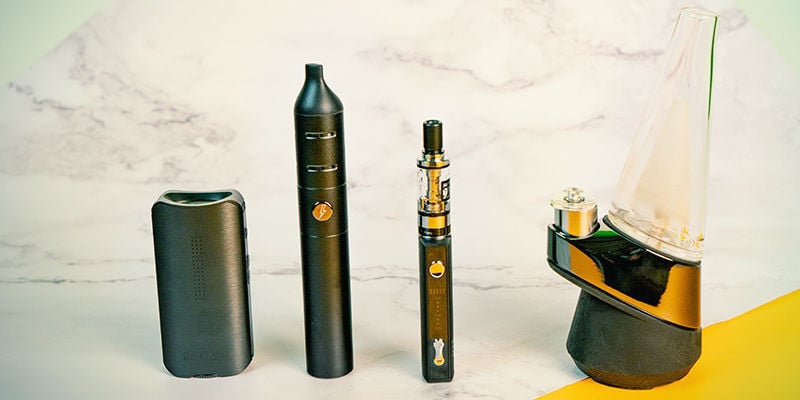 There are hundreds of different vaporizers out there, and all of them offer unique features that make the vaping experience different. Check out the features of each model before you make a purchase and see which you find the most attractive.
Temperature settings: Many vaporizers allow users to alter the temperature settings. Not only does this help to control the smoothness of each hit, but it allows you to target specific cannabinoids and terpenes by selecting their vaporization points.

Auto shut-off: Lots of vaporizers work on a timer and automatically shut off when left unused. This helps to save battery power and keeps juice in the tank for when you need it the most.

Quick warm-up time: Rapid warm-up times mean you can hit your vaporizer almost instantly. Some models heat up ready for use in a matter of seconds, whereas others can take up to 90 seconds.

Smartphone compatibility: If you're a tech-head, you'll enjoy linking your smartphone to your vape via Bluetooth to change parameters such as temperature.

Simplicity: Some vaporizers are specifically made for simplicity. They don't feature lights, buttons, or even batteries. If you value the joy of simple things, you'll love vaping with these low-tech devices.
The Importance Of Temperature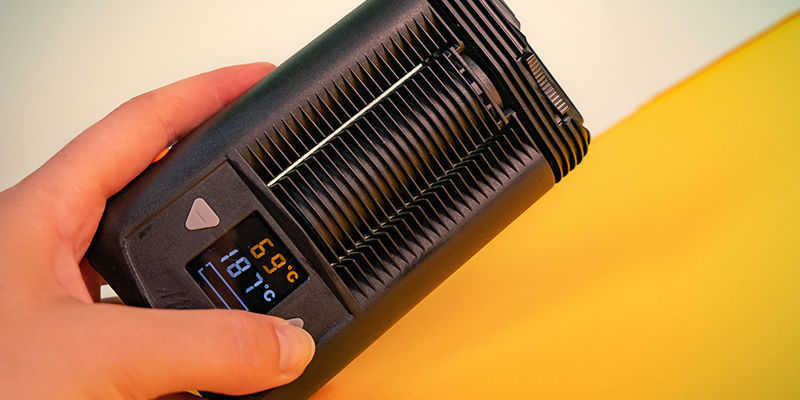 The most important aspect of vaporizing is temperature: If your vaporizer is set too high you risk combusting your dry herb; if your vaporizer is set too low you won't be able to release the desired compounds from whatever it is you're vaping.
In an article by Leaf Science, Dr. Arno Hazekamp, medical cannabis researcher and Head of Research at Bedrocan BV in the Netherlands, suggests that 210° C is the best temperature for vaporizing dry herb. At this temperature, you're able to release most of the compounds from your weed with a vaporizer without actually burning it. The ideal temperature for vaporizing varies for other substances like tobacco (125-150° C) or herbal mixtures.
How To Clean A Vaporizer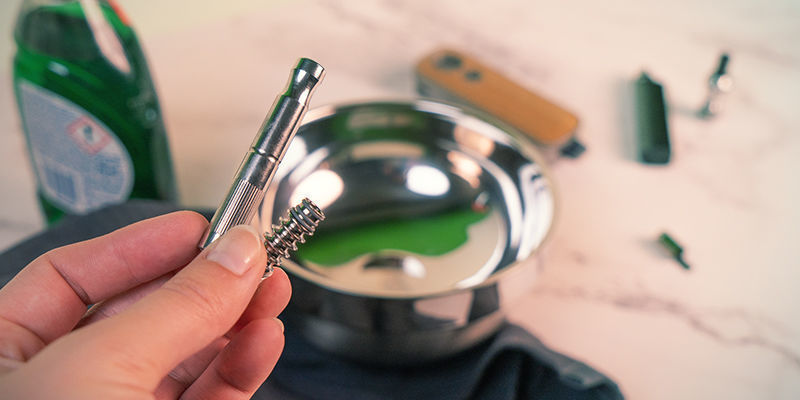 Once you settle on your favourite vape, you'll need to frequently clean it between sessions to keep it working correctly and extend its lifespan. All vaporizers require a slightly different cleaning regimen because they have different parts and materials. However, you can apply the tips below to every model:
Strip it down: Take your vaporizer completely apart and place all of the pieces neatly on a tray.

Soap: Fill a bowl with warm soapy water. Only place water-safe parts into the solution.

Isopropyl: Wipe down the dirty parts, such as the herb/concentrate chamber and mouthpiece, with isopropyl alcohol.

The power of the Q-tip: Dab a Q-tip into isopropyl and use it to access those hard to reach places within tubes and pipes.

Dry and reassemble: Dry off all of your parts, reassemble your vaporizer, and enjoy a clean vape during your next few sessions.
Are Vaporizers Safe?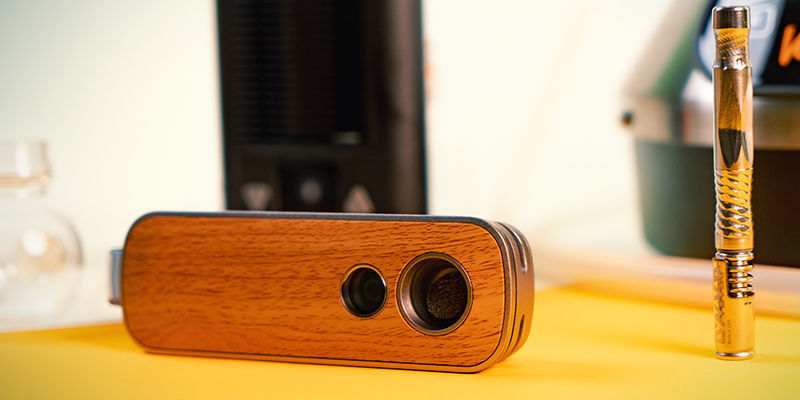 Vaporizers are a much safer alternative to smoking, a process that uses combustion and exposes the lungs to high levels of carcinogens. However, vaping does come with its own risks. Vaping liquids contaminated with vitamin E acetate are associated with lung injuries. Always purchase liquid from reputable sources.
Find Your Perfect Vaporizer Today
When choosing a vaporizer, it's important you keep your personal preferences in mind. If you lead a busy lifestyle and want a reliable tool that you can use practically anywhere, we suggest you check out some of the portable vapes we featured above. On the other hand, if you like the ritual of vaporizing in your own home and want to hold long sessions with your friends as well as experiment with temperature and different intake vaping methods, consider checking out a desktop vaporizer model.
Whichever you choose, we guarantee you can buy the perfect vaporizer at Zamnesia. So, get browsing and place your vaporizer order today.
Vaporizers: Questions & Answers
💨 What is a vaporizer?

A vaporizer is a device designed to heat herbs or concentrates without burning them, offering a healthier alternative to traditional forms of enjoying cannabis or other herbs. Vaporizers come in a variety of styles, shapes, and sizes, ranging from desktop vaporizer models to discreet portable vaping devices.

🤔 How does a vaporizer work?

Vaporizers work on the principle of either convection or conduction heating to turn active ingredients into vapor. Convection vaporizers work by heating the air around the product in the chamber, whereas conduction vaporizers work by heating a surface upon which your desired product is placed.

✔️ What are the advantages of a vaporizer?

Using a vaporizer is considered to be healthier than smoking because the herb is heated up instead of being combusted. As a result, ideally the vapor doesn't contain the harmful toxins smoke contains. Next to that, vaporizers can save you money in the long-run, as vaporizers are 30–40% more efficient than smoking. Other advantages of vaporizers are their superior flavour, discretion, and the option to control the temperature and dose.

😤 How to use a vaporizer?

Most vaporizers, especially portable models, are really easy to use. Just fill the herb chamber with your desired herb or concentrate. Wait until the desired temperature has been reached, and you are ready to vape! After your vape session, you can simply empty out the herb chamber—done.

🚬 What's the difference between vaping and smoking?

Smoke is created with an open flame. Herbs like cannabis or tobacco are lit, and their contents are inhaled in the form of smoke. Vaporizing doesn't involve an open flame, which greatly reduces the temperature the herb is exposed to. When cannabis is vaporized, it is heated up to the point at which the cannabinoids and terpenes change from solid resin to gaseous particles. Vapor is therefore much purer than smoke.

💧 What's the difference between vaping dry herb and e-liquids?

E-liquids are fluids specially designed for e-cigarettes. These devices heat the liquid and convert it into vapor. Dry herb vaping refers to vaporizing the unprocessed flowers of the cannabis plant, or other herbs.
---