Boundless Technology: A Company Creating Topnotch Vaporizers

4 min
Boundless Technology is fully committed to becoming the best in the vaping industry. Their convection-based, aromatherapy-oriented technology doubles-down perfectly for cannabis user. Find out why Boundless Technology is the avant-garde entrepreneur that actually cares.
In this little corner of the Zamnesia mothership, we sometimes abduct certain products that catch our eye. We probe into them, discuss, compare, and rather unsurprisingly, test them ourselves. This is where we cherry-pick the state-of-the-art, lthe crème-de-la-crème, the jaw dropping and awe inspiring specialties—and present them to our valued visitors.
We do this to ensure we only provide you with the absolute best of the best products available on the market, and we do it with both pride and prejudice. If they do not meet our highest quality standards, you will not see them in our shop. Quality is the case with Boundless Technology, and as such, you will most certainly see a range of their products in our Vaporshop.
AVANT-GARDE ENTREPRENEURS: WHO ARE BOUNDLESS TECHNOLOGY?
Boundless Technology is a company founded in 2015 based in Ontario, California. They specialise in exquisite, high-quality convection aromatherapy units, more commonly known as vaporizers. Since cannabis has a very pleasant aroma, this is a match made in heaven. But make no mistake; they do not use the word "aromatherapy" as a cover-up for "vaping cannabis".
Their number one mission is to spread awareness regarding the benefits of vaping, by innovating technological solutions into several products that make the combustion method of cannabis completely obsolete. However, each Boundless vaporizer's temperature range makes it perfectly clear that these units are great for all non-cannabis applications too.
HOW DO BOUNDLESS UNITS COMPARE TO ONE ANOTHER?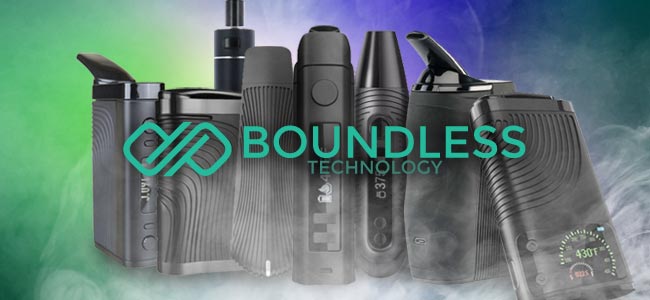 Boundless Technology has 8 units, each designed to suit specific needs. There are also a myriad of accessories that you can mix and match to make your vaping more fun - like glass mouthpieces and water pipe adapters. At a core level, they are all very portable units. What is most impressive about these products is their ultra-fast heat-up times.
The CF and CFX are essentially the same, except that the CF is a bit smaller and has five temperature presets. The CFX boasts a large screen with battery life and temperature; both have the same herb chamber and mouthpiece.
The CFV has a pure convection internal design, and comes with a fully controllable digital temperature controller for maximum precision. Also in the box are four distinct rings that interact with the heating chamber, to further dial in your preferred cloud types and flavours. There is a quartz ring and then 3 different wooden rings.
The TERA is their beefier unit, boasting two removable 18650 batteries and reaching an impressive 260°C in seconds. This is great news for those in the know, as having two removable 18650 batteries in such a small format is a huge technological challenge. The TERA also works with concentrates.
The CF Hybrid is more portable and has a 510 thread, but is also suitable for both herbs and concentrates. The CF 710 model is an even more portable version with a sleek and inconspicuous design, yet is able to house a 16500 internal battery that eliminates the need for a blowtorch to enjoy oils or concentrates while you are out and about.
Their smallest and most portable unit is the CFC, which comes at an incredibly reasonable price given its quality. It is capable of dialing in temperatures between 60°C and 230°C, which is quite impressive. The slighty newer version, the CFC 2.0, features a complete redesign for ultra-discretion, improved airflow, and is fully compatible with water pipe accessories.
BOUNDLESS TECHNOLOGY: REVIEW MADNESS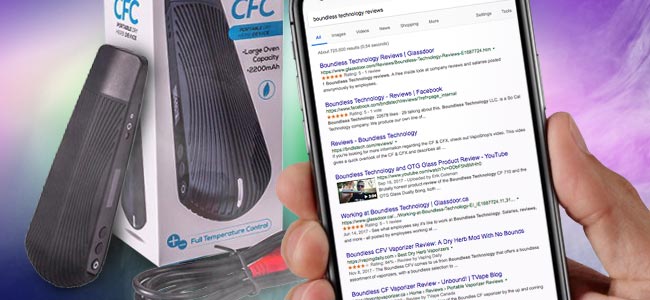 If you are looking to purchase one of these units and actually take the time to read around for reviews to help decide, you will certainly find Boundless Technology as one of the the top choices all over the web.
A quick run around the internet will yield dozens of rave reviews regarding these units. On YouTube, there are also tons of unboxing videos and tests against other similar products. The vaping industry has grown by leaps and bounds these past few years, and reviewers are becoming ever more intricate in their analyses. Nevertheless, Boundless Technology is quickly becoming a benchmark for quality vapes.
The Boundless team listens to customers' opinions diligently. For example, they delayed the launch of the TERA to swap out the internal chamber from aluminum to stainless steel. They truly do care about customer satisfaction.
A COMPANY THAT GIVES BACK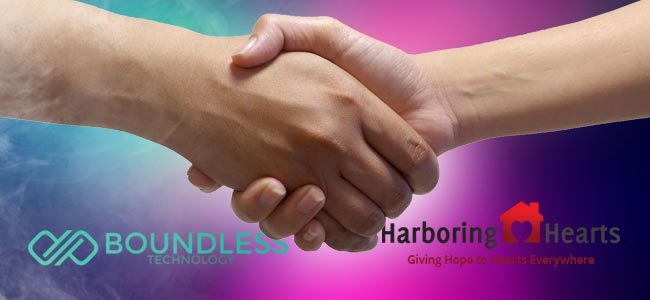 Boundless Technology donates 15% of all retail sales to HarboringHearts.org. Harboring Hearts is a charity that creates emergency funds to address emotional and financial relief for patients, families, and caregivers. They help alleviate unanticipated burdens when facing lifesaving heart procedures. So rest assured that you are dealing with a company that is truly conscientious in regards to promoting better health directly and indirectly with their products.
BOUNDLESS VAPORIZERS: WHICH ONE TO CHOOSE?
It is incredibly difficult to objectively pick one out of the lot. They are all superbly designed, and attention to use-case detail is outstanding. Prices also vary substantially.
If you have experience with these more modern and higher-quality type of vapes, then you already know which one is best suited for you. If, on the other hand, you are just getting started or are looking to upgrade, we suggest having a look at the CFX, the CFV, and the CFC 2.0.
THE BOUNDLESS CFX - PRECISE PORTABILITY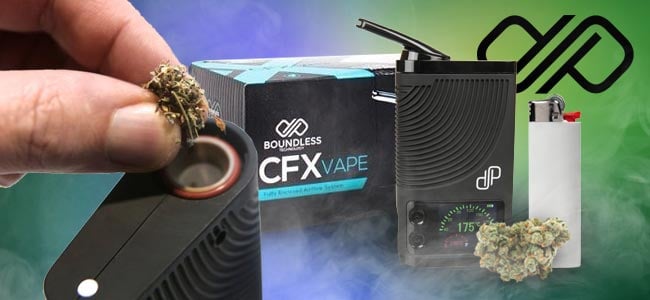 • Temperature range 37.8–221.1°C
• Fully isolated air path
• Haptic feedback to alert the user when it is heated
• Dual charging options, has a capacity of 2500mAh with an output voltage of 7.4V
• 80W oven with a heat-up time of 20s
• 300-second session timer to automatic standby
• 2 internal and replaceable 18650 2500mAh, equates to 10–15 sessions per full charge
THE BOUNDLESS CFV - EXCELLENT AND INCONSPICUOUS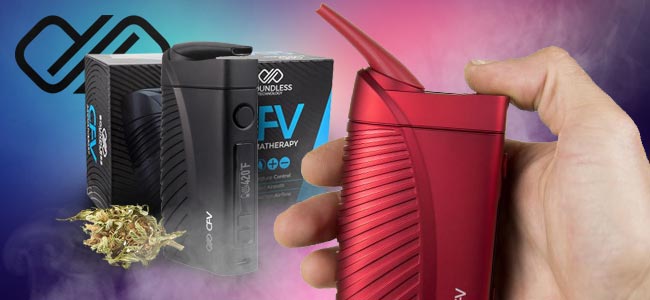 • Convection heating technology
• Interchangeable heat retention rings for added flavour and effectiveness
• USB charging
• 1700mAh, one full charge lasts for 4–6 sessions.
• 240-second to automatic standby
• Digital indicator displays battery life
• Last-session heat temperature memory when powered-on
THE BOUNDLESS CFC 2.0 - THE EVOLUTION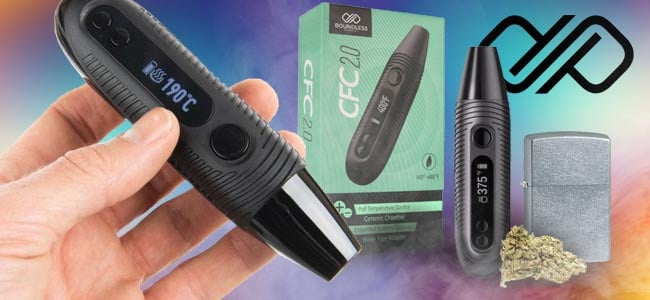 • Ultra-discreet
• Improved and amplified convection design with revolutionised airflow
• Textured grooves and ridges for better grip
• Can fit up to .5 grams of ground-up herb
• Comes with water pipe adapter
• Ceramic chamber
• One 18650 battery
You simply cannot go wrong with any of them, and their slight differences in looks and features will not make or break a deal. You may be tempted to look for cheaper alternatives, but remember, you get what you pay for. In the case of low-quality vapes, that means small clouds and a lesser taste. Given their quality build and price point, Boundless vaporizers are almost impossible to beat.
Written by: Zamnesia
Zamnesia has spent years honing its products, ranges, and knowledge of all things psychedelic. Driven by the spirit of Zammi, Zamnesia strives to bring you accurate, factual, and informative content.

Find out about our writers
---