Blog

3 min
Store Your Cannabis Like A Pro With Smokus Focus Stash Jars
3 min
It's time to ditch the plastic baggie and display your weed with pride—with Smokus Focus.
The beauty of cannabis is that each and every strain is entirely unique. Aside from delivering different effects and highs, weed strains boast a unique appearance. Some buds, for example, are covered with frosty trichomes and orange pistils, while others are vibrant green and fiery. There are also strains of cannabis that develop such a deep purple hue that they almost look black.
Smoking the immense variety of weed the world has to offer is only half the fun. Sometimes it's nice to sit back and appreciate your supply and all the little features that make it one-of-a-kind. But between cheap plastic bags and decorative stash jars, it can be hard for a cannabis connoisseur to admire the details of their chosen strain. Thankfully, Smokus Focus stash jars are changing the game.
THE HISTORY OF SMOKUS FOCUS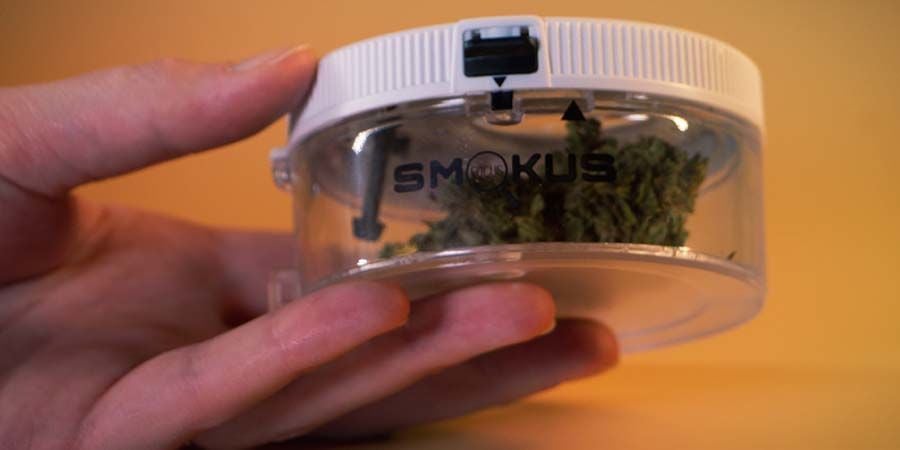 Cannabis is known for sparking creativity, and that's precisely how the ingenious idea behind the Smokus Focus came to light. While sitting by the ocean one humid evening in Charleston, South Carolina and enjoying some of California's finest flower, founders Sam Whetsel and Danny Einhorn started to think about how the magnificent and alluring cannabis plant is becoming legal all around the globe, yet is still being dispensed in tacky plastic baggies and plain stash jars. That's when they decided they were going to set a new standard for cannabis storage.
From that point on, they began researching everything there is to know about storing cannabis, including the methods that were available to consumers and the industry as a whole. After thorough investigation and developing a design worthy of displaying such a beautiful plant, hundreds of the first units sold fast, and what started off as an idea that stemmed from a quality smoke session then turned into a booming business beginning in early 2016. Once 2018 rolled around, Sam made his way to Denver, Colorado, and Smokus Focus headquarters found its new home and began shipping worldwide.
FLAUNT YOUR FAVOURITE FLOWERS WITH SMOKUS FOCUS STASH JARS
So many cannabis storage methods are designed to keep your herb fresh, but not too many give you an up-close and personal view of the nugs in all their glory. Whether you're a grower or a business owner, putting your product on display is best done using something that will genuinely show it off, like Smokus Focus stash jars, not something that will shadow its appeal.
Smokus Focus puts your favourite flowers in the limelight and maintains their quality to boot. During daylight or the late hours of the night, you can catch a glimpse of your beloved buds before you set them ablaze. Smokus Focus features LED lights and magnifying lenses to bring out every attribute of your strain. Not to mention, every variety of Smokus Focus comes with a rechargeable battery that lasts for up to 12 hours, making them perfect for on-the-go storage.
Soon, Smokus Focus will be gearing up to launch a stash jar specifically for displaying and storing your sticky concentrates, as well as other new and exciting products sometime this year - so stay tuned.
They also plan on expanding further in the US, Europe, and Latin America, and they have their eyes on Spannabis, Mary Jane in Berlin, Amsterdam, and virtually anywhere where you can find top-notch cannabis. Until then, you can snag two types of Smokus Focus stash jars for your flowers. Regardless if it's 3 grams or as much as 7 grams of bud, there's a Smokus Focus to accommodate and parade your prized stash!
THE JETPACK
The Jetpack by Smokus Focus is an innovative stash jar that allows you to asses your buds without even opening the lid! The 100% air-tight lid features a magnification window that gives you access to the microworld of trichomes and pistils. It also has a built-in smelling vent that enables you to quickly sample the terpene profile of the buds within.
The secure lid means you can travel with discretion, as no aromas will leak out and raise eyebrows. The air-tight nature of the container also means you can use it to cure small batches of cannabis. Use the magnification window to assess your bud and look for possible mould contamination during this process.
To top it off, the Jetpack is a safe and secure option when it comes to stashing your weed. The container features a childproof lid and locks when turned clockwise. There's also a built-in tether loop that will enable you to tie your Jetpack to the inside of your travel pack to prevent you from misplacing it.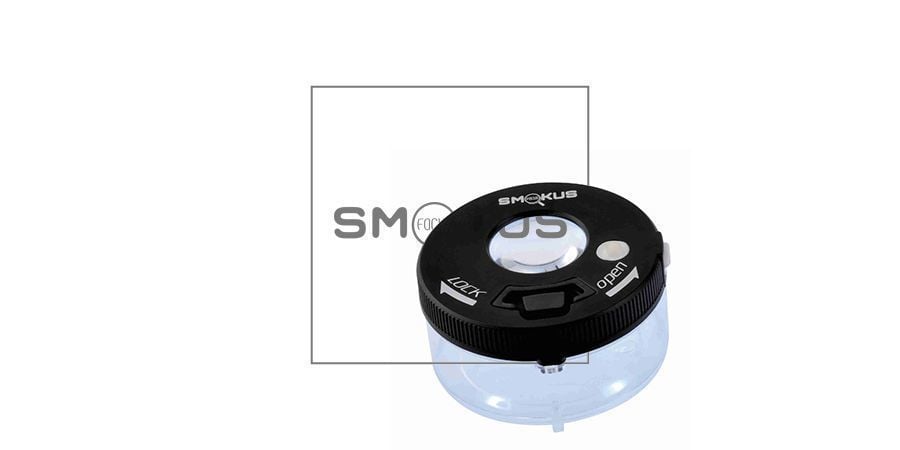 THE STASH
The Stash, available in a black-and-white combo, is just one type of Smokus Focus stash jar. It holds up to 3.5 grams of bud, and like the others of its kind, features bright LED lights along with highly powerful magnifying lenses. The Stash happens to be the smallest of the Smokus bunch. With a diameter of 5.08cm and a length of 7.62cm, the Stash is both pocket-portable and lightweight, making it ideal for storing ganja on-the-move. To top it all off, the Stash comes with an airtight seal to help maintain the freshness of every precious nug.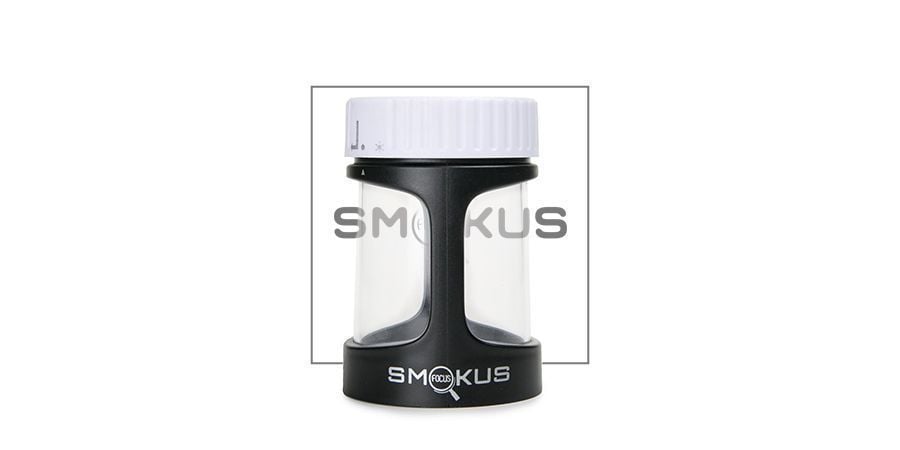 View The Stash
THE MIDDLEMAN
If you're looking to stash away up to 7 grams of bud, then The Middleman, available in white, is just what you need. In like manner of the Stash, the Middleman has luminous LED lights and sharp magnifying lenses for a gorgeous, direct view of your herbs. Although it features a diameter of 7.62cm and a height of 10.16cm, which is only slightly larger than the Stash, the Middleman is still ideal for travelling, and can just as effortlessly be tossed into your bag or purse. And thanks to its airtight seal, you'll never have to worry about your sticky-icky growing dry and brittle.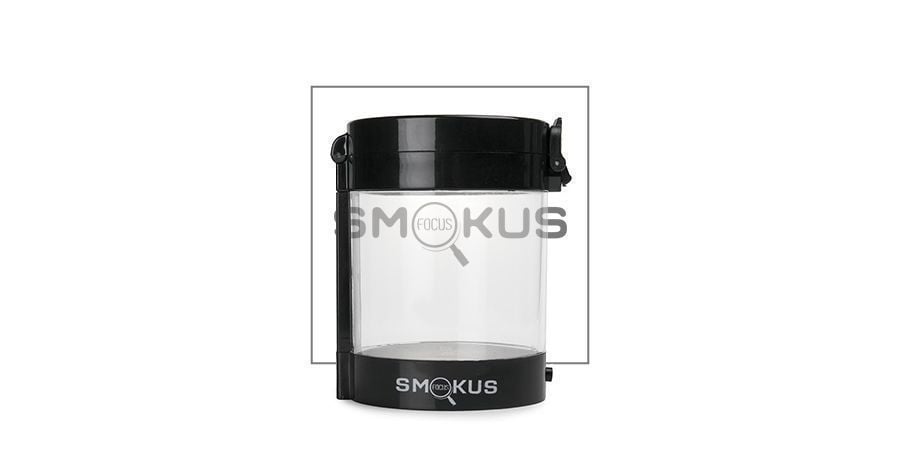 View The Middleman