Metal Grinder Black Leaf XXL
4.5

5

1

(

10

)
Size does matter! This out-sized four-parts CNC machined grinder by Black Leaf is the perfect choice if you want to prepare a "little" more weed. The lid slides on a nylon friction ring to allow for easy operation. It is anodized and has an etched "BL" logo on the lid. Comes with a velvet bag.
More info
Metal Grinder Black Leaf XXL data sheet

| | |
| --- | --- |
| Height | 70mm |
| Magnet | Yes |
| Material | Metal |
| Diameter | 90mm |
| Number of parts | 4 |
More information related to this product:
Reviews (10)
31/Jul/2021

Super Grinder
Super Grinder works nicely big heavy duty love it

20/Apr/2021

Super
Livraison rapide et en bon état. Grinder imposant de très bonne manufacture.

15/Jan/2020

Good size grinder
Nice big grinder. Quality is good.

09/Jan/2019

mon avis
bjr, tout d'abord, je n'ai rien a dire sur le site, ni sur la livraison. sur ma quinzaine de commenda, touts les colis sont toujours bien arriver a bon port, dans un etat nickel. pour le grinder, comme indiquer dans l'annonce format 'xl'. il pese +/-800gr, vous remplis la main de part sa taille, mouline tres bien, peux contenir facile de 5/10gr, la reserve a trichomes sous le tamis est juste enorme... mon seul defaut, malheureusement c'est le meme pour tout les fabricants : LES BAGUES EN NYLON sont bien trop fragile. mon grinder a un mois, je desire le nettoyer dans un bain marie, pour ce fait je tire toujours la bague en nylon avant le bain. et la voila deja cassee... comment puis-je avoir une nouvelle bague en teflon du diametre du monstre.... ps : j'ai un thorinder, et un solinder aussi ,et figurez-bvous que j'ai le meme probleme BAGUE CASSEE pourriez vosu m'aider a ce sujet, un grand merci d'avance a vous, bonne journee

04/Jan/2018

Top of the pop !
Fonctionne parfaitement bien, pas besoin de faire trop d'effort pour grinder une grosse quantité, le réservoir est lui immense vous pouvez grinder au moins 3 fois avant de le remplir.

15/Nov/2017

Voor het grotere werk
Heb deze grinder gekocht om grotere hoeveelheden kleine topjes te vermalen om aansluitend te zeven. Grinder werkt naar behoren al is de hoeveelheid die je in een keer kunt verwerken toch gering. Bij langdurig gebruik vervuilen de gaten waardoor het gruis naar beneden moeten vallen vrij snel. Ook de schroefdraad om de gemalen topjes uit de grinder te legen moet regelmatig gereinigd worden. Verder goed.

15/Mar/2016

Perfect
Very good quality

22/Sep/2015

Mario C.
Perfect logistics & customer care. Big enough size and perfectly engineered

22/Jun/2015

Top
Fast shipment, top product

You cannot post a review because you have not purchased this product
Our Review

Zamnesia Review: Black Leaf XXL Metal Grinder 
No matter how you prefer to enjoy your marijuana - be it in a joint, bong, pipe or vaporiser, you need to grind up the stash first. This grinder is the Daddy.
Black Leaf XXL: The Supersized Weed Shredder
Herbal cannabis, marijuana, weed, or sticky green - call it what you like. Step one before any session can begin, the flowers must first be prepared for toking. This usually involves crunching up some weed with a grinder. If you have been enjoying cannabis for a while, then you already know all grinders are not created equal.
Using alternative tools and methods like kitchen knives or crumbling nugs by hand are not usually favoured by the majority of stoners. Every ordinary consumer needs a high-quality grinder they can count on to make the cannabis session live up to its full potential. So it's about time we put the biggest and baddest of grinders to the test. It's not Batman's grinder, it's the Black Leaf XXL and it's hungry for your weed.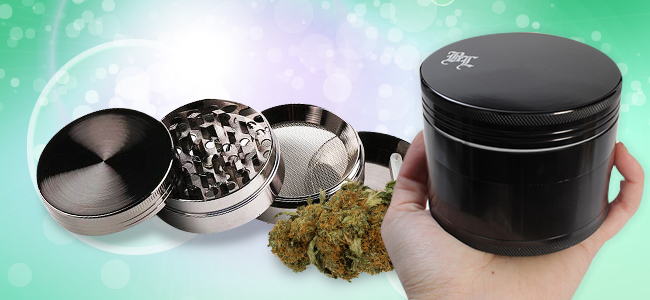 SIZE AND WEIGHT
Huge! Seriously the Black Leaf XXL 90mm is a beast of a grinder. If this baby doesn't cut it for you, then you should invest in a wood chipper. This tool is heavy duty and super-sized, with at least double the weed grinding capacity of an ordinary grinder. Also, about twice as heavy as your average make as well.
BUILD QUALITY AND FEEL
As soon as you get your hands on this grinder, you can tell it is a well-engineered, deluxe piece of stoner equipment. The black velvet pouch is killer, probably cut from Dracula's cape. Inside lurks a dark monster. 4 parts - all solid metal, CNC machined aluminium and all black everything. Not overly labelled, just a BL logo. This grinder is big and tough and OTT, but it works. Definitely gives you the feel of a tool you can count on.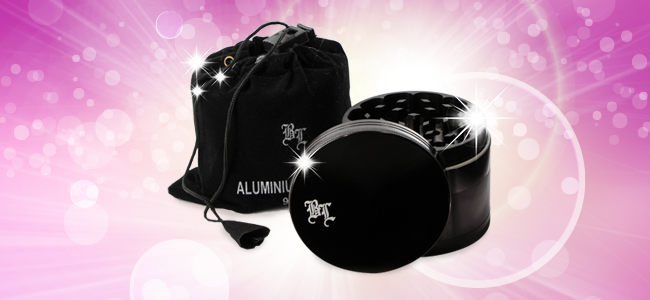 EASE OF USE
Black Leaf has created a grinder that can chew through the fattest stash and look good doing it. Let's break it down. Like most 4 part metal grinders, you have a magnet lid that rotates smoothly, gliding along a nylon friction ring as the top two pieces' diamond-cut jaws do the grinding.
Level three is where that fluffy ground bud sits in preparation for your sticky fingers. Finally, the lower chamber is screened off from above for the exclusive purpose of trichome collection.

The big difference with the XXL Black Leaf is that you can grind marijuana just once and enjoy an all day session. 1g loads are a mere appetiser. 2g of bud can be processed with a few turns, no problem. Best of all, this baby won't shred your stash to powder. Processed nugs look nice and fluffy with this grinder, making for a wholly enjoyable smoke.
CLEANING AND MAINTENANCE
As is the case with all grinders, it's recommended to give them a cleaning once in awhile to keep everything running smoothly. Most stoners will wait until the lowest pollen catching chamber has accumulated a decent amount of moon dust before cleaning out the grinder. This holds true for the Black Leaf XXL.

Unless there is an obvious problem, keep on grinding. Don't forget this grinder is an absolute giant, so it will take a few months to fill up the base with a thick layer of trichomes.
A thin artist's paintbrush is a handy tool to effectively sweep out the grinder. In any case, this model comes with a little scraper tool. When the time comes to break into the resin bank, expect to be rewarded with at least a couple of grams of trichs.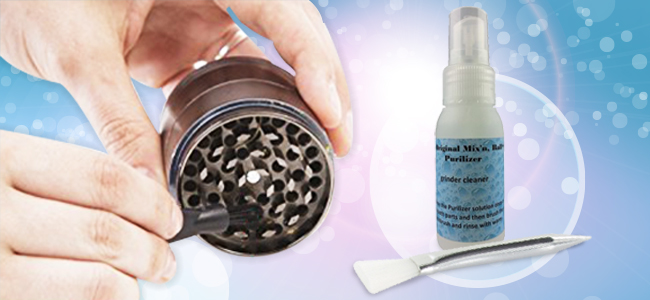 COST
This is a luxury grinder for big tokers. At €54.95, the Black Leaf XXL is our top-shelf grinder. If you want bigger and better, you gotta be prepared to pay a little more for it. If this doesn't cut it for you, no grinder ever will.
POST SESSION OBSERVATIONS
After a couple of weeks of daily use, this grinder has yet to disappoint. Bud after bud has been devoured. The Black Leaf XXL doesn't quit. Most importantly, the top two tiers continue to chew without weed clogs. Some grinders loose that smooth turning action after a few sessions. Not this grinder.
Keep this beast confined at all times. A grinder this big is just not practical to carry around. If you do have to take this grinder outside of the house, save it for the Zombie Apocalypse. Got to be 110% sure before you go caving in the "walker's" skulls wielding the Black Leaf XXL in a sock like a mace.
CONCLUSION: A BIG BADASS GRINDER FOR BIG TOKERS
Well worth the money for daily weed tokers, the Black Leaf XXL is best suited to those that like to blaze a lot rather than a little. Every king or queen stoner needs to keep a grinder in their castle. Might as well be the biggest, most badass one you can possibly wrap your hands around.
Restrictions
Please note that if your country is not on our general shipping list, we're unable to ship any item on our website to it. For more information check out the list here: Ordering & Shipping
Video (0)