Blog

2 min
Review: The Chongdolf Pipe

2 min
We take a closer look at a hot new piece of glass by Cheech & Chong. Allow us to introduce you to the Chongdolf. If you have always wanted to toke cannabis Gandalf style this is the pipe you have been waiting for. Get ready to drool over the coolest glass pipe on the market.
Nothing beats a fresh green hit of high-grade cannabis. Especially not from a clean glass pipe. The Cheech & Chong Chongdolf glass pipe is not only a wonderful pipe to toke it looks cool too. So cool, that you can't help feeling like stoner nobility every time you roast a bowl. Cheech & Chong bongs, pipes and dabbing rigs are always a pleasure to review. Naturally, we had great expectations going into this one. Here's everything you need to know about perhaps the most stylish glass pipe on the market.
SIZE AND WEIGHT
The Chongdolf is approximately 22.5cm in length with a gently curved elongated neck. Feather-light and easy to take with you on the go. Packaged neatly in a unique funky tie dye drawstring pouch.
BUILD QUALITY AND FEEL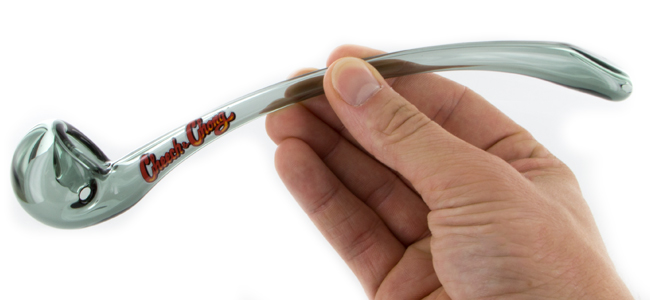 This glass pipe by Cheech & Chong is visually stunning and available in Smoke or Colour Change styles. Comfortable to hold and finely crafted, each piece is individually hand blown in Canada. The Chongdolf exudes charm and you can really feel it's a quality piece of glass when you hold it.
EASE OF USE
All you need to do to use the Chongdolf is load a pipe screen in the bowl, pack in your weed and blaze up. Smile you just took a hit. The air hole on the side can be covered with your thumb and released as you draw. Thanks to the elongated neck the smoke has a moment to cool. This ensures a smoother hit.
Moreover, the bowl is a good sized diameter and depth so you can really pack in a nice quantity of crumbled bud and rip some monster hits if you're so inclined. Generally, the best pipes are simple and uncomplicated to use. Also, glass makes for a cleaner hit. The Chongdolf checks all the must-have pipe criteria and does it Gandalf style.
SMOKING EXPERIENCE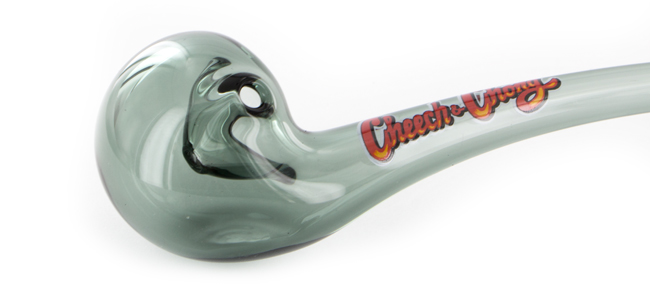 When you roast a bowl with the Chongdolf you will be struck by how smooth even large hits go down. As soon as you take this pipe out of the designer bag and have it in your hands you feel a little cooler. That's before you even blaze up. The Chongdolf definitely won't go unnoticed by fellow stoners if you are enjoying a session with friends. Don't be surprised if the Chongdolf becomes more popular than you are.
CLEANING AND MAINTENANCE
A high-quality glass pipe like the Chongdolf is worth looking after. The good news is it's really easy to keep your Chongdolf spick and span with simple inexpensive kit. All you need is a cheap fibre pipe cleaner and a supply of pipe screens.
The best way to maintain the Chongdolf or any glass pipe is to use screens in the bowl and change them when ash builds up. Basic pipe care is all that's required. Heavy users may need to jam the pipe cleaner in to remove resinous stains weekly. But 5 minutes of your time to keep the hits coming is a small price to pay.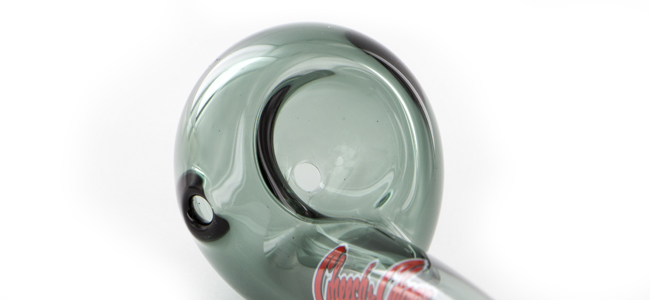 COST
At just €32.50 the Cheech & Chong Chongdolf glass pipe is a bargain. A top-shelf pipe that you can actually see yourself using possibly every day is hard to find at a lower price. Certainly not one as funky and as functional as this beauty.
POST SESSION OBSERVATIONS
Having extensively field-tested the Chongdolf our reviewer Top-Shelf grower has become totally enamoured with the piece. No product samples were returned to Zamnesia HQ.
THE ONLY NEGATIVE
The only negative of this pipe is that it is easy to break - being a long glass pipe means clumsy people will need to take care - or watched like a hawk if they are a friend using the pipe.
CONCLUSION
In our opinion the Cheech & Chong Chongdolf is not just one of the best budget priced glass pipes; rather it's one of the best pipes on the market period. For those that look forward to nothing more than that first fresh green hit at the end of a long hard day we highly recommend the Chongdolf.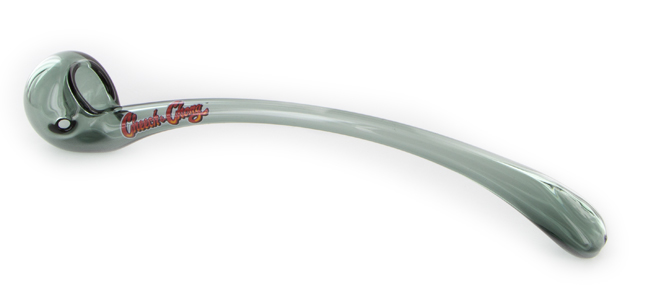 Hell, even if you usually don't smoke marijuana with a pipe it's always handy to have at least one classy piece of glass to hand should the mood strike or friends stop by for a sesh. If you enjoy smoking cannabis you will definitely have fun roasting a bowl or two with the Chongdolf.
Written by: Top-Shelf Grower
Veteran cannabis cultivator originally from Dublin, Ireland and currently on the loose in southern Spain. 100% committed to Top-Shelf reporting until captured or killed.

Find out about our writers
---