Zamnesia Karma Silicone Pipe (PieceMaker)
4.5

5

1

(

23

)
The Karma silicone pipe by PieceMaker is a pocket-sized piece crafted from silicone and equipped with a built-in stainless steel screen for clean hits every time. Now branded with an exclusive Zamnesia logo!
In stock
You will be notified as soon as the product returns to stock
Product accessories: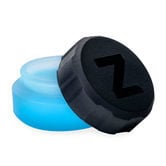 Zamnesia Kontainer...
More info
PieceMaker - Zamnesia Karma: Potent Puffs From This Pocket-Sized Powerhouse
As part of an exclusive collaboration between the bong and pipe experts at PieceMaker and your favourite cannabis comrades at Zamnesia comes something truly awesome. Cue the Zamnesia Karma. As one of the flagship silicone pipes from PieceMaker, the Karma is a serious powerhouse when it comes to getting the most out of your strains. But how do you improve on such a classic? By adding Zamnesia's logo, giving it that exclusive feel, of course!
Made from FDA-approved silicone, this is a serious pipe made for serious stoners. While once silicone had a bit of a bad rap as a material for pipes, this is simply no longer the case! The silicone is completely heat resistant, keeping its shape throughout. Also, it won't impact the flavour or aroma at all, meaning you can enjoy your herb with peace of mind.
Measuring 85mm long, this is the pocket-sized companion you've been after. Because of its small size, it can fit into your jacket or bag with no fuss. And thanks to the silicone, it can easily survive all situations. So if it's in your bag with other items, it doesn't matter if it gets a little squashed—it will simply bounce back into shape when you're ready to use it.
Getting your Zamnesia Karma going is an incredibly easy feat. Located at the end is a built-in stainless steel bowl that provides plenty of space for you to pack in your finely milled herb. And there's even a handy little cap to screw on if you're looking to save the fun for later. Otherwise, it's ready to go. Heat the bowl with your lighter and take a hit from the mouthpiece. You'll be blown away at what this pint-sized pipe can do—believe us.
With a beautiful black finish and the Zamnesia logo emblazoned on top, this pipe brings effortless cool and style to any smoking session. What better way to enjoy your herb?
Zamnesia Karma Silicone Pipe (PieceMaker) data sheet

| | |
| --- | --- |
| Length | 85 mm |
| Pipe Material | Silicone |
| Pipe Size | 0-9cm |
Reviews (23)
03/Sep/2022

Super Cool
Bin begeistert 🤩

26/Aug/2022

piece maker
Good hits, easy to clean good price as well..

16/Jul/2022

Yes indeed ^.^
I wasn't personally attracted to this baby - but according to my entourage, my beloved glass pipes are too obnoxious, and I always get the outlandish crack pipe comparison :/ Black otter smokes well. Cleans well with a shake of salt and alcohol. It's hardly breakable…. I must admit I love it!

09/May/2022

wow
Kleiner, praktischer satisfyer

02/May/2022

Sehr Gut
Ideal für Salvia

12/Apr/2022

perfecto
goed, kan tegen een stootje, makkelijk te onderhouden, enkel pluspunten

03/Apr/2022

Very impressed
I've never had a pipe before but this is way better than rolling. Cleaning takes no effort, it can easily be carried, I've fallen asleep on top of it and it looks pretty cool as well. Recommended definitely.

24/Feb/2022

Really good!!
Excellent pipe really portable and very easy to clean!

21/Jan/2022

Got it as a gift
I got it as a gift from zamnesia with an order I placed I like this material more as a pipe

17/Jan/2022

Good
Bonne petite pipe de qalité

You can't post a review because you are not logged as a customer

Log in / sign up
Restrictions
Please note that if your country is not on our general shipping list, we're unable to ship any item on our website to it. For more information check out the list here: Ordering & Shipping
Video (0)