Blog

8 min
Top 10 Dab Rigs (2022 Edition)
8 min
Dab rigs are a hugely popular way to enjoy cannabis concentrates. With so many rigs to choose from, it can be a little confusing to those brand new to the scene. However, we're here to make things a whole lot easier. Read on to check out our list of the top 10 dab rigs available, plus a little background on dabbing itself to get you up to speed.
There's more than one way to enjoy cannabis. While plenty of people love their herb, others indulge in the likes of resins, extracts, and oils—aka dabs. It's no surprise then that dab rigs have taken centre stage as a vital piece of equipment. So, whether you're brand new to dabbing or consider yourself a "dab hand" (pardon the pun), read on for a breakdown of what you need to know about the practice, followed by a list of 10 hand-picked dab rigs for you to choose from.
What is a dab rig?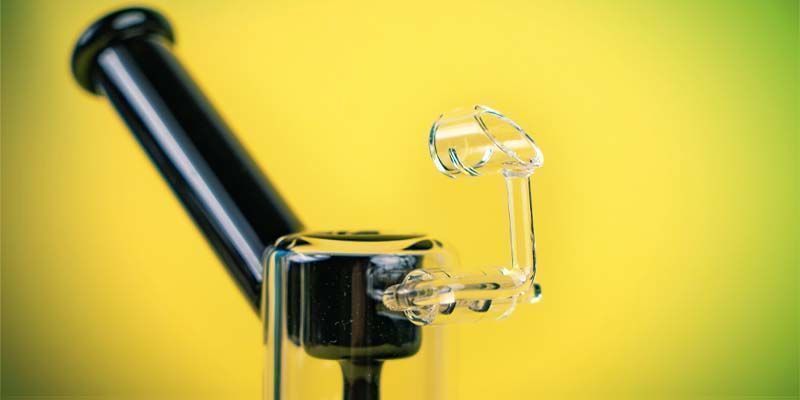 First things first; what exactly is a dab rig? A dab rig is a water pipe used to enjoy cannabis concentrates, waxes, and oils. Though similar to a traditional bong, dabbing rigs are outfitted with a very key feature known as a nail or banger. The banger is essentially a bowl, but unlike that which you would find on a regular bong, this one can handle the heat of a blowtorch, allowing for effective and ample hits. That said, a dab rig is similar to a bong in that it can be used with water to cool the vapor produced.
Traditionally, dab rigs are constructed from high-grade, temperature-resistant borosilicate glass, but they can also be made from other materials, such as silicone. Moreover, while the majority of rigs are heated manually through the use of a blowtorch, it's entirely possible to purchase electronic dab rigs that heat dabs to the optimal temperature without the need for firepower.
How does dabbing work?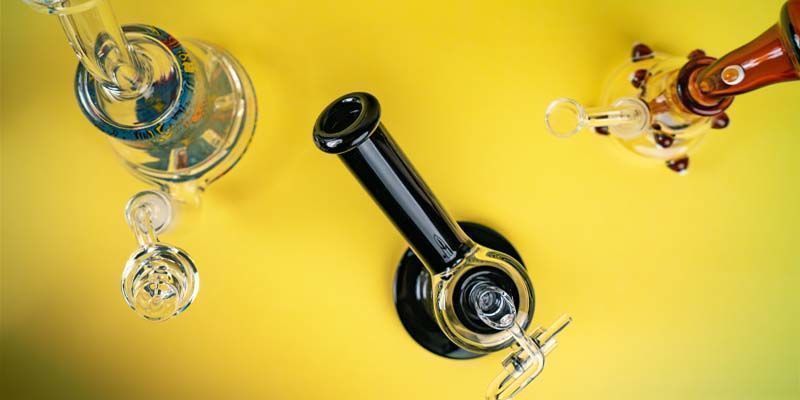 Dab rigs may seem a little intimidating and complicated to the uninitiated, but they're largely simple to use. As mentioned, the chief component of distinction is the banger/nail. Bangers are shaped more like traditional bowls, while nails look more like their namesake. Either way, they are used as a surface on which to place dabs for vaporization.
Although there are multiple ways to dab, the most common method involves heating the nail before adding the dab. First, fill your rig with enough water to submerge the percolator; this acts to cool the vapor and makes for much smoother hits. Now, using a blowtorch, carefully heat the nail until red-hot. Allow it to cool slightly before using your dabbing tool—which is usually some form of metal or glass wand—to transfer your dabs onto the hot surface. With your mouth on the mouthpiece, inhale as the dabs quickly vaporize on the hot nail or banger.
Again, this is just one way to go about dabbing. Of course, when using an electric dab rig or an e-nail, you'll skip the butane torch in favour of an inbuilt heating element. The best electric dab rigs will heat up swiftly and offer precise temperature control. These rigs are often portable, designed for a life of dabbing on the go.
How much does a dab rig cost?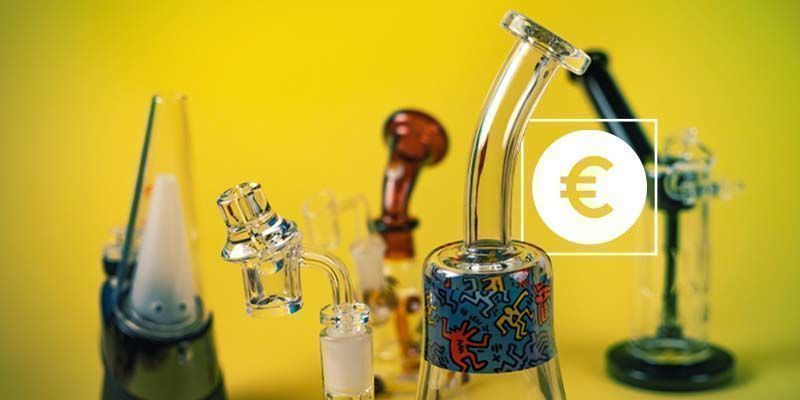 There was a time when dab rigs were a costly purchase. Nowadays, it's entirely possible to purchase a quality device at a reasonable price. As mentioned, the introduction of materials such as silicone has led to some budget-friendly price points (around €75) for those looking to try dabbing without purchasing an expensive piece.
However, those seeking something more premium will find plenty on offer, as ornate and high-tech dab rigs can be sourced—but they come with a premium price tag to suit. As a rule of thumb, the more features there are on a dab rig, the more expensive it will be. But rest assured, there is a rig out there to suit all needs and requirements.
Top 10 dab rigs
So, now that we're up to speed on what exactly dab rigs are, how they function, and how they vary in cost, we've put together a list showcasing 10 of the best dab rigs available today. These appear in no particular order, come at different price points, and encompass both traditional rigs and newer electric dab rigs and e-nails. Let's take a look.
1. Dr. Dabber Switch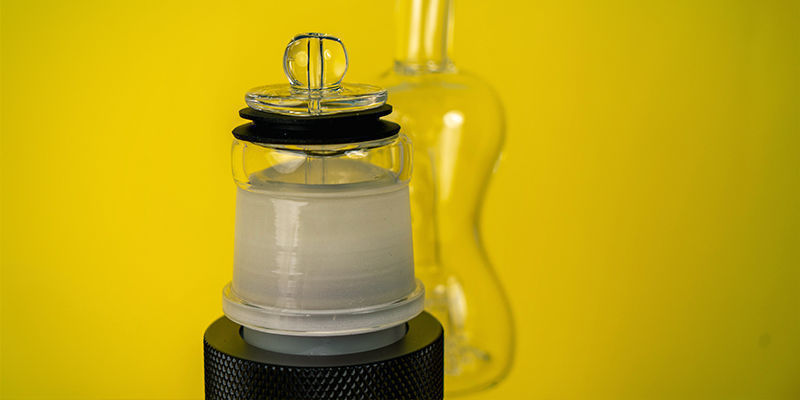 Straight out the gate, we have a hybrid dab rig in the form of the Switch by Dr. Dabber. This electronic dab rig can handle both dry herbs and concentrates with ease. Powered by a high-grade, long-lasting battery, the Switch is controlled via a simple and intuitive button system, giving users unprecedented options.
With 25 heat settings available for leaf and oil modes, the device heats up within 3–6 seconds and can reach up to 425°C. With its powerful battery, the Switch is capable of around 100 dabs before needing to be charged again.
Featuring a stylish and sleek design, complete with a satin finish, the Switch is ideal for use at home, but is also the perfect portable electric dab rig for on-the-go use. Without the need for a torch, this is a great option for dabbing whenever you feel so inclined.
Caring for the Switch is incredibly simple, as it features its own self-cleaning mode that burns away any remaining residue in the device—a hassle-free dabbing experience!
2. K.Haring Concentrate Rig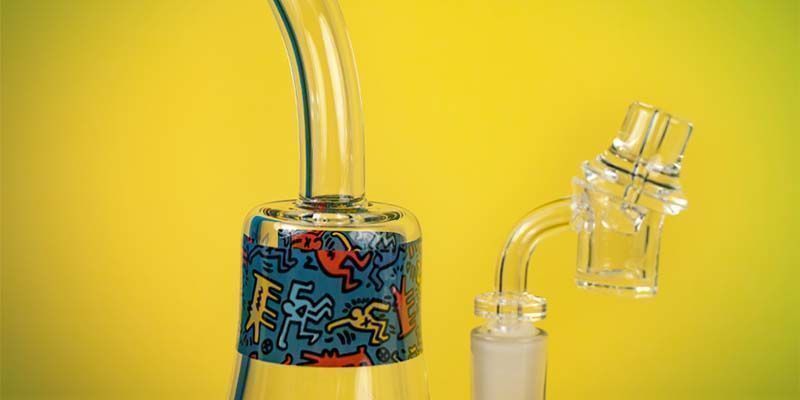 For the dabbing and visual art connoisseur is the Concentrate Rig from the K.Haring glass collection. This dab rig not only boasts the contemporary pop art of Keith Haring, but is made from robust borosilicate glass that can easily handle high temperatures and sticky concentrates.
Featuring water filtration that provides amazingly cool and smooth hits, the K.Haring Concentrate Rig also has a directional carb cap that allows you to seamlessly control the airflow, raising and lowering the temperature as you see fit. Simply heat, add some extracts to the banger, and inhale from the mouthpiece. This is pure dabbing at its finest, without the need for additional accessories or batteries.
Of course, the real feature of this rig is its vibrant, high-quality design. It even comes in a matching presentation box, giving it a more premium feel. It is guaranteed to be a talking point amongst artsy stoner friends. The perfect way to honour the legacy of this groundbreaking and influential artist.
3. Puffco Peak Smart Rig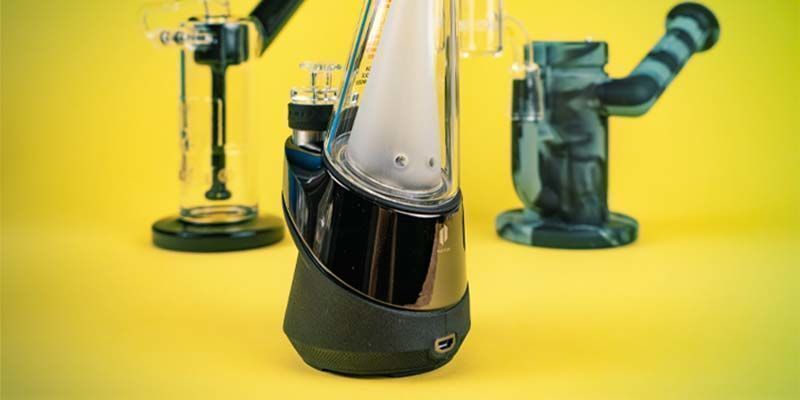 Primed for use with resins and concentrates, the Puffco Peak is the world's first smart rig. Offering up high performance and great flavours, this easy-to-use device bridges the gap between portable vaporizer and dab rig in the cleverest way possible.
This palm-sized electric dab rig is powered by a long-lasting battery that heats up the Peak in just 20 seconds. Thanks to haptic feedback and discreet LED lights, you're clued in at all times while using this smart rig. With plenty of customisable settings, it's effortless to dial in a temperature that really brings out the best from your waxes, oils, and resins.
The Peak has a contemporary, minimal design that makes it look like a modern art piece when positioned on a table or mantle—definitely bound to catch the eye of your friends. But after one hit, they'll be convinced that this pipe is truly "the peak" of electric dab rigs.
4. Black Leaf Oil Pipe with Honey Pot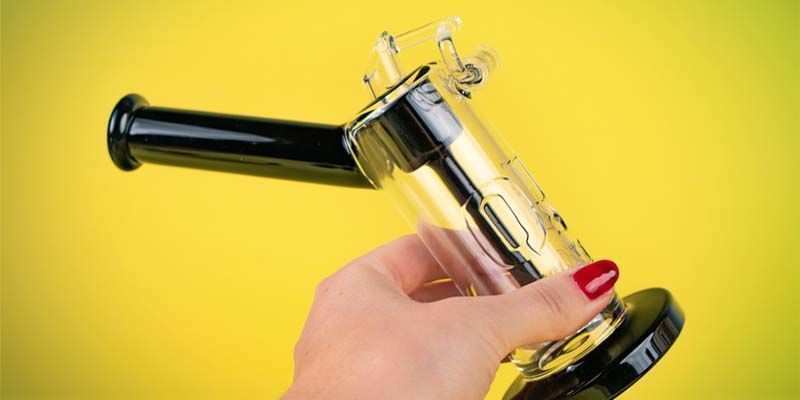 From the team at Black Leaf comes a premium-quality dab rig with a price point that's surprisingly affordable; the Oil Pipe with Honey Pot. Constructed from robust and resilient borosilicate glass, this pipe features a unique and clever "honey pot" design. This is a moveable nail that's attached to the pipe and provides ample room for your favourite substances.
The purpose of the honey pot is to offer a safer way to heat your oils. Apply heat, fill the pot, and move it aside while you inhale. The result is a smooth and flavourful hit that is suitable for all.
Standing at just 17.5cm, this pipe makes a great permanent fixture in a smoker's home setup, but is also ideal as a cannabis travel companion. It can easily slip into a bag and withstand a life on the move, thanks to its solid design.
5. Blaze Glass Oil Bong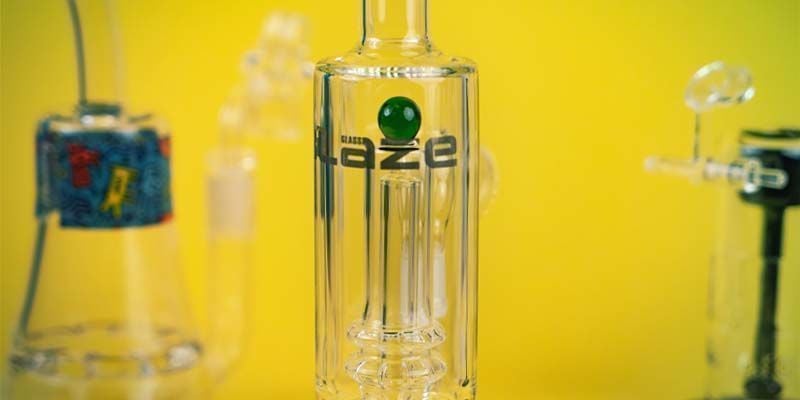 The Glass Oil Bong from Blaze is a borosilicate glass beauty boasting some emerald green glass accents. This rig strikes the perfect balance between looks and functionality. Complete with a stainless steel nail that leads into a percolated chamber, it's effortless to use.
Once the nail has been heated and the dabs placed inside, the vapor travels through the downstem and up the percolated diffuser. Once it's passed through the water, you'll be met with a smooth and cooled hit. At 30cm in height, this is a rig that's best when passed around with friends.
As mentioned, the Glass Oil Bong's looks are certainly eye-catching, but they also serve a purpose. The rounded green glass actually acts as a grip when using the pipe—providing a comfy hold when the session goes long into the night.
6. Hyer Big-E Rig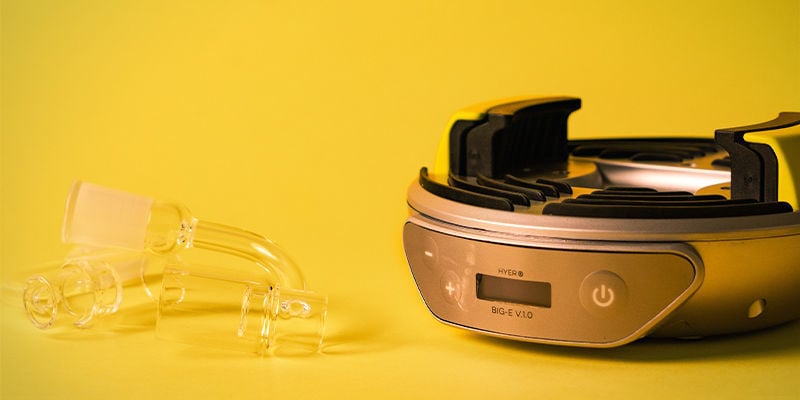 Okay, while not necessarily a dab rig, the Big-E Rig by Hyer is on our list as it enhances any water pipe you currently own. How does it do this, you ask? Well, it's actually quite simple.
The Big-E Rig is essentially a dock for your favourite bong or dab rig. Once fitted into place, this futuristic device uses electricity to heat a quartz glass heating element that connects to the banger, instead of using a conventional torch. Taking just 90 seconds to reach temperatures of up to 400°C, it's effortless to use, thanks to an intuitive control system. The LED screen located on the front will notify you once the device has reached the optimal temperature.
Not content on only providing an outstanding and flavourful dabbing experience, the Big-E Rig also features a USB port that allows users to charge their phones should the need arise. There's even an included stash space for a little of your favourite herb or concentrate.
7. PieceMaker Kube Silicone Oil Bong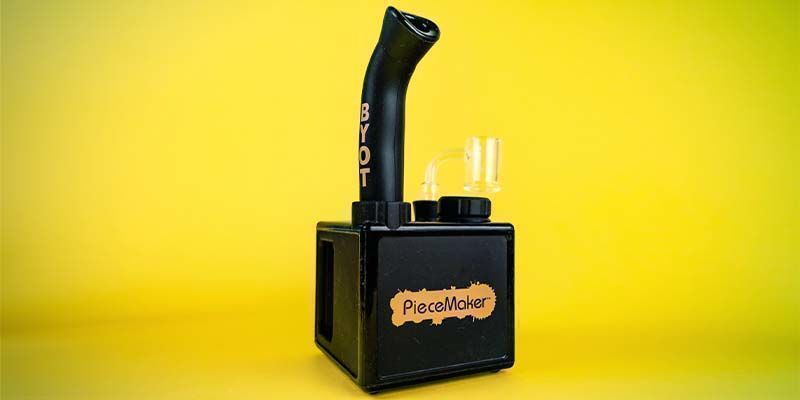 As the first silicone device on our list, the Kube is the perfect example of just how functional rigs made from alternative materials can be. This portable dab rig boasts an unusual design set on providing a great dabbing experience.
There was a time when silicone was looked down upon as material for water pipes and dabbing rigs. However, this couldn't be further from the truth with the Kube. With its unique shape, there are no prizes for guessing why it's called the Kube—but it certainly makes for a visually satisfying piece. With a removable borosilicate glass banger located at the top of the pipe, it's simple and safe to heat.
Because the Kube is made from robust silicone, it can be taken practically anywhere. The stainless steel base can even be removed, wherein you can store the banger, mouthpiece, and tools when not in use. All this, for a price that almost certainly won't break the bank. For the dabbing enthusiast seeking something new, the Kube by PieceMaker is the way to go.
8. EHLE Oil Rig Orange Flash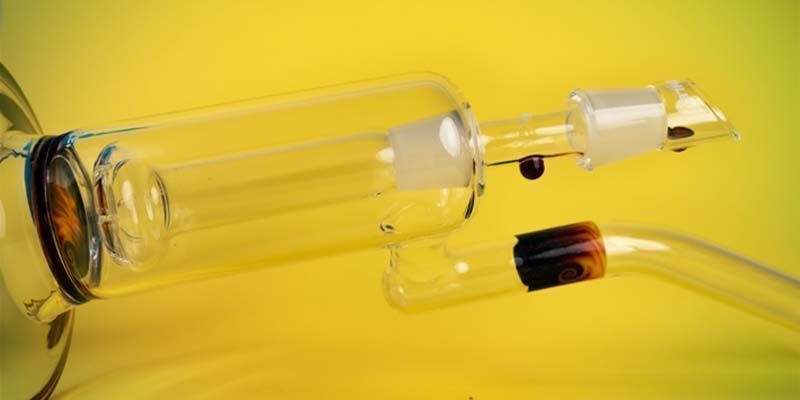 Known for their outstanding water pipes and accessories, EHLE has created a real showstopper with the Oil Rig Orange Flash. This specially handcrafted device is constructed from borosilicate glass and features colourful orange accents, making for a jaw-dropping premium rig.
Measuring in at only 15cm in height, the rig fits effortlessly into the user's hand and is comfortable to hold for extended periods. The broad base makes it easy to set down without the worry of it tipping over.
Inside the rig, you'll see a percolator that acts to diffuse the vapor before it hits the mouthpiece. Located on top is a titanium nail that can handle the harshest of heat without issue. Simply apply your torch, add in your dabs, and take a pull. This high-quality hitter is bound to impress all those who check it out.
9. Higher Standards Heavy Duty Riggler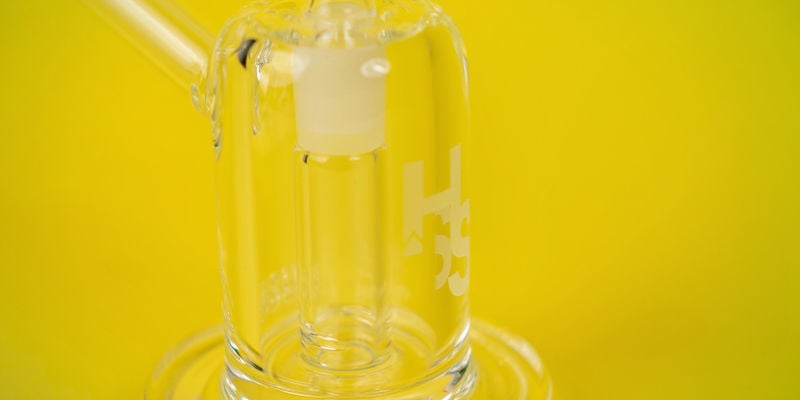 Direct from the USA, the Heavy Duty Riggler from Higher Standards is a no-nonsense, pint-sized device that delivers big hits. This pipe is a little different to others on our list in the sense that it actually contains both a bowl and banger, so those looking to blaze their finest dry herbs won't have to choose between a dab rig or bong—the Heavy Duty Riggler does both.
Constructed from 7mm-thick medical-grade borosilicate glass, this pipe is strong, robust, and with its wide base, won't topple easily. Its crystal-clear appearance doesn't contain any colourful accents or markings; just a simple Higher Standards "HS" logo laser-etched onto the front of the piece. The result is a premium-quality pipe with looks to match.
So, whether you're enjoying dry herb or the stickiest of dabs, the Heavy Duty Riggler has you covered. The fixed diffused downstem certainly doesn't discriminate against substances, and offers a smooth and dense pull each and every time you reach for it. Full flavours are the order of the day when you pick up this rig.
10. Eyce Sidecar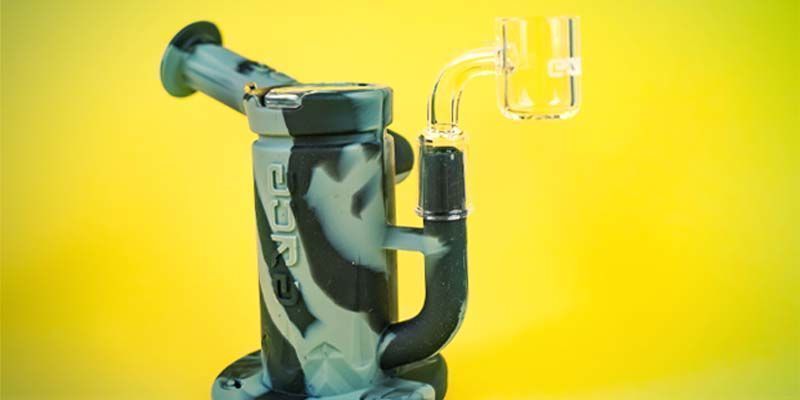 As the second silicone dab rig on our list, the Sidecar by Eyce is another affordable option. This pipe effortlessly combines borosilicate glass and silicone to provide a great way to enjoy a hit at home or on the move. The choice is yours.
The platinum-cured silicone body is not only durable, but also very stylish. Leading from the body is a banger that easily houses your chosen concentrate. But the real beauty of this rig is its mouthpiece. While many traditional rigs don't provide any movement at all, the Sidecar's mouthpiece can rotate and still keep an airtight seal, making it perfect for enjoying a pull while reclining or relaxing on the couch.
Complete with an included steel dabbing tool, it's easy to get the dabs from your container to the banger safely. For a budget dab rig, Eyce has certainly pulled out all the stops to provide a piece that screams quality.
The Sidecar features several interlocking parts, making maintenance a simple affair. While many rigs consist of one piece, this rig can be taken apart and put back together after a thorough clean. This is a dab rig that will serve you well for many, many years should you give it the proper care!
Don't delay — get dabbing today!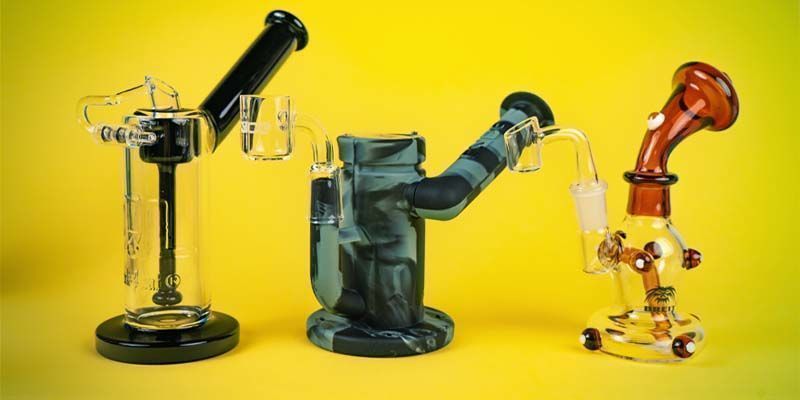 So there you have it—our picks for the top 10 dab rigs! From the best portable electric dab rigs to the finest traditional borosilicate rigs, if you're looking to enjoy cannabis concentrates, these devices will see you right. For those seeking a classic dabbing experience involving a blowtorch, there are plenty of options available. Those looking to avoid the flame will not be disappointed either; electric dab rigs are quickly establishing a strong following due to their quality and portability.