Harvesting is a crucial stage of cannabis cultivation; one that's just as important as the hard work leading up to it. Taking the time to harvest correctly can improve the potency, taste, and overall quality of your buds—provided you use the right tools and techniques.
DETERMINING THE PERFECT HARVEST TIME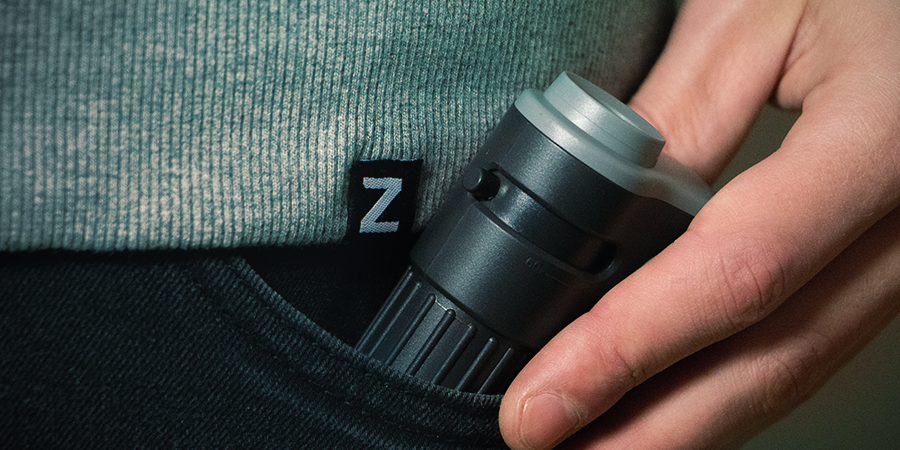 After months of care, your cannabis plants are finally ready to harvest—or are they? Harvest too early, and your trichomes will be immature, reducing your plant's potency and yield. Do it too late, and some of the THC will start to degrade into CBN.
Identifying the perfect time to harvest your cannabis plants is challenging unless you know what to look for. A clue rests in your plant's trichomes, but, with every strain being slightly different, we need to rely on more than the naked eye to tell if those bulging buds are ready.
Trichomes exist in a variety of shapes and sizes, but generally speaking, they resemble tiny crystalline mushrooms. However, it isn't their shape or size that makes them important, but the cannabinoids and other chemical compounds contained within. Trichomes are the most abundant source of cannabinoids, and without them, smoking weed would be a pointless affair.
A microscope is an essential tool for any grower, regardless of experience. Not only does it allow us to get a closer look at our buds, but with sufficient magnification, you can get up close and personal with the trichomes. Products such as the Carson MicroBite Plus Pocket Microscope, Bud-O-Scope (60–100x), and Trichoscope TSM-30 are essential to any grower's arsenal in their attempt to determine the perfect time for harvesting.
Monitoring the "cloudiness" of your trichomes is one of the most accurate ways to determine when a cannabis plant is ready for harvesting. When roughly 50–70% of the plant's trichomes appear cloudy-white under a microscope, it's time for the big chop.
TIME TO HARVEST CANNABIS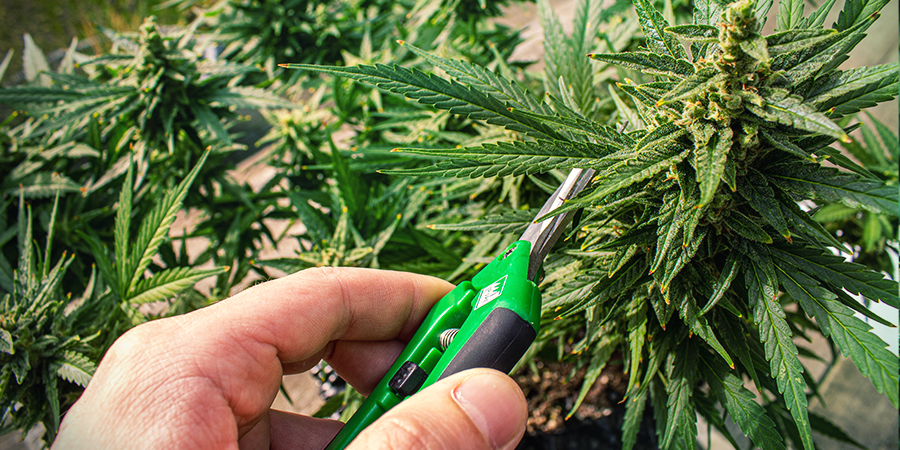 You've kept a careful eye on your plants and established that harvesting time is finally here. However, this stage requires more than just stripping buds by hand. If you've picked the ideal harvesting time, buds will be incredibly sticky (another property of trichomes), and handling your plants bare will create a messy situation.
Now's the time that specialised cannabis plant trimming scissors, gloves, and alcohol wipes come to the fore—no matter if you are dry trimming or wet trimming. While Professional Pruning Shears or Bud Cutter Bonsai scissors are designed to carefully remove leaflets protruding from buds—without damaging them—our Powder Free Nitrile Gloves keep your hands resin-free as you handle and trim your plants.
Once you've gently trimmed all the necessary parts of your plants, it's nearly time to store the cannabis buds, but not before you've cleaned down your harvesting equipment! Alcohol Wipes will keep all your tools in prime condition, ensuring they are clean and ready for the next grow.
After several hours trimming and pruning unnecessary foliage, a stack of resin-laden buds sits in front of you—now what? Most growers like to leave their buds hanging inside the grow tent for roughly two weeks. Once they're almost dried out, they'll be ready for smoking. But, if you want to improve them even more, the curing process maximises the flavour and potency.
Although your buds may look ready, to capture every last drop of THC (or CBD), your buds need several weeks to mature, and for that, we're going to need the right containers.
STORING CANNABIS AFTER HARVEST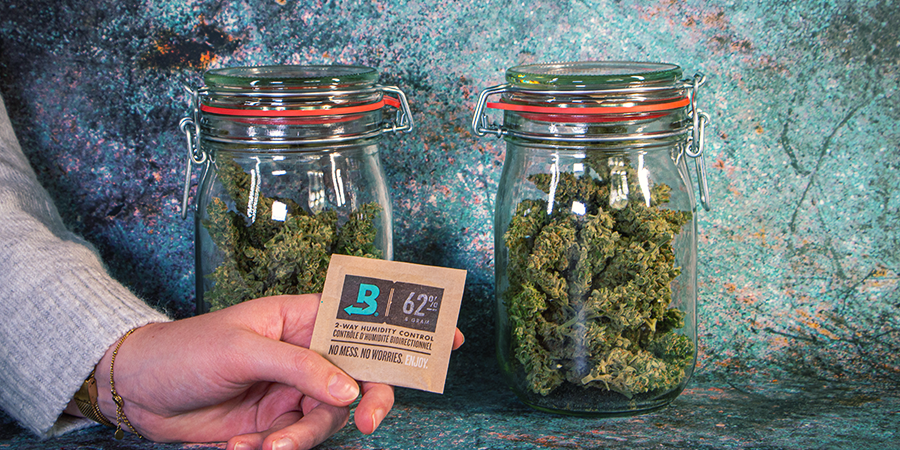 For buds to achieve maximum potency and flavour, they need to be cured. Having already spent months preparing your plants, a few more weeks is a small price to pay for significantly improved quality. Plus, when your buds are cured, you'll want to keep them in the best possible condition for as long as possible.
The curing process involves managing temperature (approximately 20°C), humidity (approximately 54-63%), and light (stored in darkness to prevent degradation) to help your buds mature.
One of the best ways of curing cannabis is with simple curing jars, or you can use sophisticated containers such as the CVault. The former provides an airtight container for your buds that should be opened for ten minutes a day for the first three weeks of the curing process to maintain freshness.
A CVault, however, prevents the need to keep opening your container. Instead, the stainless steel design uses a Humidipak to maintain the optimal level of humidity—not so damp that buds will spoil, but not too dry either. And, with the CVault available in a range of sizes, it's easy to find one that can store your entire stash.
Don't worry if you have more weed than you can smoke in a few weeks; with the Boveda Humidipak 62 and Integra Boost 55, you can quickly and easily keep on top of humidity levels.
Don't run the risk of your entire stash going to waste—proper storage is essential!
CANNABIS PROCESSING AFTER HARVEST
Smoking cannabis flower is just one of the many ways to enjoy the herb. With a few tools and the right expertise, you can transform regular buds into cannabis concentrates, tinctures, and more. And, best of all, each of these derivatives has a unique potency and taste for you to experience.
HOW TO MAKE HASH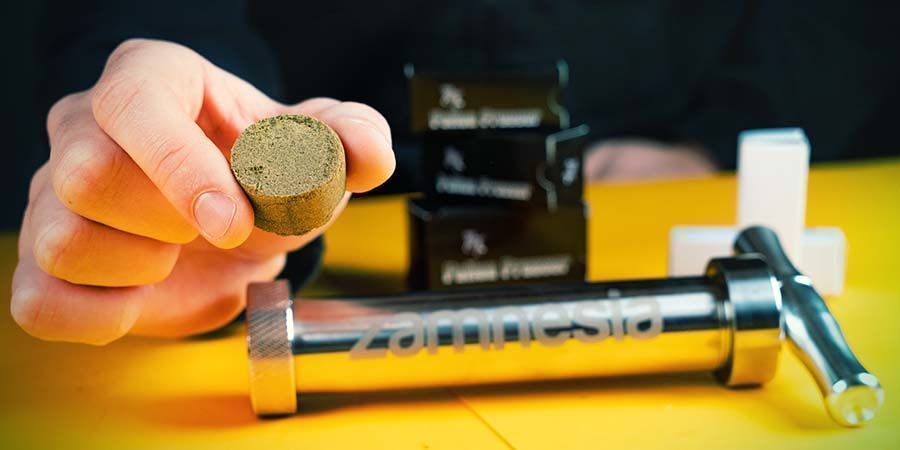 Up first is a staple of cannabis culture—hash. In essence, hash is a solidified block of trichomes. You can make hash by simply rolling buds over and over between your hands. The problem, however, with hand-rolled hash is that it'll contain unwanted plant material while also wasting valuable kief—potent resin glands loaded with cannabinoids. Fortunately, Zamnesia has all the tools you need to produce several varieties of high-quality hash.
To prevent losing any precious kief, you can use a pollen press to produce uniform hash pellets. The Super Pollen Press, Black Leaf Pollen Press, and Pocket Pollen Press couldn't be easier to use. Pack your pollen in the loading chamber, and twist or press repeatedly to produce compact hash pellets or tablets.
If you want to take your hash-making game to the next level, you're going to need a series of sieving bags to capture every last trichome. By filtering and refining your cannabis, you'll remove unwanted plant material, improving potency and taste. The Wooden Sifter Box is a straightforward approach, with three separate chambers and a metal screen for you to work your buds over.
An alternative to the Wooden Sifter Box is the Bubbleator B-Quick or Ice-O-Lator Small. Both use ice-cold temperatures to freeze trichomes, making it easier to separate them from the plant material, and both include what you need to get started—all you need to do is bring the ice.
For growers who need to process several plants, the Pollinator P150 makes light work of even the largest haul. Left to run for 2–5 minutes, the automated drum will sift away plant material thanks to its 150-micron screen. And, with a capacity of 150 grams per cycle, it won't take long to produce an abundance of the finest and purest crystals.
HOW TO MAKE BHO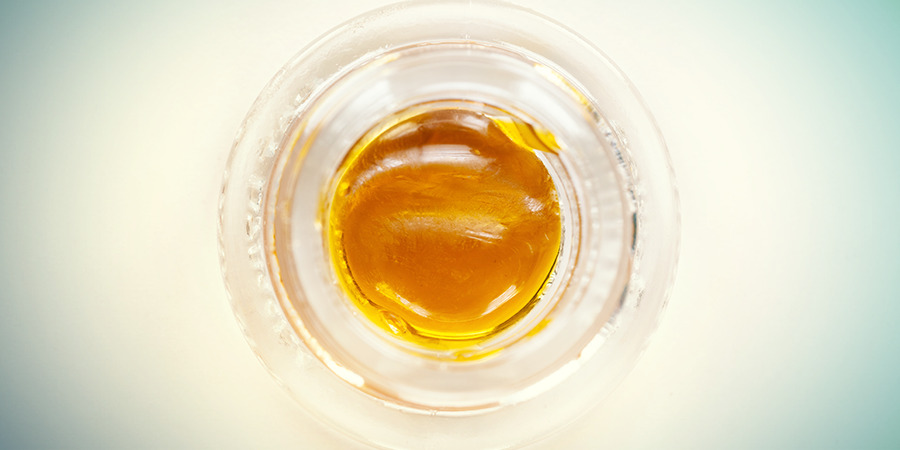 BHO, or butane hash oil, is a cannabis concentrate made by "washing" plant material with liquid butane. The solvent binds with cannabinoids before being evaporated to leave behind a concentrated cannabis extract. You're then free to dab to your heart's content.
Given that you'll be using a potentially dangerous solvent, you need to make sure you have tried and tested equipment. A key piece in any DIY BHO setup is an extractor tube. This is where your solvent gets to work stripping cannabinoids and terpenes from the plant material, so it's imperative the chamber doesn't crack under pressure.
The Extractor BHO Roller, Dexso E.O.E Oil Extractor, and Ehle-X-Trakt Glass Extractor are all excellent choices. Each features high-quality materials, excellent customer reviews, and most importantly, a simple to use design for incredibly pure and safe extracts.
HOW TO MAKE ROSIN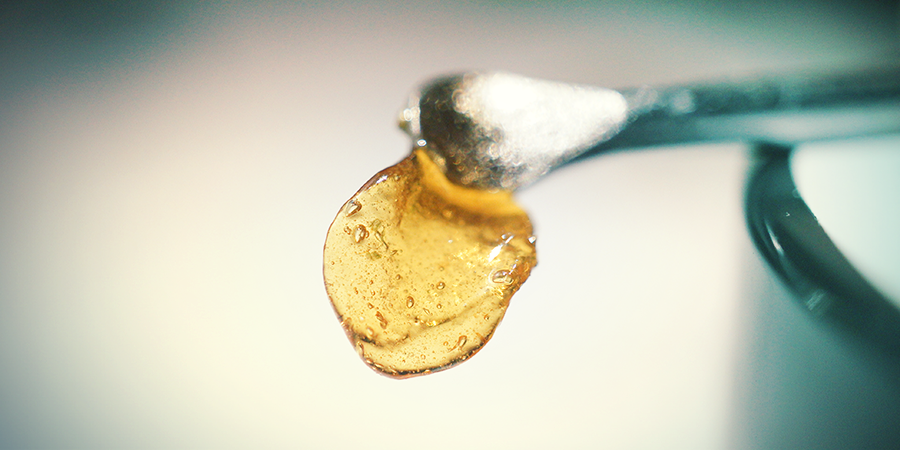 Rosin is one of the most straightforward cannabis concentrates to make at home. By compressing buds using a heated press, you'll produce easy, safe, and potent extracts in just a few minutes. But, if you want to get the most out of your buds, you'll need a proper press, some Parchment Papers (by Rosin Tech), and a container to store your concentrate in.
The Oil Black Leaf Rosin Press not only heats to the optimal temperature, but the sizable flat iron design makes it perfect for pressing several buds at once. Or, if you're looking to fine-tune your rosin pressing skills, the Rosin Tech Go is a portable, lightweight, and reliable alternative. When you've finished pressing your buds, our Weed Curing Jars double as the perfect storage container. Made from extra-thick glass, the 100% airtight jars won't taint your valuable extract.
HOW TO MAKE CANNABIS TINCTURE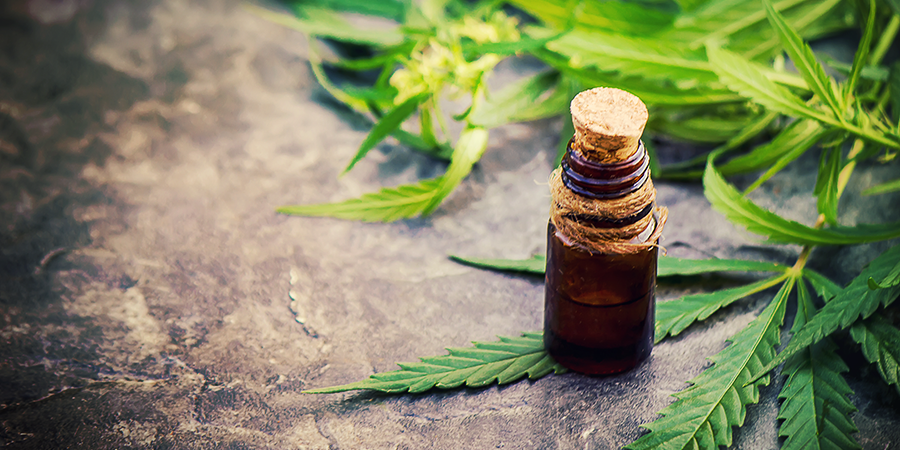 Another option for home-made concentrates is cannabis tincture. Using a similar principle to other solvent concentrates, cannabis tincture is made from high-proof grain alcohol and buds, leaves, kief, or trim. By leaving buds to steep for a period of time, the cannabinoids within will infuse with the spirit.
Once bottled, it only takes a few drops of cannabis tincture on or under the tongue to feel the effects of THC, CBD, and the dozens of other cannabinoids found inside Cannabis sativa.
To make cannabis tincture, you'll need the previously mentioned alcohol, a blender, strainer, cheesecloth, a measuring jug, and a glass jar with an airtight lid. Fortunately, you can rely on Zamnesia for the latter. Our Weed Curing Jars are perfect for leaving your tincture solution to reach its maximum purity.
No matter your cannabis harvesting needs, Zamnesia has a comprehensive selection of high-quality products for sale. From glass jars to pruning shears, rosin presses, pocket microscopes, BHO extractors, and everything in between, you can trust Zamnesia to meet and exceed your expectations. Browse our After Harvest collection to help your buds reach their full potential!
---