Party-E
(

54

)
With Party-E you can elevate your mood and intensify your party sensation. Take 1 or 2 capsules with a glass of water or fruit juice and 60 minutes later you will feel the desired effect and dance, talk or flirt the night away.
This item is not available in your country
We are sorry, this product is currently not available for shipping to your country. Please check back for future availability.
More info
Ingredients:
Green tea extract, caffeine, l-tyrosine, yerba mate, theobromine, cayenne extract, ginger extract, vitamin B5, vitamine B6, chromium, gelatin (capsule). Content: 4 capsules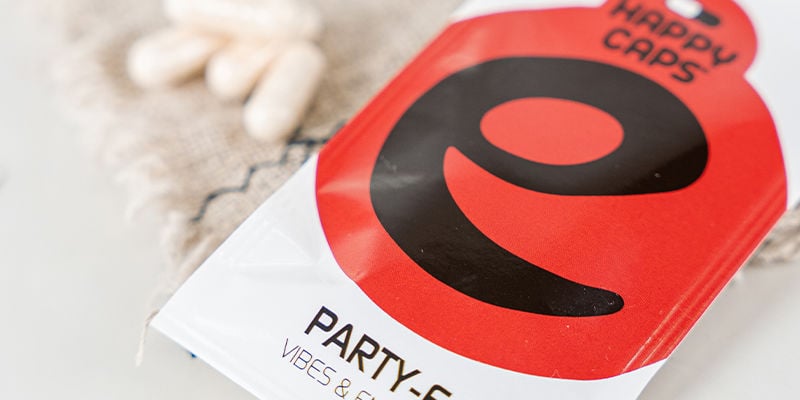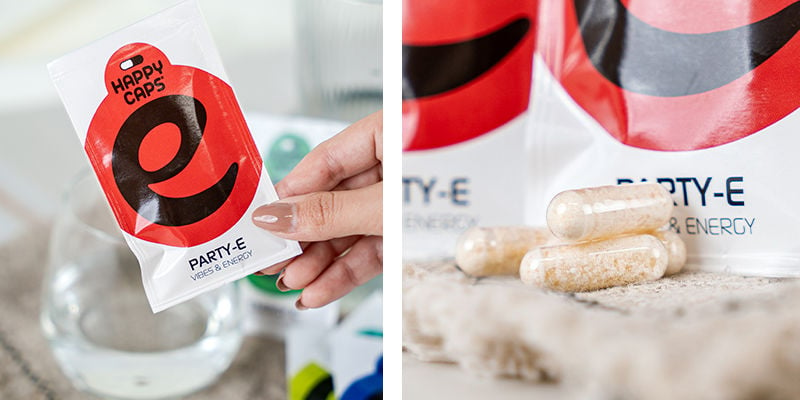 Party-E data sheet

| | |
| --- | --- |
| Type | Capsules |
| Number of caps | 4 |
More information related to this product:
Reviews (54)
View all reviews

30/Nov/2023

Bof
Je n'aime pas trop l'effet des gélules party-e , je me sentais pas forcément bien (pris 2 gélules) celles de energy-e me conviennent parfaitement

23/Nov/2023

Leider keine Wirkung …
Habe 1 Caps probiert, habe 2 Caps probiert, leider ohne Wirkung … Schade, früher haben die Caps richtig eingeschlagen. Ich finde es auch schade, dafür dann noch Geld auszugeben! Ich würde mich sehr freuen, wenn der Hersteller den Caps Kräuter verpasst, die dann auch zünden und somit die beschriebene Wirkung eintritt. LEIDER KEINE WIRKUNG!!

17/Nov/2023

Sutil pero guay
Me dieron buen rollo aunque son flojillas te dan energía y sientan bien

27/Sep/2023

Renseignez-vous !
Bien se renseigner avant de les consommer et bien déterminer le but de la prise. Si vous les prenez à l'arrache, sans vraiment savoir pourquoi ni ce que c'est, vous allez passer un mauvais moment. Si vous décidez de n'en prendre qu'une et qu'au final ça ne vous suffit pas, n'en prenez pas d'autres c'est préférable. Attendez au moins 3 jours grand minimum avant de retenter l'expèrience, cette fois-ci prenez-en 2 d'un coup et constatez ci le dosage vous conviens mieux. Une tolérence immédiate apparait dés la première prise, diminue de moitié après 3 jours et retombe à zéro au bout de 3 semaines. Ces informations sont à vérifier, ne me croyez pas sur parole ! Faire preuve de gratitude et respecter le produit, pour en tirer le meilleur. Prenez soin de vous :)

18/Sep/2023

Estupendas
Geniales para el tardeo e incluso para llegar con vitalidad a las horas de la noche

09/Sep/2023

Great booster
It was really good during a dance concert with dj!'s!

04/Sep/2023

nessun effetto
Ho provato la dose raccomandata (2x) e non ho provato alcun effetto. Ottimi i tempi di spedizione. p.s. le mie misure: 175cm x 75kg.

19/Jul/2023

Party
Non volevo più andare a dormire ahahah

13/Jul/2023

Agréablement surpris !
On a essayé avec ma copine pour un mariage et ça marche bien nous trouvons ! Ca donne du peps, sans bien sur ressembler, à une quelconque drogue énergisante

13/Jul/2023

très bien
top pour les festivals, je peux vous assurer que vous allez danser toute la nuit.

12/Jul/2023

Boje 71
War ganz gut und reizvoll ca 6std Gut geredet und gelacht, also mehr Als ich erwartet habe.Danach wurde es weniger und man konnte ohne Probleme wieder runter kommen und schlafen gehen keine Nachwirkungen zu spüren,kann man mal machen. Mfg

01/Jul/2023

Wach wie lange nicht mehr
Meine Erwartungen an die Party-E waren eher gedämpft. Nach einem eher anstrengenden Tag, mit wenig Antrieb und dennoch den Gang in das Fitness Studio, habe ich die Happy Caps ausprobiert. Ich war platt und habe eigentlich keine Energie mehr für den Abend gehabt. Tatsächlich kam nach ca. 60 Minuten ein leichter Energieschub. Dieser Schub hielt dann über einige Stunden, wodurch ich mich zunehmend fit gefühlt hatte. Ich kann mir gut vorstellen, dass man mit den Party-E eine Nacht gut durchbekommen kann. Wie bereits in vorherigen Kommentaren geschildert, sollten keine bewusstseinserweiternde Wirkungen erwartet werden. Zudem habe ich nur kurz Euphorie wahrgenommen. Nebenwirkungen traten keine auf.

26/Jun/2023

positiv überrascht
Waren im Angebot und dachte nehm ich einfach mal mit. Habs zusammen mit nem Freund genommen. Wirkung nach 30 Minuten für ca. 2 Stunden. War echt ein nicer energie kick.

18/Jun/2023

Super effet sur moi
Je bois peu d'alcool, et je suis vite bourré, mais quand je prend deux pilules en début de soirée je supporte mieux l'alcool et ça donne un effet positif qui me donne envie de bouger et d'aller vers les gens danser

15/Jun/2023

Enerie-Kick
Habe nach 8 Stunden Berufsschule 2 Kapseln genommen. War total fertig und erschöpft, auch von der Hitze, habe für üblich auch kurze Mittagsschläfchen die letzten Tage gemacht, aber nach den 2 Kapseln war ich voller Energie, hellwach und auch etwas euphorisch. Die Inhaltsstoffe scheinen mit Stargate 2.0 nahezu identisch zu sein. Diese Energiebombe ist sicherlich nicht nur ausschließlich was für Partys!

31/May/2023

War garnicht für ein naturprodukt
Beim zocken auf jedenfall zu empfehlen

15/Apr/2023

Ottimo prodotto


29/Mar/2023

Party !!
Very playful and fun

26/Mar/2023

Bit Mild
I took 2 capsules and didn't feel much of an effect - definitely not as strong as other e-caps I've tried.

14/Mar/2023

Good
Nice effect

06/Mar/2023

Okay
Underwhelming if you're used to stims/ caffeine. But it's worth a try to balance out depressants and get some energy

03/Mar/2023

bien
avec 2 capsules on a la pèche et un p'tit effet perché. Idéal pour les soirées sans alcool.

20/Jan/2023

Un peu de speed !!!
Après absorption ça m'a mis bien pendant quelques heures !! Top

13/Jan/2023

Leider Gelatine
Mag keine Gelatine, sehr schade dass diese Kapseln verwendet werden. Habe das Produkt geschenkt bekommen, daher 4 Sterne weil Zamnesia einfach immer bei Problemen(die es selten gibt!) Service und Kulanz zeigt. Danke dafür.

09/Jan/2023

Parti e
Très bon produit

10/Sep/2022

excellent
This is exactly what i expected

06/Jun/2022

They are ok
Like you just woke up from a nap. Gets you with energy in the mood

11/Mar/2022

Sans grand intérêt
Pour les gens un peu endormis ça va vous réveiller, en plus cest que des composants naturels.

30/Jan/2022

Geill
Ich habe von 3 verschiedene bromierte am einen Abend 2 verschiedene Flüge also traut euch ein mix Party e Trip e Space e einfach geill

07/Dec/2021

party e
pas mal .merci

06/Sep/2021

effet léger
habituer a trip_e party e plus leger

10/Jun/2021

Plutôt satisfait !
J'ai pris 2 capsules à jeun et les effets n'ont pas tardé à se manifester : verve, empathie, douce ivresse, sérénité... . Je n'ai pas remarqué d'accélération cardiaque importante, ni d'effets secondaires désagréables. Franchement, pour une drogue légale et d'origine naturelle (c'est ce que j'ai compris), ces gélules ont leur raison d'être !

22/May/2021

Enteuschend
3 Pillen genommen und nur ein ganz leichtes Gefühl der guten Laune und leichtigkeit

04/Feb/2021

Part e
Prendre 2 caps/ pers pour avoir un effet. Vraiment bien

02/Feb/2021

Avec EUPHORY-E et SPACE-E
J'ai pris une capsule de party-e et une de euphory-e et une de Space e avec un pote On as bien triper , zéro nausée Sa resemblai a une defonce sous tazz et sous champi en même temps c'était génial a refaire je recommande.

02/Jan/2021

Super!
Tres bien pour amuser les soirées un peu pourrie :D

03/Dec/2020

Pas mal
Franchement pour des produits avec des ingrédients légal ça vaut vraiment le coup. Ça marche super bien et on passe de bon moments avec. Je vous le recommande

18/Oct/2020

Don´t expect a psychedelic effect! Good pick-me-up!
Party at my best Friends house: I was quite tired, took one at 10pm. I also drank alcohol - 1hour later I was turned up a bit and not tired any more. Took another at 1 am and stayed up till 11am.

21/Sep/2020

Didn't work
Didn't work at all

23/Jul/2020

I had just one, next time 2
I took one with a few friends and I was the only one feeling sth, I can not say I didn't like the effect, although I expected sth more intense. I can compare it with having a few drinks, so not bad at all.

23/Jul/2020

Took all 4 capsules, no effect
Took all 4 capsules, no effect

25/May/2020

Pour soirée
Super dynamisant

23/Jul/2020

Party e
Abbiamo provato a prendere una pillola a testa ma non abbiamo avuto nessun effetto, non lo consiglio e non lo ricomprerei.

23/Aug/2019

Macht das was es soll.
Wer eine bewusstseinserweiternde Wirkung erwartet, der wird enttäuscht sein die gibt's nicht. Wer Power Energie und eine gute Stimmung sich er hofft kommt voll auf seine Kosten. Ich benutze sie für lange Tage in Bierzelten zum Arbeiten. Die Wirkung ist schon bemerkenswert, über Stunden hinweg ist man sehr leistungsfähig und auch gut drauf.

24/Jul/2020

Product deed bij mij niets
Geen enkel effect ondervonden

23/Jul/2020

I dont know.
Ik heb geen idee, ik nam de pil in met me vriend vlak voor het feestje begon. Toen voelde ik helemaal niks, begon ik te drinken van whiskey (40%), bijna 4 glazen gemixt met cola/monster. Het werd zo sterk dat ik down ging. Ik raad aan dit niet met alcohol te mixen, zo heftig was het. Ik lag urenlang in de badkamer niks te doen. Voor verder, ben ik in orde alleen wat klotegevoel.

23/Jul/2020

Hält wach
meine Frau und ich haben jeweils zwei pillen gegessen und sie war sehr hyper. bei mir war eine wachmachende wirkung zu bemerken und vielleicht ein bisschen mehr motivation ;)

23/Jul/2020

Guter Wachmacher
Also ich war ziemlich müde... Dann hab ich 3 Pillen genommen und nach ca 60 Minuten war ich wieder total wach. Ich war bis zum Schluß um 05:00 Uhr auf einer Party. Alkohol hab ich auch getrunken. Das ganze endete damit, dass ich bis 10:00 FarCry 3 spielen "musste". :-P

You cannot post a review because you have not purchased this product
Restrictions
Please note that if your country is not on our general shipping list, we're unable to ship any item on our website to it. For more information check out the list here: Ordering & Shipping
Video (0)