Dinafem Seeds: Seedbank Of The Month December 2018
6 min
Whatever about a white Christmas. We'd much rather you had a sticky green one instead. This December we're breaking out the frostiest flowers with our pick for seedbank of the month. If you want the white-hot dankness this winter you can't afford to not read this blog.
WHEN ONLY THE FROSTIEST FLOWERS WILL DO
Winter is here! December's selection for Seedbank Of The Month is white hot with dank genetics. We all know it's better to give than receive, and in that spirit, we have chosen a seedbank that offers exclusively the best strains for growers.
These days, this illustrious cannabis seedbank is a top-tier breeding house with a worldwide following. But that's not why they made the cut for this month's pick. Seedbank Of The Month is all about recognising creative cannabis contributions and the companies that really raise the standard for ordinary decent home growers. Only the seedbanks that make growing great are selected for Seedbank Of The Month.
Whether you are a recreational or medicinal grower, this crew has got the perfect sticky green for you. From relatively humble beginnings, this month's pick has risen to the top of the reefer rankings. Today, they are a household name with every kind of weed grower. Their range of cannabis seeds boats an awesome collection of award-winning strains derived from dedication, innovation, and non-stop R&D. A pack of these magic beans is all any grower wants for Christmas.
SEEDBANK OF THE MONTH, DECEMBER 2018: DINAFEM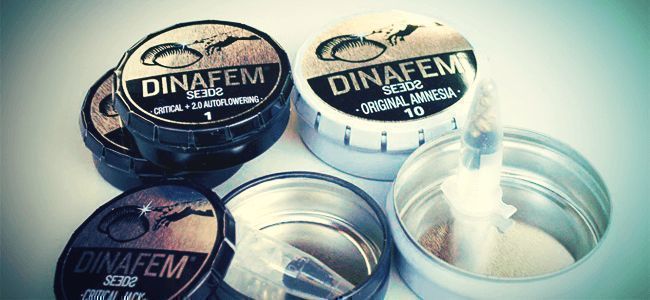 Allow us to present Dinafem Seeds for your consideration. Unless you've been growing your ganja and living off-planet for the best part of the last decade, you've probably heard the name before. Dinafem is a brand name that rings out. This company is Spain's most successful cannabis seedbank.
It all began in 2005 when a collective of growers transitioned from wannabe breeders to an innovative international breeding house. The company got started in Spain, but it didn't take long before they earned a reputation for amazing genetics outside of the country's borders.
Soon, Dinafem became famous all over Europe and across the Atlantic in the United States too. This outfit conquered the cannabis world like 21st century conquistadors. Moreover, they did it all peacefully, continuously building up the seedbank and breeding nothing but the finest marijuana to expand their empire.
This year is the 13th anniversary of Dinafem Seeds, and it's your lucky number if you've never had the pleasure of cultivating their seeds before. Over the years, Dinafem has created original modern cannabis classics. They have also collaborated with some of the world's best breeders to bring old-school legends back to life.
In addition, they are pioneers of high-grade autoflowering genetics. Dinafem can rightfully claim at least some of the credit for raising the reputation of ruderalis hybrids from ditch weed to genuine dankness.
Dinafem was the first Spanish seedbank to master the feminization process. Plus, they were also early leaders in the advancement of authentic CBD-rich genetics. Few seedbanks have such a diverse, pure pedigree of autoflowering, recreational, and medicinal cannabis seeds. Dinafem Seeds doesn't just excel in one area of cannabis; rather, they dominate every category that counts.
They've already won every cannabis cup and prize of note. But the real secret to their success is they keep their growers happy and continue to win over new growers. This is what makes Dinafem the best of the best. If you only make one New Year's resolution, make sure it's to become a Dinafem grower in 2019—and you'll stick to it for the foreseeable future.
Here are a few of our favourite strains from Dinafem that are worth a try:
PURPLE MOBY DICK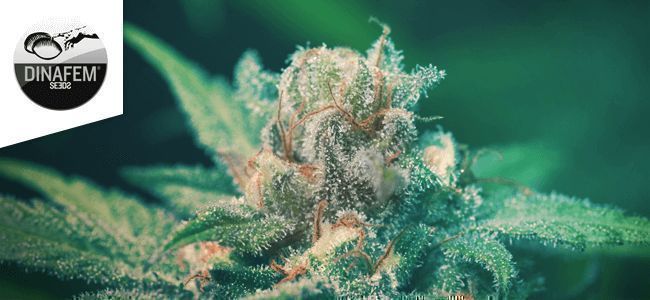 Genetic wizardry has resulted in a supercharged version of Dinafem's classic Moby Dick. Purple Moby Dick brings the same huge yields, extreme potency, and grand stature. The difference this time is the visual treat that awaits growers capable of giving her the space and resources she needs to thrive. Not only are the leaves and pistils flecked with purple hues, but her taste is sweeter than the original Moby Dick. Lovers of a fruity strain will feel right at home with one of Dinafem's newest offerings.
Just don't underestimate the space needed for Purple Moby Dick to flourish. With the possibility to reach over three metres in height and an equally expansive branch width, she really can fill an entire grow room. This sativa beauty boasts 21% THC, a flowering time of 60–70 days, and outdoor yields of up to 1500g/plant!
QUICK CRITICAL +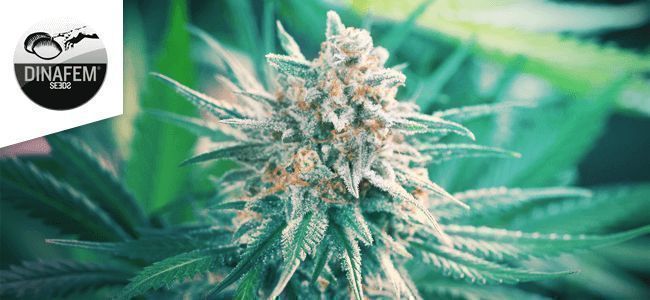 If Quick Critical + had a tagline, it would be "gotta grow fast", because that is precisely what she does—grow really, really fast. Usually, sub-50-day flowering times are reserved for autoflowering variants. Instead, Quick Critical + delivers the benefit of fast flowering as a highly productive and profitable photoperiod seed. It is all too easy to assume her super speed would come at the detriment of bud quality, flavour, or both. She continues to impress in these categories despite her incredible growing prowess.
The flavour expresses lemon and skunky notes while her buds, all 600g/m² of them, grow to an impressive size. In fact, toward the end of flowering, you may need to stake the branches to stop them from bowing under the weight. THC is usually between 16–20%. If you grow her outdoors, expect to be able to harvest in September.
DINAMED CBD PLUS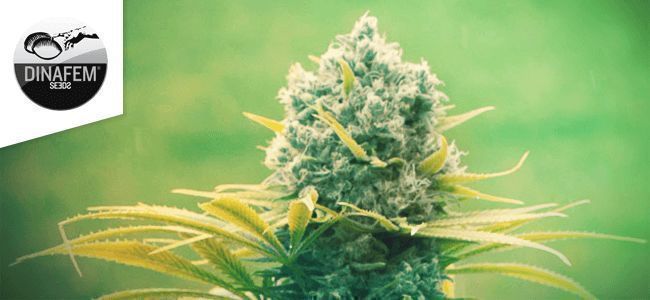 CBD is a rich and rewarding cannabinoid that has links to several medicinal benefits. Although typically CBD is taken in oil or capsule form, Dinamed CBD Plus is loaded with all the therapeutic advantages of CBD while still being enjoyed in a joint or blunt.
What makes her so unique is how Dinafem has managed to engineer an impressive ratio of CBD:THC. Grown under the right conditions, she can reach 15–20% CBD and 0.5–1% THC. As such, don't expect the usual high when you smoke her. Less narcotic and more relaxing, CBD Plus is perfect for unwinding after a tough day.
Thanks to her predominantly sativa genetics, she grows tall and fast, flowering in 55–60 days. Indoor and outdoor yields are also impressive; 500g/m² and 1kg/plant respectively.
DINAMED CBD AUTO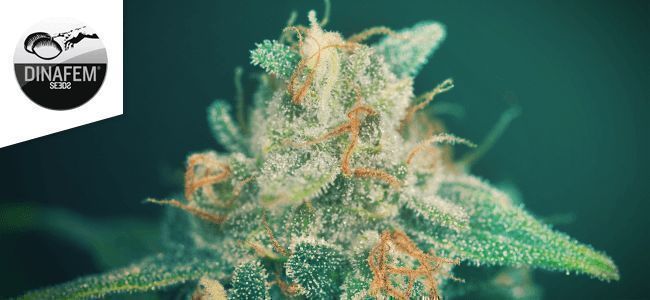 All of the therapeutic goodness of CBD in less time and effort than photoperiod varieties. Dinamed CBD Auto is ideal for those who want an abundance of potent CBD buds with minimal effort. Although the introduction of ruderalis genetics has lessened the potency of CBD, at least in comparison to her CBD
Plus sister, she still impresses with 14% CBD and always less than 1% THC. The lack of THC is again a considerable benefit, especially for those who want to smoke throughout the day without impacting productivity.
As is customary with autoflowering strains, growers do not need to wait long for Dinamed CBD Auto to be ready to harvest. A mere 70 days is all it takes to be greeted with 100g/m² indoors and 100g/plant outdoors. With the bonus of not having to worry about light cycles, there is a lot to love with Dinamed CBD Auto.
GORILLA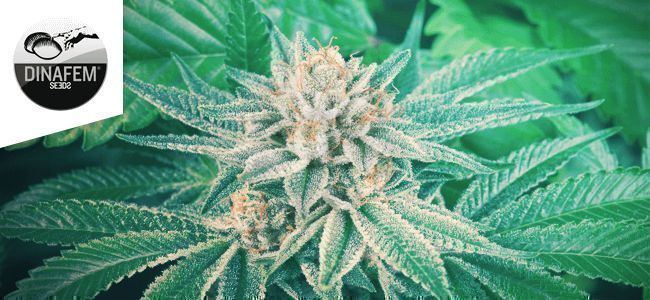 The original Gorilla Glue is a strain synonymous with quality, resin-rich buds. Dinafem hasn't tried to reinvent the wheel, instead taking those classic attributes and making them even better. Glistening with frosty trichomes, her buds are densely packed with both THC and flavour.
Up to 25% THC is possible, while oily, earthy tones will be familiar to many cannabis connoisseurs. Although indica-dominant, she has a healthy helping of sativa, a genetic blend that supports her desire to grow tall, sometimes as much as three metres in height.
Take her oozing nugs all the way to harvest, and you will be greeted with a rich and diverse taste sensation. Diesel meets earthy notes and hints of sour. The subsequent high pulsates through the body, inducing a robust sedative effect. Mid October is the prime time to harvest her when growing outdoors.
PURPS 1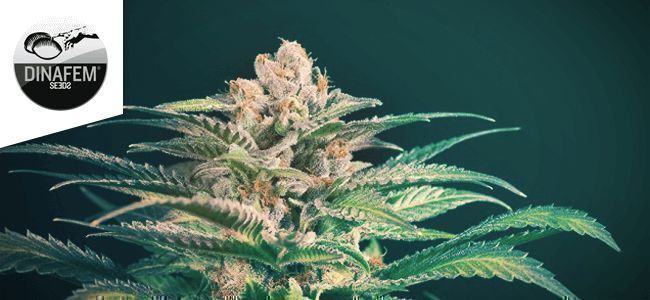 The real power of Purps #1 lies not in her enticing appearance, but her intensely fruity flavour. They say beauty is in the eye of the beholder, but no matter who puts eyes on Purps #1, they all agree: she is a plant of complete majesty. Hues of green blend perfectly with shades of lavender and violet.
Come harvest, it almost seems a shame to cut her down. Alas, as pleasing to the eye as she is, her buds hold an equally desirable treasure. The fruity flavour we alluded to, it explodes in the mouth, like smoking several Starbursts at once. Imagine juicy wild berries and moist pineapple—sublime!
A mainly cerebral high makes Purps #1 perfect for creatives, while growers can enjoy respectable yields both indoors and out. Flowering takes only 60 days, and outdoor growers will harvest toward the end of September.
QUICK KUSH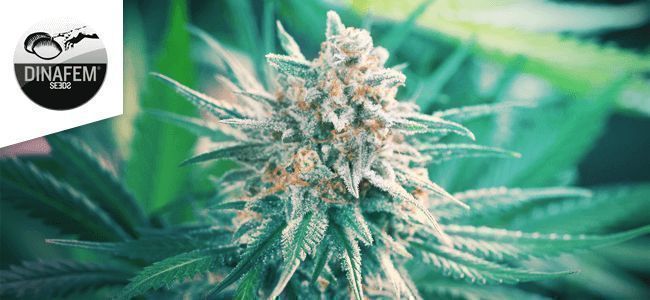 Fans of OG Kush will feel right at home with Quick Kush. She gives the same flavour and aroma Kush connoisseurs have come to know and love, but with a flowering time of less than 60 days. In ideal conditions, and with a little bit of topping, she can produce up to 1000g/plant outdoors.
Such bountiful yields certainly make pleasing her every desire a good idea for growers. She isn't too fussy, but does show a slight preference for ScrOG environments. Worth considering if you want to capitalise on her quick flowering and heavy bud production.
You will undoubtedly be well-versed in the Kush flavour. Overwhelmingly citrus-based, the aroma envelops smokers, helping them feel relaxed. Her 70% indica genetics soothe the body, while a THC content of 18–25% makes her ideal as a later afternoon or evening smoke. You will want to sit back and fully immerse yourself in this quick-growing variant of a classic.
Whether you are tempted by one or all of our favourite Dinafem strains, know that each one comes carefully researched to ensure each seed is unique in its genetic characteristics. Yet another feather in the cap for this Seedbank Of The Month!
WIN FREE GOODIES WITH EVERY NEW "SEEDBANK OF THE MONTH!
Former Seedbanks Of The Month, like the one you are reading about now, deserve eternal attention from us here at Zamnesia! Read about past and present honorees, and continue to visit our blog for the honorees of the future. Each new month highlights yet another stellar seedbank, kicking off a new round of awesome promotions and surprise giftings pertaining to that specific brand. So go ahead: once you are done here, visit this month's new Seedbank Of The Month, and take advantage of goodie giveaways!