Whether you like your chillies scorching hot or prefer your peppers a little sweeter, one thing's for sure; there's nothing quite like growing your own at home. Carefully cultivating and eventually harvesting chilli peppers is a hugely rewarding task. With the right conditions and know-how, it can be quite an effortless one too. But if you're feeling like the idea of growing chilli seeds at home is a daunting one, it really needn't be. With that in mind, we've put together this information page on everything you need to grow healthy and tasty peppers. So, whether you're brand new to the task or looking to get back into growing chillies at home, we've got you covered.
Why Grow Your Own Chilli Peppers?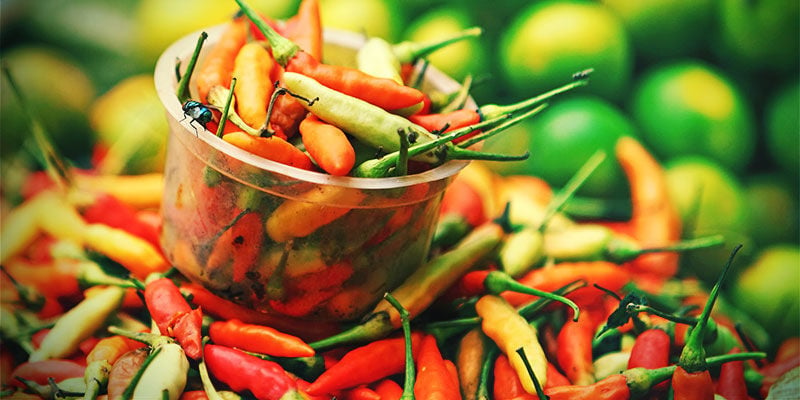 Why bother to go through the "hassle" of cultivating your own peppers at home? Surely you can just buy some from your local supermarket? While this is true, there is little satisfaction to be found in picking up a packet from a shop's shelf. Not only can shop-bought peppers be expensive, but nothing compares to picking out a chilli seed that suits your preferences and watching it flourish from germination to harvest.
There's certainly a great pleasure to be found when it comes time to collect your ripe peppers. However, putting these peppers to use is the most satisfying part for many. Adding your own hot chillies to dishes, hot sauces, or salsa for your friends and family to try will make all the time and effort instantly gratifying.
How To Choose the Best Chilli Pepper Seeds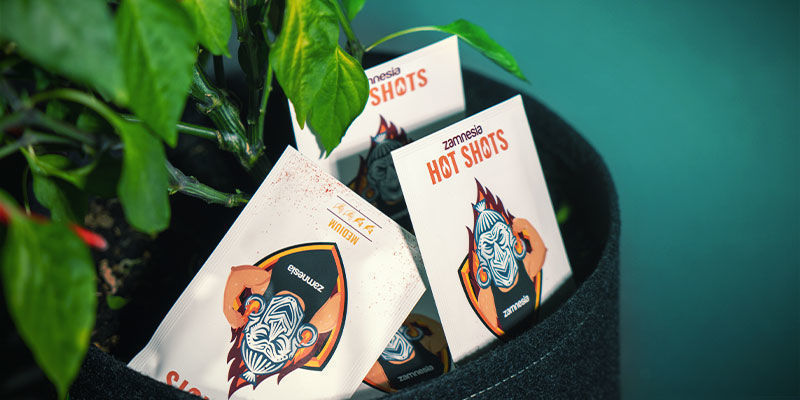 This is where your journey into growing chilli seeds truly begins. Picking the right chilli seed for you is paramount. For example, picking a pepper that's extremely hot for your personal palate might mar your enjoyment after all that time spent growing. So maybe consider the types of chilli peppers you've enjoyed in the past and seek out those seeds.
It is worth bearing in mind that hotter chillies typically take longer to cultivate and ripen. If your growing project is time-sensitive, you may want to consider milder chillies for this reason. However, while effects and heat are major considerations when choosing a pepper, there are some other factors to take into account.
The eventual size of the pepper plant often plays a pivotal role when picking out seeds. Do a little research to see if the plant is ideal for your growing space. Alongside this, finding a bit of information about the yield can help you anticipate what you'll receive come harvest.
Of course, each variety of chilli pepper has its own cultivation requirements. Some require a very hands-on approach and need regular maintenance to get the best results, whereas others will more or less look after themselves, so long as they're exposed to plenty of light and warmth.
When to plant hot pepper seeds?
Hot pepper seeds are usually germinated indoors during the winter months, then transplanted to pots/beds outside to soak up the sun and warmth of the spring and summer months.
What Are Some of the Most Popular Hot Peppers?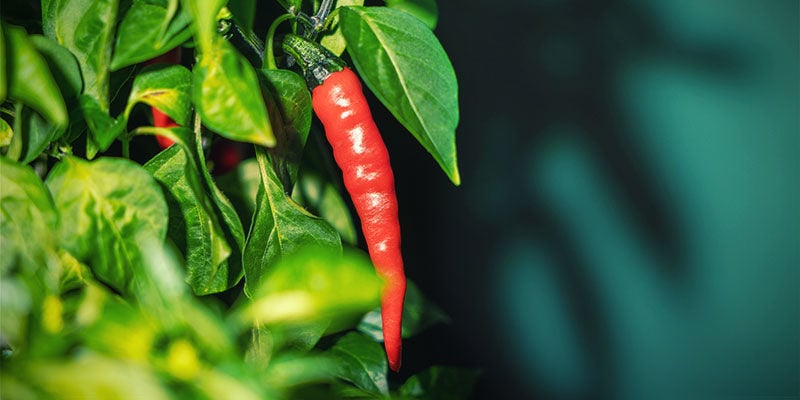 With so many varieties available, everyone will obviously have different choices when it comes to their favourite pepper. But there are some standout scorchers that many growers gravitate toward.
Arguably the most well-known chilli pepper is the jalapeño. It's certainly not uncommon to see this pepper in many different foods and recipes. The jalapeño is often favoured because of its medium heat level (usually between 2,500 and 8,000 on the Scoville scale), making it the perfect jumping-off point for those looking to add a little spice to their lives. They have thick flesh and brightly coloured fruits, available in red and green. The green jalapeño is noted for being milder and slightly less sweet than its red counterpart.
Dubbed "the world's hottest pepper", the Carolina Reaper has certainly risen to prominence in recent times. With a whopping 2,000,000 Scoville units, it's 250 times stronger than a jalapeño. This pepper is sought after by chilli aficionados and spice thrill-seekers. Contrary to popular belief, while the Carolina Reaper is a super hot chilli, it's also an extremely flavourful one with sweet and fruity notes that make it ideal for cooking.
Other peppers that are hugely popular include the habanero and the ghost pepper. While these peppers aren't as hot as the Carolina Reaper (with Scoville levels of around 350,000 and 1,000,000, respectively), they're certainly no chumps when it comes to heat.
Not only are the aforementioned peppers hot and flavourful, but they can also be cultivated with relative ease. All you need is the seeds, and you're on the right course to growing your own great-tasting (and hot) peppers.
How To Store Hot Pepper Seeds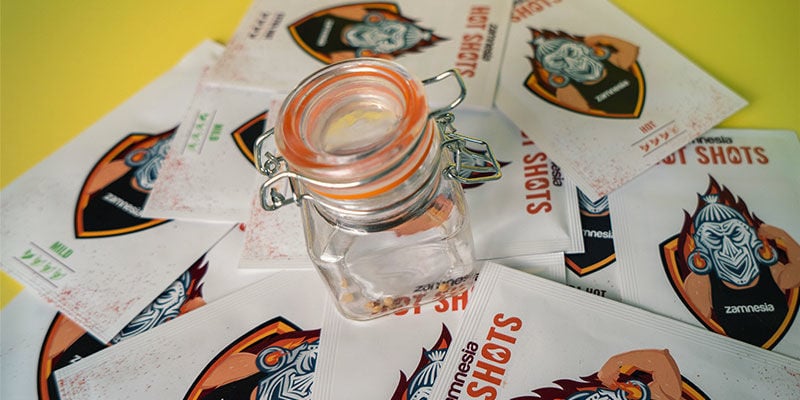 If you've managed to acquire some chilli seeds and you're not ready to grow them just yet, don't fret. Seeds can be stored until you need them. If your seeds come from a chilli, as a rule of thumb, they should be dried for roughly 5 days at room temperature. This will ensure any residual moisture evaporates and won't cause rot or mould when stored. However, with store-bought seeds, the drying stage can essentially be skipped.
Next, it's a case of choosing a suitable container for your seeds to be stashed in. This could be an airtight glass jar or anything that can be completely sealed to stop any moisture from impacting the seeds.
Lastly, it's all about where you place your container. Place your seeds in a cool, dry, and dark environment. If you don't have an adequate place for your container, you can always opt for the fridge. When stored in the best conditions possible, your chilli and pepper seeds will remain ready to use for many years. So when you're ready to grow them, they're there waiting for you.
Growing Chilli Peppers From Seed
OK, so you've picked out a chilli pepper variety you're set on growing. In the following section, you'll learn all the basics to getting your chilli plant to perform the way it should, from germination all the way through to the eventual harvesting of your peppers. Follow these steps to the letter, and you'll be rewarded with healthy plants and outstanding yields.
Planning Your Grow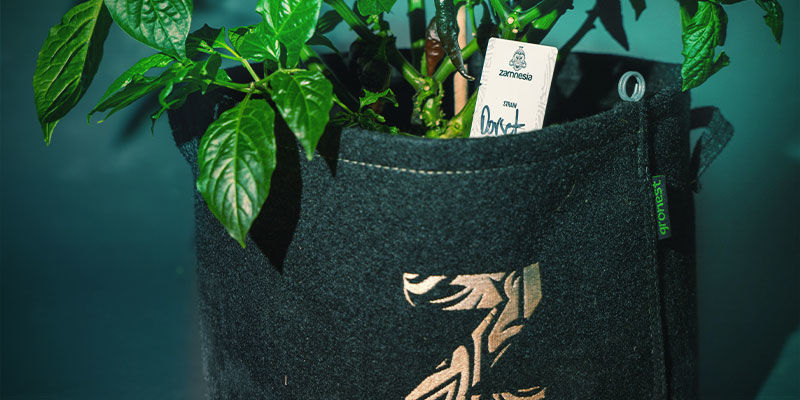 First things first, you need to decide exactly where your pepper growing project will take place. Your plant will undoubtedly begin life indoors (more on this shortly), but will then be transplanted into a larger pot and kept outside for the remainder of its growing cycle. Consider purchasing smaller pots for the initial stages, and larger ones—or clearing a flower bed or greenhouse space—for when they're placed outdoors. With a little compost for the pots, you can't go wrong.
It's worth bearing in mind that plants can take anywhere between 60 and 120 days from seed to produce chilli peppers. However, the expected growth information will be readily available on the packaging of your chosen seeds. With this in mind, design a schedule for your plants. The germination stage can occur in the winter/spring months, then when the summer months roll around, your pepper plants should be ready to move to a suitable outdoor space.
How To Germinate Chilli Pepper Seeds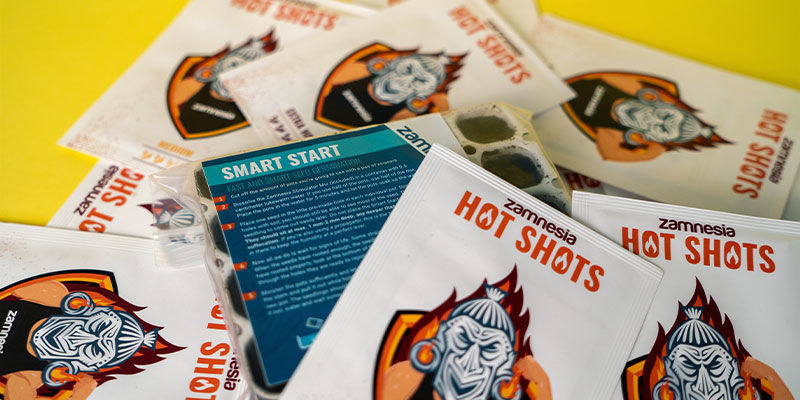 Take a small pot and bury a seed about 2–5mm deep into slightly moist compost. The substrate will need to be at a temperature of around 20–30°C. The best time to germinate seeds, as stated, is over the winter/spring months indoors. This is so they can fully maximise the light and warmth of the summer and flourish during that time.
As heat is essential for chilli pepper seeds to germinate, many growers opt to use a heated propagator or heat mats to give the seed plenty of warmth. Other options include a warm airing cupboard or a sunny windowsill. Germination typically takes anywhere between 7–14 days. Once seedlings are produced, plants can be placed on a windowsill to receive direct light. For best results, it is important to keep the soil moist but not soaked during this stage.
How to germinate hot pepper seeds?
There are a couple of different ways hot pepper seeds can be germinated. We recommend using germination pods such as Smart Start to allow your seeds to flourish with ease.
How and When To Transplant Your Pepper Seedlings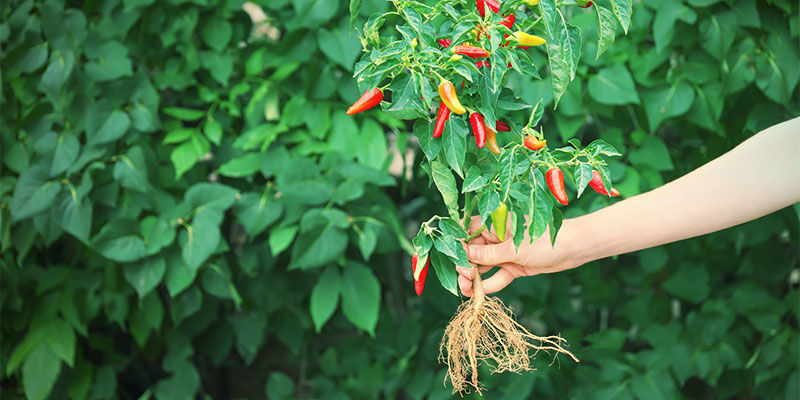 As the plant begins to grow, you may notice the roots protruding out of the bottom of the pot. This is a sure sign that it's time to transplant into a bigger pot. Other growers simply wait until 3–4 weeks after sprouting, or for a third set of leaves to grow, before transplanting.
Keeping the plant in a pot that's too small for too long can have a detrimental effect. The roots can begin to tangle and harden, resulting in a root-bound plant. This will stop the plant from getting the nutrients it requires to flourish.
Begin by filling your new pot with moist soil to prepare for the transplant. Next, loosen the soil surrounding the plant. It is advisable to use gloves to avoid any contamination. Squeeze the seed cell, and the plant should be easy to remove. With the seedling between your ring finger and middle finger, cover the soil with the palm of your hand, turn the pot 180° and gently pull it off the clod of earth. Once removed, you can untangle any roots that look as though they've hardened or wrapped around the plant. Now, transplant into the new pot and gently, but tightly, pack the soil in and around the plant; water slightly. This is also an opportune moment to remove any wayward leaves and prune to keep your plant looking healthy.
You may find you need to transplant a few times during the growing cycle, depending on the tendencies of your chosen variety of chilli pepper. So make sure you have adequately sized pots to house the plants and keep the soil damp. However, you can also look to transplant them directly into a flowerbed, or even into a glasshouse if you so desire.
When To Harvest Chillies?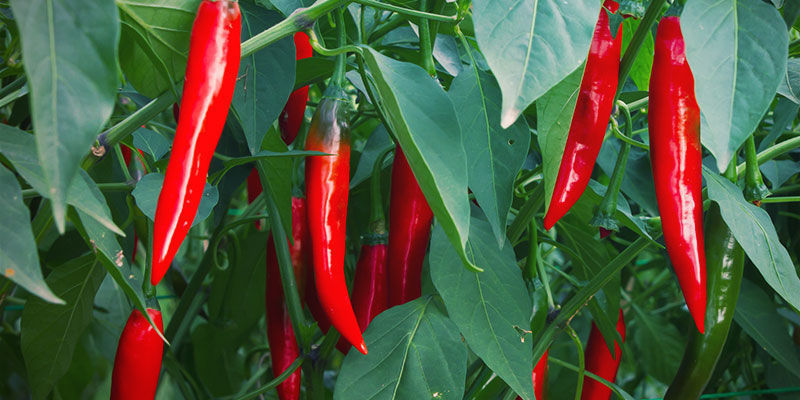 For the most part, growing chilli peppers is a straightforward task. As plants begin to flourish, you'll notice peppers appearing on the plant. If you've been following the general schedule outlined above, the chillies will be ready to harvest during the summer months. To do this, grab a ripe fruit by the stem and bend it against its direction of growth. Chili plants grow with predetermined breaking points for their chili pods, making it easy to harvest naturally. Avoid using a knife if possible, as a cut can open the plant to pathogens. You can harvest at any time during fruit growth, but most chilli varieties have an optimal time to really get the most flavour and heat out of them—so be sure to check the specifics of the variety you want to grow.
The plant will continue to produce chillies into the autumn months after you've harvested, so don't think your harvest is a "one and done" situation.
When to pick hot peppers?
Different hot pepper varieties mature at different times, so there's no blanket answer for when to pick them. As soon as fruit appears, you can pick them. However, you can let them mature longer for increased flavour and heat.
How To Store Peppers
There are plenty of ways to store your peppers for long and short periods. If you're looking to use them soon, chillies can be stored in the fridge for easy access. In the long term, chillies can be frozen, pickled, dried, canned, or even fermented for different uses.
How To Use Hot Peppers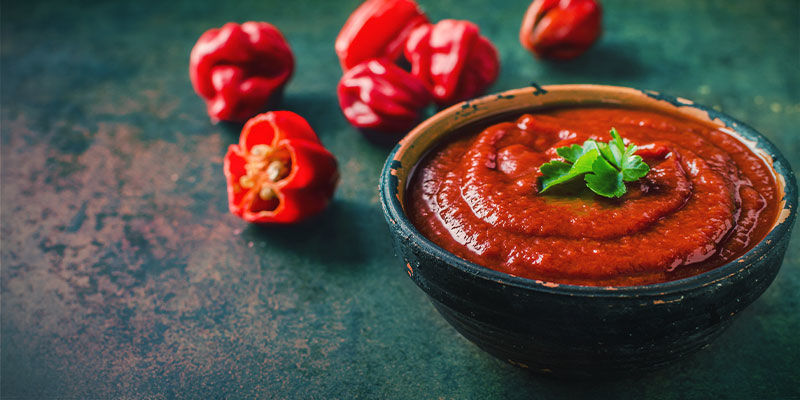 Looking to add a little spice to your favourite dishes? It's as simple as cutting up some fresh chilli peppers and adding them with the other ingredients. There are plenty of different ways to use homegrown chillies. You can make your own sauces or hot chilli powder to take to the family barbecue; or perhaps look to perfect a recipe for chilli jam that will blow your friends away.
For those looking to test the limits, why not have a competition to see who can handle the hottest peppers? The use of chillies is truly limitless. Anything you can think of, you can achieve with your homegrown peppers.
Are Chilli Peppers Safe?
It's no secret at this point that chilli peppers can be extremely hot and have the potential to pack a punch. So while they are perfectly fine to consume, one's threshold of how much heat they can handle will undoubtedly vary from the next. So take a little caution when offering a chilli pepper to friends and family. Your definition of the hottest chilli might be different to theirs, and they might not be able to handle it as well as you. Of course, it goes without saying, but after cutting and handling chillies, wash your hands before touching your face, and definitely before using the bathroom (you'll thank us later).
Spice Up Your Life and Grow Your Own Hot Chilli Pepper Plants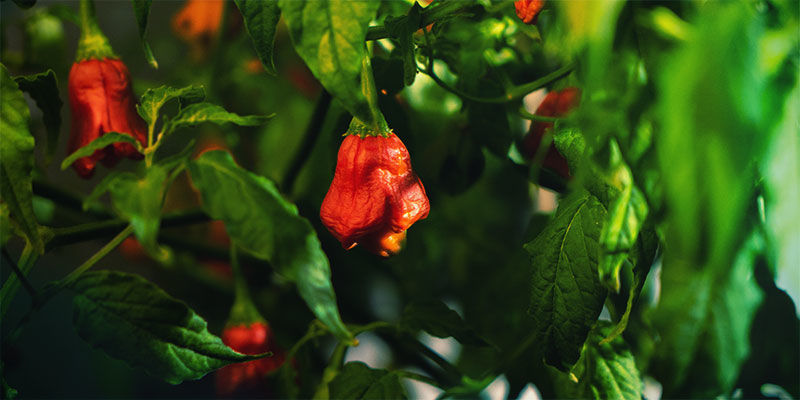 Now you have all the know-how required to grow chillies from home successfully. All that's left to do is choose a variety you're interested in and give it a go! But where do you find chilli pepper seeds? Well, that part is simple. Pick out a pepper or two from Zamnesia's Peppershop, and you won't regret it! With plenty of chilli and pepper seeds available right now to purchase, get in the heat of the moment and order something that will really impress.
Chilli & Pepper Seeds: Questions & Answers
🌳 How to grow hot peppers?

Hot peppers take anywhere from 60–120 days to produce fruit. With germination typically taking place over the winter months, plants can flourish in the spring/summer warmth and light.

🌶️ When to pick hot peppers?

Different hot pepper varieties mature at different times, so there's no blanket answer for when to pick them. As soon as fruit appears, you can pick them. However, you can let them mature longer for increased flavour and heat.

☀️ When to plant hot pepper seeds?

Hot pepper seeds are usually germinated indoors during the winter months, then transplanted to pots/beds outside to soak up the sun and warmth of the spring and summer months.

🌱 How to germinate hot pepper seeds?

There are a couple of different ways hot pepper seeds can be germinated. We recommend using germination pods such as Smart Start to allow your seeds to flourish with ease.

📦 How to store hot peppers?

Short-term solutions include refrigerating or storing in a pantry, whereas freezing, drying, pickling, and canning are just a few ways to prepare your peppers for long-term storage.
---