Zamnesia Tea & Herb Infuser
(

98

)
Making infusions is the oldest way of extracting herbal essences. This bright blue, leaf-themed food-grade silicone and stainless steel infuser from Zamnesia has you covered. The silicone is heat-resistant so you will never burn your fingers, while the branded Zamnesia drip tray keeps things dry and tidy without having to go to the sink.
This item is not available in your country
We are sorry, this product is currently not available for shipping to your country. Please check back for future availability.
More info
Zamnesia - Tea & Herb Infuser: Simple Way Of Extracting Herbal Essences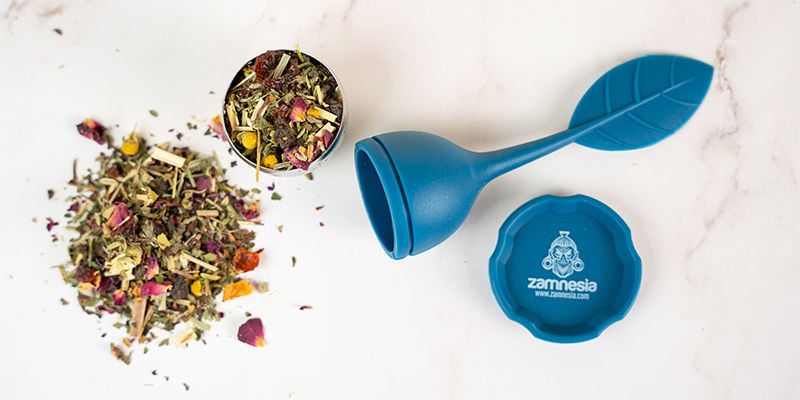 Zamnesia Tea & Herb Infuser data sheet

| | |
| --- | --- |
| Type | Loose-leaf tea, Accessories |
Reviews (98)
View all reviews

30/Sep/2023

Joli et pratique
Parfait pour les invités quand le litron de thé est de trop.

29/Sep/2023

Bizarre
Je l'utilise 3 fois par jour depuis mon achat mais il s'est vite détérioré....

23/Sep/2023

Great infuser
Good quality infused, Closes well. Better than the metal that sells in the shops

25/Aug/2023

Good
Convenient and handy

22/Jul/2023

Hochqualitatives Kräuter-Ei
Hat einfach super Qualität, preislich top. Habe häufig Einwegbeutel benutzt, aber mit dem Ei mache ich mir jetzt viel lieber einen Tee. Sieht einfach toll aus und ich bin begeistert

02/Jul/2023

Fivestars
Great product fast shipping

22/Jun/2023

Pratique
bonne boule à thé

20/Jun/2023

Boule à thé simple
Boule classique simple, pas de goût ou d'odeur de plastique, au top

09/Jun/2023

Good product!
Simple to use, recommended

07/Jun/2023

Mish
Zum Glück habe ich es mir bestellt... Super... Danke!!

02/Jun/2023

Funktioniert
Super! Für Pulver wahrscheinlich nicht geeignet.

30/May/2023

Muy bueno
Excelente para infusiones herbales

28/May/2023

Yes!
Just yes!

17/May/2023

Essential for the natural tea
Good quality, hmm with blue lotus :)

19/Apr/2023

Prima Qualität und gut durchdacht
Sehr tolles Tee-Ei: Leicht zu reinigen und perfektes Handling. Sehr guter Preis für diese hochwertigen Materialien, ich kann es nur empfehlen.

12/Apr/2023

Bonne boule a thé !
Bonne qualité du produit!

31/Mar/2023

GENIAL.
DONDE HAS ESTADO TODA MI VIDA? PERFECTO PARA INFUSIONES Y CUALQUIER TE DE HIERBAS

30/Mar/2023

Simple et pratique
Jolie boule fzcile à utiliser

24/Mar/2023

Va genial, como debe ser.
Trae todas las partes, es bonito y es muy servible.

17/Mar/2023

super
elle est très belle et pratique je recommande

04/Mar/2023

Thee dispenser
Super tevreden. Wij gebruiken het ook voor normale verse thee. Super dik te vreden Altijd weer blij als een pakketje van zamnesia komt. Service van zamnesia perfect. Ga zo door

27/Jan/2023

Good for herbal infusion
What it do

11/Jan/2023

Jolie et pratique
Facile à nettoyer, compacte et ergonomique, excellent infuseur.

24/Dec/2022

Validissimo
Prodotto molto valido e funzionale! Consigliato.

28/Nov/2022

Tee-Ei
bin sehr zufrieden , erfüllt seinen zweck

13/Nov/2022

Très pratique !
Rien à redire, cette boule à thé est parfaite, belle contenance, classieuse, et aux couleurs de mon shop préféré, je l'utilise tous les jours !

08/Nov/2022

trop bien
A conseiller bon produit

26/Oct/2022

Tee ei. Aber das werde ich ewig behalten.
Siehe oben. Mir gefällt es sehr gut.

25/Oct/2022

Util
Lo utilizo para realizar mis infusiones diarias de diferentes plantas digestivas.

23/Oct/2022

Tip-Top
Simple et esthétique

10/Oct/2022

Tip Top
Super einfach, passt alles so wie es soll und leicht zu reinigen.

02/Oct/2022

Not just a good looker
I have used this multiple times by now as I am writing this - cleans easy, looks awesome and brings flavour to the tea - couldn't ask for more

02/Jul/2022

Top
Top danke

17/Jun/2022

Dankeschön
Bequemes Kräuter-Ei.

28/May/2022

Ingeniously!!!
Very convenient for one person. Great design and very convenient to stir drinks.

20/May/2022

Funcional
Muy útil y bien hecho

24/Apr/2022

I like it!
Using it with yerba mate in a honey yar at work, and at the end of the night I switch to hops and chamomile. The product workes great and I really like to visual design. The leaf top is also useful for steering the tea. 10/10 would give to a friend, would recommend.

19/Apr/2022

Très bien
Agréable à utiliser

15/Apr/2022

Design accattivante e funzionale.
Questo infusore per le erbe è eccezionale, lo ricomprerei. Il materiale usato non intacca per nulla il sapore dell'infuso e l'estetica mi piace molto.

26/Feb/2022

J'adore
Superbe boule à thé !

18/Feb/2022

Parfait
Rien a dire parfait

31/Jan/2022

Nice
Easy to use and very useful!

22/Jan/2022

Top
Einfach zu reinigen und gute Verarbeitung.

14/Jan/2022

Infuse et déguste
Très efficace et simple pour le nettoyage. de plus il décor la cuisine !!!

17/Nov/2021

Super Infuser
Macht was es machen soll und ist leicht zu reinigen. Super Qualität von Zamnesia, so wie immer!

19/Oct/2021

ok
muy comodo

21/Jul/2021

Enzo
Facile solide très bon prix merci

25/Nov/2021

Works great
it just does what it says :)

30/Jun/2021

TOP!
wir haben mehrere davon und lieben sie. auch toll als kleines Geschenk. für Freunde so, für GUTE Freunde mit Füllung :-)

10/Jun/2021

Tolles Produkt
Bin sehr zufrieden mit dem Tee Ei. Funktioniert suppa. S. L

18/May/2021

Simpa
Très heureux de mes boules à infuser, la qualité est bonne et le prix est bon

08/Apr/2021

Top
Superleuk product. Werkt goed, maar blijft niet rechtop staan in je kopje water.

29/Mar/2021

Top
Funktioniert

18/Feb/2021

Un buen item para añadir a tus pedidos
Barato y muy útil, tanto para tomar ciertas sustancias de forma más sencilla como para hacerte infusiones a granel. Buenos materiales y muy fácil de usar

17/Feb/2021

Perfect infuser
Really easy to use, and absolutely gets the job done.

14/Feb/2021

Works!
It does what it's supposed to - tho it keeps floating around in the top (but mayby that's just me, that finds that annoying :p)

10/Feb/2021

schnelle Lieferung
gutes Produkt

20/Jan/2021

Sehr schön.
Ich bin äußerst zufrieden mit dem Tee Ei. Ich mache mir sehr gerne Tee und dieses Ding ist perfekt zum aufbrühen von Tee Blättern geeignet.

20/Dec/2020

Genial
Perfecto para hacer tus infusiones.

14/Aug/2020

good
very fun product nice to use, could include something with ways of making cannatea

30/Jun/2020

Veri good!
Very good, cheap and simple!

07/Apr/2020

Pratique
Esthétique, pratique et facile à nettoyer. A voir sur la durée cependant pour la qualité des matériaux qui ont l'air top

19/Mar/2020

Awsome
Very nice and good for Tealovers :) (easy to clean)

08/Oct/2019

Infusore
Awesome

10/Sep/2019

Awesome
This herb infuser is great: it's elegant, it's practical, does the job perfectly and keeps our hands from burning. The herbs infuses greatly !

17/Jul/2019

Super!
Je rentre un max d'herbes super! Pratique et mignon en plus!

18/Mar/2019

Nice design
Practical and nice designed.

31/Dec/2018

Superbe produit !!
Bon produit correct

23/Oct/2018

Très bon produit
Très joli, pratique et vraiment de bonne qualité.

01/Oct/2018

Thee
Werkt goed geen minpunten

29/Jul/2018

Un simpatico gioellino galleggiante
Un simpatico gioellino galleggiante

10/Apr/2018

Super
Très joli. l'égouttoir est très pratique car l'infuseur se tient bien à la verticale. Le design est très sympa aussi.

16/Feb/2018

Bien
Pratique !

30/Jan/2018

No mess, looks cool and works a treat!
This beats any old style tea infusion method, looks good and works better than any other items I have. This is a must have item for any tea drinking stoner!

24/Dec/2017

Produit de bonne qualité
la boule à thé est fun et facile à employer!

19/Sep/2017

Super produit
Produit de super qualité, la taille est parfaite (j'arrive à mettre 4 grammes de passiflore donc c'est nickel)

You cannot post a review because you have not purchased this product
Restrictions
Please note that if your country is not on our general shipping list, we're unable to ship any item on our website to it. For more information check out the list here: Ordering & Shipping
Video (0)