Greenhouse Seeds is seen as one of the most successful seed banks of all time, winning numerous awards, and producing multiple world renowned strains of cannabis seeds. Much of this fame is thanks to the Arjan, the owner and cofounder of Greenhouse Seeds, and co-explorer/hunter of Strain Hunters. It is through his continued work to discover, breed, and experiment with landrace strains that Green House Seeds was able to build such a reputation for itself. And he has now been at it for over 25 years.
Often dubbed the King of Cannabis, Arjan has taken a personal and vested interest in ensuring that the seeds on offer at Greenhouse Seeds cover a wide range of traits and features. This means there is something for everyone at Greenhouse Seeds, no matter if you are an indica or a sativa lover, grow indoors or outdoors, or simply want an auto strain - you will be able to find seeds suited to you.
Working through their associated company, Strain Hunters, Greenhouse Seeds has also dedicated itself to furthering the cannabis cause, campaigning for the end to prohibition and aiming to preserve rare landrace strains. In Arjan's Words:
"When I was just 17 years old I met an old wise man. He looked me in the eyes and gave me a cannabis seed. He told me that the cannabis plant can be so powerful to overthrow governments, and to change the planet. Ever since, my goal in life has been to legalize cannabis for medicinal and recreational use, for everybody. Taxes and regulation will create a safer world for our children, a world with less crime, better public health and a solid economy. I am humbled and proud to be helping this green revolution, because those who have history will shape the future".
Greenhouse Seeds packaging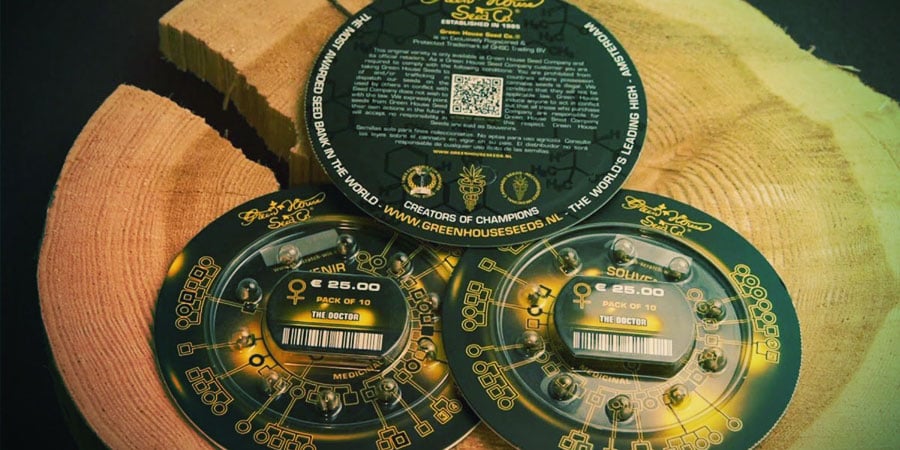 Greenhouse Seeds' packaging is both stylish and practice, ensuring that any seeds obtained from them are held and transported both safely and securely. The "genetic disk" design is Greenhouse Seeds Signature, and displays all of the basic information about the cannabis seeds within.
Whilst sturdy, Greenhouse Seeds' packaging is designed to only be opened once, and is not re-sealable. If you get more seeds than you intend to use in one go, ensure you have a suitable storage solution lined up to keep your seeds safe.
Greenhouse Seeds' cannabis seeds come in packs of 3, 5 or 10 seeds. Mixed packs come with coloured seeds, so you will know exactly which seed is which strain.
Awards Greenhouse Seeds
With over 100 awards to their name, Greenhouse Seeds are one of the most decorated and celebrated seed banks out there. It is helped them spread their name and become one of the largest seedbanks of today's cannabis seed market.
As a list of 100+ awards can be pretty daunting to read, we have put together all of their 1st place wins, so you can see the strains that really shine through.
Super Lemon Haze
---
Cheese
---
Exodus Cheese
---
Super Silver Haze
---
Arjan's Ultra Haze #1
---
Great White Shark
---
NL5 Haze Mist
---
White Widow
These are but a few of the many awards filling Greenhouse Seeds' trophy cases. It is a testament to the seed bank, and hopefully gives you a few ideas for strains to try!
---