Blog

4 min
Kalashnikov Seeds: Seedbank Of The Month February 2018

4 min
The territories of the former Soviet Union once contained the very cradles of cannabis cultivation. Kalashnikov Seeds are harnessing the genetic potential of the diverse cannabis species to be found across the world's largest landmass. Check out the strains offered by this groundbreaking seedbank.
CHANGING THE GAME AND EARNING A REPUTATION
The best cannabis seeds in the cannabis seedbanks contending for Zamnesia's Seedbank of The Month are the game changers. Earning a rep for bringing ordinary growers something special, raising industry standards, and expanding consciousnesses are prerequisites. The best of the best are not just the industry giants.
Talented newcomers and gifted rising stars are the future of cannabis breeding. We recognise and respect the contributions of both the legendary OG cannabis breeding houses and the smaller outfits about to blow up. Only those that have finessed their own unique cannabis will feature here.
SEEDBANK OF THE MONTH: KALASHNIKOV SEEDS
The founders of Kalashnikov Seeds are a real-life cannabis A-Team. This ragtag crew of ex-soldiers got started growing while they were still in the Red Army. As Communism fell, they capitalised on the chaos, converting areas of army bases into grow-ops. Patrolling through the Eastern Republic of Primorsky Krai in autumn during the early 90s, it was common enough for a soldier to hand rub himself a ball of "matzanka" (hash) as he cut a trail through wild-flowering marijuana meadows.
Soon, one soldier's experiments with seeds from the most resinous local specimens expanded to become a covert collective of stoner soldiers. In fact, the very first plants were cropped in pots using the lids from AK-47 cases for trays. Later, exotic, high-THC autoflowering genetics from the Chuy Valley were contributed by a founder originally from Kazakhstan. It is estimated that as many as 140,000 hectares of wild cannabis are growing in this ganja garden of Eden.
Rumours of villagers riding naked on horseback through fields of flowering cannabis and re-emerging with their skin coated in resin still persist. From the Altai Mountains in the heart of Asia, tremendously potent varieties were added to the diverse repository of genetics through another crew contact.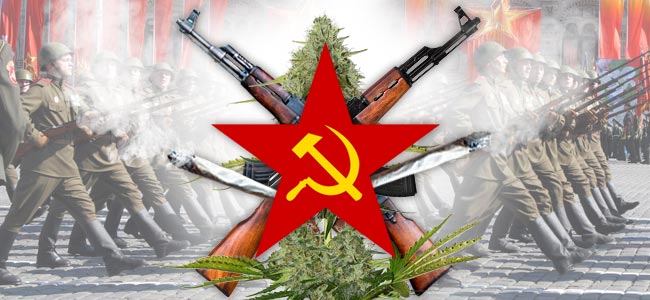 By the early 2000s, it was time to quit the military. Time to make love, not war, err, focus on the marijuana mission. Embarking on an intense breeding program with the primary objective to create original dank strains with genuine "Russian soul", the venture transformed a group of talented breeders with a wide array of high-calibre genetics into Kalashnikov Seeds.
Today, the team has successfully developed an impressive catalogue of feminized seeds, autoflowering seeds, and even an "express" line of rapid-flowering photoperiod strains. Since 2013, these beans have been available on the European market and many more east-meets-west hybrids have been added to the Kalashnikov Seeds arsenal. Below are a handful of our most incendiary favourites. From Russia with love.
TOP 5 KALASHNIKOV SEEDS STRAINS
AMNESIA MOLOTOV
Amnesia Molotov is a highly flammable cannabis cocktail of Amnesia Haze, Chemdawg, and Kuban Killer (Kubanskiy Ubiyza). This one-of-a-kind hybrid is fire marijuana. And far less volatile than you would expect. Plants grow with phenomenal vigour, acquiring a medium-tall, productive stature, plus the fortitude to resist most common fungal diseases and moulds.
By combining arguably the two most desirable Western head stash strains with a frosty AK-47 cross from the East, Kalashnikov Seeds have created a sativa-dominant strain so sticky you might think she's melting. 9 weeks of bloom and dense buds will be oozing resin.
A rich blend of sweet and spicy flavours with hints of ginger and incense delight the palate like no other smoke. Amnesia Molotov is an easy-cropping, 24% THC organic explosive suitable for growers of all levels.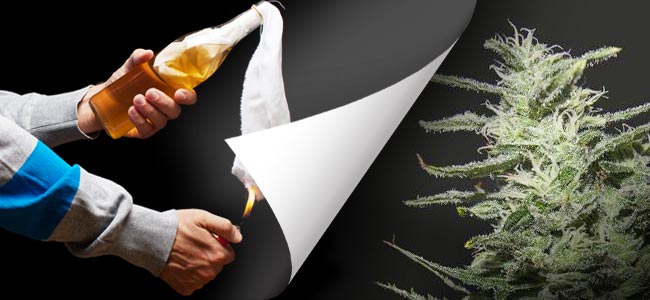 MOSCOW BLUEBERRY
Moscow Blueberry is a medical cannabis strain boasting a juicy, fruity flavour and high CBD content. This hybrid is a mix of AK-47, Blueberry, and another top-secret Russian agent. After just 8-9 weeks of flowering, this hardy hybrid will develop lush, compact, lavender-coloured buds indoors and even outdoors in cooler climates.
If alluring aromas of forest fruits and killer looks don't tempt you to give her a run, then a taste of her sweet berry smoke, with its calming, muscle relaxing, and mood-boosting effects will get you there.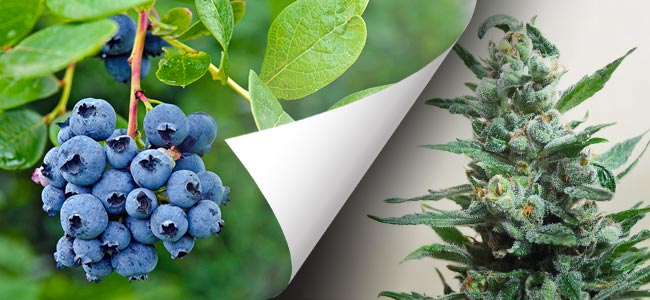 AK KUSH
AK Kush is a heavy duty indica considered the .50 cal hollow point of Kush hybrids. Afghan Kush, AK-47, and Crimean indica dankness has been fused together to give rise to perhaps the world's most badass Kush specimen. AK Kush is a 20% THC die-hard hybrid. Plants grow like bushes, staying short, stocky, and budding prolifically.
Within 7-9 weeks of flowering, rock hard, resinous nugs and colas will be ready for harvest. Indoors or outdoors in cooler climates, AK Kush is cannabis world-star performer. A fat harvest of powerful couch-lock cannabis awaits. Musky, mint-scented weed with a slight citrus twist complements a full-bodied Kush flavour that will keep you coming back for more.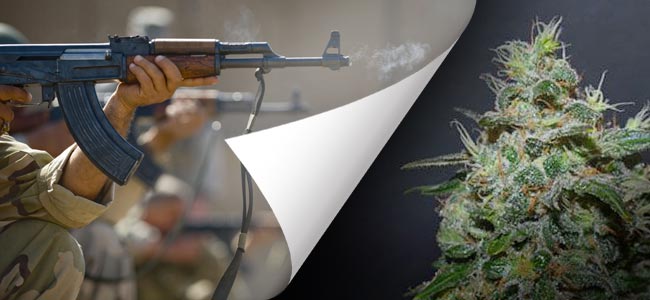 BAIKAL EXPRESS
Baikal Express is a super-charged sativa-dominant hybrid. So fast and furious, she can complete bloom in as little as 45 days and still bring a heavy harvest of crystally, chunky, 22% THC nugs to the scales. By crossing the famous Kuban Killer with a fast-flowering black-ops breeding project, Kalashnikov Seeds created a cannabis cryptid. First-class, uplifting head stash has never been easier to crop.
Indoors or outdoors during short summers, she won't disappoint. Compact, productive plants that are resistant to drought and high temperatures are uncharacteristic attributes for a sativa-dominant strain. But Baikal Express doesn't do normal. She is an extraordinary beast from the East.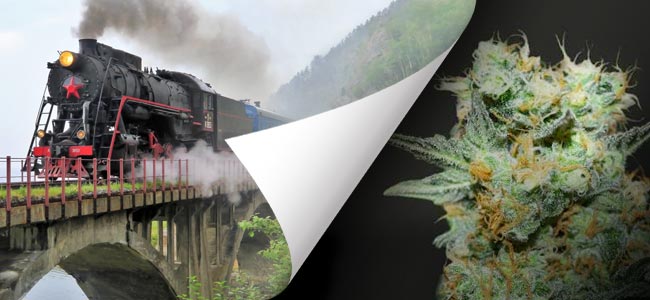 AMUR GIANT AUTO
Amur Oblast is home to Russia's Eastern Spaceport "Vostochny Cosmodrome". But that's not the only way to get to the stars from Amur. The region is also the natural habitat of some of the most potent ruderalis specimens on the planet. By splicing rare Russian dankness with high-flying, sativa-leaning Jack Herer and the generous yields of Power Plant, an autoflowering child of God was sired.
Amur Giant Auto is a next-gen auto hybrid that towers over other autos in THC content and in stature. Growing as large as 1.5m tall, she's capable of hitting 19% THC. Best of all, she delivers a euphoric high. Amur Giant Auto will take you above and beyond the clouds with just a few sweet, lemon-pine tokes. Not too shabby since she does it all in a 65-75-day total lifecycle.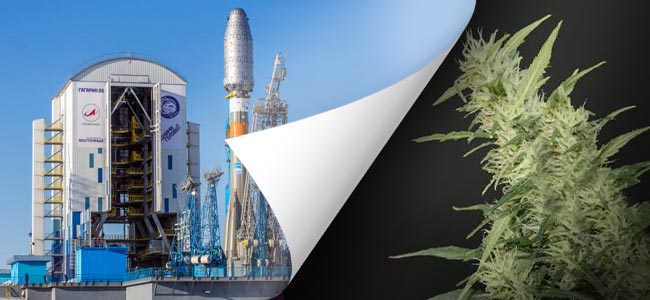 KALSHNIKOV SEEDS
Modern Russia is a country that makes up about ⅛ of the land on Earth. So it really shouldn't be surprising that it is home to all kinds of amazing cannabis. We in the West think year-round cold weather, picturing the frozen tundra when we imagine the Russian climate. But Russia is so vast, it has four climate zones and every type of vegetation except tropical rainforest. Assault rifles and vodka are the best-known exports because we don't know any better.
Kalashnikov Seeds are waking up the West and reinventing Russian cannabis. Remember, you heard it here first! Kalashnikov Seeds are packing superior firepower. It's a question of "when" rather than "if" growers in the West will accept this fact. Don't wait until these young gun breeders are decorated veterans in cannabis competitions to unlock the secrets of Kalashnikov Seeds.
WIN FREE GOODIES WITH EVERY NEW "SEEDBANK OF THE MONTH"!
Former Seedbanks Of The Month, like the one you are reading about now, deserve eternal attention from us here at Zamnesia! Read about past and present honorees, and continue to visit our blog for the honorees of the future. Each new month highlights yet another stellar seedbank, kicking off a new round of awesome promotions and surprise giftings pertaining to that specific brand. So go ahead: once you are done here, visit this month's new Seedbank Of The Month, and take advantage of goodie giveaways!
Written by: Zamnesia
Zamnesia has spent years honing its products, ranges, and knowledge of all things psychedelic. Driven by the spirit of Zammi, Zamnesia strives to bring you accurate, factual, and informative content.

Find out about our writers
---