G13 Labs Cannabis Seeds: New At Zamnesia

3 min
Our roster of cannabis seedbank all-stars continues to grow. Allow us to present our latest draft pick, G13 Labs Premium Seeds. We've got 5 sticky green reasons why you need to check out G13 Labs cannabis seeds. Get ready for dankness directly from the cannabis underground.
INTRODUCING GENETICS BY G13 LABS
The roots of G13 Labs Premium Seeds trace back to underground cannabis collectives in the North of the UK during the late-1980s. Followed by a transplant to Amsterdam to collaborate with breeders and cultivate an international network, after three decades, a small group of reefer renegades has become an octopus. Green shoots of dankness from all over the world now contribute to the genetics G13 Labs uses to develop new strains and hybrids.
Little is known about the founders of this secretive cannabis seedbank. They are referred to only as "Agents" in organisational literature. Anonymity and black ops breeding practices are a big part of what makes G13 Labs mysterious and intriguing. While the competition is preoccupied with advertising, cells of ghost growers and shadow breeders are researching and developing the next G13 Labs releases.
G13 Labs doesn't do ordinary. All we can be certain of are two facts; the first is rather obvious, given they are firm believers that "loose lips sink ships". And the second, which you can really only confirm by giving a pack of their beans a run, is that G13 Labs' cannabis seeds are extraordinary.
TOP 5 G13 LABS GENETICS AVAILABLE FROM ZAMNESIA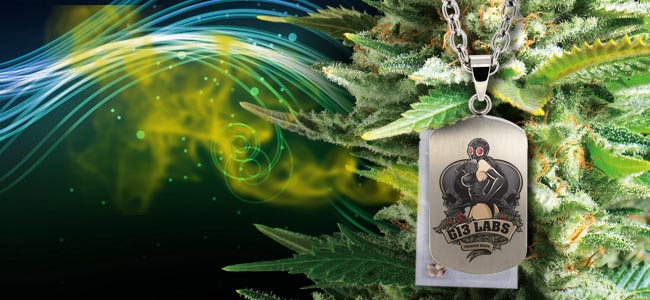 Zamnesia has compiled a list of their 5 favorite G13 Labs concoctions. Before you tuck into this list of delicious cannabis strains, we thought it we should mention that G13 Labs seed packs have a little something extra: where possible, the seed packaging has been scented, to give consumers a olfactory sensation upon delivery of the seed packs. For example, the packaging of Peach Puree CBD actually smells like ripe peaches! This is not the case for each of the strains below, but it is a cool feature to note nonetheless.
PEACH PUREE CBD BY G13 LABS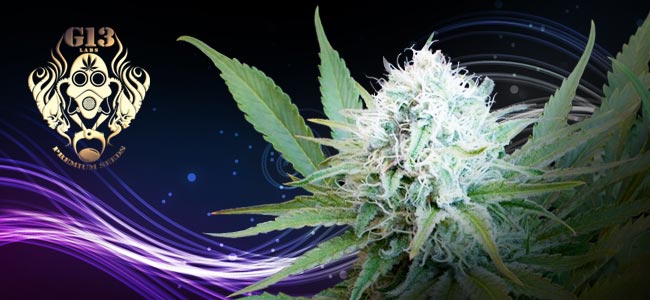 Sweet Diesel and California Orange Bud genetics collide to create the tastiest medical cannabis cocktail in the G13 Labs collection. Peach Puree CBD boasts a 2:1 CBD:THC ratio and a delicious, sweet peachy flavour. Designed to deliver both a mood-boosting and pain-relieving effect, it will leave you with a lingering peach-smoothie aftertaste. Finally, medical cannabis patients have a genuine, mouth-watering CBD-rich option.
This sativa-dominant hybrid will branch out as vigorously as she stretches for the light source. Growers with limited vertical space are advised to prune and train early. Minimal vegetative growth time is needed for these sativa sprouts to surge upwards. By late-flowering, citrus and fruity aromas ooze from dense buds that can acquire a purplish hue in cooler nighttime temperatures. Peach Puree CBD will complete the bloom cycle in just 8–9 weeks under standard 12-12. Yields can be as heavy as they are tasty, even for beginner growers.
BLUE OG BY G13 LABS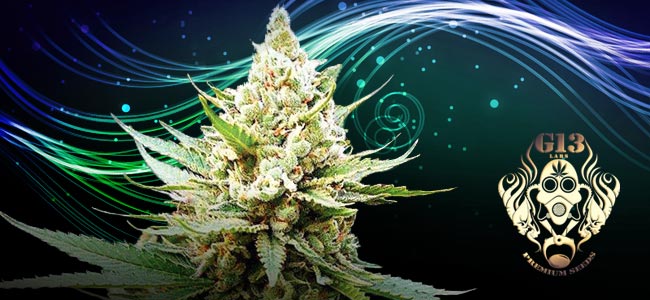 Blueberry F3, Blue Moonshine, and OG Kush come together in the connoisseur cannabis triple threat known as Blue OG. If the prospect of cultivating this gooey green delicacy doesn't set your pulse racing, you have no business in a grow-op. This dank strain is the rockstar of the G13 Labs collection. Blue OG is an indica-dominant hybrid with a bush-like growth pattern. Her flower to leaf ratio is impressive, but it's the thick, gooey layer of resin that really makes these flowers shine. Short, compact plants are perfect for a SOG and/or microgrowers.
The signature cerebral surge of OG Kush is retained, but the creeping couchlock is expedited by the heavy indica Blues. A burst of fruity, berry, and lemon flavours make for a most delicious toke. Beware of being beguiled by this dank mistress. Blue OG is some very sweet leaf, but she is also tremendously potent.
PINEAPPLE EXPRESS BY G13 LABS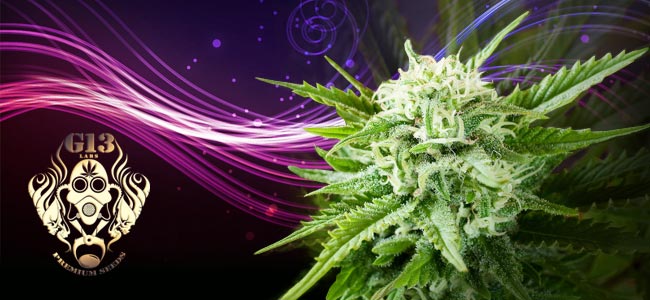 Careful selection of the fruitiest Skunk specimens crossed with super-producer Big Bud spawned the strain that helped put G13 Labs on connoisseur growers' radar, Pineapple Express. This is Hollywood Skunk. Every trait has been amplified, and her tropical pineapple flavour is as over-the-top as any blockbuster. Yet the high is somehow an almost perfectly balanced blend of relaxing indica and euphoric sativa effects.
Pineapple Express is no delicate diva in the grow-op. Plants grow medium-tall with strong side branches and, if left untrained, will develop a bulbous, long-running central cola. During the final weeks of bloom, plants can really swell up with buds and may need support. Raw, untamed hybrid vigour typically ensures a short 8-week flowering period.
DOUBLE BLACK BY G13 LABS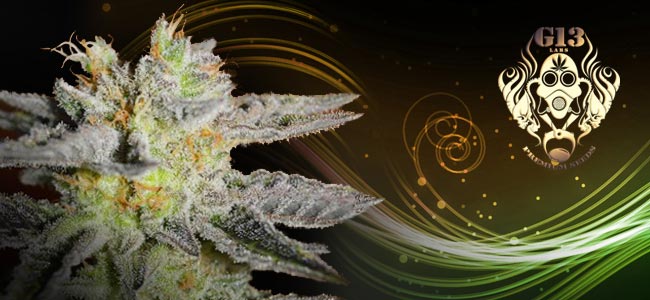 Black Domina is a heavy indica legend that has lost some of her lustre in recent years. G13 Labs has re-engineered this cannabis classic to bring her back to the future as Double Black. Precious original Black Domina 98 genetics have returned with a double shot of dankness. Prepare to go deep into the realms of Dreamland with chunky, spicy-pepper, and hash-scented buds.
Connoisseurs will appreciate Double Black for her old-school, full-bodied flavour and powerful physical effects. Novice growers will find compact, resilient plants beginner-friendly. With no more than basic plant care and attention, Double Black can be ready for harvest after just 8–9 weeks of flowering. Experienced growers will want to hold on to a mother plant of this vintage marijuana.
AUTO GIGABUD BY G13 LABS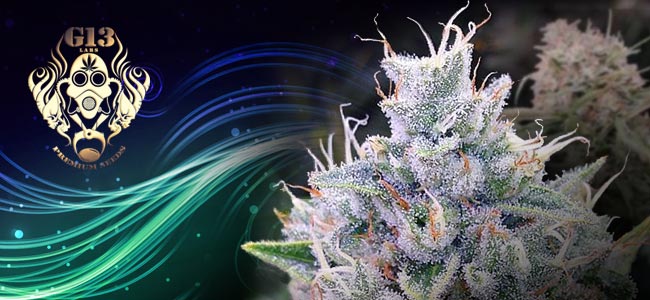 Bigger is better, especially when it comes to autoflowers. Auto Gigabud is a next-gen hybrid, bursting with powerhouse genetics. This strain harnesses the fat flowers of Big Bud, the firepower of Northern Lights, while hardy ruderalis ensures a fast and furious flowering period. Indoors or outdoors, this supercharged auto will be ready for harvest approximately 8 weeks post-germination.
Auto Gigabud is a low-maintenance plant that grows larger than the average autoflower, but is still compact enough for microgrowers to handle. Heavy indica relaxation and sedation are to be expected from dense, resinous nugs. Earthy, skunky flavours and hints of forest fruits will delight every kind of toker, from newbies to finicky connoisseurs.
Written by: Zamnesia
Zamnesia has spent years honing its products, ranges, and knowledge of all things psychedelic. Driven by the spirit of Zammi, Zamnesia strives to bring you accurate, factual, and informative content.

Find out about our writers
---