920 Magic Mystery Box - Grow Kit Edition
(

147

)
Unleash the magic of Mushroom Month with our 920 Magic Mystery Box Grow Kit. Each limited edition kit comes packed with surprises, including a top-shelf grow kit, essential grow tools, exclusive merchandise, and mind-blowing gifts. Elevate your mycology game and enjoy bountiful harvests of your own home-grown shrooms in no time. Ready to get trippin'?
This item is not available in your country
We are sorry, this product is currently not available for shipping to your country. Please check back for future availability.
More info
920 Magic Mystery Box Grow Kit: An Exclusive Treasure Trove For Fungi Lovers
Introducing the 920 Magic Mystery Box Grow Kit – a limited edition treasure trove for all mushroom enthusiasts and aspiring mycologists. This extraordinary offering is the crown jewel of our Mushroom Month promo, an exclusive celebration of the magical world of fungi. Get ready to embark on a journey of discovery and delight as you unlock the secrets of the mycelium kingdom with this enchanting kit.
At the heart of this Mystery Box lies a premium-quality magic mushroom grow kit, carefully selected to ensure a bountiful harvest of potent fungi that'll take you on a journey far beyond reality. With our easy-to-follow instructions and included grow tools, even beginners can effortlessly cultivate their own batch of magic mushrooms right at home. If you're an experienced mycologist, you'll also enjoy this kit for its unique selection of shroom varieties.
But that's not all, folks - each 920 Magic Mystery Grow Kit comes in a specially designed box packed with goodies, including exclusive Zamnesia merchandise showcasing your passion for mushrooms in style, gifts, and more. Remember, these kits are only available for Mushroom Month, so don't miss out. Whether you're an avid mycophile or simply curious about the world of magic mushrooms, this kit promises an unforgettable journey into the realm of fungi. Order yours today and let the magic unfold!
If you would prefer a more instant version of our psychedelic celebration, we also have mystery truffle boxes with truffles ready to go. Check it out!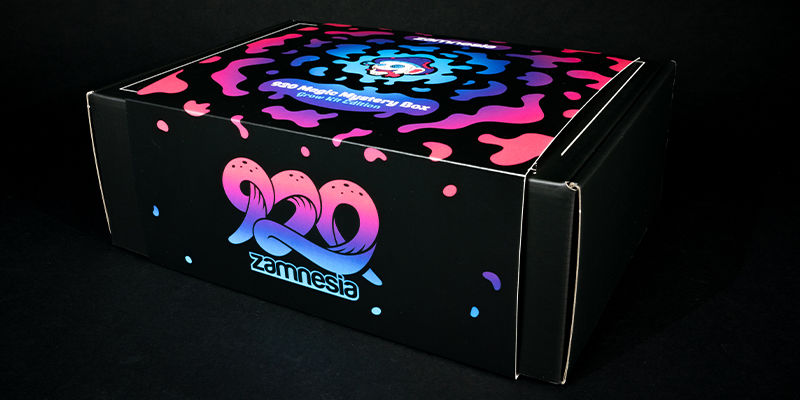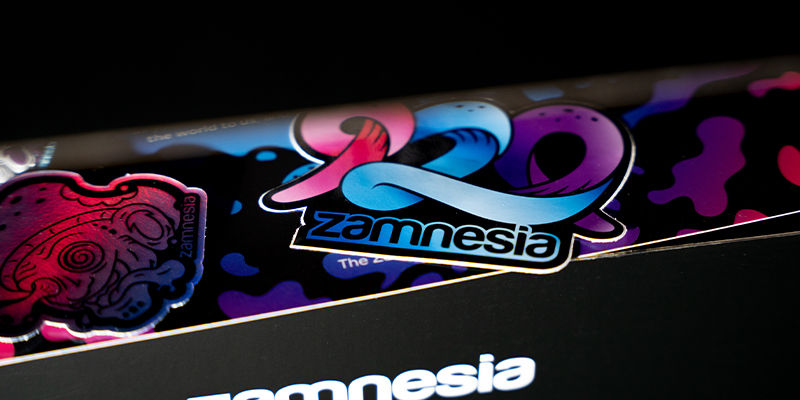 Reviews (147)
View all reviews

21/Sep/2023

Coffret magique
J'ai bien reçu la commande, toute contente, Sauf que le pain de champi est à moitié noir , donc contaminé.... Si vous voulez je vous envoie la photo car je pense qu'il donnera rien.... Sinon le reste impeccable c'est 🤩🤩🤩🫶

15/Sep/2023

Super génial mais j'avais commandé l'autre
Bonjour, je voulais le pack truffes mais j'ai reçu le pack de pousse des champignons (qui est génial et que je recommande pour toute personne voulant se lancer dans la culture de champignons). Pourriez vous me renvoyer le bon pack des truffes et je vous renverrai le pack de culture de champignons. Comme d'habitude rien a redire sur la qualité des produits zamnesia !! J'attends votre réponse !! Un grand merci !!

13/Sep/2023

Pas d'instructions pour cultiver le kit
Pas d'instructions pour cultiver le kit Sinon content du contenu Même s'il y a un bol de conservation qui n'est pas vraiment utile

13/Sep/2023

Deluso
Devo dire d'essere rimasto un po deluso, non è brutta intendiamoci, ma un tantino deludente. Anche il tipo di funghi, mi aspettavo qualcosa di più speciale. Peccato.

12/Sep/2023

Box 920
Un gros délire, une très belle boîte remplie de plein de belle chose, débutants comme experts seront ravis de l'avoir ! Merci bcp zamnesia pour votre générosité

09/Sep/2023

920 Grow Kit Edition
Quite happy with the box I've ordered, can totally recommend for beginners since you've got all you need for your first grow. Sadly I've had most of the items in there already except for the kit and the merchandise. But else, great choice of purchase.

08/Sep/2023

They give you everything you need to get started
Its worth it to get this, instead of individual supplies to get started.

24/Jul/2023

Coole Box
Ich habe mir die Box bestellt, da ich mir vorher Rezensionen durchgelesen habe, welche meinen Kauf ausgelöst haben. Ich war überrascht wie viele verschieden Sachen darin waren, von Dampfutensilien über Samen für Chili's und ein paar "Growwerkzeuge" Von den Samen ganz zu schweigen, ich bin begeistert und wer 80 Euro für so eine Box zahlt, bekommt was er erwartet und mehr. Danke Zamnesia

18/Jul/2023

Perfect
Echt een mooi assortiment aan artikelen en zaden

13/Jun/2023

Top
Si vede la serietà dei ragazzi Zamnesia,presa in saldo e confezione semplicemente fantastica

10/Jun/2023

Parfait. Ravi.
Une boîte très tres bien remplie avec tout un tas d'objets et produits. (Malgré un tube 1 Biscotti vide) Pour le prix c'est extra !! Livraison plus que rapide! Je recommande.

08/Jun/2023

Geile Box
War jeden Cent wert und mein Bruder und ich hatten und haben viel Freude mit dem Produkt.

07/Jun/2023

Wunderbar
Besser kann man sein Geld nicht anlegen super Box super Sachen drin werde ich immer wieder kaufen

06/Jun/2023

Bom qualidade preço
Na minha opinião vale bem o dinheiro.

31/May/2023

Goede box voor de zelfkweker
Zit vanalles in wat je goed kan gebruiken als zelfkweker wat blaadjes en tipjes en alle andere benodigdheden een paar dingen erin die ik waarschijnlijk nooit ga gebruiken maar de box is zeker zijn waarde met enkel de zaadjes die er al in zitten. Heel blij mee :)

24/May/2023

Surprise Surprise
Very nice surprise package, with a lot of cool stuff I've always been to cheap to invest in. Definitely too much focused on smokers with items (double and quadruple) but all the other items really surprised and made us smile

15/May/2023

WoW
80€ d'achat pour 160€ de cadeaux quoi dire de plus à part merci

10/May/2023

Sehr gut.
Toller Inhalt und super verpackt.

06/May/2023

war erst skeptisch.........bin aber mehr als Zufrieden ;)
Diese Box hat sich wirklich gelohnt, kein unnützes Zeug drin, es hat Spass gemacht die neue Produkte zu entdecken. Alleine schon die Roller Coaster 1`st Edition und deren Verpackung...ein wahrer Traum.Aber auch der Rest, alles brauchbar, Man(n) merkt die haben Ahnung. Ich werde die nächste Box auf jeden Fall wieder bestellen.

05/May/2023

Ein wahrer Traum!! 🫶
Wie gewohnt, lässt das großartige Team von Zamnesia, auch hier keine Chance aus um seine Kunden über alle Maßen zu begeistern ! Das Paket hatte einen enormen Warenwert & wurden ausschließlich TOP-Produkte verwendet um der 420-Box beizulegen! Die Box überzeugt auf ganzer Linie durch tolle und nützliche Tools & Gadgets aber auch durch eine ganz besondere Strain! Ich kann nur jedem empfehlen, sich diese liebevoll zusammengestellte 420-Box anzuschaffen, es lohnt sich Freunde! Beste Grüße & viel Spaß mit diesem großartigen Produkt!

05/May/2023

Viel Zubehör, aber auch vieles doppelt und dreifach
Nette Box, viel Stuff aber leider auch vieles doppelt und dreifach. Für Einsteiger oder Joint Raucher aber Top!

04/May/2023

TOP
Jeder Zeit wieder. Tolle Überraschungen und sehr gutes Preis/Leistungsverhältnis

03/May/2023

WoW
Bellissimo regalo a chiunque piaccia la botanica e le sigarette!!!!! Non vedo l'ora utilizzare il vostro regalo! Super consigliato! Qualità prezzo fantastica

02/May/2023

Tolle Überraschung
Wie immer bin ich äußerst zufrieden mit Zamnesia ... mehr will ich gar nicht verraten 🤗 Man macht definitiv nix falsch mit dieser Box

29/Apr/2023

Roller Coaster Haze
Van de 5 heb ik 3 Roller Coaster Haze gezaaid in aarde na 4 dagen uitgekomen !! Verder leuke pakket!! Aanrader / wel prijzig als je niet kweekt

26/Apr/2023

Amazing
Absoluut meer dan je geld waard, absolute value voor je geld. Erg tevreden en zal er bij een volgende mystery box geen seconde over twijfelen!

26/Apr/2023

Coffret "simple"
Bonjour , a part les graines , le contenu de la boite est assez décevant pour un fumeur de longue date , ce coffret mystère convient mieux à des novices , contient le materiel de base du petit fumeur , manque de contenu exclusif et gadget inutiles , assez déçu ...

26/Apr/2023

420 Box
Die Box hat sich mehr als gelohnt. Ich kann alles was drin ist gut gebrauchen. Werde absofort jede Box bestellen und hoffe das die kommenden Boxen noch Fetter werden ! Danke Zamnesia

22/Apr/2023

Zajebista niespodzianka
Zajebisty pakiecik, nie tylko dla siebie ale I nawet mozna sprawić komuś prezent urodzinowy... polecam

22/Apr/2023

Coole Sache
Also die Überraschung's box ist einfach nur genial alles was das Herz begehrt als 420 Patient Also traut euch ruhig hier wird keiner enttäuscht..(auch und nein hier sind keine Vaporizer drinnen) Mfg Sir Smoke a lot

17/Apr/2023

Geweldige mystery box
Hele leuke mystery box met veel leuke producten. Echt een aanrader!

17/Apr/2023

Nice surprise
Just received the 420 box and have to say that I'm pleasantly surprised. It was definetly worth the price. A great way to try out different cannabis accessories for an affordable price.

17/Apr/2023

Amazing!
Perfect package to celebrate 420!

13/Mar/2023

schöne Überraschung
vielen Dank an tolle Geschenke bisschen viel BLÄTTCHEN aber egal und das Kondom ist der Hammer :)

11/Mar/2023

Super
Super quality products genre wieder

08/Mar/2023

topp
supper sache

17/Feb/2023

Ü Box
Verstehe viele Bewertungen hier nicht; Wenn ich einen Vaper brauche dann kaufe ich einen und beschwere mich nicht dass keiner in einer Überraschungsbox ist. Alles nützlich und macht Spaß zu öffnen.Einzig die Mege an Papers wären zu überdenken. Danke Kim!

10/Feb/2023

Mixed cadeautjes voor vrienden
Ik heb deze mystery box gekocht, enkele leuke zaadjes en accesoires bijgehouden, en ook mijn vrienden hebben kleine cadeautjes gekregen uit deze box. Iedereen was zeer tevreden, ik dus ook. Sommige dingen heb ik echter geen nut voor, maar dat is het risico van zo'n box. Al bij al zeer tevreden

10/Feb/2023

Einfach top
Ich bin super zufrieden, tolle Überraschungen

08/Feb/2023

au top du top !
comme toujours zamnesiaa parfaitement répondu à mes attentes

27/Jan/2023

5/5
Voor iemand die niks doet met kweken is dit absoluut geen aanrader want dan betaal je grofweg 80 eu voor vloei & tip :p Als je wel kweekt dan is het nog wel ok, 4 verschillende zaadjes(wiet) en wat zaadjes gehad van peper..

24/Jan/2023

Nice surprise box
Fun tho open for Christmas full of good stuff inside for the smoker it was a real surprise

24/Jan/2023

Simply Amazing!
So, I ordered my mystery box before Christmas but it never arrived. Presumed lost in transit, not helped by the UK postal service being on multiple strikes during the festive causing massive delays. Zamnesia customer services started an investigation post haste and have done a fantastic job trying to track the missing parcel and kept me updated regularly. Unfortunately, after several weeks, it still hasn't arrived. Fortunately, a replacement was initiated last week and I'm happy to say it arrived - and faster than expected. Yay! Thank you Rick for putting the box together. So I'm really happy with the mystery box. It contained a combination of grower and smoker paraphernalia. I reckon in the region of 40% grow and 60% smoker items. I'm not sure if I'm seeing €200 of items. I'd have to tot everything up. Nevertheless, I'm pleased with what I've received, especially the assortment of seeds which will definitely get utilised at some stage. Without disclosing too much of the contents and spoiling the surprise of future customers I would highly recommend purchasing the mystery box if your not too sure what to order. It'll give you a good idea what Zamnesia offer from their extensive catalogue. Go on. Buy one. You know you want to! You won't be disappointed.

22/Jan/2023

Super cadeau
Super cadeaux très diversifié

21/Jan/2023

Top Zufrieden
Also für den Preis kann man da nix falsch machen und der Inhalt halt mich auch überzeugt. Immer wieder gerne

21/Jan/2023

Super Überraschung
Habe nichts dagegen, wie andere behaupten. Eine nette Überraschung, für sich oder Freunden. War ein lustiger Abend. Danke

20/Jan/2023

Leuke box
Supper leuke mistery box voor mensen die zelf planten willen zetten veel verschillende zaatjes en grow benidigheden

19/Jan/2023

MEGA!!
ein Riesen Spass! Tolle Produkte! kann nicht alles gebrauchen, aber hab mich sehr gefreut über die Samen,Grinder... Zeug was ich mir sonst nicht gekauft hätte...

18/Jan/2023

A Beautiful Showcase by Zamnesia
There is nothing more beautiful than seeing someone consideration for you, take care of you. With all the care in the world to wrap a box full of a little bit of all the good things it has to offer. make a very special box and share your gift with us. The X-Seed. Now some of us are autos in it's geneses... but the BIGGER problem was that we all saw the video of the DAMN German....it was like fooling a child. Giving a different gift to a child when he expects something. It was the vap and something more... you see?.... most people have smaller values ​​and don't see more than the immediate. It's an excellent gift. Thank you Sam, thank you Zami, thank you Zamnesia for the respect, care and affection. PS I think a good promotion for a modest little vap is in order :D

16/Jan/2023

Bien
Bcp de Graine pour ma part

14/Jan/2023

mooie doos
Positief verrast met de inhoud. Leuk om te geven of om jezelf cadeau te doen.

14/Jan/2023

Das Geld wert aber...
Die Box ist ihr Geld wert und hat auf jeden Fall, neben Seeds, ein paar nette Kleinigkeiten die nützlich und sinnvoll sind. Wer hier schreibt er ist enttäuscht, weil kein Vaporizer in der Box war, der soll mal überlegen, wie das gehen soll bei einer Box für 75 €!? Von mir gibt es aber nur vier Sterne, weil in meiner Box abgelaufenes CBD-Öl war. Abgelaufene Artikel könnt ihr bitte selber wegwerfen. Die müssen nicht noch mit der Post durch Europa geschickt werden.

14/Jan/2023

Super
Waren sehr viele verschiedene tolle Produkte enthalten. Ich bin sehr zufrieden immer wieder

14/Jan/2023

Nice
Nice idea with the mystery box. I feel like a child on x-mas. There a many sthiks for smoker, but I'm a vaporizer fan. Nice Price, feel nice.

11/Jan/2023

Nice assortment
Nice little bundle, but I got myself two and got the same box twice packed by different people, which is not a problem, but I did expect different assortments in the boxes But got lots of goodies none the less !

04/Jan/2023

Bin positiv überrascht
Ich habe eure vielen Bewertungen erst nach dem Erhalt der Mystery-Box gelesen, die Box wurde als Weihnachtsgeschenk bestellt, für 2 etwas ältere Cannabisliebhaber. Die haben sich über die TopSecretSeeds "X" natürlich sehr gefreut und auch noch 2 weitere Cannabis Strains lagen der Box bei...sehr nice, wenn Growing die Passion ist

02/Jan/2023

Excellent
The box is a great promotion and is worth its money.

01/Jan/2023

Decent mystery box
Nice discount on some items but my expectations were a bit too high after reading previous reviews and looking at the picture (it has a bong on it and somebody had an unboxing video where they received a vape). Luckily none of the items went to waste since i found uses for all of them. Maybe change the picture next time if you wont include an actual thing to smoke out of (not papers). Buy this mystery box if you have the extra money for it, otherwise just buy what you need and ignore these mystery boxes.

30/Dec/2022

Super Box
Mir hat die Überraschungsbox sehr gut gefallen. Sie war das Geld definitiv wert. Es war nichts drin, was man nicht gebrauchen könnte. Ich hab mich sehr gefreut :)

30/Dec/2022

Nice box
A lot of cool stuff! Rolling papers, grinders, seeds and more!!! I fell in love with the herb infuser and the black matte Zamnesia tray. AWSOME. I don't rate 5 stars because I had some item twice but in the end I can't complain that much for a mistery box. Very well packed in anonymous envelope. Thanks Zamnesia!!!

29/Dec/2022

Is halt ne Überraschungsbox xD
Ich will nicht meckern klar die freude war groß vielleicht auch was tolles drin zu haben.da es aber eine Überraschungsbox ist und die anderen kommentare schon drauf schließen ließen viel kleinkram drin zu haben.und wie von ausgegangen war doch mehr kleinkram drin als alles andere.die samen hab ich paar wochen vorher knapp alle selbst bestellt oder so dazu bekommen.aber was mich wirklich aufregt,ich hatte eh im Paket schon diese Wundertüte bei und hab in der box nochma nen duftbaum, Schlüsselanhänger, Feuerzeug und ganze 8 Packungen paper......was soll man denn mit 8 packungen paper die ich mir an jeder ecke kaufen kann.naja ansonsten sind für mich jetz 3 sachen in der box gewesen die gebrauchen/benutzen kann.trotzdem nette idee.frohe Weihnachten allen and a hazy new year

27/Dec/2022

80€ pour 170€ environ
Petit kdo sympa avec le double du prix dedans en article de toute sorte pour tout le monde ( grower,smoker,psychonaute) je valide c carrer

26/Dec/2022

many item not for smoker or i already have
you should take a look to your custumer previous order to do the box( like carachol filter i ve sent you back 6 boxes XD),many item i have already buy on the site,like the grinders or gardening items, many happy caps i won't use, i buy CBD seed and got 8 with high THC i won't use,i was hoping cool stuff for smoker like on video, a vape item, pipe ect (i ve receive alcohol cleaner for it but not the item lol) and there was for like 170€ item (i took price of item on promotion actually) Anyway box is cool if you grow high THC weed, if you like take happy caps, if you re a guy and use condom (i m woman maried xd), ect, many cool items. merry chrismas & happy new year to everyone, btw very nice support team, i already got many item in the box, cause you gave them to me for free with the codes from anniversary & chrismas calendar to add to my orders. So, well, i was hoping other stuff in box :D

25/Dec/2022

Disappointed,,, just some seeds lighters papers and a grinder,,instead of a Vaporizer or smth like that would be nice
but Anyway fair Price for the Stuff u get

25/Dec/2022

WAW AMAZING
Amai, wat een box. Prachtig gewoonweg, en met m'n kerstcode nog eens een prachtig polo et Bin. Er dit enorm veel in, alles heel bruikbaar, en meer dn wat je verwacht! ECHT een aanrader, kopen dia handel,500 stuks van deze amazigh mystery box, Van Harte Gefeliciteerd met jullie 10de verjaardag, keep up the good work, the si y is'ht the limit!,, MERRY CHRISTMAS

24/Dec/2022

Die Vorfreude war größer!
Haben uns die Box mit voller Vorfreude gekauft und auch die verschlossene box in der Hand zu halten war ein Genuss. Doch nach dem öffnen wurden die Gesichter lang. Zuviel (für uns) unbrauchbares kleinzeug dabei. Hab das Video von dem Kollegen gesehen der so nett war und das in seiner Bewertung zur Verfügung gestellt hat. Das der Inhalt abweicht war klar und das ist auch gut so doch über einen vaporisier oder digitalwaage etc hätte ich mich mehr gefreut als über zig plastikgrinder, etliche seltsame pflanzensamen oder endlos paper Der einzige Inhalt über dem ich mich wirklich gefreut habe waren die Zamnesia x Samen. Hat uns leider sehr enttäuscht die Box. Frohe Weihnachten und auf die nächsten 10Jahre zamnesia

24/Dec/2022

Vielen Dank!
Vielen Dank! Danke ZAMNESIA, mir gefallen! Gute Samen. Gute, nützliche Sachen.

24/Dec/2022

Thanks Sam
This box is full of really Coll small stuff like papes, keychains and grinder. And also some more expensive stuff like seeds, fertilisers and more expensive grinders. All in all a really good deal

23/Dec/2022

Great box
Very nice box, and more items than i expected . For people like us it would be a nice gift

22/Dec/2022

Ein Danke an Hana :)
Ich möchte mich hiermit erstmal bei Hana bedanken, es waren einige gute und Brauchbare Sachen dabei, die ich auch gebrauchen kann, das einzige negative ist, das ich jetzt mehr Papers habe, als ich eigentlich bräuchte. :D Aber ansonsten alles im einem, eine sehr schone Sache. :)

22/Dec/2022

Top
Bin äußerst Zufrieden , bei mir war von jeder Sparte was dabei auch 5 verschiedene Happy Caps. Weiß nur nicht ob ich die nehmen kann wegen Medikamente wo ich nehme. Mehr verrate ich nicht was drin war . Hoffe es wird bald Legalisiert in Deutschland mit bis zu 3 Pflanzen juhu 🥳. Noch Mal Gratulation zum 10 Jährigen Zami und weiter so !!

21/Dec/2022

Coole Box
Hätte mir ne coole Wintermütze zum Winter gewünscht. Trotzdem absolut zufrieden!! Coole Samen und lauter geiles Kifferzeugs was auf jeden fall spass beim Auspacken verspricht...THUMPS UP!! DANKE Zamnesia Team!! Auf jeden fall empfehlenswert!!:)

20/Dec/2022

trop bon
j'ai reçu mon colis en moins d'une semaine donc déja bien content et franchement ya du lourd je veux pas spoil mais bon des petites party pills bien sympa un grinder bien stylé booster de flo qui va bien et d'autres que j'ai pas encore bien étudié et plein de trucs bien sympa ça valait le coup merci zamnesia et Hana qui a préparé la boite bonnes fêtes de fin d'année :)

20/Dec/2022

Zammi Überraschungsbox
Super Super Bin super zufrieden mit der Box. Geile Samen, super Trimmschere, Aschenbecher, Tablet, Happy Caps, Chillisamen, Herbs of the gods, Tee-Ei, Sturmfeuerzeug, Blättchen, super greinder, Condom, Duftbaum, Schlüsselanhänger, Alcoholpads, Samen zum Schutz vor Entdeckung oder Fressfeinden, endlospaper, booklet zum 10jährigen, und, und und Nur zu empfehlen Weiter so zamnesia Gefreut hätte ich mich über einige Autoflower Samen. Waren leider nicht dabei. Ansonsten Top

19/Dec/2022

Au top .
Au top pour moins de 80 e super produit surprise etc..fait le boulot comme d'habitude chez zamnesia. Par contre j'aurais payé 210e pas la même. Merci pour tous .service, SAV , au top 🥳

17/Dec/2022

Stupefacenti
Ho trovato, degli accessori stupefacenti!? Per gli amanti della gangia amici!!? Approfittate!! Con lo sconto, fatevi un regalo! Stupefacente!!! Wuau🥳🤪

17/Dec/2022

Geil !!!
Hi Liebe Leute von Zamnesia, ganz tolle coole Gadgets und tolle Seeds, (Thanks on "Dave" )und überhaupt muss mal ein großes Lob aussprechen,bei Euch stimmt nicht nur Verpackung, sondern vor Allem was drin ist ! Plus geiler Service !!! Liebe Grüße

14/Dec/2022

201,87euro
Hi,also beklagen möchte ich mich definitiv nicht aber die besagten 210euro waren es nicht um genau zu sein war der Wert in der Box 201,87€ dennoch eine feine Sache......

12/Dec/2022

Impaziente
Articolo ordinato ieri..spero ci siano belle sorprese🤞🤞🤞.. visto il video deludente trovato su YouTube caricato da un ragazzo francese

28/Aug/2022

Mystère box
Très satisfaite de vos produits, belle surprise, je reste fidèle

25/Jan/2022

sehr nice box
Feier die Box unnormal. Viele Sachen drin und perfekte Geschenke für stoner friends. Hab n review dazu gemacht https://youtu.be/J5VyTObjc14

14/Jan/2022

Prima box
Het is voor de rokers onder ons echt een aanrader. En vooral voor de gene die zelf kweken en experimenteren met kweken is box zeer geschikt. (Het enige dat er ontbrak was een asbak) Variatie tip

28/Dec/2021

Einfach nur Genial
Bin begeistert, hab jetzt zwar einiges doppelt und dreifach, ansonsten aber hochwertige Sachen. Ich bin sehr zufrieden und freue mich schon aufs nächste Jahr.

19/Dec/2021

Perfect
As usual, this mystery box is awesome!

18/Dec/2021

stonerbox
great quality smoking gadgets , looking forward to plant the seeds. thank you!

17/Dec/2021

Mystery box
Que de bonnes surprises ! Super

14/Dec/2021

Mistery box.
Piacevole sorpresa.

11/Dec/2021

Mistery box?
Hier zat echt leuk goodies in volgende keer koop ik de box van €150

11/Dec/2021

Génial
Tout est découverte et plaisir. Très joli coffret, vivement conseillé

10/Dec/2021

Prachtig
Ik had geen vermoeden wat er in ging zitten. Maar het was het wachten meer dan waard! Een box boordevol zalige goodies! Waarvan ik lang en veel plezier ga hebben in een prachtige verpakking! Dikke merci zammi!!!

10/Dec/2021

Strabella!!🤩
L'ho regalata al mio compagno per il compleanno ed è stata super gradita!ottimo regalo da fare a chi piacciono le sorprese!!!!consiglio!!

09/Dec/2021

Great box
Had so much fun unpacking everything but i received an item i had already bought from zamnesia i wish that didn't happen and that it was more personalised but the content is great there are many seeds and growing stuff you could enjoy.

08/Dec/2021

Größe Freude beim Auspacken
Die Box kommt schon sehr beeindruckend zuhause an. Schon beim ersten Blick ins Innere breitet sich ein breites Grinsen übers ganze Gesicht aus. Der Inhalt topt alles was zumindest Ich mir hätte vorstellen können. Für nur 100€ sind da Sachen dabei die ich mir auch einzeln gern gekauft hätte und sehr viel mehr gezahlt hätte. Ich bin echt froh dass ich das mal ausprobiert habe

08/Dec/2021

A lots of BS.
A lots of BS

07/Dec/2021

Amazing
Nice lol box, full of interesting gifts!

21/Nov/2021

Boite mystère ...Boite à Bonheur...
Que de plaisir à découvrir tout ce que contenait la boite mystère....J' étais comme une gosse avec des étoiles dans les yeux....Merci Zamnésia....Tout me plaît !!! Le livreur à merdé !!!! Mon colis à été déposé sur ma boite aux lettres sans me prévenir !!!! (Communs.A 30 metres de ma maison).Je n'ai cessé de faire des allers-retours...C'était plutôt tendu !!!!

16/Nov/2021

Best gift
My girlfriend got it for me as a gift and I have to say it's been so fun unpacking it! I didn't expect a lot of the stuff in there so shout out to Tim for picking it out for me. Turns out I needed a lot of things I got and was planning on getting them anyways, would 100% recommend if you're a smoker but also a grower, if you haven't come around to growing yet you might not need some of the stuff in the box. Don't wanna get too repetitive so in short great experience!

15/Nov/2021

Niet slecht, niets goed.
Niet het gevoel dat je een box ontvangt van 375 euro, eerder het gevoel van een box van 175 euro die 150 euro waard is. Er zitten wel een aantal leuke zaken in, maar ik had er meer van verwacht. Zeker qua zaden vond ik het een tegenvaller, achteraf gezien had ik beter gewoon voor 150 euro een zaden bestelling geplaatst. In mijn mening zou de box minsten voor 150 euro aan zaden moeten bevatten. En minder prullen. Dus minder spulletjes maar meer waardevolle items. Tenslotte kan je voor 375 euro is toch al een paar deftige dingen kopen.

15/Nov/2021

Blown Away!
What a great box! I was pleasantly suprized with the contents of this box. It contained seeds that I was actually planning on buying for the next growing season. Besides that I got a good grinder, many rolling stuff and even a scale was included. I dont want to spoil the surprise for the people who still need to receive it, but many thanks to the team for this awesome box!

13/Nov/2021

ZAMNESIA ÜBERRASCHUNGSBOX
Super Box, bin so zufrieden dass ich mir sofort noch eine Bestellt habe :) Preis ist super korrekt, keine scambox aufjedenfall.

12/Nov/2021

Inhalt hat mich nicht umgehauen
Alles in allem kam eine prallgefüllte Box mit allem an was das Herz begehrt und auch einiges Samen die bei mir überdurschnittliche Größe hatten, in Vergleich zu normalen Bestellungen. Ich habe bei der Bestellung meinen Wunsch geäußert alles nur bitte keinen Grinder mehr zu erhalten, dieser Wunsch wurde nicht respektiert es waren 2 Grinder drin... also sage ich mal die Box wurde standatisiert zusammengestellt hätte mir da mehr individualität gewünscht und was den Preis angeht 150€ waren da locker drin 375 aber bei weitem nicht. Nicht mal 300 behaupte ich. Und man wird mit papes überrollt habe nur genug papes für die nächsten 2-3 Jahre wenn ich jeden Tag 1 dreh... Wie gesagt tolles Geschenk aber haut mich halt nicht um, denke da ist noch Luft nach oben, deshalb von mir 3 Sterne.

11/Nov/2021

Underwhelmed
I just received my 150euro "Deluxe" mystery box. The main item was predictable. I think that it should have been bumped up to an item of better quality. I am happy with seeds and things that accompanied them. Not happy with the smart shop capsules or the pile of rolling papers that covered the entire bottom of the box. I was hoping to be blown away. This box seemed a bit gimmicky. Not really a 60% percent savings feeling. Positive point is that I have lots of little things to give away. Which was the main idea to begin with.

08/Nov/2021

Der absolute Wahnsinn
Als allererstes ein ganz liebes Danke schön an Sam für diese supertolle Box da ist ja wirklich alles drin was das Herz begehrt von Vaporizer über Crusher zu super cool Unkrautsamen in verschiedenen Sorten dümmer und ettlich viele Blättchen über die Mütze habe ich mich besonders gefreut weil die bei euch immer ausverkauft ist ihr seid wirklich die aller aller besten lieben Gruß und tausend Dank absolute Kaufempfehlung von mir

18/Mar/2021

Wooooooow
Super sorprese!!

27/Jan/2021

Good
All in all it wasnt worth 200euro I think but the box was good for every aspect of this site and the sie stuff was chosen very good and the packaging was also very nice I really hope there is a new box comming up next year! I will surely buy one!!!!

20/Jan/2021

Grosse Oper
Super Überraschung, hat uns sehr viel Freude bereitet. Eine Box voller hochwertiger Produkte. Für jeden ernsthaften 420er absolut empfehlenswert!

18/Jan/2021

Box
Für den Preis kann man Nichts verkehrt machen. Inhalt satt....für Jeden etwas dabei!!! Top!!!

16/Jan/2021

Top Inhalt
Hab mir die Box zum testen bestellt. Muss sagen für den Preis echt rentabel. Hatte Waren im Wert von ca 300€ drin. 2x 3 Samen, Gartenschere, 6x booster packs, 2x große Einmachgläser, Grinder usw. War mehr als überrascht.

15/Jan/2021

Articles très variés
Je suis super ravi de mon achat, c'est une boîte mystère et moi je n'ai pas été déçu de la découverte bien au contraire je recommande vivement surtout pour un cadeau par exemple (à quelqu'un ou à soi-même ).

13/Jan/2021

Toffe box voor jezelf & om kado te doen!!
Goed gevulde box ik was positief verrast door de inhoud sluitte ook precies aan bij waar ik een beetje mee aan het experimenteren was, kan wel begrijpen dat wanneer je niet van plan bent te kweken de inhoud iets tegen kan vallen maargoed dan moet je er 1 bij de Blokker bestellen

02/Jan/2021

Belle surprise
. Merci à kIM pour ce jolie coffret .graines ,grinder feuilles à rouler bref beaucoup de produit a tester .le moins :graines de CBD que je n'utilise pas Le plus :grinder a 25€ ,pot d'affinage à 5€ ,balance à 20€ ,chalumeau à 7€ ,multitude de graines ....etc Si vous faites un calcul rapide cela fait déjà 57€ pour un coffret à 75€ Donc ce qui est sur les acheteurs sont gagnant ,après je ne sais pas si il y'a une équivalence avec une valeur de 200€ . Mais une surprise reste une surprise avec des choses qui fonts plaisir et d'autres non ! Pour ma part je sais déjà qu'elle commande les yeux fermés je vais passé au père noël zamenesia de l'année prochaine ,un jolie coffret surprise zamnesia et je vous le conseille vivement . Merci zamenesia bonnes fêtes 🥳 À toutes l'équipes et meilleurs vœux pour l'année 2021

01/Jan/2021

PLEASANT MYSTERIOUS SURPRISE
Yes, this is what you want. If you're reading reviews to convince you if it is a best buy and if it worth the price, the answer is: ABSOLUTELY YES! This mystery box is perfect for growers and smokers because it contains a lots of useful stuff to grow and smoke. I don't want to tell you what is inside otherwise I will ruin the surprise ;) I didnt calculated if the real value was over 200€ but I think it is around that amount. In my first box I think I have about a 60% stuff for growing and 40% stuff for smoking session and funny moments. Inside you can find very very funny gadgets that surely will make you smile. I live in Italy (so sorry for my bad English) and I searched for a long time a mystery box like zamnesia.. Because other boxes are unavaible for my country (or with expensive shipping cost) and they are always focused too much for smokers in my opinion.. Yes I'm a smoker but I love funny gadgets and growing stuff. There is only one problem: after buy the first box you will want to buy another one 🤣. Thank you zamnesia! A sweet hug from Italy Bye

30/Dec/2020

Box molto carina
Nella box sono contenenti parecchi oggetti che per un fumatore non posso che far comodo!personalmente ve la consiglio anche perché per 75€ ne vale assolutamente la pena!

28/Dec/2020

Brilliant!!
Amazing mixture of goodies and things I will use and some strains I really wanted to try thank you!!!

25/Dec/2020

Box
Vraiment content du contenu cetais très chouette ta juste une graine de cbd qui ne m'intéresse pas mais a par ça tout le reste était très bien très rentable pour 75€ jai vraiment eu 200€ d'article merci Laura pour cette box

24/Dec/2020

Thank You Sam
The box is amazing. There are a lot of things to smoking and growing. I want to congratulate Sam for his job.

24/Dec/2020

Parfait
Pleins de petites choses interressante, pour les indécis et les curieux = rien de mieux.. Merci zamnesia

22/Dec/2020

Décevant
J'ai commandé cette box pensant être agréablement surpris mais ça a été le contraire. Il faudrait consulter l'historique de nos commandes car à aucun moment les graines auto et les graines de cbd ne m'ont intéressé ,et il y avait beaucoup de simples goodies(autocollants,feuilles,graines d'herbes aromatiques.....)vous parlez d'un montant équivalent à 200€ mais j'en doute,j'ai regardé les prix des articles beaucoup d'articles à 5€ ou moins !! À part les 4 graines féminisées et la balance (a 23€) rien ne m'a vraiment fait plaisir. J'aurais réellement du me contenter de commander des graines comme par le passé.

19/Dec/2020

Un cadeau qui cartonne 🤙
Joli boite, le contenu est très bien, diversifiés,que ce soit les babioles comme les objets ou graines de valeur ! Un très beau cadeau ! Merci beaucoup Lisa

18/Dec/2020

Niet alles geschikt
Het is een box met heel verschillende producten. meer dan de helft was voor ons niet interessant. Toen ik hierover belde met zamnesia, kreeg ik 2 verschillende medewerkers met heel verschillende reacties. Spijtig..

14/Dec/2020

Super cadeau
Pour le prix sa va je suis très content de se que j'ai reçu.

11/Dec/2020

Noël avant l'heure
C'est surpris et content, avec chaque nouveau objet sorti j'était aussi content qu'un enfant la veille de noël.

10/Dec/2020

Great deal for cannabis growers
If you smoke and (want to) grow cannabis, you should buy this box if you can spare the money. 'Nuff said!

08/Dec/2020

Der Hammer
Das is ja wohl das geilste Paket was ich je bekommen hab ich war fasziniert vorhin beim auspacken

27/Nov/2020

100% worth the money!
First of all, thank you Milan for putting together this amazing box :) There was so much great stuff inside! Definitely worth 200+€ There's stuff you would expect by reading the box description but also lots of fun goodies I wasn't expecting to get :) I would say, if you like weed and wanna grow some, get it!

20/Nov/2020

Vorverlegte Highnachten
Danke Im Vorraus an Daan, für die gut gestaltete Box Nach nur sehr sehr wenigen Liefertagen kam heute meine Box an, die Box kommt aus Holland und ist schneller da als manch andere die ich hier in Deutschland bestelle naja auf jeden Fall War ich so begeistert als ich das Paket geöffnet habe. Mich strahlte eine Sehr Elegante Schwarze Box an, deren Inhalt mich noch mehr überwältigt hat War auf jeden Fall sehr schön verpackt und ihre 75€ mehr als wert würde gern sagen was drinnen war ... lasst euch selbst überraschen, gönnt euch eine sie ist jeden Cent wert

20/Nov/2020

Mega Überraschung
Erst mal möchte ich sagen verlief die Bestellung und Bezahlung total reibungslos ich hab wenige Tage warten müssen von Bestellung bis Lieferung . Ich war sehr überrascht wie schön verpackt die Box war man hat sich gefreut wie auf Wheinachten . So viele Tolle Dinge sind darin die ich gar nicht erwähnen möchte um den anderen Kunden nicht die Freude zu nehmen es lohnt sich auf jeden Fall danke Alex für das Zusammenstellen:-*

19/Nov/2020

Zeer toffe dingen
Geen verassing verpesten, maar ik vind het zeer tof. Thanks Lauren!

17/Nov/2020

Nice deal
Without giving out too much (a surprise is still a surprise): a bunch of useful stuff and a very good selection of seeds, including a few strains that I planned to buy/grow sooner or later. BTW, you can check who packed your box, mine was packed by a certain Amy. Well, Amy, thanks for the care!

16/Nov/2020

Leuke doos spulletjes.
Gezellig unboxen, leuk verpakt en zeker zijn centen waard. Zaden en spullen en dingetjes en zo. Ook leuk om cadeau te krijgen. Inhoud verdeeld met een maatje. Fijne avond gehad en wat leuke souvenirs.

16/Nov/2020

Aucune hésitation
Pour le prix de 75€ c'est vraiment top. N'hésitez pas vous ne serez pas déçu. Emballage au top !

11/Nov/2020

Gebroken Seal
Update: Goed geholpen door Zamnesia customer support en mooi opgelost. Misste inderdaad wat, maar dat is nu gecompenseerd all met all is dit pakket het zeker waard, vooral als je nog geen zaadjes hebt Deze week de mystery box besteld, ik hou wel van een koopje en hoopte dat er wat leuke rook accesoires in zouden zitten en misschien wat zaadjes voor een toekomstige kweek. Op zich zaten er prima producten in (5X vloei met tipjes) wat pillen voor als je hem niet meer rechtop kan krijgen, een glazen pijp, een (super) mooie grinder echt een top ding en nog wat andere hebbe dingetjes. Echter was mijn gift box al open, de seal gebroken toen ik hem kreeg. Ook kom ik niet aan de 200 euro maar eerder aan de 130-140 euro en dit is als ik al erg royaal reken voor bepaalde producten (bijvoorbeeld een torch lighter die erbij zat waarvan ik de prijs niet kon vinden 15 euro rekenen. Al een mail gestuurd naar Zamnesia zelf, ik wacht nog een reactie af en zal mijn review ook updaten indien het probleem word verholpen. (Het probleem is dat ik het gevoel heb dat er spul uitgehaald is, een gebroken seal + totaal geen 200 euro waarde)

You cannot post a review because you have not purchased this product
Restrictions
Please note that if your country is not on our general shipping list, we're unable to ship any item on our website to it. For more information check out the list here: Ordering & Shipping
Video (0)