Mataró Blue (Kannabia) feminized
4.5

5

1

(

6

)
Mataró Blue is producing so many crystals you might need to wear sunglasses when harvesting this baby.
In stock
You will be notified as soon as the product returns to stock
More info
kannabia - Mataró Blue: A very complicated crossing between three great strains!
Mataró Blue is the mixture of 3 quality strains from the laboratory of Kannabia. They have taken a Blueberry, a Mazar-i-Sharif which is the original ancient Afghani and their own Black Domina to breed this new strain. The result is a strain that is known to produce a very nice and strong hash but is also a favorite to many connoisseurs that like to smoke something different.
She is very productive when grown outside but also indoors she produces above average. She can quite bushy and reach a height of up to around 2 meters. She develops a great amount of huge nugs that might need some support because of their heavy weight. She develops a huge main cola with many nugs on the side branches that also will have a thick cover of shiny resin and produce a pretty strong smell when she is in her late flowering period so good ventilation is advised when growing her indoors.
Mataró Blue is a favorite to many growers and smokers because she never disappoints. Her crop is Top-Quality and her luscious taste really is a treat. She comes with a very deep and floating high.
Mataró Blue (Kannabia) feminized data sheet

| | |
| --- | --- |
| Brand | Kannabia |
| Genetics | 75% Indica / 25% Sativa |
| Parents | Black Domina x Mazar-i-Sharif x Blue Monster |
| Flowering Time | 9-10 weeks |
| Yield (Indoor) | 550-600 gr/m² |
| Yield (Outdoor) | 750-800 gr/plant |
| Height (Outdoor) | 200cm |
| Available as | Feminized seeds |
| Flowering Type | Photoperiod |
| Sex | Feminized |
*
Specified by breeder when grown under ideal circumstances
More information related to this product:
Reviews (6)
19/Feb/2021

Great strain
Habe 2 Samen von 7 angesetzt. Es sind beide auf anhieb gekeimt, ertrag ist gut und die Wirkung auch, sehr unkomplizierte stabile Pflanze.

18/Feb/2021

Top
Keimrate 100 % Eine Sonnenbrille brauchte ich bei der Ernte nicht, aber begeistert bin ich trotzdem. Eine sehr stabile Pflanze mit einem langen kräftigen Headbud. Ertrag ist auch ok. Absolut keine Probleme mit Mataro gehabt, völlig unkompliziert.

08/Jul/2020

Klasse
Wächst bei mir ziemlich langsam

01/Feb/2019

Très bonnes graines
D'abord reçue comme graine gratuite, j'en ai commandé 5 deplus et pour le moment, je ne suis pas déçue, 100% germées. 2 semaines de croissance et elles se portent très bien. A voir pour la suite mais j'ai confiance.

02/Aug/2018

Mooi mooi mooi
Gratis gekregen bij een bestelling begin mei gekiemd lst toegepast en 2e week van juli in bloei gezet mooie plant grote toppen en zeer makkelijke strain geen probleem mee gehad! Bedankt zamnesia

19/Jul/2018

Bonus seed
Ich habe eine seed als Bonus erhalten. Habe sie 12 to 12 from seed gegrowd. Waren 70 gramm Trocken. Wirkung ist sehr stark. Den Geruch kann man keiner bestimmten Sorte zuordnen. Ganz eigen. Ich kann die Sorte jedem empfehlen. Nicht Schimmel anfällig. Top für Anfänger und Profis gleichermaßen !

You cannot post a review because you have not purchased this product
Grow Report

Mataro Blue: A Complex And Delicious Hybrid
Prepare yourself for yet another red-hot indoor grow, this time focussing on the performance of Mataro Blue in the grow-op.
GENETICS
Mataro Blue by Kannabia has earned quite the rep for herself. Well, in her homeland of Spain anyway. Outsiders might be unfamiliar with this complicated connoisseur hybrid. A cocktail of Blue Monster, Black Domina, and Mazar-i-Sharif, this Grow Report will clue you in on all the details of cropping this indica-dominant hybrid. She packs fire potency and has a fresh berry flavour that is a winning combination. Mataro Blue is a mouthwatering smoke you need to learn all about.
GROW DIARY
The focus of this indoor grow was originally intended to put the latest LED kit and fire hybrid marijuana to the test. As it turned out, this grow was to be a battle with intense heat. And in the case of Mataro Blue, a troublesome phenotype. To see how Mataro Blue compares with Kaboom by Kannabia and Gorilla Glue by Zamnesia Seeds cultivated under the same conditions, check out those Grow Reports as well.
GERMINATION
Mataro Blue was too tempting to leave out of the grow-op. In addition to 3 Gorilla Glue, I added 1 Mataro Blue and 1 Kaboom to my lunch box packed with damp kitchen roll. The "paper towel method" work this time like it does every time. Great success! 100% germination. Last of the batch, at the 48 hour mark, Mataro Blue split her shell.
SEEDLINGS
An 18/6 light cycle with the Dorm Grow full-spectrum LED positioned 90cm overhead got the grow off to a perfect start. Transplanting the tiny Mataro Blue tap root first into a 12l air-pot eliminated the risk of transplant shock later. Waterings of micronutrient supplements were the only additional fertilisers required for a smooth sailing seedling stage.
A blend of light mix soil, coco, and perlite was a nice airy medium for her roots to rapidly develop in. 14 days post-germination, aside from a set of curled leaves, Mataro Blue was healthy and happy in the 1.5m grow tent.
VEGETATIVE GROWTH
While the Gorilla Glue and Kaboom began to grow with incredible hybrid vigour, Mataro Blue was clearly the runt in the grow tent. Sure, she could tolerate the same medium-strength doses of macro and micronutrient feeds as the other strains in the grow-op, but she definitely struggled to keep pace.
At day 28, topping all 5 plants helped even out the canopy and gave Mataro Blue a chance to catch up in vertical growth and hopefully branch out a little more generously. After 1 week of recovery, she definitely looked bushier and was closing the gap on the Gorilla Glue and Kaboom.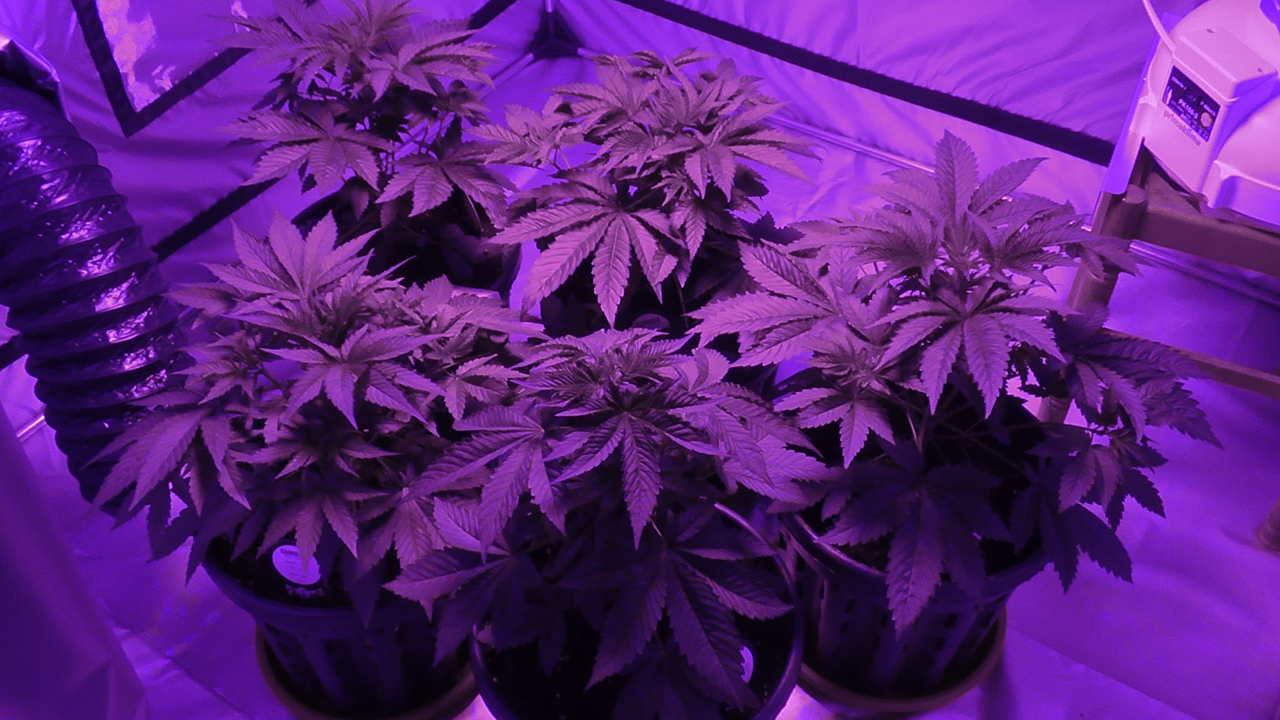 FLOWERING
With the onset of 12/12, Mataro Blue began to stretch. Lateral growth all but ceased as the 4 main tops soared vertically. This was manageable in weeks 1 & 2 of bloom, but as a summer heat wave pushed temps above 30°C in week 3, Mataro Blue was in real danger. Thinning this vine from the crop crossed this grower's mind more than once.
She avoided the chop, just.
The addition of a simple CO₂ bag in week 3 gave the whole crop a new lease on life. Mataro Blue was green and healthy, but already it was clear this particular phenotype was no prized cultivar and was growing more like a sativa than a heavy indica hybrid.
Serious lollipopping was required in week 4 to avoid a very lightweight, fluffy bud harvest from Mataro Blue. While the Kaboom and Gorilla Glue stretched a bit themselves to 1m and around 1.2m respectively, Mataro Blue climbed higher still to 1.4m and was "danger close" to the Dorm Grow LED with no further vertical room to manoeuvre.
From this point on, she had to be constantly repositioned and turned to avoid burns. Had it been a standard 600W HPS, it's likely the grow would have been a red-hot mess and ended prematurely.
By the end of week 6, as the rest of the plants were packing on the bud weight and frosting up with resin, Mataro Blue was way behind. In fact, she looked like she would need another 4-6 weeks to finish flowering. Even her leaves narrowed like a sativa as flowering progressed. A deliciously inviting, fruity berry aroma was her only redeeming feature.
Nutrients and bloom boosters in particular seemed to have no effect on her. She stretched, developed lots of leaves, but was reluctant to flower in abundance. Desperate to coax some kind of a yield from her, defoliation was applied from the top down to reduce bud site shading by fan leaves during weeks 7 and 8.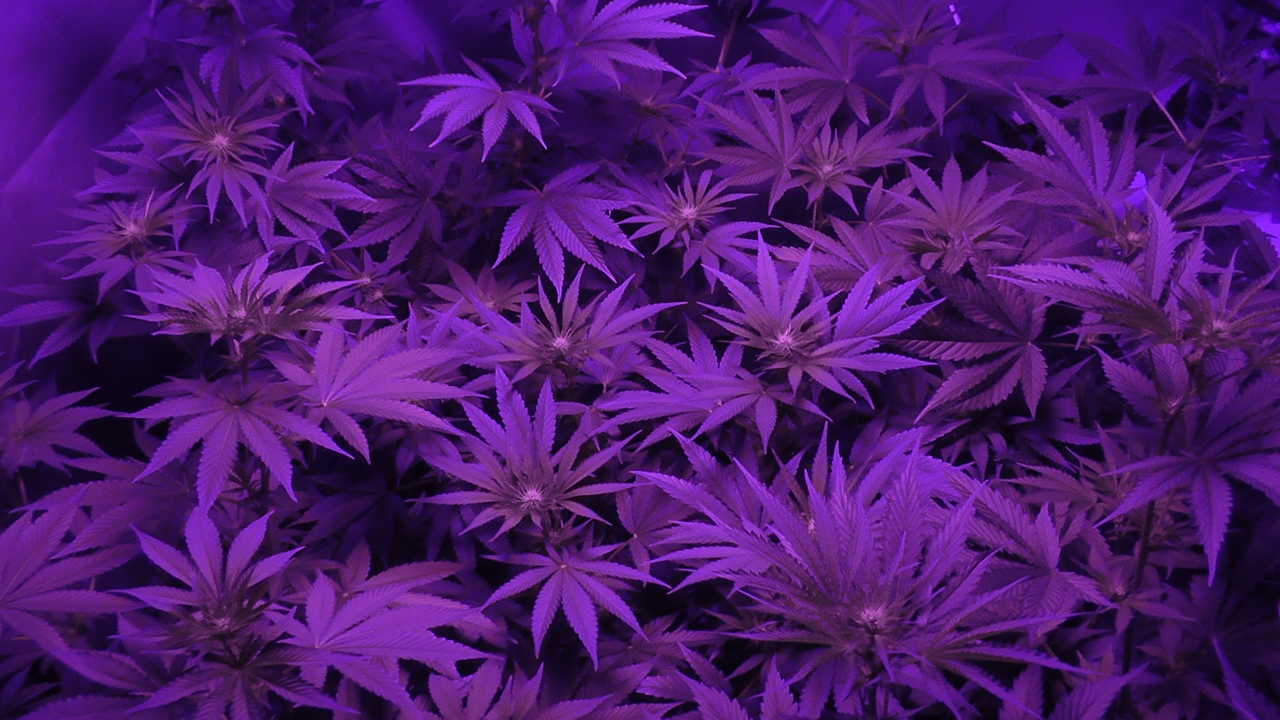 HARVEST
At day 60, flushing with a light solution and pure watered commenced. By day 68, this grower's patience was at an end and Mataro Blue was done. Although she could have used another week to fully mature, yield was unlikely to bulk up any further so it was time to literally cut my losses.
Colas were full of gaps and not very chunky. Granted, heat stress was somewhat to blame. Flower to leaf ratio was unimpressive with much manicuring of buds required. In the end, 43g of dry, mediocre bud was salvaged and placed in a single 2l Kilner jar to cure for 2 weeks.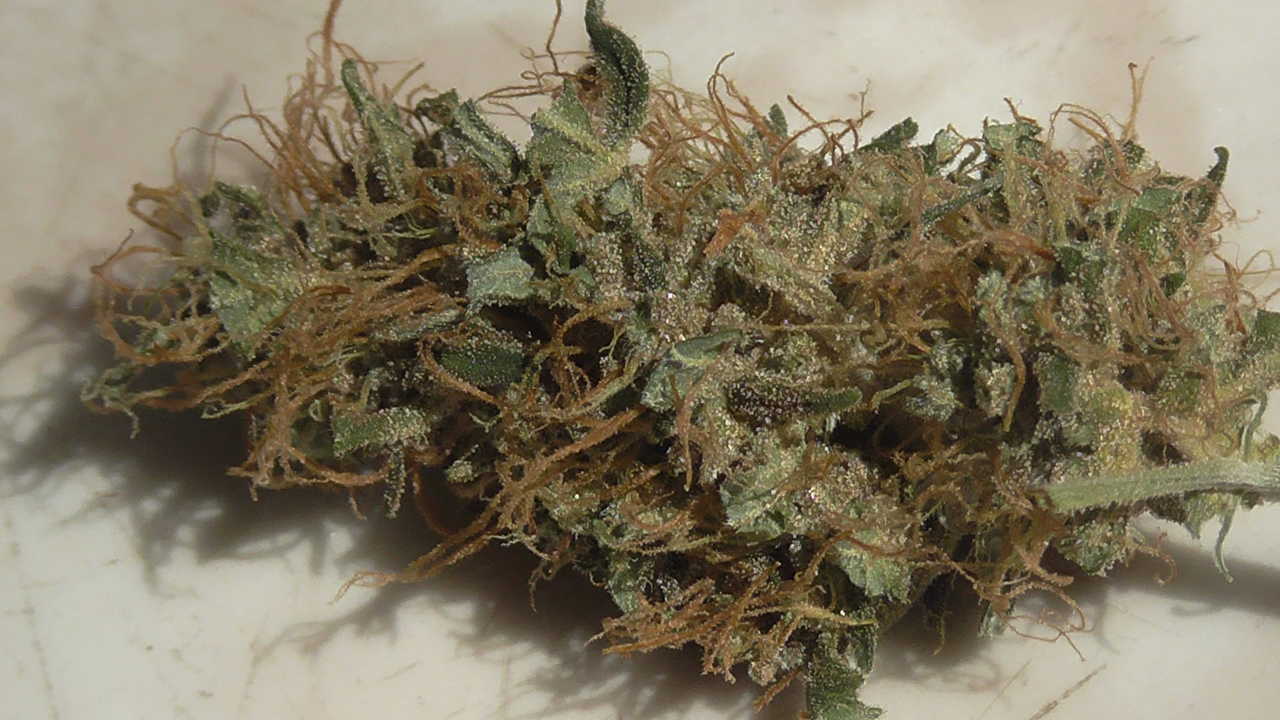 SMOKE REPORT
Mataro Blue was frustrating to grow and not nearly as hardy nor tolerant of high temps as the Gorilla Glue or the Kaboom. Occasionally, when you grow just the one plant of any variety from seed, you can get burned with an undesirable phenotype. Mataro Blue is not unique in this respect.
Her buds were loose and leafy, so no prizes for looks here. On the upside, the stash was tasty and pretty potent. The nicer buds (that took forever to trim all the leaves from) are frosty with resin and taste berry sweet. A happy, cerebral high combined with a sedative physical effect makes Mataro Blue worth another run. I'll be on the hunt for the shorter, heavy-yielding, indica-dominant phenotype next time. And will exercise caution to ensure environmental conditions are optimal.
SUMMARY: Mataro Blue can be an amazing cannabis strain to cultivate. This Grow Report just might help you get the most from her by learning from our mistakes. Sometimes when you grow from seed, you get stung. So here's the truth about growing Mataro Blue.
Restrictions
Please note that if your country is not on our general shipping list, we're unable to ship any item on our website to it. For more information check out the list here: Ordering & Shipping
Video (0)