To really understand the passion behind Barney's Farm, you need to travel right back to the 1980's, when Derry, the owner, set out to travel the world in search of landrace genetics. This journey of genetic discovery took him across Asia and the Middle East, visiting places that are now famously known for their grassroots strains, such as Afghanistan, Tibet, Pakistan, India and Thailand – to name but a few.
With his new catalogue of landrace strains in hand, Derry traversed his way up into the Himalayas, where he spent three years with a group of like-minded individuals cultivating and cross breeding all of the seeds he had obtained. With these, a selection of the best phenotypes was picked – for their THC content, aroma and exquisite taste. They were then backcrossed, to stabilise them even further.
Although extensive, this was just the beginning. In 1992, Derry returned to Amsterdam and took over Barney's Coffee Shop. Using the seeds he had bred in the Himalayas, Derry quickly turned Barney's farm into an organisation of experimentation and quality. It led to a fast and furious rise to fame, with Barney's Farm being regarded as being home to some of the finest breeders and genetics in the world. People travel from far and wide to visit their shop in Amsterdam, and few leave disappointed. That original passion and willingness to experiment persists to this day, with Barney's farm continually releasing new and exciting strains of all types for us to enjoy – there is a reason they win so many Cannabis Cups!
PACKAGING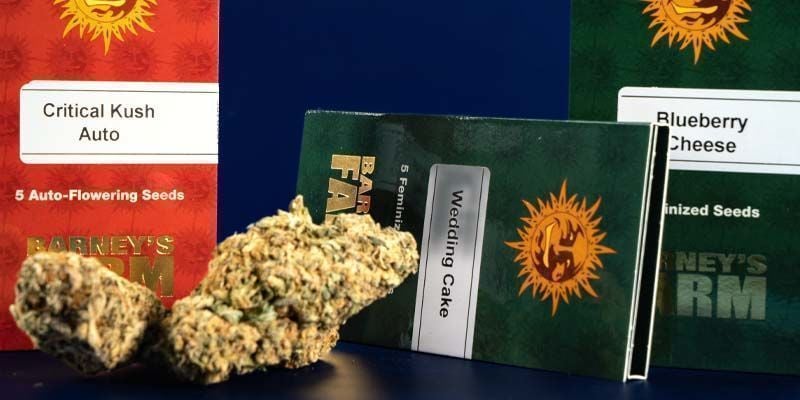 Barney's Farm packaging has been specially designed to keep cannabis seeds safe from impact and humidity no matter where they are being sent. However, Barney's packaging is the type that can only be opened once, and not resealed, so if you have more seeds than you are using, it is a good idea to have storage lined up.
Each pack of Barney's Farm cannabis seeds contains 5 or 3 seeds.
AWARDS Barney's Farm
Barney's Farm is a seed bank with a lot of experience and high-quality genetics under their belt. As such, it is no surprise to know they have won many international awards, including over 40 cannabis cups. To give you a look at some of the best they have to offer, here are all the strains that have won a first place award at the Cannabis Cup.
Cookies Kush
---
Liberty Haze
---
Tangerine Dream
---
Acapulco Gold
---
Pineapple Chunk
---
G13 Haze
---
Amnesia Lemon
---
Sweet Tooth
---
Critical Kush
---
Malana Bomb Autoflowering
---