Amsterdam Genetics is one seedbank that's really turning heads in the industry.
Started by the owner of the infamous Boerejongens coffeeshops in Amsterdam, this seedbank is receiving global attention as the creator of some of the most sought after strains available today, including White Choco, AK-020, AK OG Kush, and many more.
Amsterdam Genetics was founded by Mariska, one of the leading female entrepreneurs in the cannabis industry. Mariska first discovered her passion for cannabis when she started working at a coffeeshop in Amsterdam during her university studies.
When she was ready to make a definitive career choice, the decision was easy.
"I literally took the Yellow Pages and my finger landed on a company specializing in nutrients for cannabis. Thus my adventure began. I learned all about the breeding, growing, and harvesting process, from the clone until the harvest," Mariska said in an interview with Leafly.
A few years later, after learning the ropes about all things cannabis, Mariska bought her first coffeeshop, which would become the first Boerejongens in Amsterdam.
Today, Mariska owns 3 separate Boerejongens as well as Amsterdam Genetics.
Her stores are renowned for challenging many of the preconceived prejudices many people have about Amsterdam's coffeeshops. They boast beautiful marble counters, hardwood floors, and, most importantly, professional staff with expert knowledge about their products.
For a quick tour of one of the Boerejongens stores, check out this video.
For Mariska, this is all about offering professional, reliable service to her customers.
"The shady image that some people still wrongly associate with coffeeshops disappears very quickly if I start talking.Too many people don't get that a coffeeshop is just a store. Apart from the backdoor problem, you can compare it to a wine shop," she said.
All Boerejongens staff are expected to take up to 3 3 continuing education courses every year in order to stay up-to-date about their products and the latest developments in the industry.
"We want sommeliers behind the counter," said Mariska.
Amsterdam Genetics' success started with the White Choco, a powerful hybrid cross between White Russian and Chocolope.
The strain boasts a powerful, uplifting cerebral buzz that is designed to leave users feeling creative and productive. At the same time, it offers some nice physical relaxation that's far from overwhelming.
Mariska soon began branching out into hash production and saw huge success.
Her White Choco block has was so popular that Amsterdam Genetics' couldn't meet customer demand. But, being a true entrepreneur, Mariska quickly took production to Morocco, the world's hash capital.
Today, Amsterdam Genetics' White Choco Block Hash is regarded some of the finest in the country, while their Tangerine G13 block hash and Kosher Tangie block won first and second prize in the hash category at this year's Highlife Cannabis Cup.
All of their hash products are made using traditional dry sieving methods, and only use the first sieve to ensure the highest possible quality. Finally, their hash is pressed while warm, giving it a beautiful deep golden colour.
If you're dying to get your hands on some of these strains, you're in luck. All of Amsterdam Genetics' most popular seeds are available through Zamnesia Follow the link below to start browsing our stock and get the highest quality seeds delivered direct to your door.
For more information about Amsterdam Genetics and their impact on the cannabis industry, check out this blog article.
Packaging Amsterdam Genetics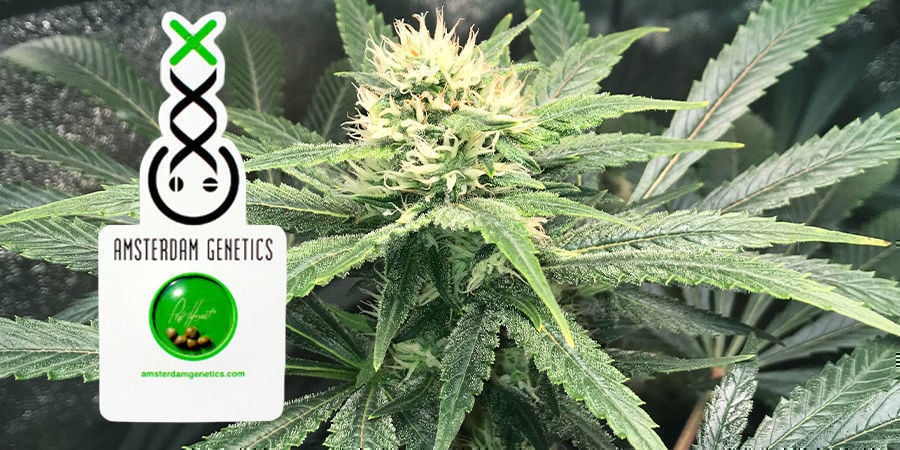 Amsterdam Genetics is focused on professionalism and quality, both of which shine through with their packaging.
All seeds come packaged in a resealable plastic ziplock bag to protect the seeds during shipping. The pack also comes complete with moisture beads to ensure the seeds are kept at maximum humidity levels throughout.
All Amsterdam Genetics packages also come with expert instructions on how to care, store, germinate, and plant your seeds. To top things off, all customers also get a pack of custom-designed matches.
All Amsterdam Genetics strains are packed and shipped discreetly, taking into account all factors that may jeopardize your privacy.
Specials Amsterdam Genetics
Amsterdam Genetics is behind some of the most sought after strains currently available. Scroll down for a quick look at some of their biggest stars.
To order your Amsterdam Genetics' seeds for these strains and many more, start browsing Zamnesia today.
For more info about Amsterdam genetics, click here.
WHITE CHOCO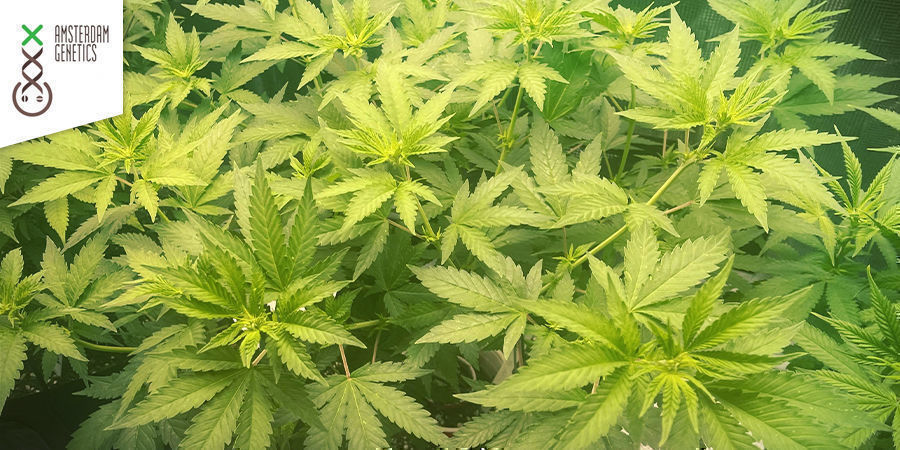 White Choco is, without a doubt, Amsterdam Genetics' most sought after strain.
A 50-50 cross between White Russian and Chocolope, this strain produces very uplifting effects and boasts exceptional aromas and flavours. The strain can be grown both indoor and outdoors. Indoor plants will grow between 120-150cm and produce yields of about 400g per plant. Outdoor plants, on the other hand, will flourish, growing over 300cm tall and producing yields of over 600g per plant.
Flowering time for White Choco plants is 9 weeks. While that is a little longer than some other strains, the end product is well worth the wait. White Choco buds boast a delicious aroma with hints of chocolate, spice, and sweet undertones. It is cherished for producing very uplifting effects that leave users feeling creative and productive, while also producing mellow physical relaxation.
AK OG KUSH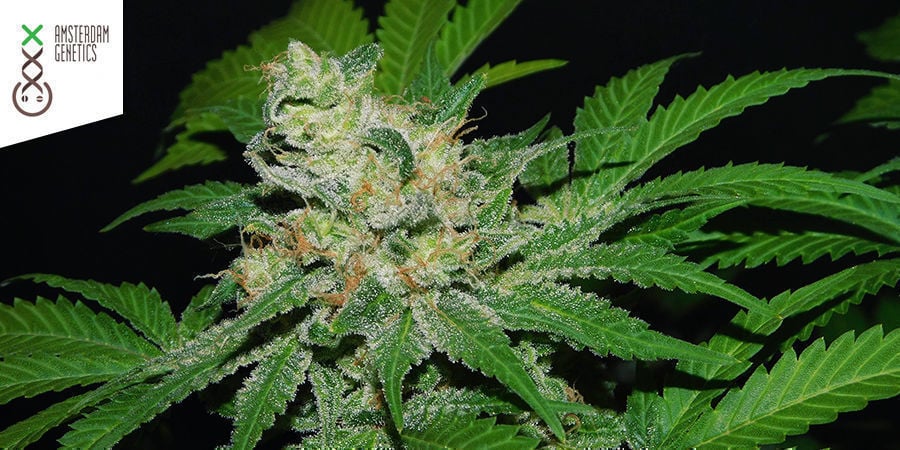 This is another of Amsterdam Genetics' best selling strains. As a indica-dominant hybrid between AK-47 and OG Kush, it is known to produce a very strong physical buzz.
Similar to White Choco, AK OG Kush has a flowering time of roughly 9 weeks and is known to flourish outdoors. Depending on conditions, indoor plants usually reach between 120-150cm tall and produce yields of about 400g per plant. Outdoor plants will grow to about 250cm and produce yields of up to 600g per plant.
AK OG Kush buds are very resinous and boast a pungent spicy aroma with earthy undertones. This strain produces very strong physical effects, thanks to its high THC content (roughly 22%). When used medicinally, this strain may help to relieve pain and insomnia. At the same time, it'll leave you feeling happy, and very relaxed.
AK-020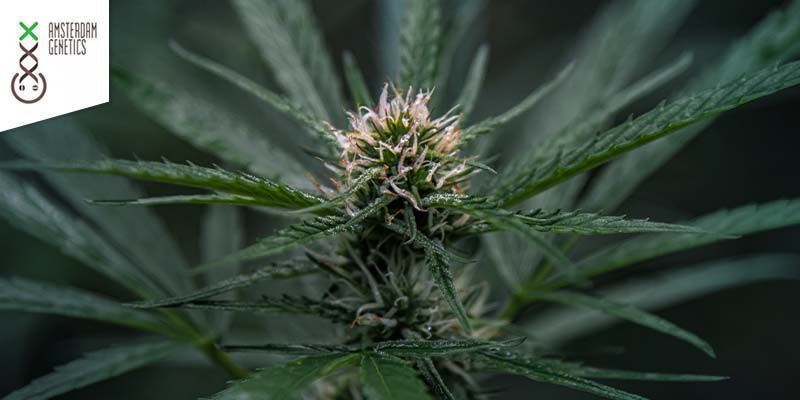 AK-020 is a classic strain that any home grower should be looking to have in their garden. Using the best Colombian, Mexican, and Afghani landrace genetics, Amsterdam Genetics have created a powerful hybrid with long lasting effects.
This strain has a flowering time of roughly 9-10 weeks. Indoor plants will grow between 120-150cm and produce yields of roughly 500g per plant. Outdoor plants, on the other hand, will grow upwards of 200cm and produce similar yields, making it ideal for indoor growth.
AK-020 buds are very beautiful, featuring a frosty layer of crystals and a healthy sprinkle of bright red pistils. They boast a delicious, pungent aroma with both sweet and spicy notes.
With an average THC content of about 20%, this strain produces very long lasting effects of happiness, euphoria, and relaxation.
---