If you want to grow weed, you'll have to provide it with nutrients. There are many different forms of fertilizer available, each with pros and cons. But unless you make your own, you'll have to buy some at some point. Here we look at the different types of cannabis fertilizers, and give a very brief overview of how each works and what they do. This way, you can determine which one is right for you!
What are cannabis nutrients, and why use them?
Cannabis nutrients are what make up a fertilizer; they are the food that cannabis consumes, and are essential to its growth. Some nutrients are necessary for survival, whereas others are required for abundant growth.
In order to grow a large crop of high-quality weed, using a fertilizer that contains a wide range of nutrients in the correct ratios is key! Broadly speaking, cannabis nutrients can be split into two categories: macronutrients and micronutrients.
The major macronutrients are nitrogen, phosphorus, and potassium (N, P, and K). So-called "secondary" macronutrients include calcium, magnesium, and sulphur. Though these are required in the largest amounts, buying a fertilizer that contains both macronutrients and micronutrients (such as boron, copper, and others) will yield the best results.
Which types of fertilizers are available to buy?
Fertilizers come in several different forms, all with their own advantages and disadvantages. Below, we'll provide an overview of options to help you decide which to buy.
🌱 Granular fertilizer
Granular fertilizer comes dry, in grains, and is mixed directly into the soil. Over time, it breaks down and releases the nutrients stored within slowly, giving the plant's roots a steady supply of food.
The main advantage of granular fertilizer is that it gradually releases nutrients over time, meaning you'll need to feed a plant less often than if you were to use, say, liquid fertilizer. It's especially good to add to soil before you begin growing, as it can see a plant through the early stages of its life without you needing to step in and feed it. Furthermore, as it releases slowly over time, the risk of nutrient burn when using granular fertilizer is low.
🌱 Liquid fertilizer
Liquid fertilizer is one of the most common methods of administering nutrients to cannabis plants. Once or twice a week, a few millilitres of liquid feed is added to a few litres of water, and this is then poured into the plant's soil. Liquid fertilizer provides a direct hit of easy-to-access nutrients to your plant's roots.
Though popular and effective, liquid fertilizer also carries some risk. It's very easy to overdo it, which can lead to nutrient burn and nutrient lockout. Therefore, if you choose this option, follow the instructions carefully and always err on the side of caution. Contrary to what many think, plants do not appreciate overfeeding!
It's also worth noting that cannabis requires different ratios of nutrients in the veg and bloom stages, meaning you must buy a different fertilizer for each phase.
🌱 Powder fertilizer
With powdered fertilizer, a certain amount of powder is added to so many litres of water, much like a liquid fertilizer. These two forms work in a similar way, and there's little reason to recommend one over the other. On the whole, liquid fertilizers are probably more popular, as they are ready for immediate use.
🌱 Fertilizer tablets
Fertilizer tablets work a little like powder fertilizer, but are just formed into a tablet to make dosing easier. A tablet is added to a specific amount of water, which is then poured into the soil.
Other products to boost cannabis plant performance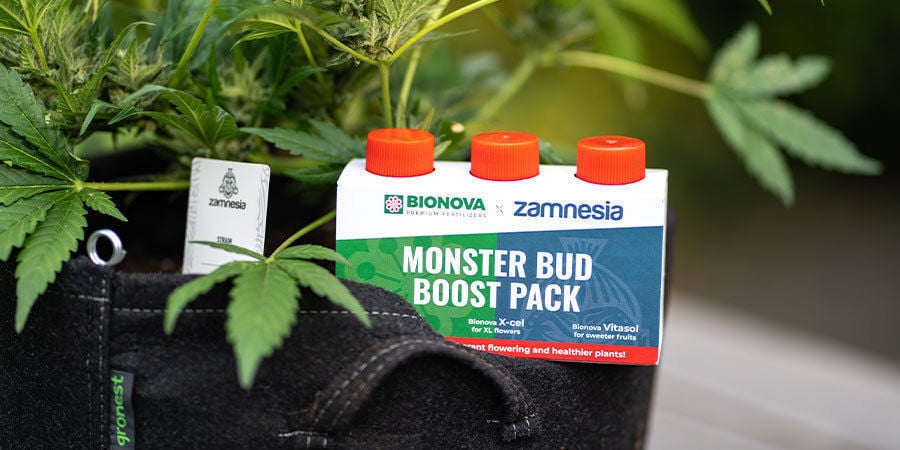 Alongside fertilizers, there are a variety of products available to buy that can help to support a particular aspect of a plant's growth, or to achieve certain results.
🚀 Seedboosters
Seedboosters can help seeds germinate faster, and reinvigorate older seeds that are reluctant to come out of their casings.
🚀 Enhancers
There are different enhancers available that accelerate or boost certain plant functions and processes. Some boost flower and trichome production, while others encourage the growth of good microbes in the soil, which helps plants grow healthily and avoid pests and disease.
Some examples of enhancers are:
🧪 Soil test kits
Soil test kits don't contain fertilizer, but they do tell you the nutrient content of your soil.
This can be incredibly useful, as it tells you what you need to add to your growing medium. Likewise, if you're experiencing issues in your grow, testing the soil for nutrients can tell you if there's too much or too little of something. From here, you can make the necessary adjustments.
Fertilizers: essential for growing cannabis
Unless you use super soil, you can't really grow weed without adding nutrients at some point, so you'll have to go shopping for fertilizers. At Zamnesia, we have a lot of experience when it comes to cannabis cultivation, so you can rely on our shop to provide you with the very best fertilizers available!
---