Stashbox Tightvac 0.12L
4.5

5

1

(

20

)
The TightVac MiniVac is an excellent container to store your spices or herbs and keep them fresh. Also suitable for jewellery (protection from tarnishing), vitamins, pills and even saffron! Brilliant for travelling, but also useful for storing small things at home; pins, needles, coins, beads or other small objects that can get lost around the house. Available in various colours.
In stock
You will be notified as soon as the product returns to stock
Product accessories: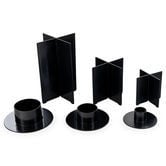 TightVac Divider
More info
More information related to this product:
Reviews (20)
08/Jun/2022

un peu fragile
mignon mais le couvercle n'est pas très solide

27/Feb/2022

Very useful
Useful tool for storage

15/Jun/2021

Top
Hele fijne potjes. Heb kistje met meerdere van deze met verschillende Strains. Blijft goed

26/May/2021

Heel handig
Ik gebruik dit om verse truffels langer te bewaren, zeer praktisch

21/Mar/2021

does exactly as it says
i ordered a few of them, my flatmate & i both use these

06/Feb/2021

Handig
Ik heb drie potjes in gebruik en ben zeer tevreden met dit handige systeem voor goede bewaring.

20/Jan/2021

Goeie
Is wel goeie 4/5 of 5/5 maar doe wel is wel goeie.

05/Dec/2020

Klein en praktisch
Praktisch luchtdicht opbergen van geurige kruiden zonder dat deze nog geur verspreiden. Potje wordt vacuüm afgesloten zodat alles geurloos verpakt is. Snelle verzending en super service, top.

01/Dec/2020

fonctionnel
bon produit, on verra a l usure, mais pour l instant satisfait de mon achat

24/Nov/2020

cool
bonne conservation

You cannot post a review because you have not purchased this product
Restrictions
Please note that if your country is not on our general shipping list, we're unable to ship any item on our website to it. For more information check out the list here: Ordering & Shipping
Video (1)
Video: How To Properly Store Your Weed

As a cannabis enthusiast, you know that nothing is worse than smoking old, dry, and brittle herb. Improperly stored weed loses flavour and potency, and will often make for an outright awful smoke over time. But how can you keep your weed fresh for a longer period? Find out about the best ways to store your stash!