T.H.Seeds™ Celebrates 25 Years Of Cannabis Business

4 min
T.H.Seeds™ has been a key player in the cannabis seed market for 25 years. To celebrate their anniversary, the seedbank has released a box set of six of their best strains at discount prices!
Since the 1970s, the Dutch government has instructed police to ignore coffeeshops selling cannabis, as long as they follow certain guidelines. Over the decades, this tolerance of cannabis has drawn millions of visitors to Dutch cities, and in particular to Amsterdam. The huge Dutch cannabis market has a demand for high-quality strains from seeds with strong genetics.
Seedbanks popped up left and right, competing to offer high quality cannabis seeds that deliver the best cannabis strains for cultivation. 25 years ago, a particularly influential seedbank opened their doors, going by the name of T.H.Seeds™. Today, we look back on their illustrious legacy, and to their exciting future.
T.H.SEEDS™: ELEVATING THE AMSTERDAM CANNABIS MARKET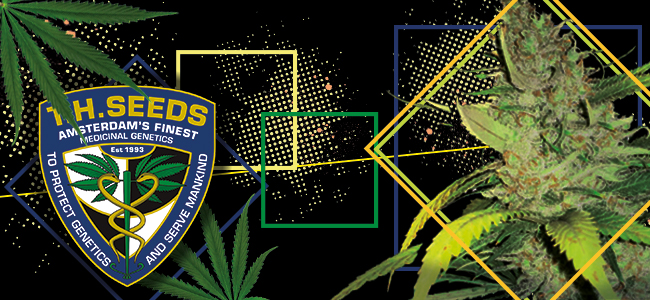 T.H.Seeds™ was founded in Amsterdam in 1993 on principles summed up by its motto: "To Protect Genetics and Serve Mankind". They wanted to distinguish themselves by producing unique, high-quality seeds for Amsterdam's vibrant market. At the time, the cannabis available in coffeeshops was disappointingly homogeneous. There wasn't nearly as much variety in strains as there is today.
Northern Lights, Skunk, and Shiva are all similar strains with strong, spicy herbal aromas. Their genetics also made for a uniform crop that didn't display the diversity in growth that we see in some modern day cultivars.
T.H.Seeds™ wanted to stand out by bringing some of the best international developments in cannabis breeding to the Netherlands. California has some of the world's leading cannabis innovators in its northern and central mountains. This is where T.H.Seeds™ sourced many of the seeds they would introduce to the Dutch market.
The strains were met with acclaim in both bud and hash form. Notable early examples include the sweet, candy-flavoured Bubblegum and S.A.G.E. (Sativa Afghani Genetic Equilibrium), a high-yield sativa with an impact similar to Haze strains. Since the 90s, T.H.Seeds™ has won awards in dozens of cannabis cups. Their catalogue of seeds has been so successful, they have found a special way to mark their 25th-year anniversary.
25TH ANNIVERSARY BOX SET SPECIAL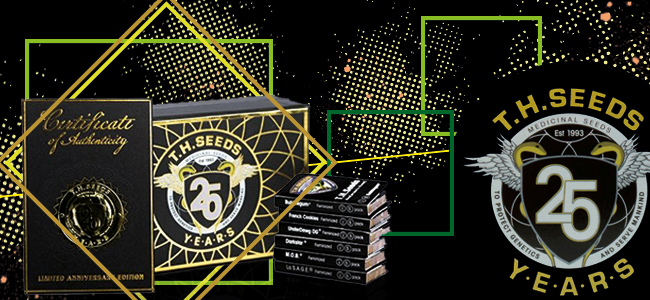 T.H.Seeds™ is now offering a gorgeous limited edition box set marking 25 successful years in business. This veritable treasure chest contains packs of five seeds from six of their most popular strains, amounting to 30 seeds in total! These feminized seeds will make an excellent addition to your crop. Once the seeds have been sown and the plants produce fantastic yields, the box can be kept as a stash box.
It is available while supplies last for €175, almost 40% off the usual retail price. That is a steal considering the value of the seeds you'll find inside. These six strains are among the best of the best. Six delights await you, demonstrating the diversity of what T.H.Seeds™ has to offer.
FRENCH COOKIES BY T.H.SEEDS™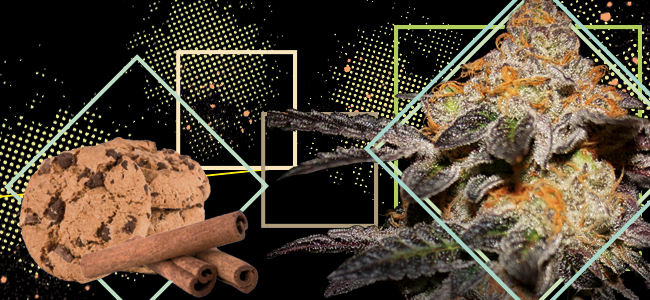 The word "cookies" in the name of a strain is a good sign. The flavour can be very much like the snack that goes so well with the munchies. A toasty, cake-like taste with traces of cinnamon and sweet cookie dough makes for an unmatched dessert-like flavour—but that's not even the main draw of Cookies strains. They also tend to have very high THC content into the 20% range.
Platinum Girl Scout Cookies is a highly potent example that T.H.Seeds™ discovered. They developed the seeds into an outstanding strain of shimmering impact called French Cookies. This hybrid skews 60% towards sativa properties, with 40% indica. The hairs are orange and purple, reflected in a smooth flavour with subtle traces of sweet berry and grape. See for yourself when dense buds flower over 60–70 days.
UNDERDAWG™ KUSH BY T.H.SEEDS™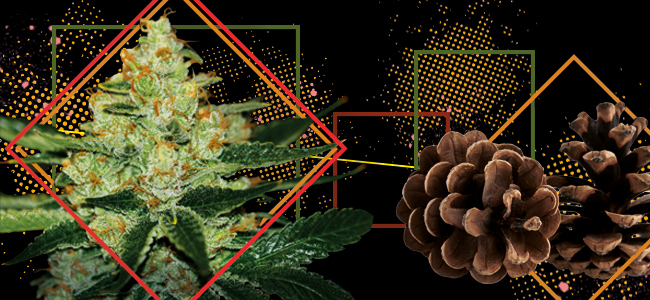 The word "kush" is also a very good sign. In this case, it's a sign that you are in for some earthy pine flavours with subtle hints of spice—a sign that you are in for one powerful high! These strains are very popular, with OG Kush being an iconic example. T.H.Seeds™ bred OG Kush with Chemdawg genetics to produce Underdawg Kush. Calling it an underdog is rich, considering how competitive it has been at industry competitions.
In 2016, it won 1st place in the Indoor Hydro category at Spannabis Barcelona. The glistening trichomes that cover this plant are part of its appeal, indicative of its great THC content. This indica-dominant hybrid also flowers quickly over 60–65 days. So get growing.
DARKSTAR™ KUSH BY T.H.SEEDS™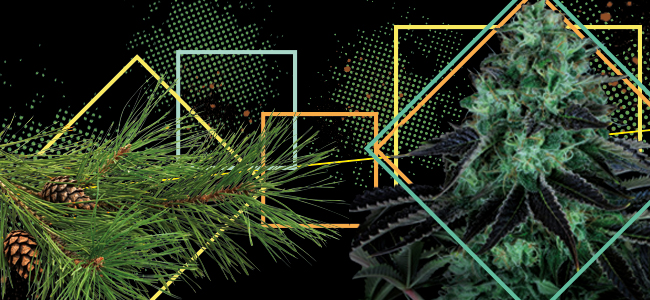 Bold green buds flanked by dark purple leaves burst from Darkstar Kush over a mere two months of flowering. The thick buds of Darkstar Kush are not to be taken lightly. The THC potency of this strain will stimulate your appetite, relieve pain, and generally blow your mind. Its indica properties are sure to relax your muscles. A tiny bit of sativa in its genetic lineage lends to a strong cerebral buzz that tops off the experience.
Kush strains typically have very hardy genetics resulting from centuries of growing in the harsh climates of the Hindu Kush mountains. Cultivators around the world have developed Kush strains into some of the world's most popular cannabis. The stimulating pine flavour and strong high is unmistakable. T.H.Seeds™ has changed the game once again with their spectacular Darkstar Kush.
MOB™ BY T.H.SEEDS™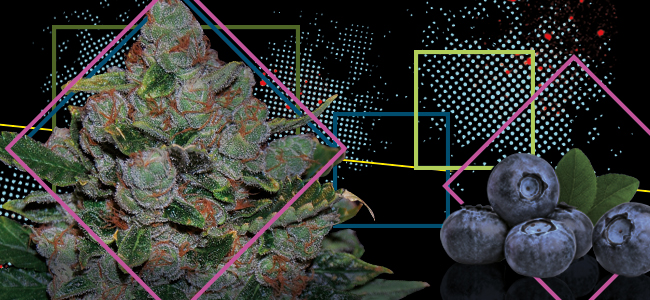 MOB stands for Mother Of Berries, which is quite a claim to back up. Berry-flavoured strains are increasingly popular. Their calming effect and sweet flavour is a mouth-watering experience for many smokers. The indica Blueberry is a particularly popular strain, and is the strongest influence in the genetics of MOB. The breeding here is exceptional as MOB boosts the inherent indica properties of its parents. This results in a strong, arresting body high that is great for medicinal users.
There are likely to be tingly sensations as it relaxes your muscles. This strain has therapeutic applications for depression, stress, and sleeplessness. Enjoy it and savour the tastes of blueberry, grapes, and lavender. The purpleness of its flavour profile may even be reflected in purple hairs on the plant.
LA S.A.G.E.™ BY T.H.SEEDS™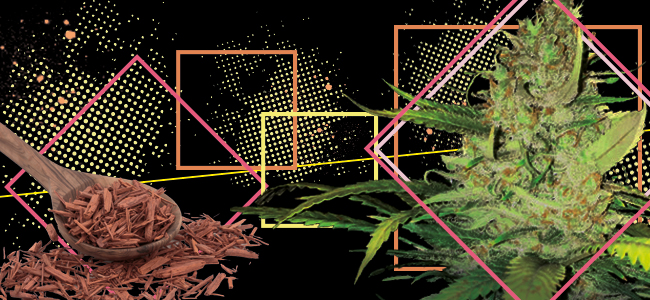 This is THE pride and glory of T.H.Seeds™. The strain that put them on the map. The hybrid that won 2nd place in a blind test at the 2001 Cannabis Cup. S.A.G.E. is celebrated here with a special variation. Crossbred with a Skunk Sam male plant, La S.A.G.E. is THE S.A.G.E. strain you don't want to miss. That commanding stench of Diesel is combined here with earthy hints of sandalwood.
Sativa Haze and indica Afghan properties come together for a long-lasting high. The relaxing effects of this strain reputedly swell and subside over and over again over the course of a few hours. Get ready to banish pain and anxiety with this dazzling high. It is the sort of sensational experience only possible through 25 years of dedicated hard work from T.H.Seeds™.
BUBBLEGUM BY T.H.SEEDS™
Dessert-flavoured strains are a particular treat, which were sorely lacking in the Netherlands during the 90s. Bubblegum is an easy-to-grow strain introduced to the area by T.H.Seeds™ after discovering it in the United States. This strain dazzled cannabis competitions with its thick orange hairs and frosty coating of trichomes. It won two awards at the 1994 Cannabis Cup, another in 1995, and again in 1999.
Since then, it has delighted many with its sweet, pleasing flavour. The scent of candy, mint, and berries all coalesce into what is appropriately described as a bubblegum smell. Treat yourself to the euphoria and relaxation that the indica high of Bubblegum provides.
Written by: Zamnesia
Zamnesia has spent years honing its products, ranges, and knowledge of all things psychedelic. Driven by the spirit of Zammi, Zamnesia strives to bring you accurate, factual, and informative content.

Find out about our writers
---