Seedbank Of The Year: Zamnesia Seeds

6 min
2020 is all about Zamnesia Seeds! Discover our origin story, greatest accomplishments, top strains of all time, and what we have in store for you in the new year!
DISCOVER OUR SEEDBANK OF THE YEAR 2020
For the last few years, we've taken it upon ourselves to promote a seedbank every single month. We wanted to do our bit for the cannabis world by spreading the word of genuinely incredible companies and genetics. However, we're sorry to announce that the Seedbank Of The Month series has come to an end. That's not to say that the cannabis scene isn't booming, but we're focusing on different things.
To bring this streak to its close, we've decided to announce Seed Bank Of The Year. Drumroll, please!
The Seedbank Of The Year 2020 is ...
... Zamnesia Seeds! Now, please don't mistake us for being big-headed. We don't want to toot our own horn too much. We actually want to give ourselves this title for two reasons.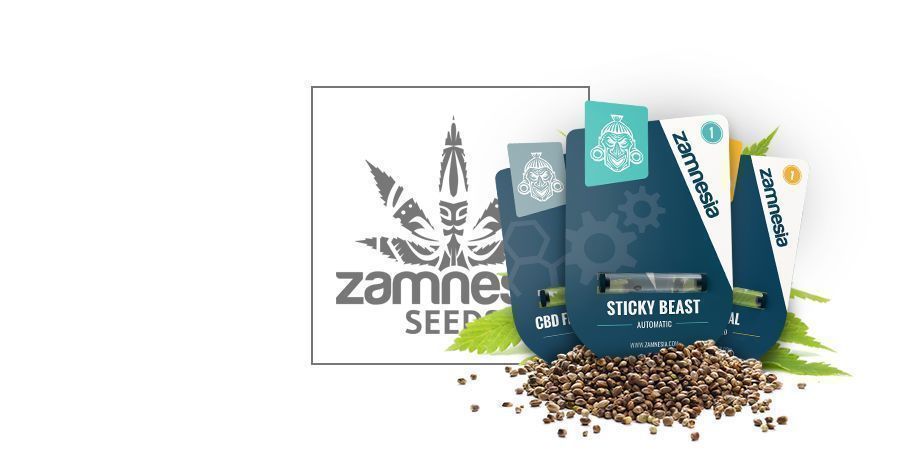 Firstly, we've spent a lot of time and effort in promoting other seedbanks. We love these companies and what they've done for the international cannabis community. However, we also want to celebrate all of the hard work our own team has accomplished. Our expert breeders have developed some incredibly productive and unique genetics over the years. During this time, we've also built up a gigantic genetic archive from companies all over the world.
Secondly, we want to use this as an opportunity to thank YOU (our loyal and valued customers). By announcing the Seedbank of the Year, we want to build up some serious hype. Why? Because we've got some exceptional offers on the way in 2020.
ZAMNESIA'S 2020 PROMOTION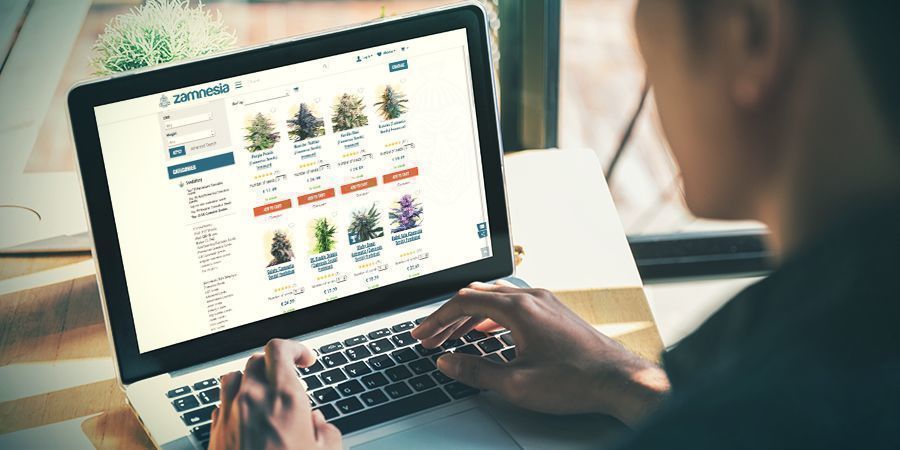 We're giving away one free Zamnesia seed for every 25€ spent in our store. We'll be rotating all of our best-selling strains and gifting you with both classic and new-school genetics from our seed vault. This offer will last for the entire year, which means you'll have ample opportunity to collect the lion's share of our catalogue for free!
ZAMNESIA'S PAST, PRESENT AND FUTURE
Join us on this journey. Below, we'll take you through an in-depth look into our history, mission, and accomplishments. Then, we'll showcase some of our new releases for the 2020 growing season. Finally, we'll detail our best cannabis strains of all time.
HUMBLE BEGINNINGS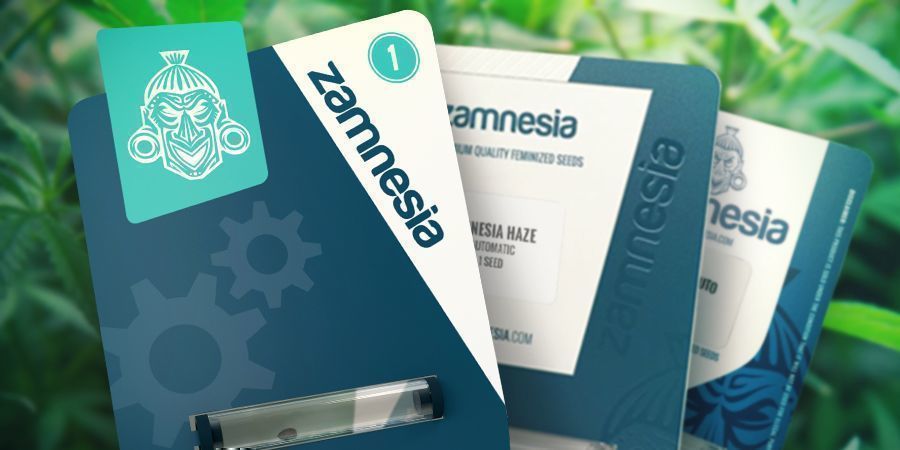 Zamnesia is a sizeable presence in the canna-business nowadays, but it hasn't always been this way. We started out on a small scale. Our origin story involves a group of adventurous psychonauts with a burning passion for all things entheogenic. During one of our many interdimensional voyages, the inception of an overpowering idea took place. From this moment, back in 2002, we knew it was our mission to offer citizens of the world the ability to alter their consciousness at will. Since then, we've built a business that provides countless cannabis seeds, bongs, pipes, vaporizers, and mind-altering products such as salvia and kratom.
Since then, we've blossomed into Europe's largest online seedshop, headshop, smartshop, and lifestyle shop! We proudly supply genetics from some of the world's best breeders, and also started our very own line of seeds.
Sometimes it's hard to believe how far we've come. From providing a few seeds here and there, we now offer 1,500 feminized and autoflowering cultivars. We also take great care to ensure the quality of each seed. When it comes to our own strains, each seed comes from an organically grown mother plant raised in naturally enhanced soil.
Our genetic archive has something for every grower. There are fast-flowering autos ideal for clandestine and guerrilla growers; there are gigantic sativa specimens bred for outdoor cultivation. We also provide connoisseur strains with exquisite terpene profiles.
Furthermore, we offer top of the range equipment to help growers achieve the best results possible. Our range of propagation equipment, fertilisers, and companion plants helps cultivators along every step of the growing journey.
COOL COLLABORATIONS
During our time, we've had the opportunity to work with some of the coolest cannabis companies on the planet. We joined forces with the legendary seed company Kannabia to bring the world Blue 2.0—a fast-flowering and flavoursome hybrid. She's the progeny of our very own strain Blue Dream, and Kannabia's Mataro Blue.
We also partnered with Philosopher Seeds, an artisan seedbank known for its stellar genetics. Their expert breeders carefully crafted Wifi 43 x Do-Si-Dos. This limited edition cultivar is exclusive to the Zamnesia archive.
Our collaborations will only become more mind-blowing over time. We've got plans to work with other European titans including Royal Queen Seeds and Exotic Seed. Keep your eyes peeled!
SPECIAL ACCOMPLISHMENTS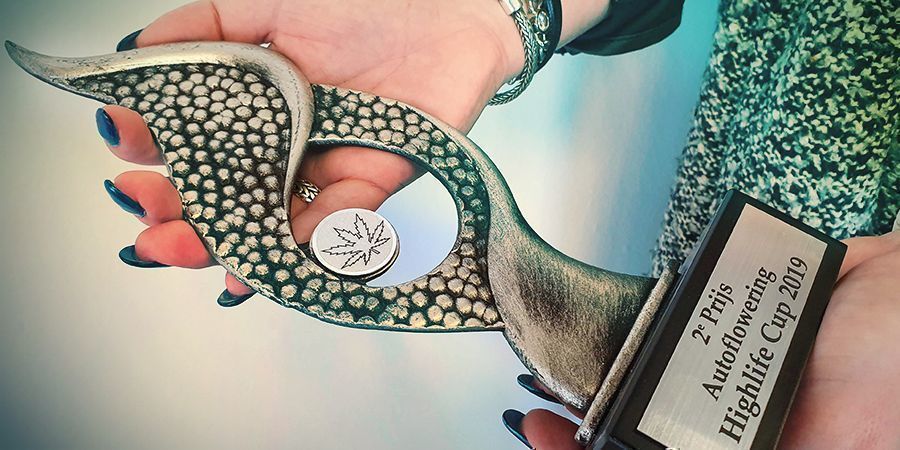 At Zamnesia, teamwork is the secret weapon behind our success. We're a multidisciplinary team of breeders, product developers, marketers, and managers that converge to create magic. We've accomplished a lot together, but there are a few things that stand out above the rest.
In 2019, we won an award at the prestigious Highlife Cannabis Cup. Awards are given out by a panel of expert judges who sample industry-leading strains for eight weeks leading up to the event. Our powerhouse strain Amnesia Haze Automatic placed 2nd in the autoflowering category with 519 points.
Our genetics also made their mark at the 2018 Highlife Cup. Our indica-dominant strain Sticky Beast Auto placed first in the autoflowering category.
It's not only our awards we're proud of. We started our own competition: The Amsterdam Coffeeshop Awards. Amsterdam is the cannabis mecca of Europe, attracting millions of tourists every year. We decided to help them out by identifying the best coffeeshops in the city. Coffeeshops are judged on their atmosphere, menu, and customer service. Check out the results to find the best venues in the city, and keep an eye out for next year's competition.
NEW RELEASES FOR THE 2020 GROWING SEASON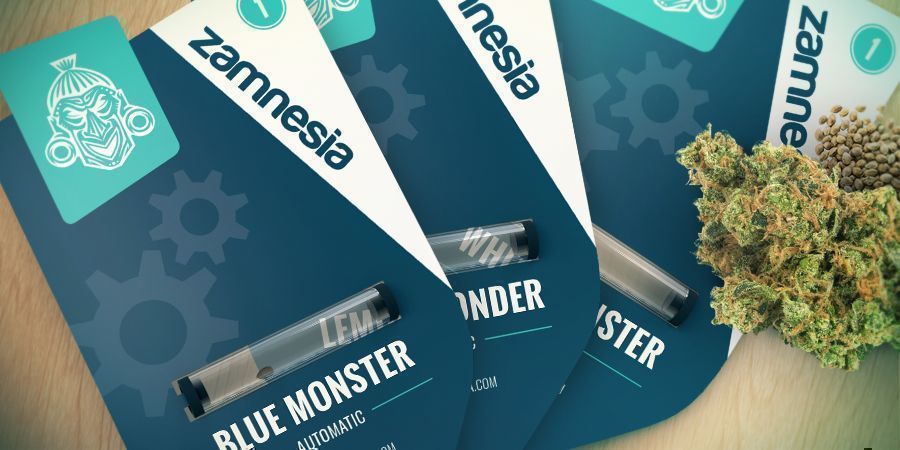 We're continually pushing ourselves at Zamnesia, because we want to keep improving. There are big things on the horizon for 2020. Our master breeders have been working hard to bring you some next-generation strains that will blow your mind (and your taste buds).
Zamnesia has created some of the best autoflowering cultivars on the planet, and our collection just got even better. Keep an eye out for the likes of Blue Monster Automatic, a ferocious indica-dominant variety. Lemon Wonder Automatic will also be hitting the shelves. She offers a rapid growing cycle and mouth-watering tastes. Finally, don't miss out on White Monster Automatic's hardy genetics and sweet buds. She's easy to grow and a perfect strain for beginners.
The breeders at Zamnesia have also developed some stunning sativa-dominant photoperiods. Blue Widow is a descendant of the legendary White Widow and provides an energetic high that can tackle anxiety and stress. Sweet Lemon AK was created using a diverse array of international genetics. Our breeders crossed Colombian, Mexican, Thai, and Afghan specimens to create this potent and fast-flowering sativa hybrid.
Don't think for a second that we forgot to work on some new indicas! Quick Caramel XL is one of our new stoning strains. She descends from White Rhino, Blueback, and Maple Leaf Indica. Her flowers produce a lightly sedating effect and a gorgeous terpene profile. Monster Bud Kush is another new cultivar flaunting heavy indica dominance. She produces dense colas that drip with resin, and her high will leave your body glued to the couch.
THE MOST POPULAR ZAMNESIA CANNABIS STRAINS
That was an exciting look at what's new. But now it's time for a blast from the past. To end our journey into Zamnesia, let's explore five of our all-time favourite cannabis cultivars.
1. BLUEBERRY AUTOMATIC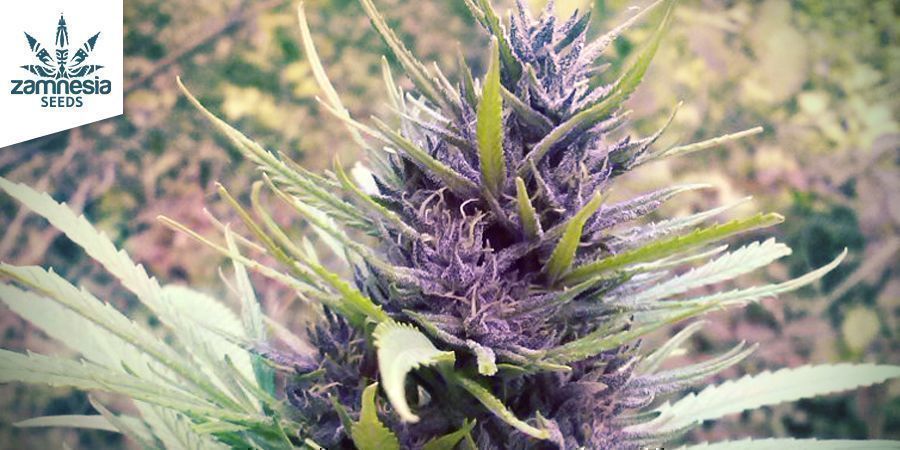 Blueberry Automatic is a stunning specimen. Her gorgeous flowers feature a shade of light purple contrasted by bright green sugar leaves. We brought her to life by breeding flavoursome parent strain Blueberry with a ruderalis specimen. This cross created an indica-dominant auto loaded with terpenes. Her flowers contain a THC level of 15%, delivering a soothing indica high that eliminates stress and eases pain. She also offers a relatively high level of CBD at just under 3%.
Blueberry Automatic produces a good indoor yield of up to 475g/m² and grows to an easily manageable height of 75cm. Plants cultivated outdoors grow to a short height and produce a medium yield. Expect to harvest her flowers around 8–9 weeks after germination.
2. Watermelon Candy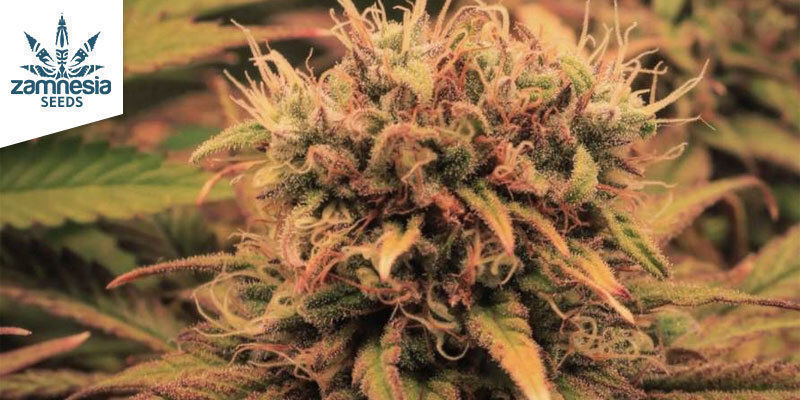 A fruity hybrid with something to offer everyone, Watermelon Candy features a 50/50 split between indica and sativa genetics. This strain is simultaneously euphoric and deeply relaxing. And with 21% THC, it's strong without being overpoweringly so—a perfect way to transition from the day into the evening. And thanks to a healthy genetic mixture, it's a resilient grower that can take on a range of environments, yielding great results in all. Indoors, expect 450g/m² after just 8–9 weeks of flowering.
Watermelon Candy doesn't try to hide its fruity flavours. Nonetheless, it's worth reiterating just how good it really tastes. The aromas are powerful, sweet, and have a tart citrus edge that stops them from being sickly sweet, and assures you that you're smoking some high grade. In terms of flavour, "succulent" is the word! Sugar, berry, and lemon flavours mix together in a heady concoction of tropical, sugary goodness; certain to have you salivating and coming back for more!
3. GORILLA GLUE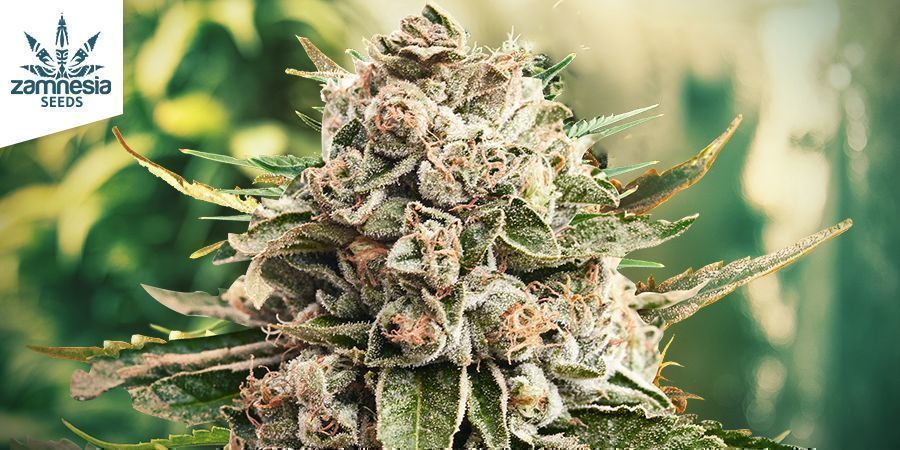 Gorilla Glue is a name revered throughout the cannabis world. She gained notoriety as one of the most potent cultivars available, thanks to her THC content of 28%. She features a perfectly even split between indica and sativa genetics, and is the progeny of parent strains Chem's Sister and Chocolate Diesel. Such a high THC level results in an instant and long-lasting high that plunges the mind into a philosophical and almost psychedelic state.
Indoors, Gorilla Glue climbs to a height of 150cm and yields up to 560g/m² after a flowering time of 8–9 weeks. Plants grown outdoors reach a taller height of 190cm and produce a satisfying return of 590g/plant. Prepare to harvest these beauties in late September.
4. BLUE DREAM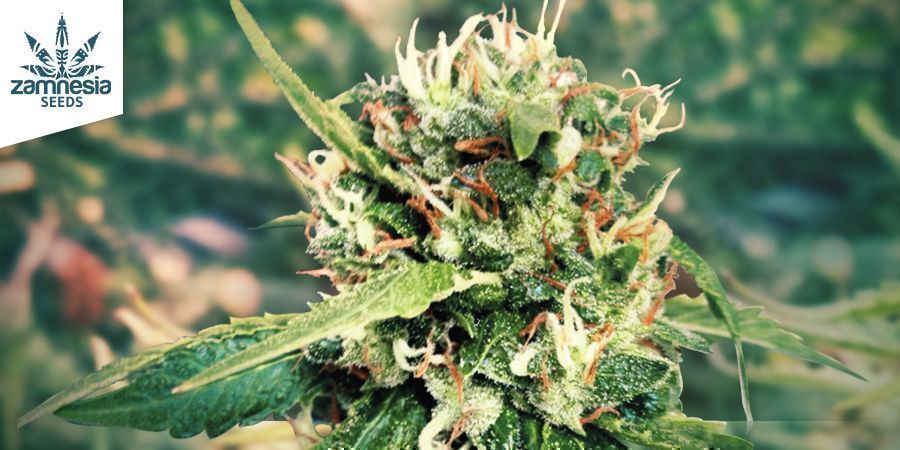 Blue Dream is a quintessential sativa that occupies the shelves of many Dutch coffeeshops. She's the lovechild of Blueberry and Haze, and provides a pleasant combination of stimulation and fruity flavour. Her buds offer a THC content of 19% and a high that ramps up cognitive function. Blaze these flowers before a study session to increase your productivity. She also makes a great smoke before physical activity of both the outdoor and intimate varieties. What's more, every hit carries flavours of berries and sweetness.
Blue Dream will be ready to smoke after a relatively brief flowering time of 9–10 weeks. Plants grow to a medium height and are easy to tame. Both indoor and outdoor plants provide medium yields.
5. GELATO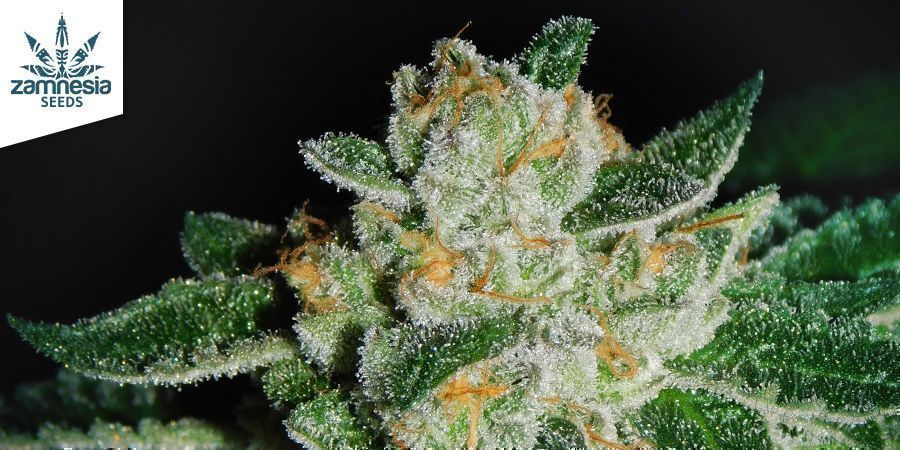 Gelato is named after a particularly sweet Italian dessert, and for good reason. Her terpene profile generates flavour notes of sweetness, sugar, and cream. Every hit is a delight for the taste buds. It won't be long until her high THC level leaves you craving food and raiding the fridge. Gelato produces small purple buds, but don't underestimate their size. Her indica high will leave you flat on the couch if you overdo it.
Gelato is a productive strain that finishes flowering after around 8 weeks. Indoor plants produce a good yield of up to 500g/m² and peak at a height of 100cm. Outdoor plants produce a maximum return of 400g/plant and ascend to 200cm.
Written by: Zamnesia
Zamnesia has spent years honing its products, ranges, and knowledge of all things psychedelic. Driven by the spirit of Zammi, Zamnesia strives to bring you accurate, factual, and informative content.

Find out about our writers
---