Blog

4 min
Royal Queen Seeds: Seedbank Of The Month June 2017

4 min
Want to cultivate the absolute best cannabis in your cannabis grow-op? We do too. That's why once a month we are focusing on one exceptional cannabis seedbank that is creating strains worthy of a spot in your marijuana grow. Starting with the hottest seedbank in Europe right now: Royal Queen Seeds.
SEEDBANK OF THE MONTH: ROYAL QUEEN SEEDS
With so many seedbanks offering so many amazing varieties of cannabis seeds on the Zamnesia SeedShop, it can be tough to settle upon a pack of seeds to purchase. Even if you pay a visit to the site with a carefully prepared cannabis seeds shopping list, you will undoubtedly find yourself perusing alternatives. So many strains look so good. Changing your mind a few times is common.
Variety is the spice of life, and we never get complaints about offering too wide an array of cannabis seeds. However, we do recognise that with such an orgy of options, decision making for growers can become more challenging.
That's precisely why we have decided to get "two birds stoned at the same time", as Ricky from Trailer Park Boys might say. Every month we will cast our cannabis spotlight on one special cannabis seedbank. Our aim is to ensure elite cannabis seedbanks - be they big or small - get the attention they deserve and above all, you the grower are advised of the finest genetics on the market right now.
KICKING-OFF WITH ROYAL QUEEN SEEDS
Chances are you might have already heard something about Royal Queen Seeds. This seedbank is the rising star of the European cannabis community and rapidly gaining global recognition from growers. To kick-off the series we must begin with the seedbank with perhaps the most impressive catalogue, packed with award-winning cannabis genetics from around the world.
Royal Queen Seeds have decades of specialist cannabis breeding experience and the strains to prove it. Plus, the entire collection is exclusively available in feminized cannabis seeds. Based in Europe, with seed stores in the cities of Amsterdam and Barcelona, the Royal Queen Seeds brand is already a favourite amongst connoisseur cultivators.
Naturally, Royal Queen Seeds are regulars at the premier annual European cannabis cups and fairs such as Spannabis Barcelona, and the Amsterdam Cup.
Many a fine seedbank has been founded on Afghani, Skunk and Haze genetics. Royal Queen Seeds can boast all the usual suspect heirloom varieties and crosses that the ordinary decent home grower lusts after. But that's not all. These guys don't believe less is more.
What makes this seedbank worthy of your attention and consideration is the all-star cast of cannabis classics and contemporary cup winners that comprise the Royal Queen Seeds catalogue. This includes awards for both recreational and medical strains.
Innovation and a passion for research and development of exquisite marijuana translate to outstanding performance in the cannabis garden. Nobody is bringing the heat quite like Royal Queen Seeds right now. Connoisseurs looking for the fire! Let's take a closer look at 5 of the dankest Royal Queen Seeds strains.
TOP 5 CANNABIS STRAINS BY ROYAL QUEEN SEEDS
ROYAL GORILLA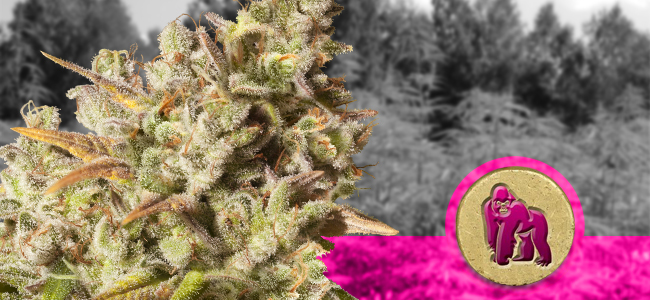 Royal Gorilla is the living legend and King Kong cannabis strain that's been scooping 1st Prize at Cannabis Cups on both coasts in the US, available in feminized seed. With 27%+ THC levels, these are the stickiest nuggs in the game right now. Ideally suited to ScrOG and/or LST for the heaviest harvest of quite possibly the dankest dope on planet Earth.
Royal Gorilla packs the most couchlocking heavy indica punch, and after just a few tokes from a spliff, you will know it. Even veteran tokers should expect to be glued to the couch by this strain. Medicinally very effective for treating pain and insomnia. Munchies will be required in large quantities, and proximity to the sofa will be a necessity.
Buds glistening with trichomes should be ready for harvest after 8-9 weeks of flowering. For those that enjoy cannabis concentrates, expect to achieve personal bests from extraction runs with this incredibly resinous green material.
ROYAL COOKIES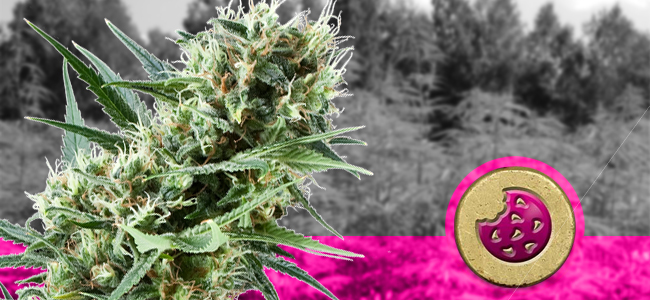 Royal Cookies is a sweet cookies strain with the most decadently potent body stoned effect. By successfully hybridising award-winning cookie cultivars from the US, the breeders at RQS have created a real cookie monster. Perfect for SOG indoors. Squat, no more than 1-1.2m tall, and highly productive outdoors. Royal Cookies is a genuine cannabis treat ready in just 8 weeks of bloom. Newbie's take note, after a good cure Royal Cookies can be too hot to handle.
If you want the dankest cookies, then Royal Cookies certainly won't disappoint. Sugary super sticky nuggs that can reach 23%+ THC make these our favourite cookies. Small doses until you build a tolerance are advised. Definitely not just like how momma used to make em.
Royal Cookies effects are powerfully sedative and wash over the whole body almost instantly. This weed smells and tastes as good as she looks. That rare blend of sweetness and fuel Kush will make it difficult to keep your sticky fingers out of the cookie jar.
AMNESIA HAZE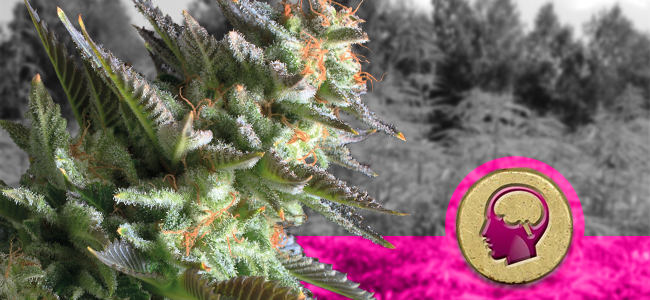 Amnesia Haze is the sativa-dominant hybrid that has changed the modern perceptions of Haze. Scooping cannabis cups and delighting sativa sybarites, a couple of tokes from a joint will lift your feet off the ground. A few more will carry you gently to the stratosphere. Royal Queen Seeds are Haze masters, and if you want the highest calibre ammo, you need these feminized seeds.
Amnesia Haze requires a little growing experience, a careful hand with nutrients, and some patience to cultivate to her uplifting, full potential. Early pruning and/or training to prevent plants climbing too high is recommended. Up to 12 weeks of flowering will be required.
However, once you bring a tasty crop of connoisseur head stash to harvest, the wait will have been worth it. 22%+THC levels and generous yields of tight, elongated tropical-citrus colas will keep you coming back for more. Want to fly high? You can't get much higher than the cerebral head buzz of Amnesia Haze.
NORTHERN LIGHT AUTOMATIC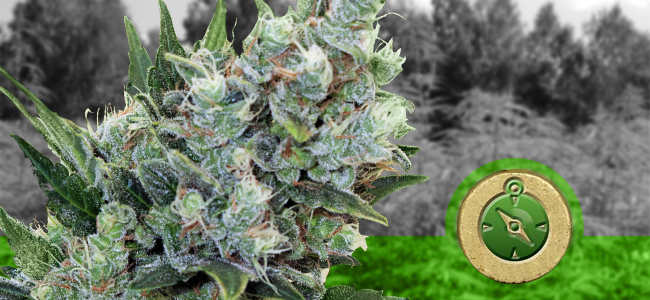 Next-generation autoflowering cannabis strains are also something of a speciality of Royal Queen Seeds. Northern Light Automatic is the product combining the original old school heavy indica superstar Northern Lights and ruderalis genetics.
Larger than most autos, the Northern Light Automatic can climb to 1.2m tall, which facilitates generous bud production. Ready for harvest in just 10 weeks post germination, this strain is an excellent choice for growers seeking low maintenance weed. She performs excellently indoors, or outdoors in a warm Mediterranean climate. No pruning necessary and only minimal fertiliser required.
FAST EDDY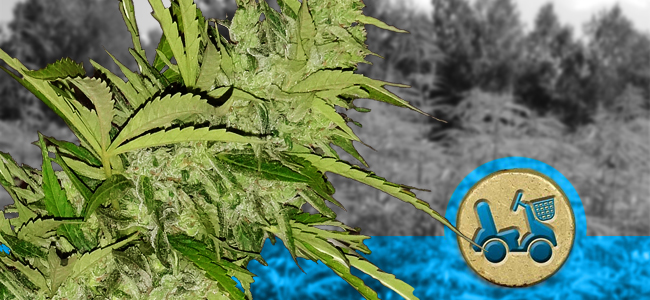 Fast Eddy, as the name would suggest, is a real pocket rocket. This extraordinary autoflowering strain is a pedigree hybrid of Cheese, Juanita la Lagrimosa and Ruderalis genetics. Moreover, Fast Eddy is a CBD-rich auto with medicinal buds low in THC and high in CBD. Ready for harvest in just 8-9 weeks total crop time.
Compact undemanding plants that grow to less than 1m are perfect for balcony growers, even in a relatively short summer. Indoors, SOG is recommended for max yield. De-stress, relax and find pain relief double time with Fast Eddy in the cannabis garden. Top choice for beginner medicinal marijuana growers.
WIN FREE GOODIES WITH EVERY NEW "SEEDBANK OF THE MONTH"!
Former Seedbanks Of The Month, like the one you are reading about now, deserve eternal attention from us here at Zamnesia! Read about past and present honorees, and continue to visit our blog for the honorees of the future. Each new month highlights yet another stellar seedbank, kicking off a new round of awesome promotions and surprise giftings pertaining to that specific brand. So go ahead: once you are done here, visit this month's new Seedbank Of The Month, and take advantage of goodie giveaways!
Written by: Top-Shelf Grower
Veteran cannabis cultivator originally from Dublin, Ireland and currently on the loose in southern Spain. 100% committed to Top-Shelf reporting until captured or killed.

Find out about our writers
---