Blog

3 min
R.I.P. Howard Marks, A.K.A Mr. Nice

3 min
Campaigner, writer, performer, renowned drug smuggler, and founder of Mr. Nice Seeds, Howard Marks has changed the world. It is with heavy hearts that we say farewell.
Howard Marks, a.k.a. Mr. Nice, has died. Another British icon makes his way up the stairs into the sky. It was only last year that this notorious rogue announced he was battling cancer, and it is already time to say goodbye. He was a man shrouded in myth and mystery, and his legend will never be forgotten.
Yet, underneath it all, he was an ordinary man. Sure, he may have spent time on a Filipino drug island with exiled aristocrats, sampled delights never seen on the market in the mountains of Nepal, or dropped wads of hundred dollar bills down a toilet, but he never held himself aloof, and always had time for those around him.
A BRIEF HISTORY OF MR NICE
Dubbed the most sophisticated drugs baron of all time, Howard Marks spent his early life growing up in Wales. He later went on to Oxford University, one of the most prestigious in the word, where he obtained a degree in nuclear physics and a post-graduate qualification in philosophy. After graduating, Marks' fierce intelligence and wit earned him a place working for the British Secret Service. However, in time, he turned his hand to drug smuggling. This, combination led him to make contacts within the Mafia, CIA, IRA, and MI6.
Eventually, the law caught up with him, and in 1988 Marks was arrested and sentenced to 25 years in a federal prison. He was later released in 1995 after serving seven years. It is alleged that Marks got his "Mr. Nice" nickname during this time, where he bought a passport from the murderer, Donald Nice.
Since then, he has campaigned for changes to drug legislation, running for British Parliament with the sole aim of legalising cannabis, and making it accessible to those who need it. It is a personal campaign that has persisted, no matter where he went, aiming to educate and encourage rational and scientific discussion about drugs.
"I want it to be legalised for consuming recreationally – and I'm pleased to see they have now done this in four US states. After my experiences at the hands of the US legal system, America is the last place in the world that I thought would be leading the charge."
During his life, he released a bestselling autobiography, worked as a columnist for Loaded Magazine, started up a music career, became an onscreen performer, and had a movie made about his life. Of course, he has also been heavily involved with Mr. Nice Seeds and CBD Crew as well!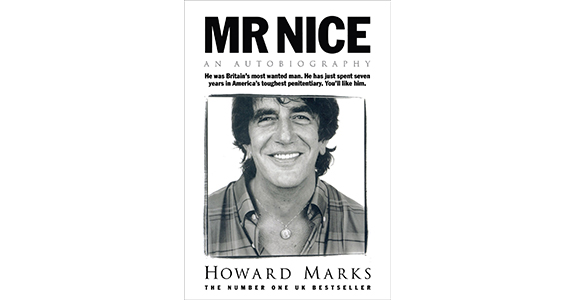 It was last year that he made his diagnosis of bowel cancer known to the world, to all of our despair. Yet, he said he had no regrets and has enjoyed his life. In last year's interview with Observer, he also talked about coming to terms with the illness, and how it taught him to cry.
"I've come to terms with it in my own way - which for me was about learning how to cry."
"I've never cried before. In prison, I cried deep in myself, but I had to be the tough guy, I couldn't let any vulnerability show. But then I think, how long am I going to be living for anyway? I don't want to be living until I'm 350."
"The strange thing is I haven't actually felt a moment's depression at all. I feel people have come back from a lot worse than this, and it's about trying to resume a normal routine as soon as possible … and just carry on living."
A FEW FACTS ABOUT MR NICE
His passing from our world is a tragedy, yet he will be remembered. Here are some of the little know snippets about his life that you may not be aware of.
He Really Was A Nice Guy
Marks was a genuine, down to earth nice guy who took a real interest in those around him.
"He was one of the cleverest, nicest, and most charming old rogues I have ever had the pleasure of spending time with," said actor Keith Allen.
It is a sentiment held by all who knew him, with celebrities lining up to pay their respects.
He Never Touched Hard Drugs
A patron of cannabis, Howard Marks didn't have much time for other substances. One of his university friends, Joshua Macmillan, died of an overdose. It put him off for life.
My memory is really just of Joshua Macmillan's body being carried down the stairs," said Marks. "It is a very shocking experience and I'd always been frightened of heroin before that, and that kind of sealed the issue as far as I was concerned."
He Said Marijuana Was Largely Was A Great Aid To Academic Success
Sure, he was an extremely intelligent man to begin with (you have to be to go to Oxford), but he thought it was marijuana that enabled him. His friends back at university were made up of today's elite, including Rick Lambert, a Finical Times editor, and Tory Grandee, the last British governor of Hong Kong. Yet even among them, he shined through for his academic prowess.
"Smoking marijuana forced me to stop, examine, scrutinize, and criticize each step before proceeding. It assisted me not only in pinpointing weaknesses of certain philosophical theories, but also in articulating alternative philosophical viewpoints."
FAREWELL TO A LEGEND
The life of Howard Marks was anything but usual, yet through it all, he maintained himself with dignity and genuinely good heart – not something many others would be able to say. It is sad to see his passing, yet he lived a good life and has left a positive mark on the world. Your watch if over Howard Marks, it is time to rest.
Written by: Josh
Writer, psychonaut and cannabis aficionado, Josh is Zamnesia's in-house expert. He spends his days nestled out in the countryside, delving into the hidden depths of all things psychoactive in nature.

Find out about our writers
---