As demand for CBD has grown exponentially in recent years, so too has the range of CBD products available. While greater product availability is no doubt beneficial for consumers of the cannabinoid, the sheer volume of offerings can come with some downsides. From CBD oils to capsules and e-liquids, products vary not only in quality and contents, but in CBD concentration.
Whether you choose to pick up a low strength, medium strength, or high strength CBD product will depend on various factors, not all of which are exclusive to the CBD itself. Your unique physiology plays a role too. Luckily, Zamnesia offers a wide range of quality CBD products (low and high percentage) that cater to both new and experienced CBD users.
What Are High Percentage CBD Products?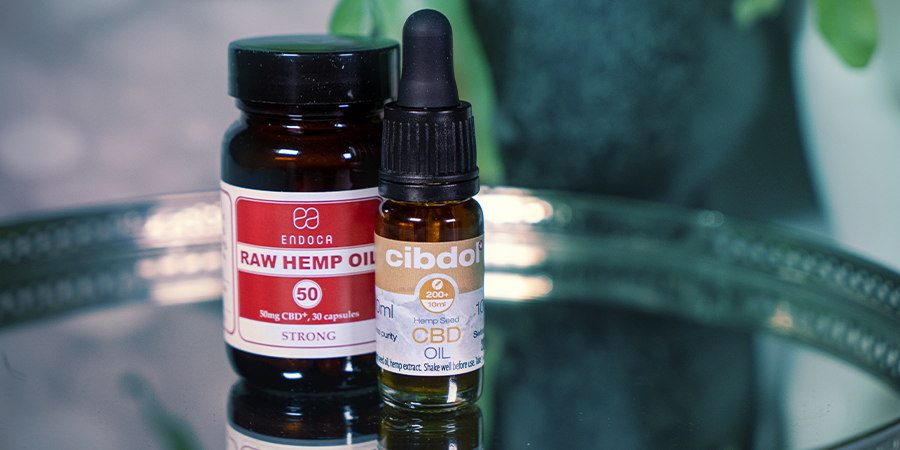 High percentage CBD products contain a particularly high CBD content. While some CBD oils feature low to moderate percentages of CBD (e.g. 1–5%), products that exceed a CBD concentration of 10% are considered high percentage CBD products.
In addition to normal-strength CBD oils, Zamnesia carries high percentage CBD oils and capsules with a CBD content ranging from 10–40%. We also carry pure CBD crystals featuring 99% of the cannabinoid, which is the purest form of CBD on the market.
CBD Oil
The CBD in CBD oil is extracted from the hemp plant, which is a variety of Cannabis sativa with sufficient levels of CBD and low levels of THC. Once the CBD is extracted, it is infused with a carrier oil, such as hemp seed oil, olive oil, or MCT, to increase bioavailability and make for easier dosing.
CBD oils usually come in a dropper bottle to make administration simple. These CBD products are primarily administered sublingually—under the tongue. CBD oil can also be swallowed straight or added to food or drink.
The CBD oils at Zamnesia are made from quality EU industrial hemp, and are free from synthetic chemicals, additives, and adverse levels of THC.
CBD Tablets & Capsules
CBD products in tablet or capsule form are a particularly convenient way to dose CBD. Each cap or tablet contains a consistent dose of CBD oil, allowing for easy, precise, and worry-free administration. CBD caps and tablets are taken orally, usually alongside food.
CBD Crystals
Zamnesia 99% Pure CBD Crystals are the purest form of CBD one can find on the market. The CBD is derived from industrial hemp using CO₂ extraction—a method that ensures the highest purity—then further refined in a second purification process. CBD crystals contain absolutely no THC, which means users can consume even large amounts without feeling "high".
Zamnesia CBD Crystals are 99% pure, so what is the remaining 1%? This is composed of aromatic terpenes, the flavour compounds found in cannabis and many other plants. Those sensitive to terpenes don't need to worry as the amount contained in Zamnesia 99% Pure CBD Crystals is very low.
Which Type of CBD Product Should You Choose?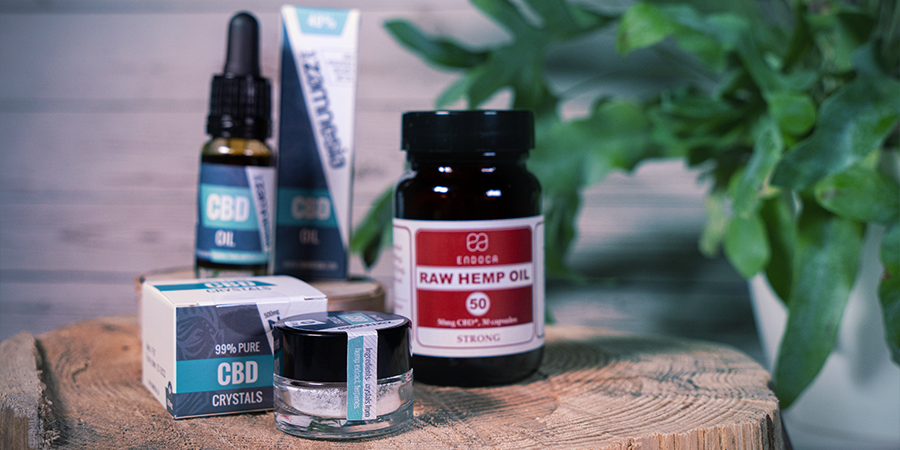 Given the sea of CBD products you can choose from, whether you opt for CBD oil, tablets, or crystals depends entirely on your intended use and preferences.
CBD oil
CBD oil comes in a convenient dropper bottle for streamlined dosing. The dropper bottle also ensures not a single drop of product goes to waste. CBD oils can be used orally, sublingually, topically, and added to food or drink. Drawbacks? CBD oil is not quite as convenient as taking CBD tablets or capsules.
CBD Capsules & Tablets
CBD capsules and tablets are ideal for easy dosing "on the go". Since each capsule/tablet contains an exact amount of CBD, consistent dosing is made easy. Tablets and caps also provide more discretion than using a dropper bottle containing CBD oil. This can be of benefit when dosing at work or in any other situation where taking CBD oil may be somewhat inconvenient.
Zamnesia 99% Pure CBD Crystals
Pure CBD crystals are ideal for those who want to consume the highest strength CBD products possible. Crystals can be taken orally, used to make edibles, oils, and cosmetics, and vaporized. CBD crystals are essentially pure CBD, which also makes them one of the most economical forms of consuming the cannabinoid. Drawbacks? CBD crystals are not as easy to consume as oils or capsules, and for some users may be too strong in their pure form.
Does CBD isolate get you high?
No. CBD isolate is a pure form of CBD. It doesn't contain any psychotropic compounds and can't get you high.
Percentage and Strength of CBD Products
What about the percentage and strength of CBD products? What does it mean for consumers, and how does one know what CBD strength is best for them?
What Does the Percentage of CBD Mean?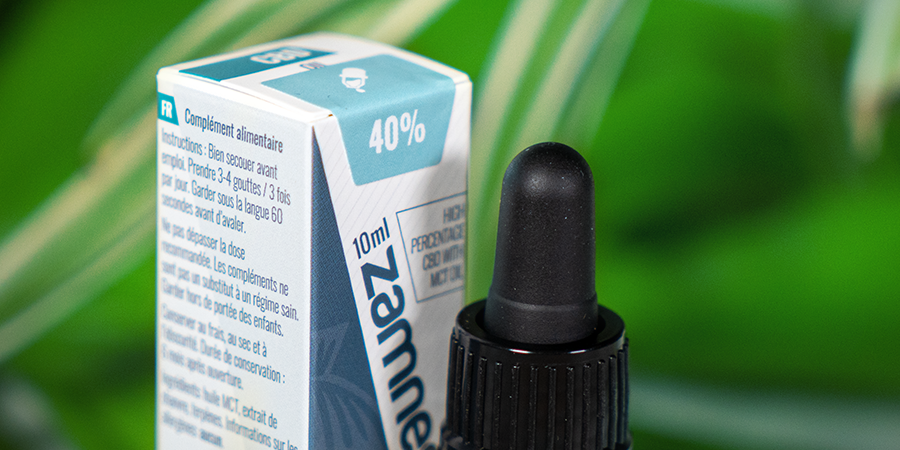 CBD oils have their strength indicated on the bottle. The strength of the product can be listed as a percentage (such as 5%, 30% CBD, etc.) or as the total amount of CBD contained in a bottle (in milligrams).
What the listed percentage means:
Example: A 10ml bottle of CBD oil is labelled as having 5% CBD.
1ml = 1g = 1000mg

5% of 1000mg (1ml) = 50mg of CBD per 1ml

10ml (10 × 1ml) = 500mg of CBD per 10ml
Using the same calculation, 20% CBD equates to 2000mg per 10ml bottle, 30% CBD is 3000mg per bottle, and so on.
Unfortunately, no comprehensive regulations for CBD products exist yet, which means manufacturers may label and market products differently, and sometimes confusingly.
Some vendors may specify percentages for their products, while others indicate the amount per bottle/package. This distinction can be important in regards to dosing: CBD oil in a larger bottle but with the same total amount of CBD as a smaller one is accordingly less strong.
Labelling CBD oils with their percentages, like the CBD oils at Zamnesia, is consumer-friendly because it is less confusing. The percentage indicates the strength of the product regardless of package or bottle size.
What does a higher CBD percentage mean?
A higher CBD percentage in a product means it contains more CBD. More CBD also means lower quantities of a product are needed to achieve a desired effect.
Advantages of High Strength CBD?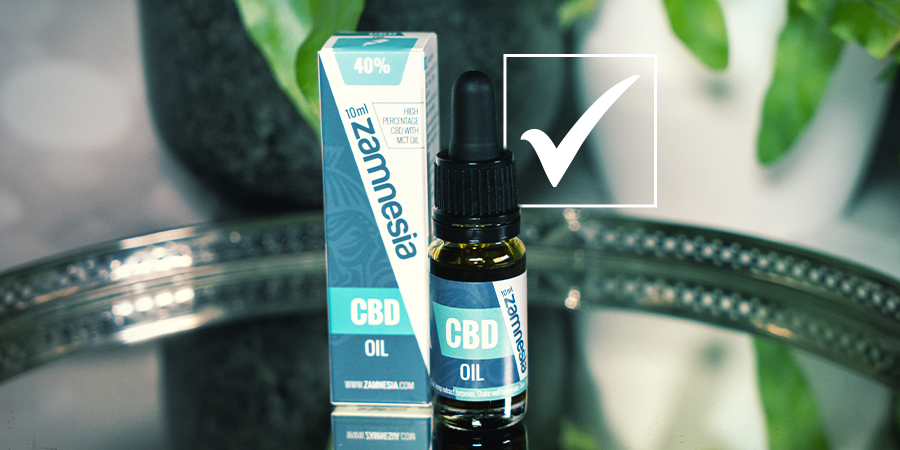 Compared to low percentage CBD oil, high percentage products will last longer.

A bottle of high strength CBD oil is usually cheaper in price when considering CBD content in milligrams.

For users that prefer high CBD doses, high strength CBD oils can be more convenient.
Which Percentage of CBD Is Right for You?
"What CBD percentage is best for me" is one of the most frequently asked questions amongst inexperienced CBD users. However, there isn't a straightforward answer, as the optimal strength depends on a variety of factors.
For those new to CBD, a lower percentage CBD oil will be better for acquainting yourself with the effects of the cannabinoid. On the other hand, more experienced users that have achieved a desired effect from a certain dosage may find a high strength CBD product more convenient and efficient (e.g. needing 1 drop vs 10).
The intended use of the CBD product, such as whether it's being taken orally, used to make edibles, or consumed in a vaporizer, will also factor into your decision.
What Are the Strongest CBD Products Available?
Here is a selection of some of the strongest CBD products you can get at the Zamnesia webshop:
Pure CBD Crystals (99% CBD)
Pure CBD crystals are extracted from EU industrial hemp, then further refined. This is the purest and strongest form of CBD available at Zamnesia. The crystals can be consumed in numerous ways, from oral consumption to vaporizing.
Zamnesia CBD Oil 40% is an ultra-strong (40% CBD = 4000mg per 10ml bottle) CBD oil with an MCT carrier. MCT (medium-chain triglycerides) is a form of saturated fat derived from coconut oil and other fatty foodstuffs. Since 1ml (20 drops) of this high-strength CBD oil contains 400mg of CBD, this means 1 single drop delivers about 20mg of the cannabinoid.
Endoca Hemp Oil Capsules 15% CBD
A single capsule of Endoca Hemp Oil Capsules 15% CBD contains 50mg of the cannabinoid, with hemp seed oil used as the natural carrier. The bottle contains 30 caps, which amounts to 1500mg of CBD. The capsules allow for particularly easy dosing.
What are the strongest CBD products available?
Currently the strongest CBD oils contain 40% CBD. If an even higher concentration is needed, CBD crystals are your best bet. CBD Crystals are a form of CBD isolate and are 99% pure.
Dosing High Percentage CBD Products
The optimal dose for high percentage CBD products depends on various factors. Everyone is different, so the amount you end up consuming could vary significantly from someone else.
What Is the Right CBD Dosage?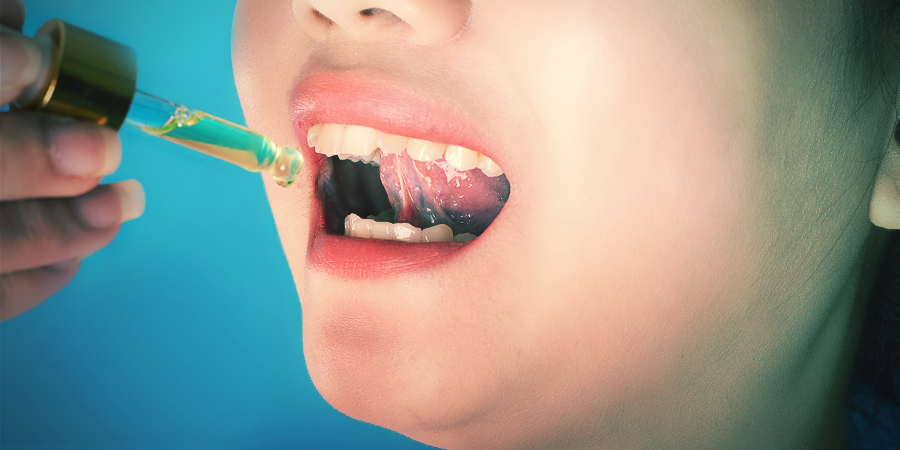 Start Low and Slow
Starting with a low CBD dosage is recommended for those new to the cannabinoid. Proceeding low and slow is also recommended if switching to a new type of CBD product, or if switching the method of intake (edibles vs drops vs vaping, etc.).
It's a good idea to start with about half the manufacturer's recommended dosage, and/or adjust the frequency with which you take it. For instance, rather than taking CBD oil 3–4 times a day, you could dose just twice—once in the morning and once in the evening.
The idea behind starting low and slow is to get your body accustomed to the effects of CBD. Flooding your system with a high amount of CBD right away will make it more difficult to observe the effects of specific doses.
How Much CBD per Drop?
If the label of your CBD oil doesn't specify, know that 20 drops equal about 1ml of liquid. So, if you know that 20 drops (1ml) of a 30% CBD oil contain 300mg of CBD (see calculation further above), 1 drop contains 15mg (300mg/20 drops) of CBD. This will help you keep track of your CBD intake.
Stick to a Dosage Before Increasing
The effects of CBD will likely not show right away. This is why you want to stick to a specific dosage for several (e.g. 3–7) days. This way, you can better observe how you feel, and from here can consider if you need to up your dose. If, after this period, you feel the effects are not what you desire, you can gradually increase your intake.
Again, make sure to stick to this routine each time you change the strength of your CBD, switch products, or change up intake method.
Can You Take Too Much CBD?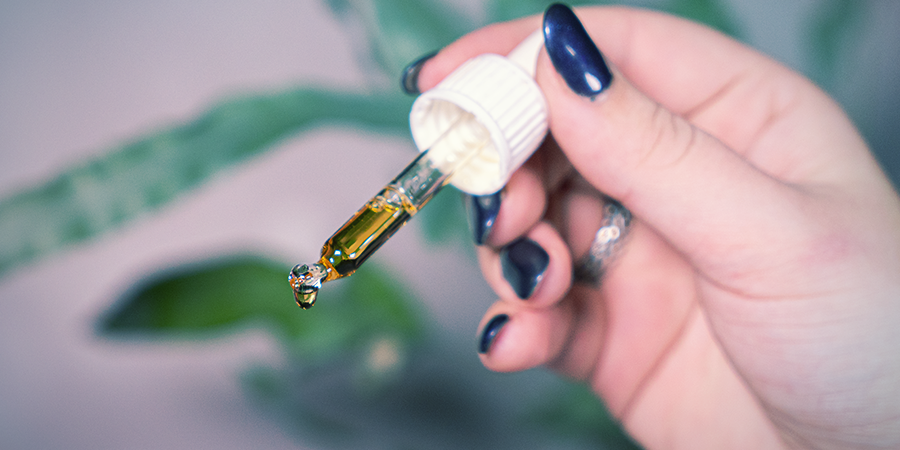 Amongst the most frequently asked questions concerning CBD is whether it's possible to take too much of it. The good news is, there are indications that taking even large amounts doesn't have any serious adverse effects. But, as with any other food supplement, it is still advised to be mindful when dosing.
Studies into the effects of CBD are ongoing, but early clinical research indicates that CBD, even when taken at high doses, is safe.
A 2018 review by the World Health Organization (WHO) found that:
"CBD is generally well tolerated with a good safety profile. Reported adverse effects may be as a result of drug-drug interactions between CBD and patients' existing medications".

"To date, there is no evidence of recreational use of CBD or any public health-related problems associated with the use of pure CBD".

"Evidence from well-controlled human experimental research indicates that CBD is not associated with abuse potential".
Based on this and other scientific literature, there is practically no way to "overdose" on CBD, even with maximum strength CBD products. The cannabinoid is considered safe, and there is no potential for addiction.
But it needs to be said that CBD isn't entirely free of side effects. However, should they occur, these effects are usually minor.
What Happens if You Take CBD Everyday?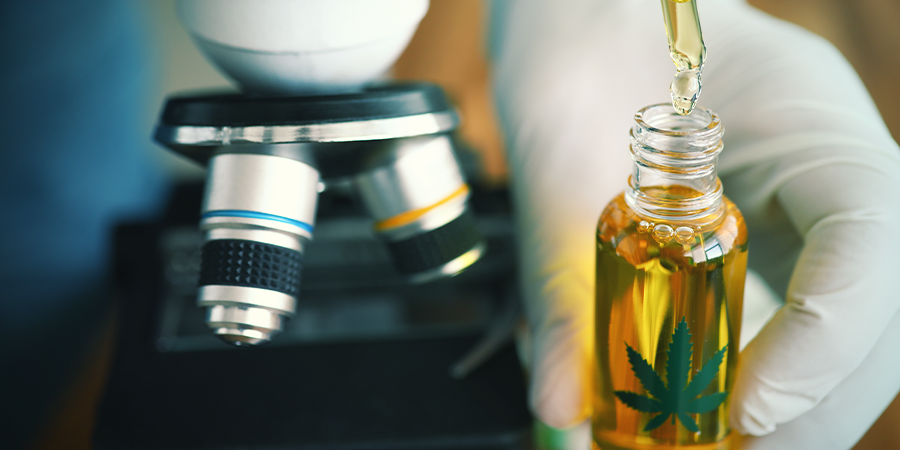 Can one build up a resistance to CBD? No. CBD doesn't interact with CB receptors in the same way as its psychotropic counterpart THC, the cannabinoid that produces a high when consuming marijuana. This essentially means the effect of CBD doesn't become weaker with frequent use.
Reverse Tolerance
There is some indication that taking CBD may even result in a "reverse tolerance". As such, people taking CBD may, after some time, find they can achieve the desired effect with a lower dosage than when they started out.
Effects and Side Effects of High Percentage CBD Products
Consumption of CBD, in particular high strength CBD products, can produce various effects, both physically and mentally. Thankfully, less desired side effects from taking CBD are usually mild and won't last long due to the cannabinoid's short half-life in the body.
What Are the Effects and Side Effects of CBD?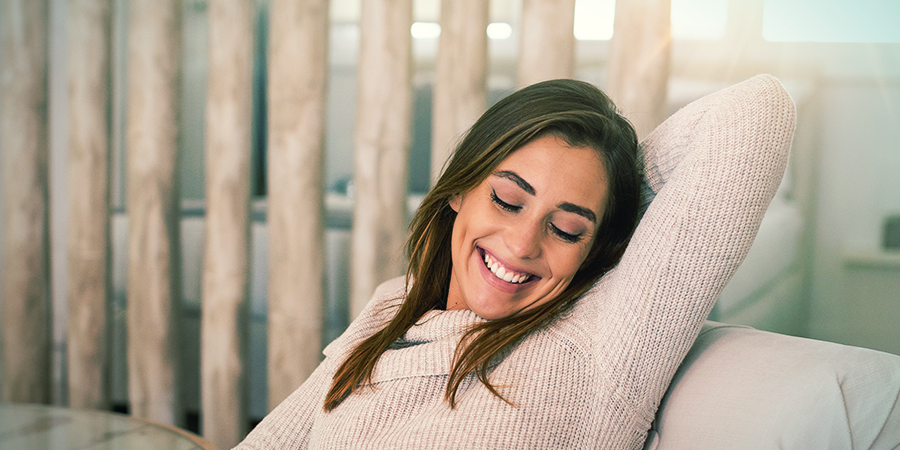 CBD is reported to affect both the body and the mind. Although it does not produce any intoxicating effects, the cannabinoid is believed to have a subtle effect on mood and cognition. However, the specific effects of taking CBD at different doses will vary from person to person.
Regarding side effects, the main issue of concern is that CBD is metabolised by the cytochrome P450 enzyme family—the same family responsible for metabolising most medications. This can, in turn, make certain medications less effective when taking CBD. It is therefore advised to consult a doctor before taking CBD alongside any medication.
Effects of High Percentage CBD Products
Can promote a relaxed mood: CBD doesn't produce psychotropic effects as THC does. Instead, it is reported to have a mild relaxing effect, which, however, may vary from person to person.

Can promote a good night's rest: The soothing effect of CBD is reportedly helpful for achieving better, more restful sleep at night.

Can stimulate the appetite: CBD users report that the cannabinoid promotes a better appetite (quite different from how THC induces the "munchies").

Can provide relief for sensitive skin: With its soothing effect, CBD used as a topical is reported to be beneficial for sensitive skin.

Can help when feeling restless: The relaxing, clear-headed effects of CBD can have a soothing effect when one is feeling nervous or agitated.
Can high CBD products get you high?
No. CBD does not produce a high like THC. CBD simply doesn't bind to the receptors that are responsible for mood and perception altering effects.
Side Effects of High Percentage CBD Products
Side effects can occur in some people when taking high percentage CBD. Whether any of the following effects are experienced depends on dose and frequency of CBD intake, and on individual physiology:
Drowsiness
Fatigue
Upset stomach
Dry mouth
Diarrhoea
Changes in appetite
If you experience any or all of the above side effects when taking high strength CBD products, reducing the dose or frequency may help to avoid them.
How Long Do the Effects of CBD Last?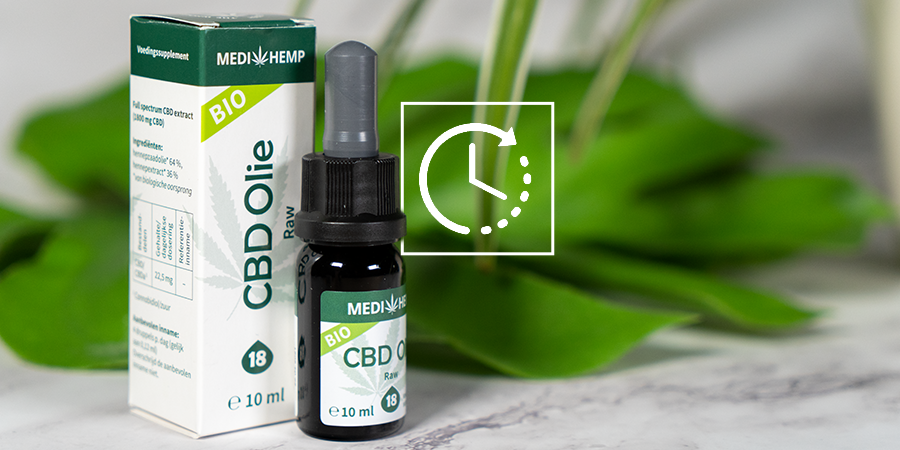 How long the effects of CBD last varies depending on several factors, including how much is being taken and when. For example, the effects will usually be more short-lived if CBD is taken on an empty stomach versus with food. Likewise, some people have a slower or faster metabolism, which will also play a role in how long the effects last. In general, the effects of CBD can last from 2–6 hours.
Can You Get High From CBD?
No, it is not possible to get high from CBD. The cannabinoid isn't psychotropic like THC.
How Long Does CBD Stay in Your System?
How long CBD stays in the system varies depending on factors such as body weight and metabolic rate, which also varies from person to person. Typically, CBD remains in the system for 2–5 days. In some cases, this period may extend into a few weeks.
Which Plants Are Used to Produce High Percentage CBD Products?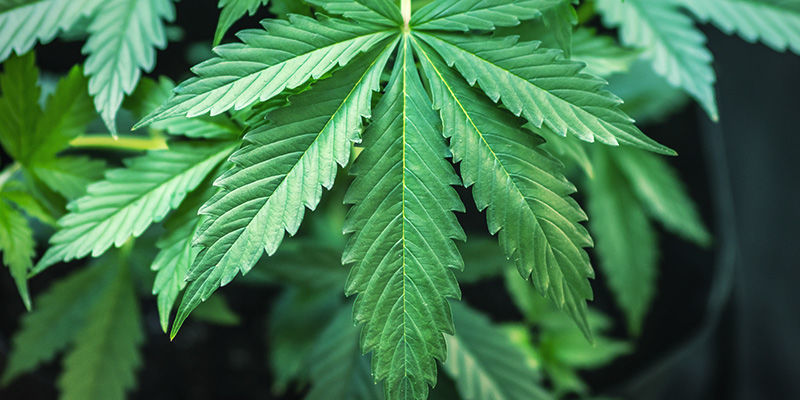 The CBD in high percentage CBD products is typically sourced from industrial hemp plants. Less often, the CBD may also derive from "marijuana" plants (i.e. cannabis with psychotropic properties), from which the THC is removed in a separate process.
Which Cannabis Strains Have the Highest Percentage of CBD?
Here is a short selection of high CBD cannabis strains:
Swiss Dream Rosé Auto CBD (Kannabia)
Swiss Dream Rosé Auto CBD is an indica that brings a whopping 17% CBD content to the table. The strain contains only a minimum amount of THC (<0.6%), so it can be enjoyed without getting high. An awesome CBD ratio and a great blend of earthy and fruity notes!
Kama Kush CBD is an indica-dominant strain that contains no less than 12% CBD, to which she adds a low amount (6%) of THC. She produces a very mild, relaxing high that won't knock you out—perfect for smoking at any time. An easy-growing variety well-suited to new cultivators!
Sweet Pure CBD (Sweet Seeds)
Sweet Pure CBD is Sweet Seeds' very first pure CBD strain. 15% CBD and minimal THC levels (0.4–1%) mean users can enjoy this variety whenever they want. A complex flavour profile makes vaporizing this strain highly enjoyable.
High Percentage CBD Products: Questions & Answers
💪 

What are the strongest CBD products available?

Currently the strongest CBD oils contain 40% CBD, which equals 4000mg per 10ml bottle. If an even higher concentration is needed, CBD crystals are your best bet. CBD Crystals are a form of CBD isolate and are 99% pure.

⬆️ What does a higher CBD percentage mean?

A higher CBD percentage in a product means it contains more CBD. More CBD also means lower quantities of a product are needed to achieve a desired effect.

😵 

Can high CBD products get you high?

No. CBD does not produce a high like THC. CBD simply doesn't bind to the receptors that are responsible for mood and perception altering effects.

🥴 

Does CBD isolate get you high?

No. CBD isolate is a pure form of CBD. It doesn't contain any psychotropic compounds and can't get you high.
---