There's no denying the popularity of CBD products these days. Whether it's a CBD product like a flavourful CBD-rich strain or a topical cream from your local health store, the presence of CBD is well and truly felt in day to day life. With that, it should come as no surprise that CBD capsules have found their way onto the market, becoming as much a part of daily life as "regular" supplements and multivitamins.
But where do you start when looking to begin taking CBD capsules? And what is the difference between the varieties? Here's a short breakdown on everything you need to know before you make that purchase.
What Are CBD Capsules, Tablets, and Softgels?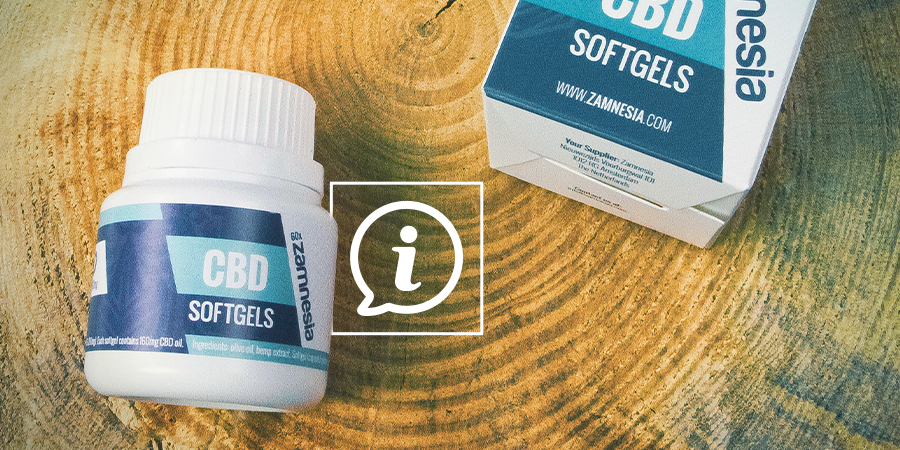 While there are many ways to enjoy a dose of CBD, nothing offers discretion or ease of use like taking a capsule or tablet. But there are some subtle differences between all three options that will no doubt influence a user's choice when it comes to making a purchase.
CBD Capsules
Much like your standard supplement, capsules are a flavourless way to get a dose of CBD for those not keen on the taste. They feature two pieces that come together to hold the substance in question, which is usually a powdered extract and/or CBD paste mixed with a carrier oil. The result is a capsule that offers a modest level of CBD. These capsules can often be found combined with other vitamins to make the most of the formula.
Flavourless
Inexpensive
Ideal for those new to CBD (dose is usually low)
CBD Tablets
Tablets are specifically designed for those looking for an easy way to get their daily dose of CBD. Available in a wide range of flavours, CBD pills melt in your mouth without the need to wash them down with water. Often enriched with vitamin C, tablets forego the distinct taste of CBD, allowing for a comfortable way to dose, especially for those who have difficulties swallowing regular tablets or capsules.
Masks the flavour of CBD
Easy to take
Combined with other vitamins
CBD Softgels
Softgels are a smaller and more potent way to ingest CBD. Unlike capsules, which are formed of two parts, softgels contain highly concentrated CBD oil that has been sealed into an airtight pod. This pod is usually made from animal gelatine. But for those conscious of this, there are vegan and vegetarians options available. Due to their small size, CBD softgels are easy to swallow and make dosing simple to keep track of.
Various carrier oils can be used in the CBD softgel capsules, but olive oil, MCT, and hemp oil are the most popular. Despite being flavourless, CBD gels often contain terpenes to enhance the benefits of the CBD.
Flavourless
Easy to swallow
Available in many concentrations
Contain terpenes and nutritious carrier oils
As with anything, the choice of capsules, tablets, or softgels is entirely down to personal preference. Some will prefer a flavourful tablet coupled with vitamins, whereas others will prefer the easy, discreet, on the go style of CBD softgels.
What Are the Benefits of Taking CBD Capsules?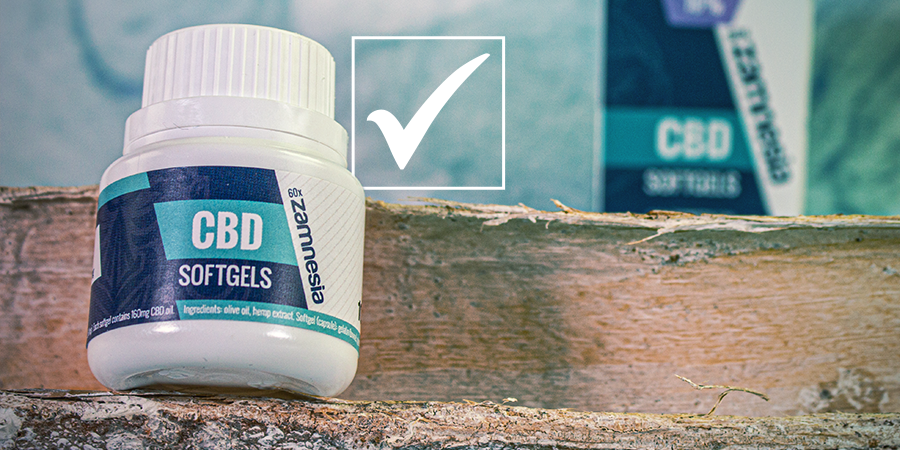 Convenience is key when it comes to taking CBD capsules. This in itself should be noted as a highly desirable benefit that many other methods of CBD ingestion simply do not have. As mentioned, it's not unusual to see CBD capsules taken alongside daily vitamins and supplements.
Discretion also plays a major part; smoking or vaping a CBD cannabis strain will obviously still have a strong odour and taste, whereas taking capsules on the go won't raise a single eyebrow. Softgels could even be mistaken for cod-liver tablets, adding to the discreet nature of CBD capsules.
The sheer variety of CBD concentrations in capsules makes them ideal for users of all experience levels. Purchasing low-strength CBD capsules will help you become acquainted with the cannabinoid, allowing you the option to increase potency should you wish to.
The use of capsules is arguably the most effective way to introduce CBD to the endocannabinoid system. However, some key factors will influence this, such as weight, composition of the capsule, and the metabolic rate of your body. Unlike THC cannabis products, CBD does not produce a high, and thus the effects are not as prominent. That's not to say the potential benefits aren't there, but they may be less noticeable.
Why Take CBD Capsules Instead of CBD Oil?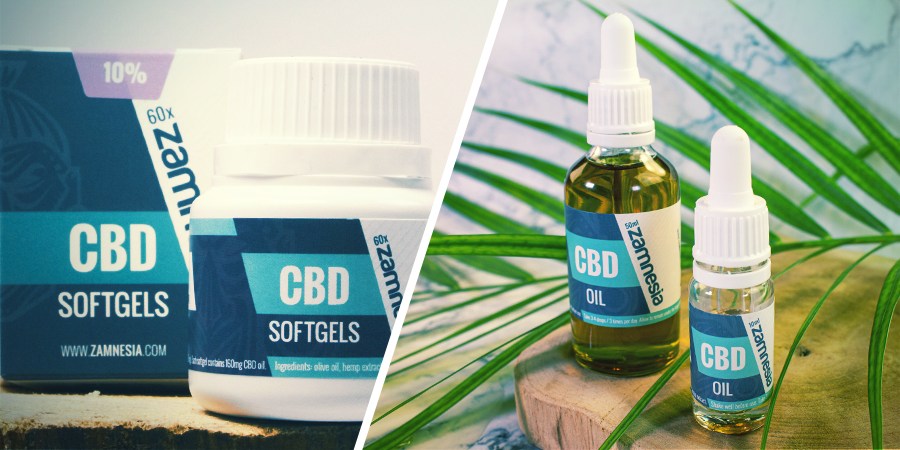 Preference always takes precedence with anything in life, and there are plenty of reasons to opt for capsules compared to CBD oil. The first being portability and discretion. Taking out a dropper at work or on your daily commute might stir a bit of interest. With capsules, this issue is a worry of the past. Taking medication or supplements is certainly not going to turn any heads.
Being able to keep track of dosing is also helpful, as capsules contain predetermined levels of CBD. Misjudging amounts with a dropper is commonplace. While there are no detrimental effects of ingesting a bit too much CBD, those keeping track of dosage may want to stick with capsules for this very reason.
As mentioned, CBD capsules forego the somewhat acquired taste that the oil has. CBD oil has to be held in the mouth momentarily before swallowing, whereas capsules can be swallowed immediately. Although the taste of CBD oil can be countered by adding it to food or drink, neither will replace the convenience of a capsule.
Dosing CBD Capsules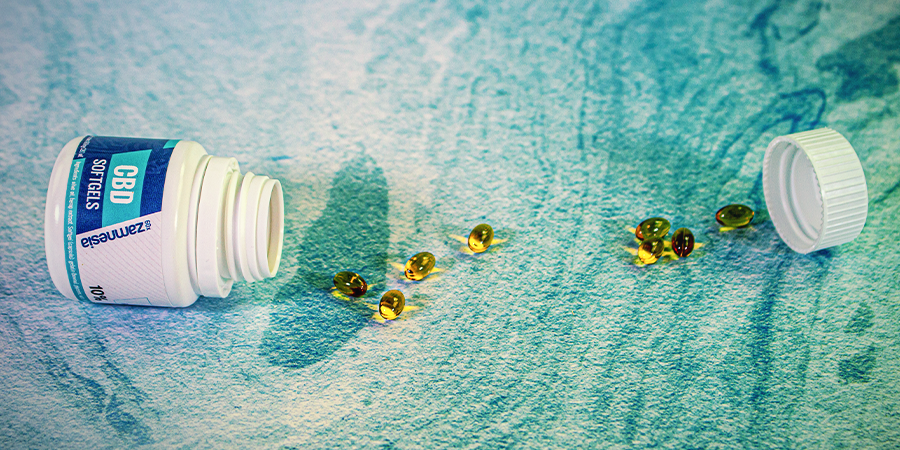 While it may initially seem like a confusing prospect, dosing CBD capsules is actually fairly straightforward. There are a few areas to consider, such as strength (concentration) and how many to take per day, but with a few pointers, you'll be ready to make an informed decision in no time. However, you should always consult your doctor if you have any health questions related to CBD.
What Strength CBD Capsules Should You Take?
This is the number one question for those looking to start taking CBD capsules. Whether you've taken CBD in the past or are brand new to it, as a rule of thumb, you should try the lower-strength capsules to begin with. This is for a few reasons: CBD's effectiveness is related to body weight, chemistry, as well as metabolic rate. Taking a low-strength dose will allow you to note any potential benefits or effects. After this, you'll be able to increase the strength as you see fit.
How Many CBD Capsules or Tablets Should You Take a Day?
Now that you've decided on the strength, the next decision is how many CBD capsules to take per day. Each bottle will have its own guidelines on the quantity that should be ingested daily, however, once again, less is the best way to start out.
Taking one tablet or capsule a day for around two weeks will give you time to note any effects and potential benefits. This is especially helpful if this is your first time using CBD, as every user will have their own experience. After a period of two weeks, you can look to increase the dosage to up to three times a day.
What Is the Best Time to Take CBD Capsules or Tablets?
Because of the nature of CBD capsules, many users take them in the morning after breakfast alongside their other daily vitamins and supplements. This is ideal for those heading out to work, and, more importantly, it's easy to remember to do. If you decide to increase to three capsules per day, these can be spaced out to any time that suits your schedule. However, it may be best to follow the pattern of breakfast, lunch, and dinner to ensure you're taking your capsules with food.
Can the Capsules Be Taken on an Empty Stomach?
While you can technically take CBD on an empty stomach, it is often not an advisable way to do so. Eating a meal before will heighten the effectiveness of CBD as it will be absorbed quicker into the body. While taking CBD without food will have no overtly negative effects on the body, some users have reported feelings of nausea and even diarrhoea as side effects. So, treating CBD capsules like any other supplement, and getting into a routine of taking it with food, should prevent any potential side effects.
The Efficacy of CBD Capsules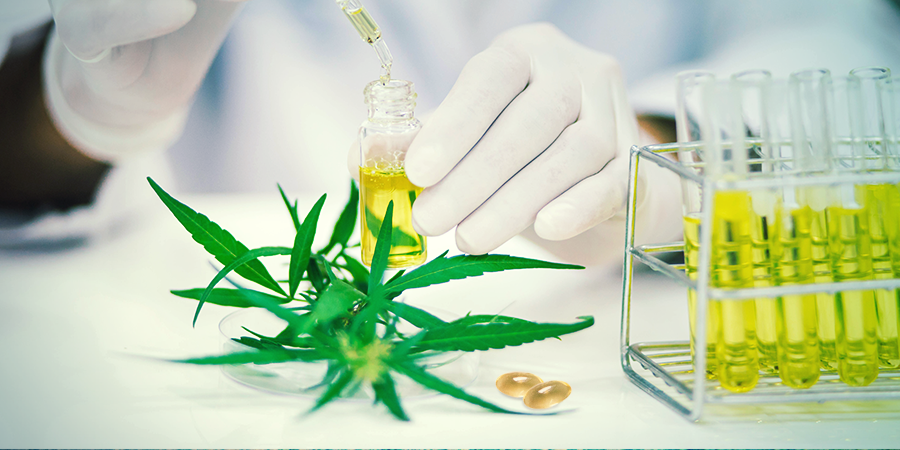 The effectiveness of CBD capsules will vary strongly from person to person. The scientific research behind CBD is still very much in its infancy, and those expecting a "quick fix" or looking to address issues such as mental health or managing a chronic illness will likely not find it with CBD capsules. However, there are no doubt potential benefits to be had.
How Long Does It Take for CBD Oil Capsules to Take Effect?
It will take roughly an hour or more for CBD capsules to make any impact. Unlike THC-rich cannabis edibles, many users won't feel very noticeable effects when taking CBD capsules. Again, this can vary from person to person. While you may not feel any notable difference, it's the endocannabinoid system that will be doing the work behind the scenes.
How Do You Know if CBD Capsules or Tablets Are Working for You?
With any medicine or supplement, it is important to set a baseline for how you are feeling before taking it. Forming this baseline will allow you to make note of any potential changes or benefits when taking CBD capsules.
Think of it this way; what were the minor things bothering you before taking CBD? Compare this to how you feel after you've taken your capsule and observe any changes. Whether this is a physical record or just something you notice in yourself, this is easily the best way to follow the progress of how CBD is potentially benefitting you.
Do CBD Pills and Capsules Make You Sleepy?
Unlike your favourite THC-laden cannabis strains and edibles, CBD capsules do not have any couch-locking properties or even the ability to make you sleepy. This makes them perfect for those looking to take them first thing in the morning or at work.
Tasks such as commuting, driving, and operating machinery can all be accomplished when using CBD capsules. They are non-drowsy and are ideal for any time of day. However, there are some users who claim CBD has had a beneficial effect on their sleep function, allowing them to fall asleep quicker in the evenings. This is not to say that everyone will have the same benefit, but it is worth noting.
Interaction of CBD Capsules With Drug Tests and Medication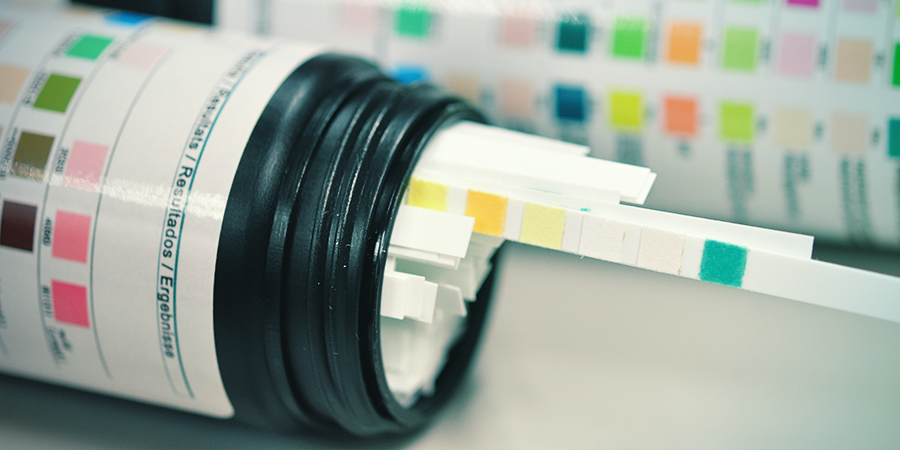 These factors are obviously a concern for those wondering how CBD will impact their everyday life. While CBD doesn't adversely affect a user's work itself, some worry about potential implications regarding workplace drug tests and the impact that could potentially have on their careers.
Can Taking CBD Capsules Cause a Positive Drug Test?
As a rule of thumb, CBD will not appear on a drug test. However, some factors will affect this. CBD products from Zamnesia come from hemp and are made with industry-leading extraction methods, so there is no risk of adverse levels of THC. This will guarantee a clear drug test should one be taken.
Other companies may not share the same due diligence when it comes to crafting their CBD products, resulting in THC concentrations that could cause a positive drug test. So always keep a lookout for the highest-quality CBD capsules, and you're sure to be OK regarding this.
Can CBD Capsules Be Taken With Other Medications?
Unfortunately, there's no guarantee when it comes to taking CBD capsules alongside other medication, as medication is a broad term. It would be best to consult your doctor if you're considering taking CBD capsules alongside a current prescription. They will certainly be able to offer guidance and a medical opinion.
How, and for How Long, Can You Store CBD Capsules?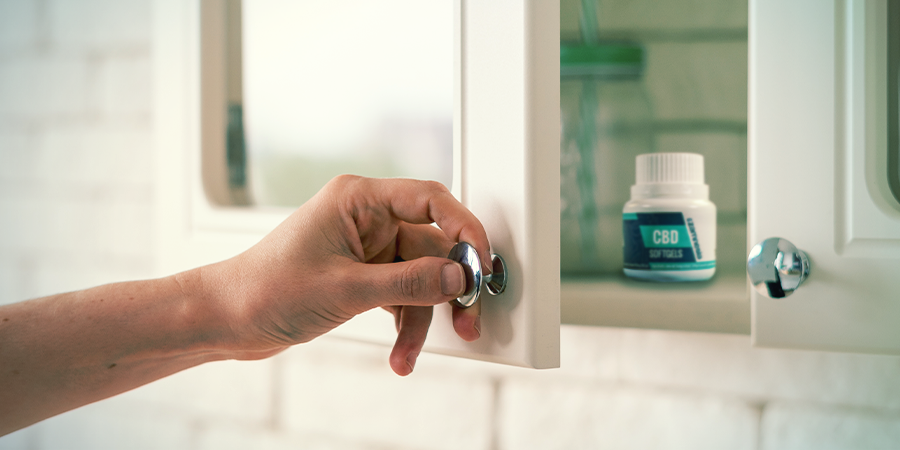 CBD capsules are easy to store as they come in sealed packaging and only require a cool, dark place such as a cupboard to be stored in. This will ensure they are not affected by humidity and moisture, guaranteeing the last capsule taken has the same freshness and potency as the very first one.
In terms of how long you can store them for, all bottles of capsules will have an expiry date. This is usually anywhere between 12 and 24 months. So keep an eye on the expiration date, and you simply can't go wrong.
So, What Are the Best CBD Capsules?
There is no clear winner when it comes to choosing which CBD capsule is best for you. One user may find plenty of potential benefits of using softgel capsules, whereas another may not notice any difference. The best CBD capsule for you will rely on the numerous factors we've touched upon, as well as your own preference. But one thing can be agreed upon; start with a lower dose and build up from there.
However, something we can be confident about is the premium quality that all Zamnesia CBD capsules offer. Our products are derived from naturally grown EU hemp and processed using supercritical CO₂ extraction. So, whether you decide on capsules, tablets, or softgels, Zamnesia has got you covered time and time again.
---