What is CBD oil?
CBD is one of the dozens of organic compounds found in the Cannabis sativa species. Referred to as phytocannabinoids, what makes these particular compounds unique is the way they influence the human body when smoked, vaped, or ingested.
However, it isn't just cannabidiol (CBD) that exists in cannabis and hemp. By carefully extracting other cannabinoids alongside CBD, it's possible to harness their capabilities and infuse them into oils, capsules, topicals, and more.
Examples of other cannabinoids:
Tetrahydrocannabinol (THC)
Cannabigerol (CBG)
Cannabichromene (CBC)
Cannabinol (CBN)
Tetrahydrocannabinolic acid (THCA)
Cannabigerolic acid (CBGA)
These cannabinoids are then added to a carrier oil such as olive or hemp seed oil to create CBD oil, a supplement that, according to research, may have a beneficial impact on our well-being.
CBD is one of the many beneficial compounds in hemp. It is carefully isolated and added to a carrier oil, such as hemp seed oil, to create CBD oil.
CBD oil is a non-toxic way to enjoy the influence of cannabinoids. Unfortunately, given the compound's close links to recreational cannabis, or marijuana, some users are sceptical about the safety of CBD oil. The key to understanding and benefiting from CBD oil is knowing how it's made and the best way to consume it.
OILS THAT ARE SIMILAR TO CBD OIL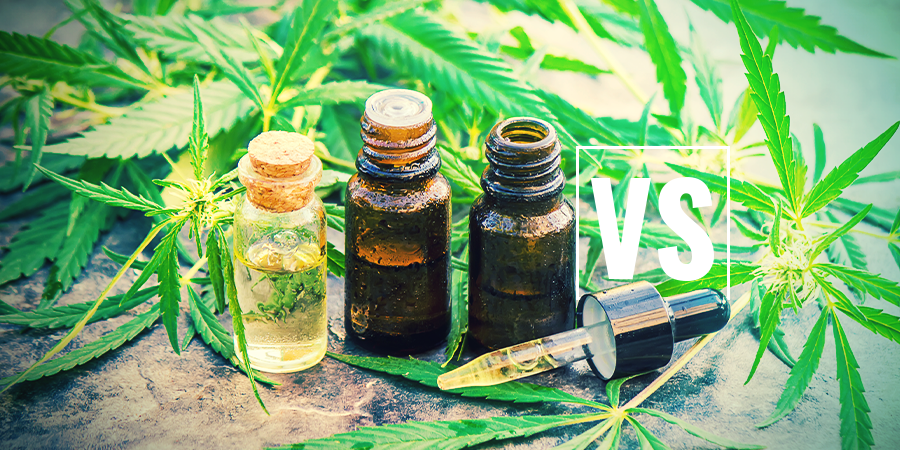 The first hurdle for most buyers is distinguishing between the different types of oils produced from Cannabis sativa.
CBD OIL VS CANNABIS OIL
CBD oil is almost exclusively made from hemp, a plant naturally high in CBD and low in THC. By starting the extraction process with a plant naturally low in THC, it's easier to produce full-spectrum CBD oils while keeping THC levels at trace amounts.
Cannabis oil, on the other hand, is derived solely from strains of marijuana. While these will contain some CBD, levels of THC will be significantly higher. As a result, cannabis oil will induce a high, whereas CBD oil will not.
Does CBD oil get you high?
The hemp plant, our source of CBD, contains extremely low levels of THC, a characteristic that translates to the CBD oil as well. CBD oil contains virtually no THC, so it will not make you high.
For well-being, CBD oil is a superior option. Not only because of its extensive influence, but because of its lack of psychotropic side effects.
CBD OIL AND HEMP OIL DIFFERENCES
Another common source of confusion is the difference between CBD oil and hemp oil. CBD oil is produced by extracting cannabinoids from the flowers and leaves of mature hemp parts. By using highly sophisticated methods, laboratories can isolate specific cannabinoids and terpenes, before this full-spectrum blend is added to a carrier oil.
Hemp oil is also derived from hemp, but solely from the seeds, not the flowers or leaves. The hemp seeds are instead cold-pressed, producing a nutty-tasting oil. Hemp seeds do not contain any cannabinoids, and hemp seed oil will not influence your body in the same way as CBD oil.
There are several types of Cannabis sativa-derived oils to choose from, and it's easy to confuse them. If you're ever unsure, ask companies for independent test results so you can verify the product's exact contents.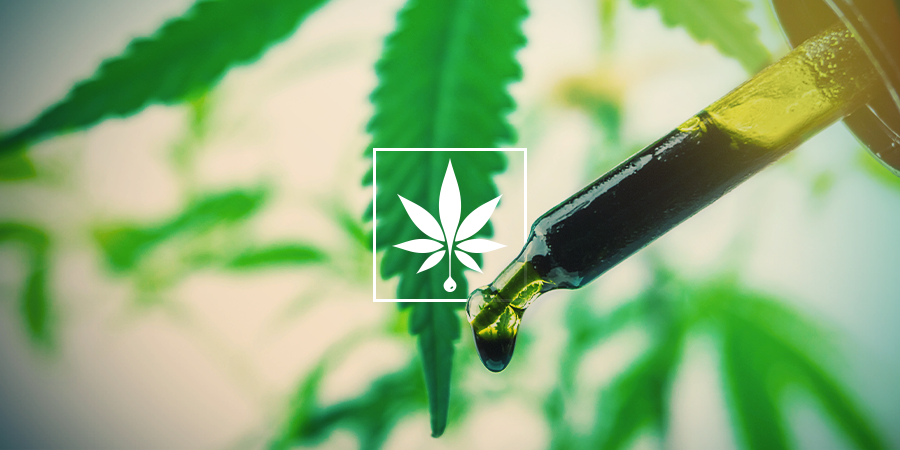 Before deciding to take CBD oil, it helps to understand how companies produce it.
The first stage of production involves carefully extracting cannabinoids from raw plant material. This is achieved using a variety of methods, but they are not all equal. There are distinct advantages and disadvantages to specific methods of extraction, and not all are viable for commercial application.
ETHANOL EXTRACTION
Ethanol extraction utilises the binding properties of alcohol. The solvent is mixed with plant material, effectively stripping out essential compounds such as cannabinoids. The solvent is then evaporated to leave behind an extract laden with cannabinoids and terpenes.
While solvent extraction is favoured for its low cost and good scalability, there are several disadvantages. Solvent extraction isn't as precise as other extraction methods. And, although it may pull cannabinoids from the plant material, it also strips out unwanted compounds such as chlorophyll.
There is also a risk of traces of ethanol being left behind, potentially contaminating the final product. Post-extraction filtration does mitigate some of these disadvantages, but even this process can inadvertently destroy more volatile cannabinoids and terpenes—lowering the overall quality of the resulting CBD oil.
HYDROCARBON EXTRACTION
Hydrocarbon extraction is not very common, and for good reason. It uses a principle similar to solvent extraction, but is far less efficient at isolating cannabinoids and terpenes. CBD oils produced using hydrocarbon extraction are typically low-quality, containing very little CBD. There's also the risk of residual hydrocarbon solvent. This solution is dangerous when consumed.
OIL EXTRACTION
Although oil is usually added to CBD after extraction, you can skip a stage of production by using olive oil from the outset. Decarboxylated plant material is added to olive oil and heated slowly for several hours. Because cannabinoids are liposoluble, they naturally bind with olive oil. Once the mixture is filtered and strained, what remains is cannabinoid-infused olive oil.
However, oil extraction is not very precise. The exact ratio of cannabinoids retained is incredibly difficult to control, and CBD oils are poorly concentrated as a result. Because of its inefficiency, oil extraction is more suited to domestic CBD oil production.
SUPERCRITICAL CO₂ EXTRACTION
Supercritical CO₂ may require sophisticated machinery and significant expense, but its efficacy far outweighs the extraction methods listed above.
CO₂ is a natural gas that exists all around us. However, if you subject CO₂ to the right heat and pressure conditions (in a controlled chamber), you can turn it supercritical, where it displays properties of both a gas and a liquid.
Supercritical CO₂ is passed over plant material, and just like the other extraction methods, it removes and retains essential cannabinoids and terpenes. The difference with CO₂ extraction is the post-processing stage. By slowly returning supercritical CO₂ to its natural state, you can condense and collect virtually all cannabinoids and terpenes without destroying them. Plus, there is zero solvent left behind in the end product.
CBD oil produced using supercritical CO₂ extraction is not only incredibly pure, but safe too. And, thanks to the level of precision, it's possible to include a diverse range of compounds without compromising the end product with harmful levels of THC.
WHAT ARE THE DIFFERENCES BETWEEN CARRIER OILS?
Now that we know how to extract CBD, it's time to explore another crucial stage—infusion with a carrier oil.
CBD is hydrophobic, which means the human body has a hard time absorbing it. To improve absorption rates, and to provide some secondary benefits, CBD is infused with the carrier oils listed below.
HEMP SEED OIL
Hemp seed oil is an excellent carrier for CBD because of its high nutritional value. Hemp seed oil is naturally rich in antioxidants, plant protein, and omega fatty acids 3 & 6. Combined with CBD, hemp seed oil can have a range of benefits.
That's not to say it's superior to other types of CBD oil, but whether or not hemp seed oil is the best option for you will depend on your lifestyle and individual needs.
OLIVE OIL
Olive oil is among the most common carrier oils used in CBD oil production. Not only is it tasty, but it's packed with monounsaturated fats and antioxidants. Potential allergies to olive oil are also rare, making it a safe choice. In short, it's the ideal carrier oil for CBD and won't disrupt the natural harmony of cannabinoids and terpenes.
LIPOSOMAL OILS
Liposomal CBD oils are up to four times more effective than traditional CBD oils thanks to pharmaceutical-grade liposomes. These microscopic vesicles protect essential compounds as they travel through the human body. In this case, CBD is carefully inserted inside the liposomes, allowing the cannabinoid to move through the digestive system undisturbed.
Because higher concentrations of active CBD reach their target area (the bloodstream), the effects of liposomal CBD oils have a quicker onset, while also being more pronounced.
However, there is a caveat to its improved characteristics: the unique liposomal formula includes alcohol.
OTHER OILS
Due to the versatility of CBD, it's easily added to a variety of carrier oils. Below are some other examples.
Sunflower; Safe to consume and available in large quantities, sunflower oil is already used extensively throughout the food and cosmetics industries.
Avocado; Pressed from the fruit, avocado oil is a prime source of oleic acid and lutein, a potent antioxidant.
Grapeseed; Grapeseed is another carrier oil that's already widely used in food products. It also has a light taste, and won't disrupt CBD's effects.
Pomegranate; Pomegranate oil has abundant levels of vitamins A, B, D and E.
MCT; The most common source of MCT oil is coconut oil. Also known as medium-chain triglycerides, it's favoured because of its digestibility.
FULL SPECTRUM CBD OIL VS ISOLATE: WHAT IS THE ADVANTAGE OF FULL SPECTRUM?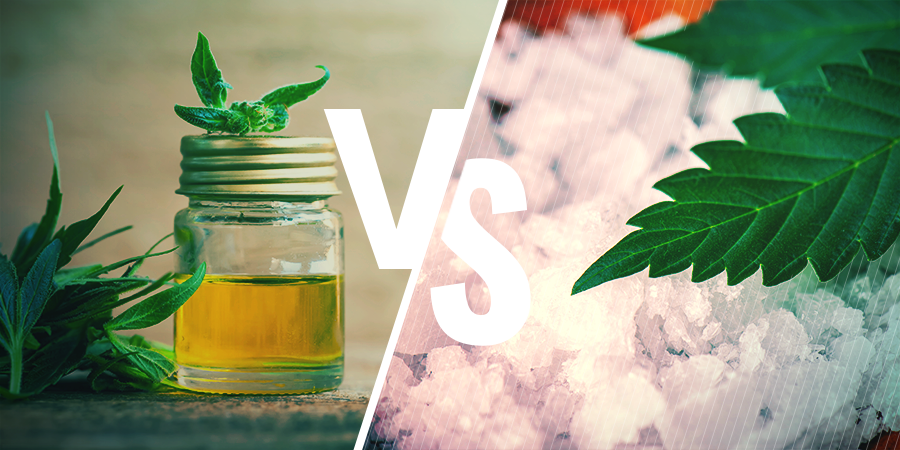 CBD is one of dozens of different phytocannabinoids, and that number doesn't include the smaller compounds such as terpenes and flavonoids also found in hemp. While CBD is regarded as the most crucial cannabinoid for well-being, the benefits of adding a full spectrum of compounds should not be overlooked.
When cannabinoids, terpenes, and flavonoids exist together, their respective attributes are enhanced. This phenomenon—known as the entourage effect—can further improve the impact of these phytochemicals on the human body.
Research suggests that full-spectrum CBD oils have a more significant impact than CBD taken in isolation. And, as you increase the dose, the effects of full-spectrum extracts continue to build. Unfortunately, the same cannot be said for CBD isolate. Its effects appear to diminish, and "a therapeutic response could only be achieved at a certain concentration".
HOW DO YOU USE CBD OIL?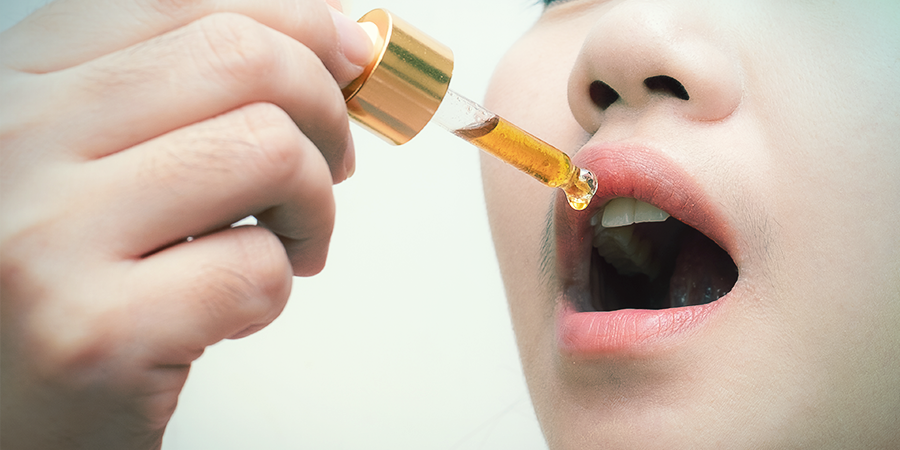 CBD oil can easily become a part of one's daily routine. The key is finding an administration method that suits your needs and lifestyle.
CBD oil can be taken sublingually (dropped under the tongue) or orally (added to food or drinks).
SUBLINGUAL
Sublingual administration allows CBD direct access to the bloodstream thanks to tiny capillaries under the tongue and in the cheek. Several drops of CBD oil should be placed under the tongue and held for 60 seconds. Because the cannabinoid no longer has to contend with the digestive system, effects are more pronounced and have a quicker onset.
ORAL
Consuming CBD oil orally is simple, with many users choosing to add a few drops to food or drink. You will have to wait for your body to process the CBD oil, but in most cases you'll feel the effects within 40–60 minutes. The main benefit of oral consumption is that the impact of the CBD oil lasts longer.
CAN YOU VAPE CBD OIL?
It is crucial to note that CBD oil is not suitable for vaping. CBD oil uses a crude oil base, such as olive or hemp oil, as a carrier. Vaping crude oil can lead to harmful compounds in vapour. CBD oil is often confused with CBD vape liquid, also known as CBD vape juice, CBD vape oil or CBD e-liquid. These products are made using carriers such as MCT oil, vegetable glycerine or propylene glycol, which are okay to vape.
NEVER vape CBD oils. Because of the crude oil base inherent to CBD oils, vaping them may release harmful compounds.
WHAT IS THE CORRECT DOSE OF CBD OIL?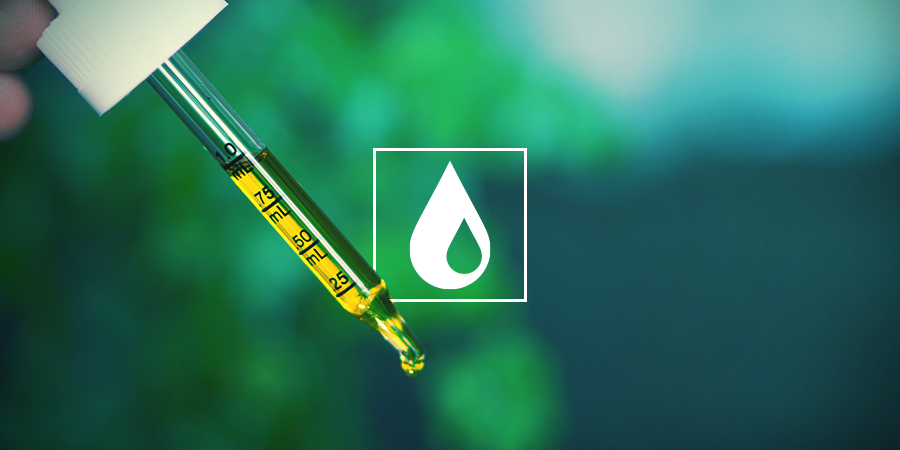 There is no ideal dose of CBD oil. Many manufacturers publish a recommendation, but these guidelines are merely suggestions. The concentration and frequency of your CBD oil regime is dependent on factors such as:
reason for taking CBD oil
metabolism
body fat (%)
concentration of CBD oil
If you're new to CBD oil, you should start with a low dose and only increase the frequency and dose once you've given your body a few days to become accustomed to its effects. In most cases, less is often more, so it's beneficial to take your CBD experience at a steady pace.
What Are the Effects of CBD Oil?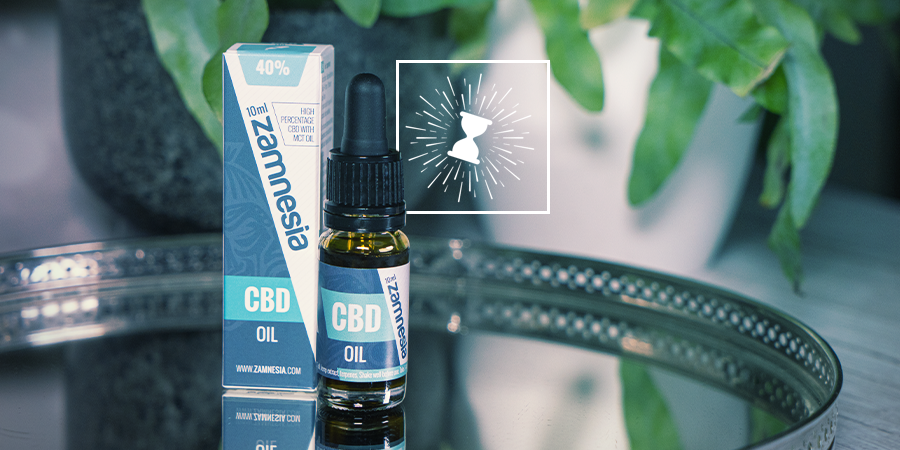 A quick search online will bring up numerous results regarding the potential benefits of CBD oil. From personal testimonials to product reviews, the information surrounding this cannabinoid is plentiful and certainly easy to find. However, it is important to remember that each person's experience with CBD will differ greatly from the next. That's not to say there are not benefits to be found, but those looking for a "quick fix" for certain ailments should not approach CBD oil with a view to improving or curing them.
Overall, it is important to form a baseline of how you're feeling before, during, and after taking CBD. Make note of any potential changes in yourself, and if something that was bothering you prior to taking CBD is no longer a presence, keep track of how you feel.
But what types of potential effects should you be on the lookout for? You'd be surprised just how CBD oil interacts with your endocannabinoid system. Let's take a look.
CBD Oil Has a Soothing Effect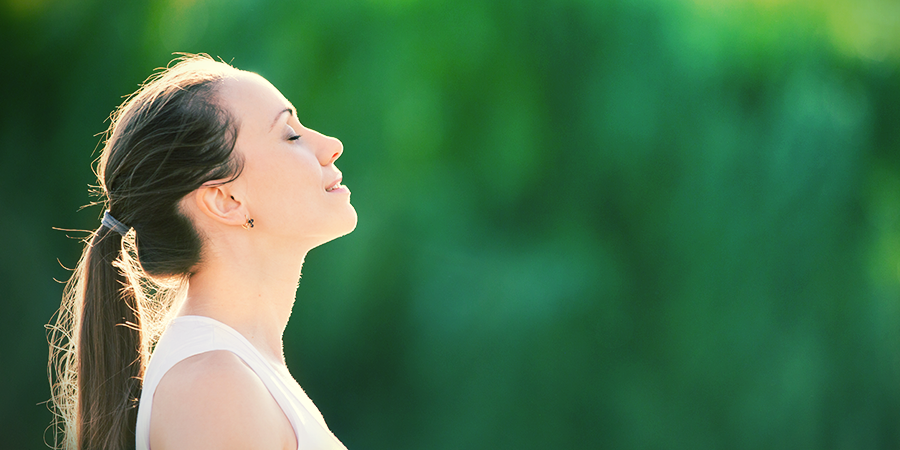 One potential benefit of CBD is its soothing effect on the body. While this is still an area undergoing intensive research, studies have noted that receptors of the endocannabinoid system can communicate with areas of the brain that monitor discomfort. By following the rule of creating a baseline, it is possible to notice any potential soothing qualities as you use CBD for an extended period.
CBD Oil Could Boost Your Mood
This is another area of research that is being followed with a keen eye. While studies are still in their infancy regarding the effects CBD has on psychological conditions, some users have stated a significant positive impact when feeling low. More and more, there are anecdotal perspectives on the effectiveness of CBD oil for the improvement of mood. As mentioned, each user will have a different experience, so it cannot be followed as gospel.
CBD Oil Can Help You Relax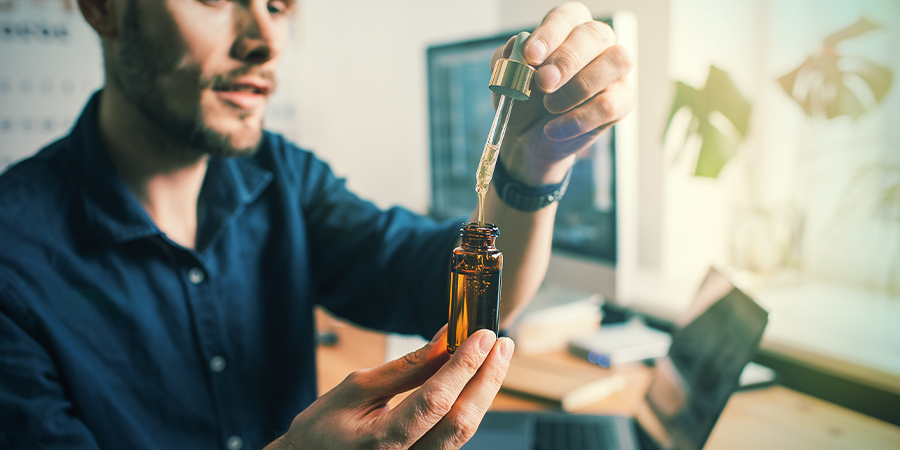 While sometimes we turn to an indica-dominant cannabis strain when looking to unwind, many are now substituting high-THC products for CBD oil. This is due to an increase in testimonials stating that CBD has a positive effect when looking to soothe the nerves in times of tension and pressure. Because of its non-psychotropic properties, users can ingest CBD oil whenever necessary, including at work, and it will not negatively affect performance.
CBD Oil May Support/Cleanse the Skin
The presence of CBD oil can definitely be felt in day to day life, with the cannabinoid even appearing as a key ingredient in skincare products that can be bought from local health shops and grocery stores. But is it just a fad? Or does CBD have the capability to support and cleanse the skin? Research has even been carried out on CBD's effectiveness for certain skin conditions. While this is still very much in the early stages, the few trials that have been conducted produced encouraging results.
CBD Can Be Beneficial to Blood Pressure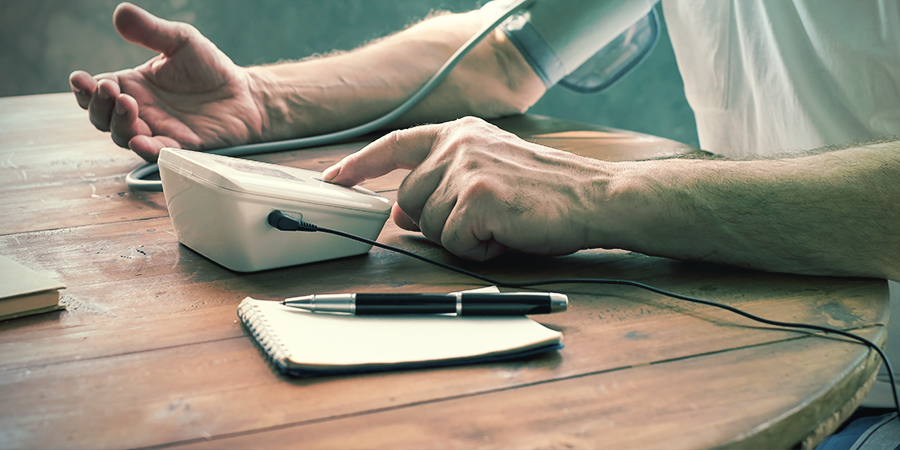 As research continues, there will undoubtedly be applications for CBD that could be beneficial to blood pressure. A small clinical study conducted in 2017 by JCI Insight showed that CBD held some ability to prevent fluctuations in blood pressure in times of tension. The participants involved were noted to have a lower blood pressure than those administered with a placebo. Of course, this is an isolated case study, and more research is needed to confirm and expound upon these findings.
CBD Can Promote Sleep Readiness
As mentioned, many of those keen on indica-dominant strains are now changing their ways to try CBD as a potential way to relax. There are plenty of first-hand testimonials, including on subreddits such as r/CBD, that claim CBD oil has a beneficial effect on sleep function. In some small trials, participants noted that CBD oil did have a relaxing effect. Out of 72 adults, 66.7% claimed it promoted sleep-readiness. As with all the potential effects of CBD, each person's experience will be different from the next. Again, the best way to note any benefits is to form a baseline, as this will give you the best idea of whether you're experiencing changes in your daily life after taking CBD oil.
HOW LONG DO THE EFFECTS OF CBD OIL LAST?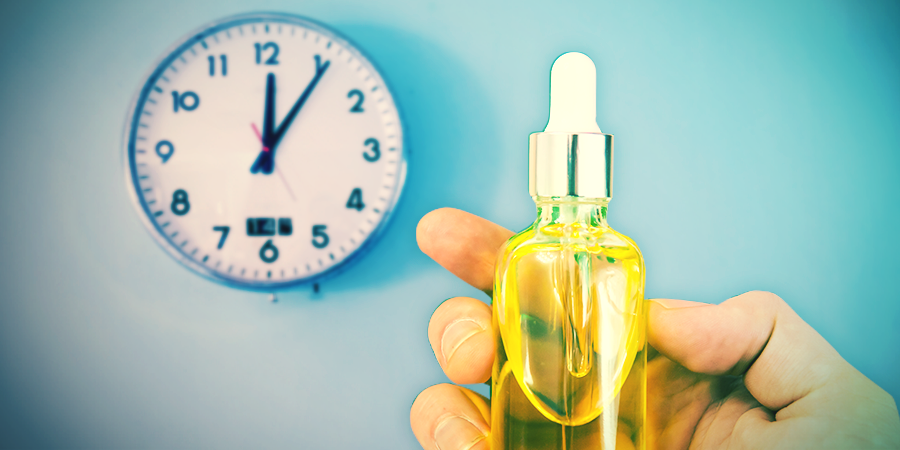 Again, the exact duration of CBD oil's effects varies significantly. Sublingually consumed CBD oil will take effect quickly, but may only last a few hours. It's possible to extend the duration of its impact by consuming CBD oil with food, but there isn't a fixed amount of time its effects will last.
The best approach is to use the recommendations provided by manufacturers as a baseline, and increase or decrease accordingly. Once you are used to the effects of CBD oil, you can tailor how and when you consume it to provide the greatest impact to you.
WHAT IS THE SHELF-LIFE OF CBD OIL?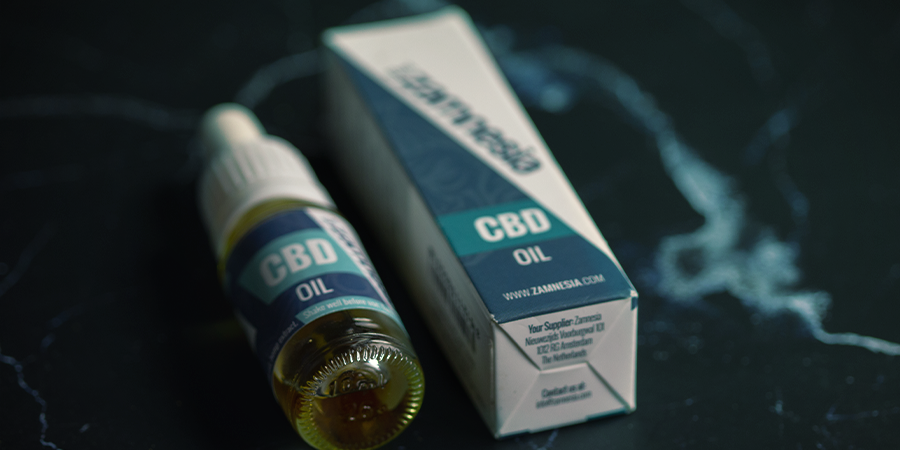 CBD oil is a perishable product and will deteriorate over time. That being said, most CBD oils have a best-before date of several months, provided they are stored correctly. Most producers will print specific guidance either directly on the bottle or the CBD oil packaging.
BEST WAY TO STORE CBD OIL
To preserve the integrity of your CBD oil, you should store it in a cool, dark, and dry place. Even though CBD is infused with a carrier oil, it's still susceptible to degradation via direct sunlight or exposure to the atmosphere.
The most straightforward place to store CBD oil is in your refrigerator. The cold temperature will help preserve the active ingredients, but ensure you shake the bottle well before each use to maintain an even consistency.
DOES CBD OIL HAVE ANY SIDE EFFECTS?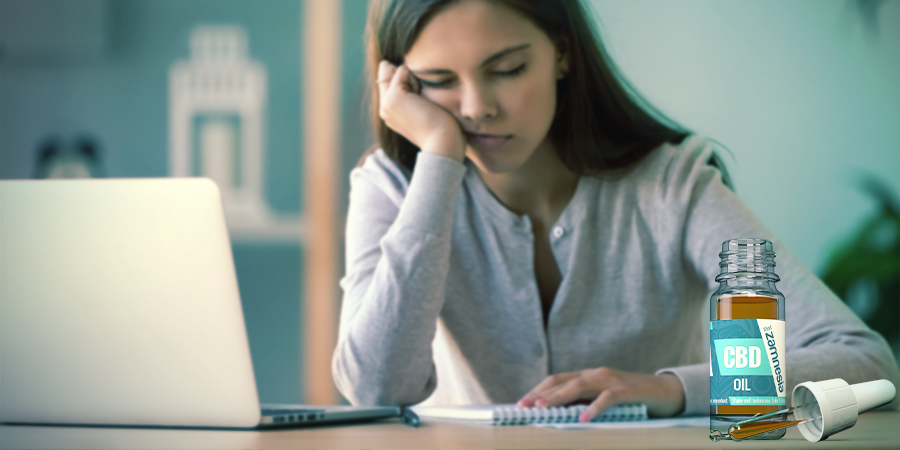 There are several side effects to be aware of when it comes to consuming CBD oil. Fortunately, potential side effects appear mild and dissipate quickly, but researchers have noted that CBD oil may cause the following:
a tired feeling
dry mouth
changes to appetite
WHAT IS AN OVERDOSE OF CBD OIL?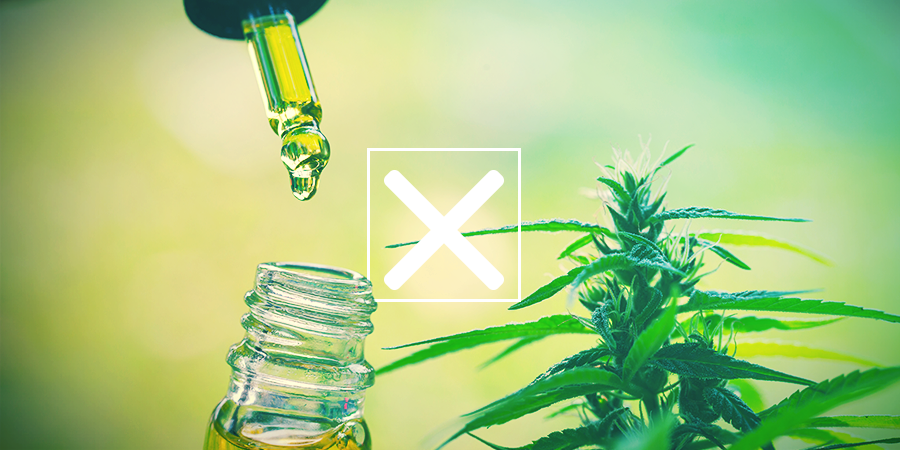 It is also common for individuals to ask whether you can overdose on CBD oil. Thankfully the cannabinoid appears safe, even in large doses. The risk, or lack thereof, from CBD was confirmed by the World Health Organisation (WHO) in 2018. Their comprehensive review took into account all of the available research on CBD and concluded the following:
CBD exhibits no effects indicative of any abuse or dependence potential.
CBD is generally well tolerated with a good safety profil.
To date, there is no evidence of recreational use of CBD or any public health-related problems.
It remains vitally important that you consider all the current research, evidence, and updated medical advice regarding CBD oil before making a purchase. If you are unsure of whether CBD oil is right for you, your doctor will be able to give you case-specific advice.
---