The Best Outdoor Cannabis Seeds Per Climate In Europe
8 min
Most seeds can be grown both indoors and outdoors, but some people prefer growing outdoors. Ideally, you want to choose a strain that is already acclimated to your region. Obviously, if you are growing a tropical strain in a cold climate, you can't expect the best results. Similarly, if you are living in an area with short summers, you don't want to go for a sativa with an endless flowering period.
Europe can be divided into four climate zones: The northern region is cold, the east has cold winters and hot summers, the west has a mild and rainy climate, and the south features a hot Mediterranean climate.
If you want to grow cannabis outdoors with the best results, you'll need to choose the most suitable strains for your particular climate. Let's look at growing cannabis in each climate zone, along with which cannabis seeds are best for the job.
---
Cold Climate: Northern Europe And Mountains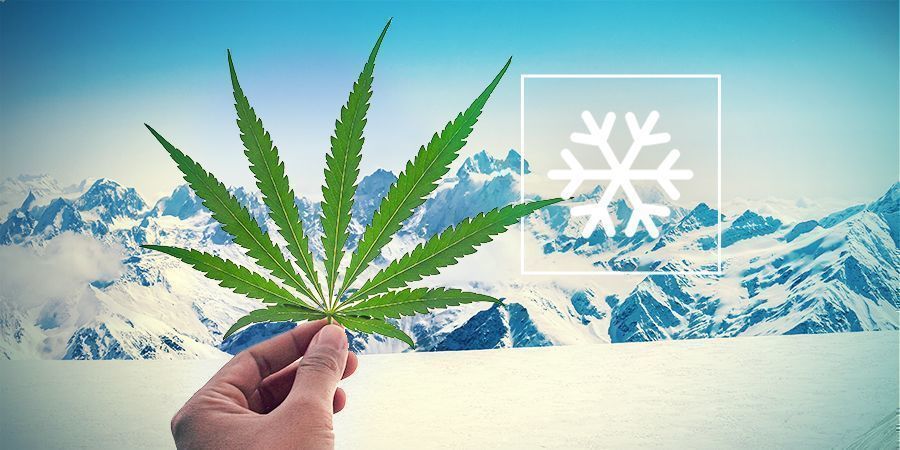 Scandinavia
Alps
Pyrenees
Massif Central
In the north of Europe, including all of Scandinavia (Denmark, Norway, Sweden, and Finland) reigns a cold and temperate climate. Growing conditions here are rather harsh, with long, frosty winters and short, moderately warm summers.
Similar unfavourable climate conditions can be found in the mountainous regions of Europe, such as the Alps, the Pyrenees, and the Massif Central region of France.
Growing Cannabis In A Cold Climate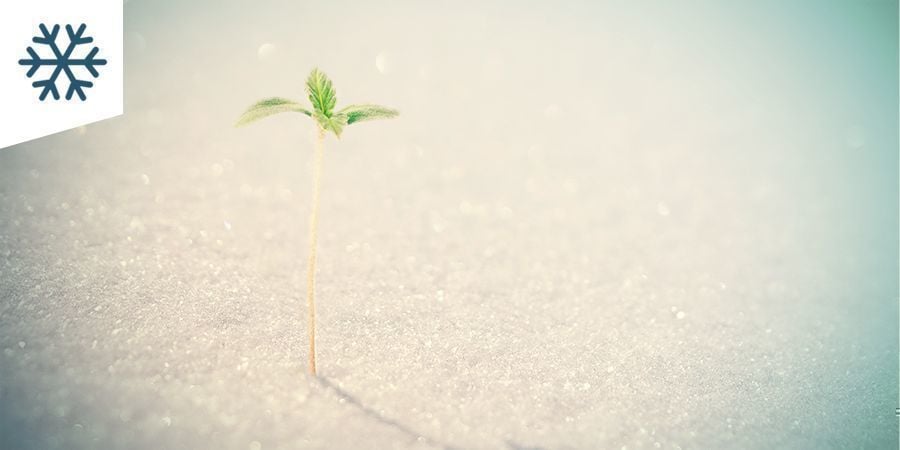 Of all the regions, the cold climate zone may be the most challenging when growing cannabis outdoors. That said, many growers have succeeded before, and many more will continue to.
In Northern Europe, summer comes to an end quickly. The days soon become short and freezing temperatures will begin to threaten your crop. In these conditions, you can't really grow strains that take a long time to flower. Go with a fast variety.

Autoflowers are ideal if you only have a short time to grow. Many autoflowering varieties are ready in 60–90 days after germination, so you can bring in your harvest safely before the harsh weather hits. Autoflowers are also particularly hardy, making them perfect for growing in these otherwise less than optimal conditions.

If you happen to grow weed in the mountains, know that it gets an average of 6°C colder with every 1000m in altitude. So, if you want to plant some ganja there, go with strains that can tolerate colder temperatures.
Best Cannabis Strains To Grow In A Cold Climate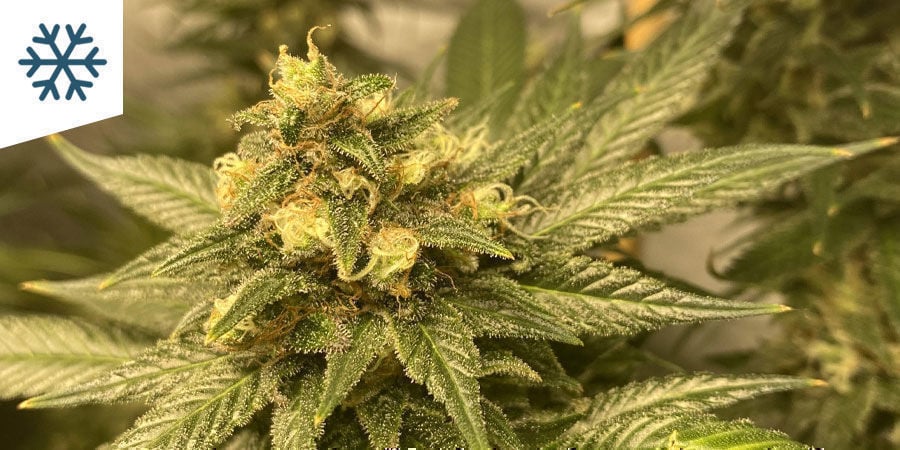 Cream Caramel
Cream Caramel by Sweet Seeds pleases with sweet buds and a soothing smoke. This 90% indica provides a very relaxing body stone that makes her great for smoking at night. Sweet Seeds' F1 fast version needs only 7 weeks to flower, allowing for a harvest in early September. Perfect for indica lovers who want to grow sweet, sultry outdoor bud in short summers.
Sticky Beast Automatic
Sticky Beast Automatic is an easy-growing indica-dominant hybrid bred from OG Kush, Bubble Gum, and Critical Automatic. She develops large colas, with buds that emanate a pleasant earthy sweetness. Sticky Beast Automatic is ready to harvest in 8 weeks from seed. Outdoors, where the plant stays at a convenient 80cm, expect up to 170g/plant of dried bud. When smoked, you can enjoy a deeply relaxing, yet pleasantly rounded effect.
Northern Lights
This legendary indica scores with enticing aromas and a fantastic high, yet she is easy to grow and adapts well even to less than favourable conditions. Her genetics are thought to derive from pure landraces and Thai sativas, which makes her exceptionally resilient. Northern Lights only needs 7 weeks to flower—perfect for growing in a colder climate. Enjoy potent, world-class bud with a fruity citrus flavour and an uplifting effect.
Frisian Dew
Dutch Passion's award-winning Frisian Dew was made to be grown outdoors, including in colder regions of the world. A robust combination of Purple Star and Super Skunk, this 50/50 indica/sativa strain takes only 7–8 weeks to flower, which makes her a top crop for shorter summers. She's also highly resistant to mould, which is an essential trait.
---
Continental Climate: Central Europe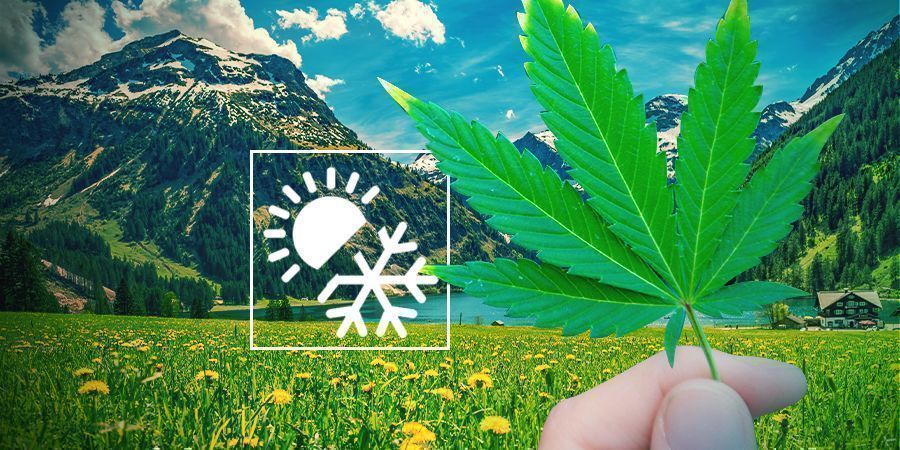 Poland
Czech Republic
Austria
Slovakia
The continental climate found in Eastern Europe is defined by big temperature contrasts between the seasons. Winters in these regions are very cold and dry, yet the summers can be very hot. In the summer months, expect frequent storms with heavy rainfall.
Growing Cannabis In A Continental Climate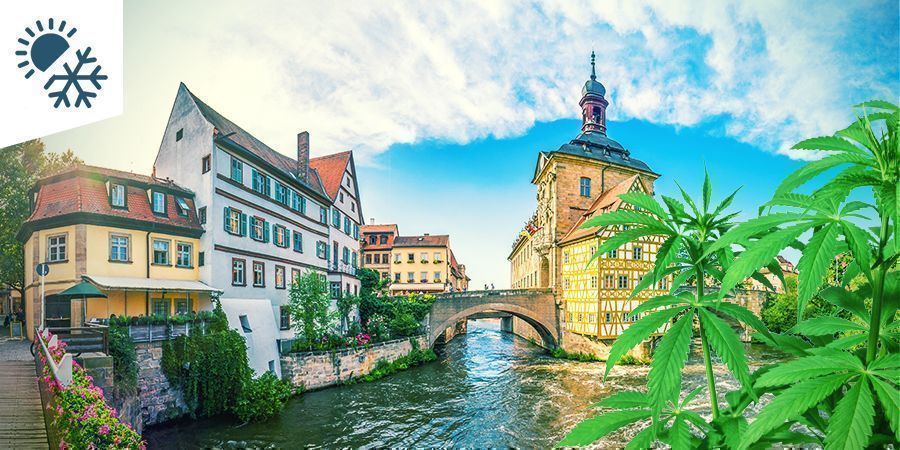 Growing cannabis in a continental climate poses some challenges, but it is certainly doable.
Choose strains that can cope well with both ends of the temperature spectrum. Should heat waves or storms pass through, you want a strain that can handle both.

Due to frequent rainfall in summer, you may want to opt for strains with good resistance to mould.

With storms and strong winds always possible, be proactive and support your plants with stakes or netting. Robust, short-to-medium-sized plants are ideal for such climate conditions.
Best Cannabis Strains To Grow In A Continental Climate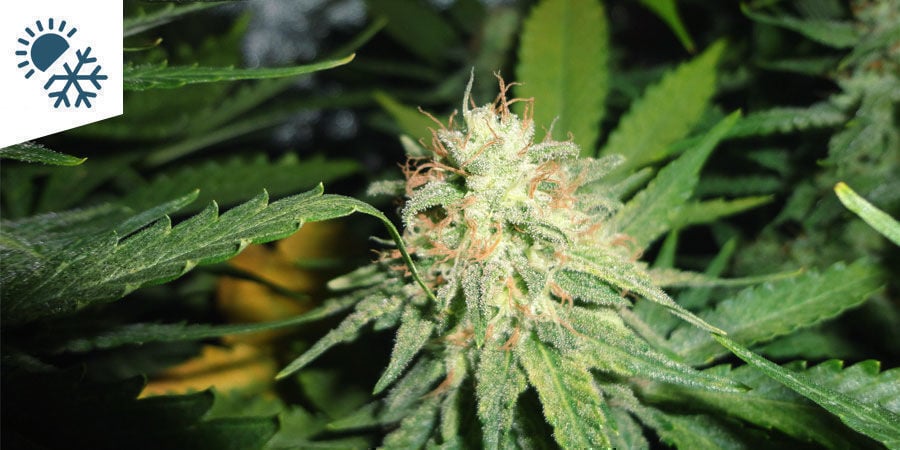 Critical
The famed Critical from Zamnesia Seeds is a potent indica that scores (not only) with massive yields. The combo of Afghan and Skunk grows conveniently short and flourishes under minimal supervision. She matures her first-class buds in a short 7 weeks of flowering. The strain produces a relaxing body high that is not too overwhelming.
AK48
AK48 is an easy-growing member of the White family that comes with high THC levels, is pleasant to smoke, and provides a strong, uplifting high. This hybrid, with genetics from Colombian Gold, Thai, Mexican, and Afghan, thrives in good outdoor conditions, where the plant can reach gigantic heights with truly monstrous yields. In good conditions, she can finish in a blazingly short 48 days of flowering.
Master Kush
Master Kush from Zamnesia is a renowned strain with genetics from the purest Afghan indicas. This high-yielder is very potent and provides a long-lasting, powerful body high. She takes 8–9 weeks to flower, with her buds emanating a smooth and sweet aroma with earthy, spicy, and citrus notes. As a hardy Kush, this strain can withstand anything you throw at her.
Durban Poison
Durban Poison was created by Dutch Passion via selective inbreeding of pure Durban sativas. With 8–9% THC, she is not very strong, yet she delivers a wonderful, cheerful high reminiscent of Thai sativas. Very reliable, mould-resistant, and flowers in a short 8–9 weeks—perfect for a continental climate!
---
Maritime Climate: Western Europe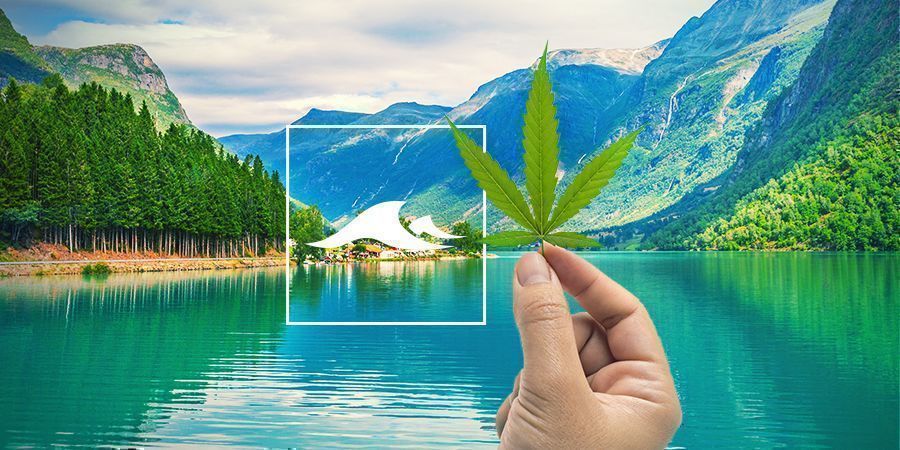 Western countries close to the Atlantic, such as the UK, Ireland and France, the Benelux countries (Belgium, Netherlands, and Luxembourg), and parts of Germany and Northern Spain, have a maritime climate.
Being close to the Atlantic Ocean, these regions endure high humidity and frequent rain. The winters are mild and the summers are cool—occasional heat waves aside.
Growing Cannabis In A Maritime Climate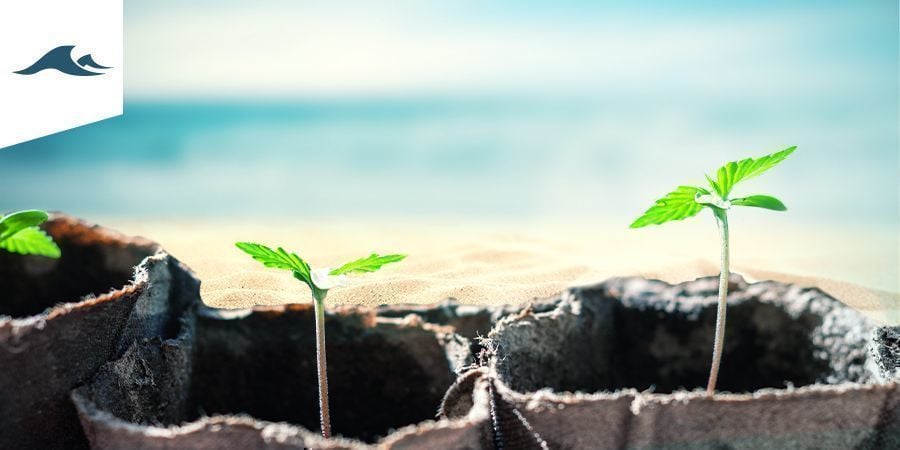 Maritime climates are more or less easy to grow in as long as you know when to plant and harvest.
The sea climate and lots of rain pose a high risk for mould. Mould-resistant strains often have less-densely packed buds so mould cannot grow as easily. Consider utilising training techniques, as cannabis that grows with an open structure allows for better airflow around the plant.




In some of these regions (UK, northern Germany, Benelux), summers are short. You'll want fast-flowering strains that you can harvest as soon as possible since frost can come early. Consider autoflowers!

If you're growing photoperiod strains, note their expected outdoor harvest date. If you know your autumn is going to be wet and cool, go with strains that finish in late September.

Spring may be too chilly for your sensitive cannabis seedlings. Germinate your weed at the end of April/beginning of May indoors. Your plant will be ready for the outdoor season after Ice Saints in mid-May.
Best Cannabis Strains To Grow In A Maritime Climate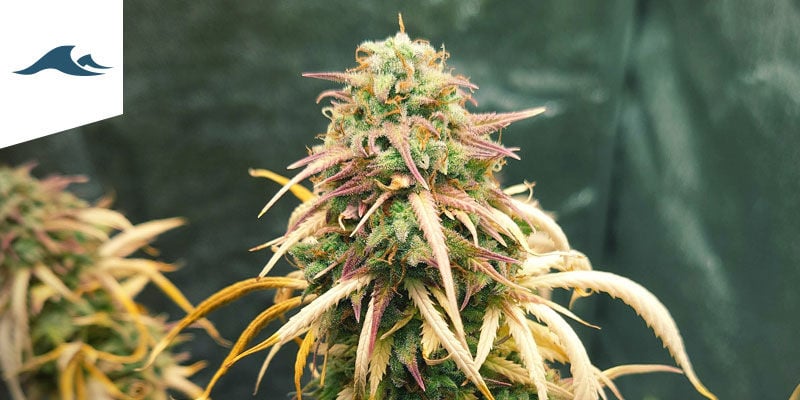 Blueberry Automatic
Leave it to Zamnesia to take the iconic Blueberry and turbocharge it with autoflowering magic! Taking 8–9 weeks to move from seed to harvest, this indica-dominant specimen quickly gets to work developing a canopy of mouth-watering buds. Reaching only 75cm, Blueberry Automatic is ideal for growing in confined outdoor spaces, such as a balcony. Get ready for soothing indica vibes and berry flavours.
Power Plant
Power Plant by Dutch Passion is an almost pure sativa from South Africa. A bit of indica in her genetics gives her good vigour, high yields, and fat buds. Atypical for a sativa is her short flowering phase of only 7–8 weeks and reasonable height of 100–150cm. She does well in all types of environments and thrives when grown outdoors. Her smoke has a rich taste and provides a strong, physical stone.
Skunk XL
Skunk XL follows in the footsteps of the legendary Skunk. Sharing the same genetic background as the original, she brings larger yields to the table. This balanced hybrid produces a relaxing yet productive high thanks to a moderately high THC level of 15%. Outdoor growers won't be disappointed with a return of 700g/plant. With a flowering time of 7–8 weeks, she'll be ready to harvest before things get frosty.
Blue Monster Automatic
Blue Monster Automatic by Zamnesia manages to strike a fine balance between speed, production and potency. Keeping things ultra-fast with a 7–8-week life cycle, this combination of Cheese, Blueberry, and ruderalis holds no punches when it comes to her relaxing yet euphoric high. Once you've been hit, you'll sense decadent flavour notes of sweetness and Cheese. Remaining stout and compact, Blue Monster Automatic is great for clandestine or guerrilla growers.
---
Mediterranean Climate: Southern Europe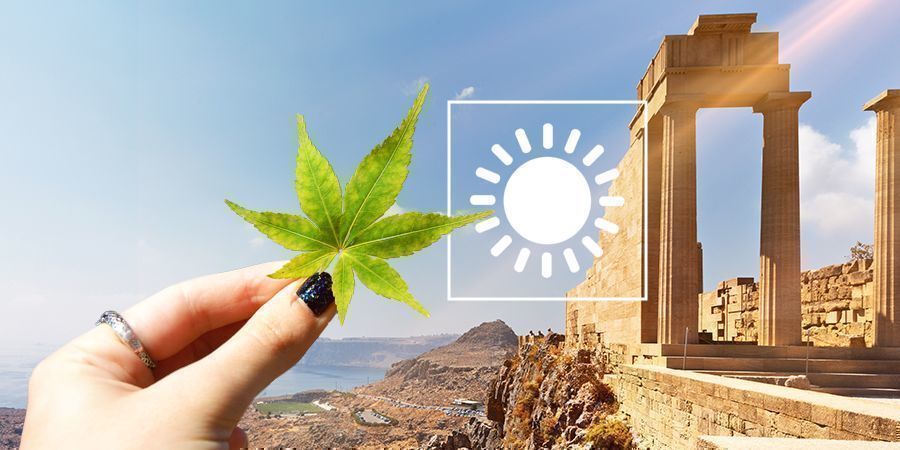 The Mediterranean climate in these Southern European locations is defined by hot and dry summers and mild winters. In these warm climates, there is rarely frost, even in the winter months.
Growing Cannabis In A Mediterranean Climate
You can grow almost any strain outdoors in a Mediterranean climate!
The Mediterranean climate of Spain, Italy, or Southern France is ideal for growing cannabis outdoors. This is the climate where you can plant long-flowering sativas that can happily mature their buds into late October or even the beginning of November.

If you're growing autoflowers in a Mediterranean climate, you can plant them at any time of the year since you don't need to worry about frost. If you time things right with autoflowers, you could sow and harvest cannabis all year long.

When growing in a sunny Mediterranean climate, you won't need to worry about cold temperatures. On the other hand, intense heat and sun in the summer can become a problem. Look into shading to protect your cannabis from the most intense sun and make sure to water your plants frequently. The best time to germinate your outdoor cannabis seeds is in early April.
Best Cannabis Strains To Grow In A Mediterranean Climate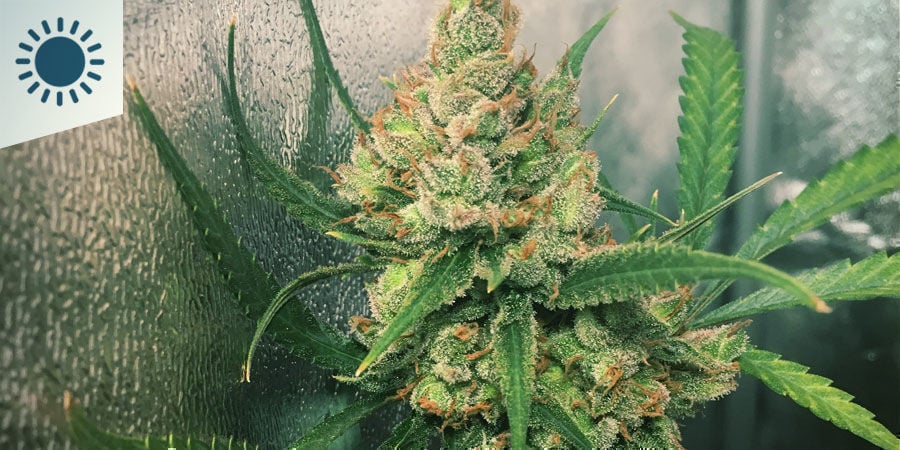 Silver Haze
Silver Haze is no new kid on the block. This 80% sativa is known around the world for her scintillating buds and cerebral high. Silver Haze has formed the foundation of many other iconic hybrids thanks to its resilience, reliability, and potency. In 65–80 days, the strain matures a large bounty of spectacularly resinous buds. Give it the full time to mature if you have the patience!
Acid Dough
Acid Dough, a Spannabis award-winning sativa, is somehow perfectly described by her name. Her lively, euphoric effect makes her an ideal wake-and-bake specimen to enjoy alongside your morning breakfast. Taking a leisurely 70 days to flower, patient cultivators will be rewarded with a large yield of uber-potent buds.
Sour Diesel
Sour Diesel is a premium US strain that stems from Diesel and Northern Lights. The two converged to pass down high productivity, superb potency, and citrusy terpenes. Possessing the best traits of both strains, Sour Diesel features compact colas with an abundance of resin, a substance that gives rise to a cerebral sativa state. Outdoors, plants will weather heat waves and dry spells with ease, producing a rewarding harvest.
Amnesia Haze
Amnesia Haze draws from Europe and North America to bring cannabis lovers a sativa-dominant wonder. This modern marvel of the breeding scene is a firm favourite in coffeeshops and dispensaries, and has no problem growing in a hot climate. However, the 70% sativa takes a while to flower; expect to wait 12–13 weeks. Her almost psychedelic high is well worth it!