Blog

7 min
Best Outdoor Cannabis Strains To Grow In France
7 min
Do you want to grow cannabis outdoors in France? Since the French climate can vary greatly depending on location, your choice of strain is crucial to the success of your grow. Find out the best cannabis strains to grow in the various climate zones of France.
Cannabis is a hardy plant that will grow almost anywhere. But if you want to look forward to big jars of resinous buds when growing outdoors, you'll need to choose suitable strains for your climate. Read on to find out about the best cannabis strains to grow in France.
GROWING CANNABIS IN THE FRENCH CLIMATE
France has a very dynamic environment. It has a big inland, three mountain massifs, several major rivers, and four coastlines. We can divide the country into four climate zones where growing conditions differ greatly: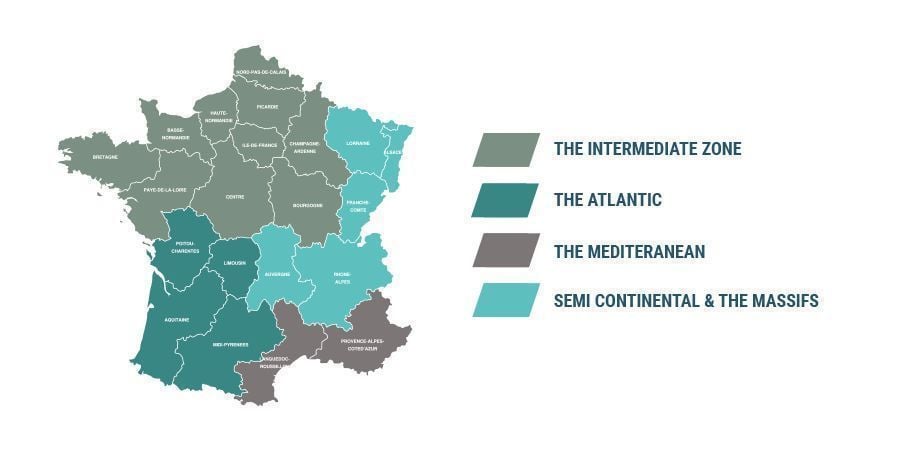 1. The Intermediate zone: This zone covers large parts of Central, Northern, and Western France, and it includes the metropolitan areas of Paris and Nantes.
2. The Atlantic region: The humid coastline of Southwest France (west of Bayonne) is renowned for its world-class wine, but it also has ideal conditions for growing fine cannabis.
3. The Mediterranean zone: Cannabis growers in the South of France will find basically the perfect conditions for their grow, with warm summers and some rain in spring and autumn.
4. Semi-continental & the massifs: This is the region closest to the European inland to the east, including the mountainous region of the French Alps. There are a dozen microclimates in this zone, including areas suitable for wine (and weed!) cultivation, and other areas with harsher conditions.
WHEN TO GERMINATE CANNABIS SEEDS IN FRANCE
The best time to germinate your cannabis seeds depends on the region. For most of France, you will be good to germinate your cannabis seeds in late April so they are ready for the warm weather in May. If you're on the southern Atlantic or Mediterranean coasts where the climate is milder, you can germinate your seeds a few weeks earlier, in early April.
For the most part, it makes sense to start your seeds indoors under a CFL on an 18–20-hour light schedule, or have them on a sunny window sill. After about three weeks, when your plants are strong enough and the weather has gotten sufficiently warm, you can set them outdoors. With the Zamnesia Smart Start kit, you can easily get your seeds to strength for the outdoors.
HOW TO CHOOSE THE RIGHT CANNABIS STRAINS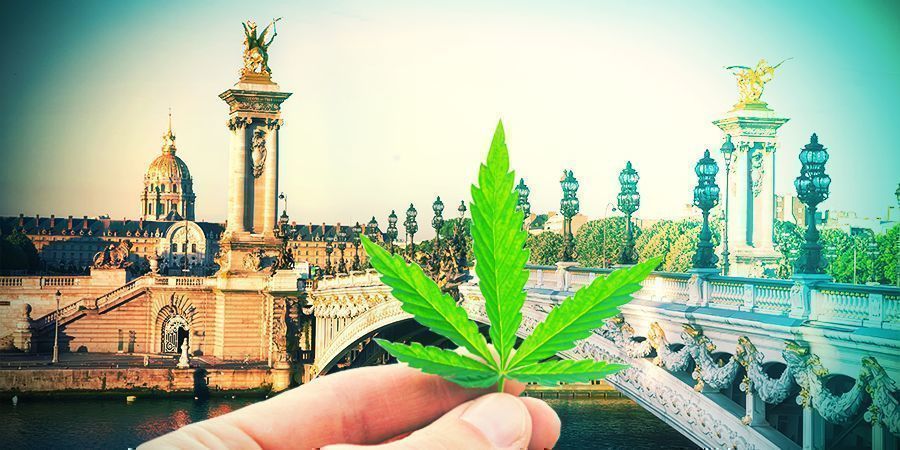 If you are growing in colder regions up north, or in the Massif Central region where the growing season is short, avoid photoperiod sativas as these take too long to flower. Some slow sativas may take until November, at which point your harvest would fall victim to cold and rain. Sativas are also somewhat of a challenge if you're growing in the Atlantic region. The best seeds for these regions are short-flowering indicas, as well as autoflowering cannabis strains. In other regions of France, you have almost ideal growing conditions and can choose pretty much any strain.
BEST CANNABIS STRAINS TO GROW IN FRANCE
We will now take a look at the best strains you can grow outdoors in France. For each climate zone, we'll offer a number of recommended outdoor cannabis seeds for you.
BEST CANNABIS STRAINS FOR THE INTERMEDIATE ZONE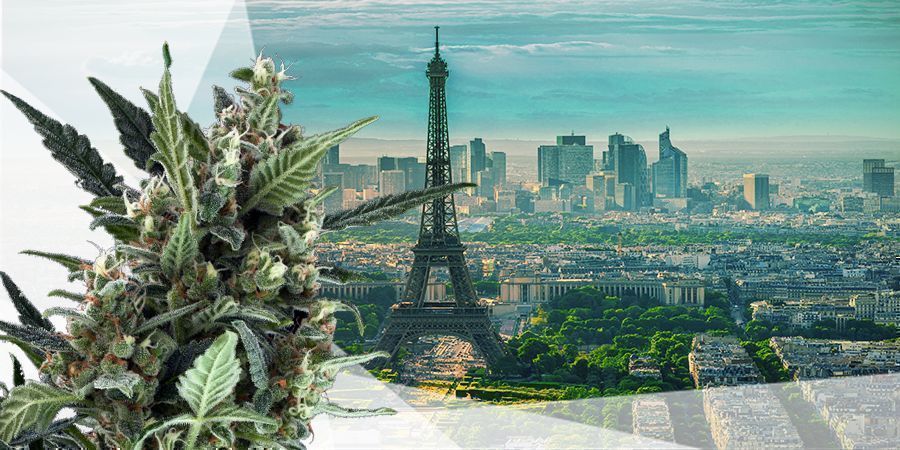 This area has cold winters and hot summers, regular rainfall, and mild springs. Furthest north, there isn't enough daylight for cannabis to grow until the middle of April, but even then it is still quite cold. The best weed to grow outdoors here are autoflowers and fast-flowering indicas. You can harvest these early and safely bring in your bud before the bad weather rears its ugly autumnal head. Let's take a look at the best seeds for the intermediate zone.
Blue Monster Automatic (Zamnesia Seeds)
Blue Monster Automatic by Zamnesia is a feminized autoflowering strain that takes only 7–8 weeks to mature her delicious buds. The prestigious mix of Cheese, Blueberry, and ruderalis makes for a strong but sweet and fruity smoke with some old-school Cheese aromas. With her compact size, she is also great for growing on balconies. She has a well-rounded effect that starts off on a relaxed note, then gradually shifts into a happy euphoria.
Early Skunk (Sensi Seeds)
Skunk #1 is renowned for being easy-growing, and it is a particularly good strain for new growers. Sensi Seeds crossed this classic with the resilient Early Pearl, and Early Skunk was born. She flowers in only 55–65 days, which makes her perfect for climates with very short growing seasons, yet delivers killer crops. Look forward to a top "skunky" stone when you smoke her.
Early Skunk (Sensi Seeds) feminized
Parents: Skunk 1 + Early Pearl
Genetics: 65% Indica / 35% Sativa
Flowering Time: 9-10 weeks
THC: Medium
CBD: Unknown
Flowering Type: Photoperiod
Purple Queen (Royal Queen Seeds)
Purple Queen by Royal Queen Seeds isn't just a gorgeous plant that will turn heads with her beautiful and vibrant violet colour. This girl is also very easy to grow and takes only 7–8 weeks to mature her potent buds. Grow her in good conditions, and you can expect to harvest up to 700g of top bud per plant. With 22% THC, she is very potent and induces a wonderful, very relaxing indica stone.
BEST CANNABIS STRAINS FOR THE ATLANTIC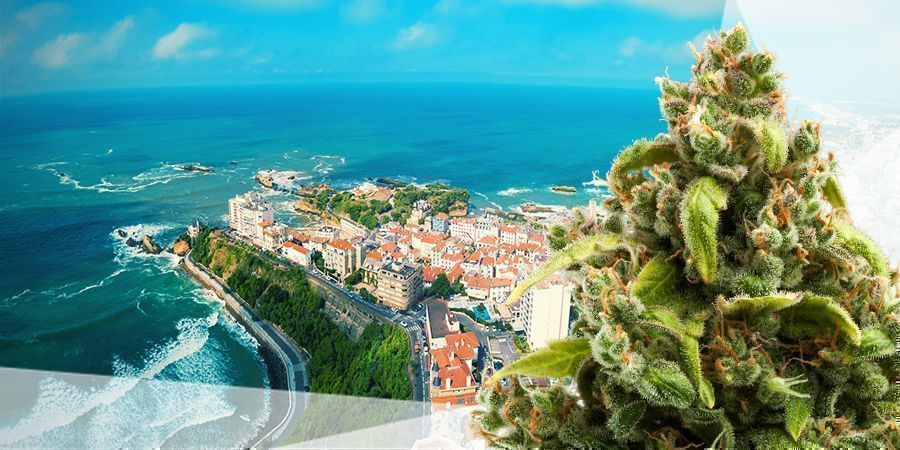 This area enjoys hot summers with cooling sea breezes and mild winters. Regular rainfall with a damp, mild spring and plenty of sunshine during summer are ideal for marijuana. Just watch your buds during the autumn rains so mould doesn't spoil your harvest. Many strains will do well here, but you may still want to avoid very long-flowering sativas. Indica-dominant strains will be ideal. Here are our recommendations for the Atlantic zone.
Hollands Hope (Dutch Passion)
Dutch Passion's Hollands Hope was created in the moderate climate of the Netherlands, which means she'll do great even if conditions are less than optimal. Needing only 8 weeks to flower, you can bring in your harvest early and don't need to worry about rain and storms at the end of summer. Being a 100% indica, she will gift you with a deeply relaxing stone.
Sour Diesel (Royal Queen Seeds)
Sour Diesel by Royal Queen Seeds is a cannabis classic beloved for its savoury taste and potent smoke. With her genetic roots on the West Coast of the US, she will perform very well when grown on the southern Atlantic coast of France. As a 75% sativa, she will need some time to mature, so make sure she has at least 12 weeks to flower her buds. The reward will be worth it, with fat buds boasting the typical "chemical" Sour Diesel notes and an awesome, motivating effect.
Sour Diesel (Royal Queen Seeds) feminized
Parents: Original Diesel x (Northern light x Shiva x Hawaiian)
Genetics: 25% Indica / 75% Sativa
Flowering Time: 10-11 weeks
THC: 19%
CBD: Medium
Flowering Type: Photoperiod
8 Ball Kush (Barney's Farm)
8 Ball Kush by Barney's Farm is made from pristine genetics that adapted to the rugged conditions of the Hindu Kush mountains over generations. Indica lovers like the strain for its rich, earthy flavour and heavy indica stone. Being a pure indica, she is uncomplicated to grow and needs only 50–60 days to ripen her buds.
BEST CANNABIS STRAINS FOR THE MEDITERRANEAN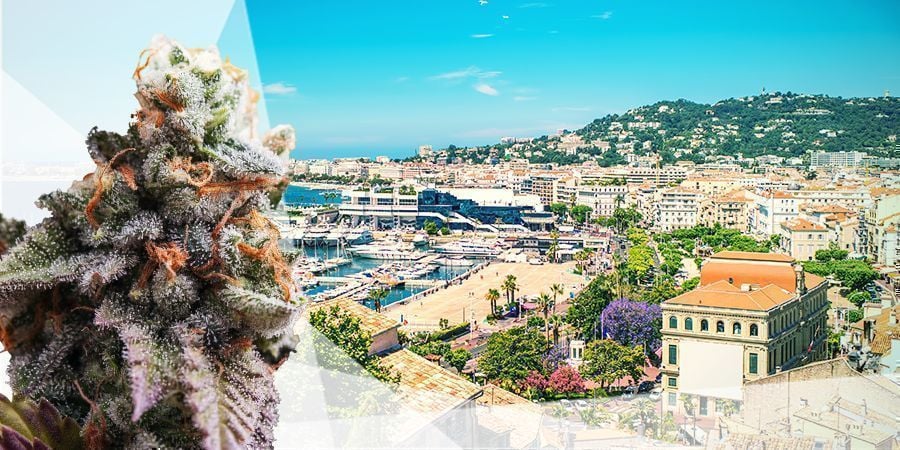 The climate here is the driest in France, with rain in spring and autumn. Good rain during the early stages of cannabis vegetation makes plants grow rapidly and readies them for lots of sunshine during the summer months. Daily temperatures can reach 27°C, which is just perfect for your girls. In these conditions, you can grow pretty much any variety of cannabis! Here are the best strains for the Mediterranean zone.
Gelato (Zamnesia Seeds)
Zamnesia Seeds' Gelato isn't just another variant of this delicious favourite among cannabis connoisseurs. The Zamnesia breeders infused her with the genetics of the ultra-potent Wedding Cake, so this version clocks in at a staggering 26% THC. Her effect is super chill and relaxing, but unlike many other heavy-hitting indicas, won't lock you to the couch. Also, this 60% indica has a rather short flowering time of only 8–9 weeks, where you can expect up to 400g/plant come harvest.
Gelato (Zamnesia Seeds) feminized
Parents: Wedding Cake x Gelato x Gelato 33
Genetics: 60% Indica / 40% Sativa
Flowering Time: 8-9 weeks
THC: 26%
CBD: 0-1%
Flowering Type: Photoperiod
Super Silver Haze (Zamnesia Seeds)
The supreme Super Silver Haze by Zamnesia Seeds stands out in many ways, not just in height. This Haze made from Haze x Skunk x Northern Lights scores with 20% THC and is renowned for her very powerful, cerebral high that puts even seasoned smokers to the test. For a Haze, she flowers in an astonishingly short 8 weeks, at the end of which she delivers 550g or more per plant.
Arjan's Ultra Haze 1 (Greenhouse Seeds)
Arjan's Ultra Haze 1 by Greenhouse Seeds is another spectacular Haze variety that growers in suitable climates simply must grow. This award-winning blend of Neville's Haze, Cambodian, and Laos takes an amazingly long 13–14 weeks to flower, but the grower's patience will be more than rewarded. Although she produces "only" about 16% THC, she has an extremely heady effect great for meditation, introspection, reflection, and spiritual relaxation. Some even call her the "guru" of cannabis. Yields in excess of 1kg per plant are possible!
BEST CANNABIS STRAINS FOR SEMI-CONTINENTAL & THE MASSIFS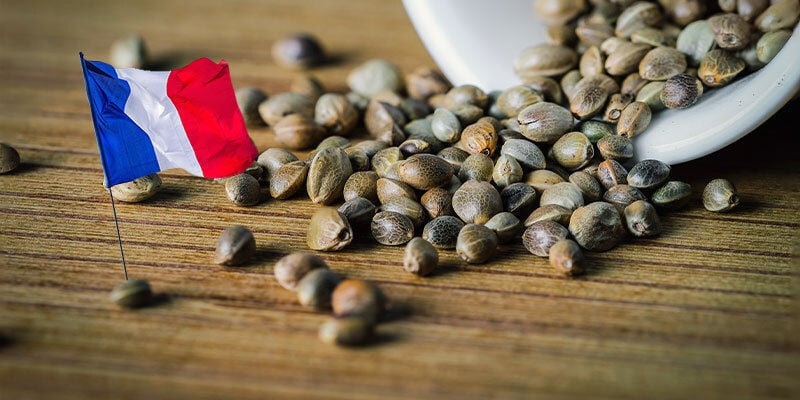 Among the various microclimates in this zone are regions that are good for growing weed, but there are also many areas where outdoor growing is challenging. The Alpine lower reaches of the Savoy may mimic some of the home elevations of classic indicas, but the climate is harsh and you'll want to select hardy strains that can grow in these difficult conditions. Let us take a look at the best plants for the Massifs and semi-continental zone.
Erdpurt (ACE Seeds)
ACE Seeds' Erdpurt was made for northern European growers from two particularly hardy cannabis varieties: Erdbeer, a Swiss strain only available as a clone, and Purpurea Ticinensis, another girl from Switzerland with good resistance to cold and mould. Plant your seeds, and the plant will finish as early as the end of August—perfect to beat the bad weather when your growing season is short. She has a complex flavour with coffee, hash, and fruity notes, and gives you a mild but pleasantly relaxing high.
Erdpurt (ACE Seeds) feminized
Parents: Erdbeer x Purpuera Ticinensis
Genetics: 100% Indica
Flowering Time: 7-8 weeks
THC: 8%
CBD: 12%
Flowering Type: Photoperiod
Pamir Gold (Dutch Passion)
If there's one strain that will do fantastic when grown in Alpine conditions, it is Pamir Gold by Dutch Passion. To make her, breeders went all the way to the Himalayas to collect sample plants that they later bred in the Swiss Alps to perfection. She takes just 7 weeks to flower and has good resistance to mould. Smoke her to enjoy a strong body stone that isn't of the knockout variety.
Snow Bud (Dutch Passion)
Another great variety bred in the Swiss Alps is Dutch Passion's remarkable Snow Bud. This 60% sativa, which earned her name due to her frosty buds, can reach a good height of over 2m. Unlike some sativas, she takes only 7–8 weeks to flower, making her a perfect outdoor sativa for short summers. A highlight is her pleasant upper effect that will have you smiling in silly happiness throughout the day.
TIPS FOR GROWING CANNABIS IN FRANCE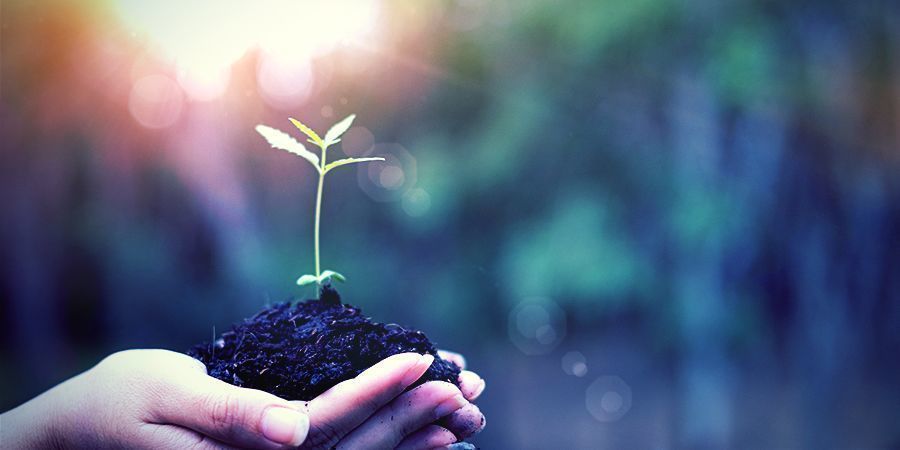 Follow these tips to achieve optimal results when growing outdoor weed in France.
In France, it's all about choosing the right strains for your climate zone. Check strain descriptions for outdoor harvest times!

Autoflowers and fast photoperiod indicas are ideal for short summers followed by a rainy autumn.

Southern France has the perfect weed-growing climate, so you can cultivate all kinds of cannabis, including long-flowering Hazes.

Given the potential for rain in spring and autumn, look for strains with good mould resistance. Sativa-dominant autoflowers with short flowering phases and looser buds may be a good option here.
Happy growing!