Blog

4 min
Fun Activities To Do High With Your Partner
4 min
Love is in the air, and so is the smell of good cannabis. Put them together and you've got a perfect recipe for fun. From outdoor adventures to chill nights in, here's a list of the best date ideas for cannabis lovers.
While other dating guides might not be 420-friendly, we've curated these suggestions down to the best strain. Time to call up your favourite accomplice and get started with these classic, creative, and fun activities to do high together.
AT HOME
HAVE SOME STONER SEX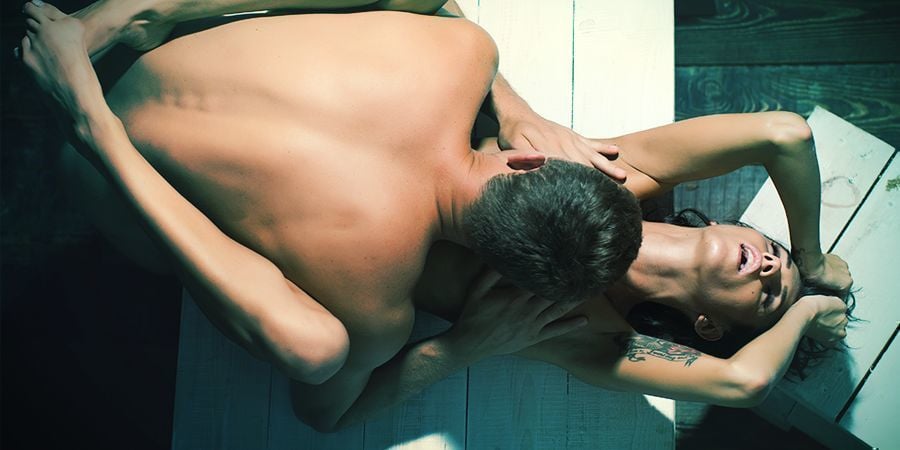 Cannabis is legendary for helping lovers turn up the heat. A few puffs can help you relax, feel closer, and intensify those physical sensations. Just remember to check in. Comfort and consent are key, especially with herbal enhancements.
Pro tip: Use the right strain at the right dose. Too much heavy indica, and you could end up sinking into the couch instead of your partner's arms.
Bonus: If you're in a creative mood, why not make your own cannabis lube? Benefits include extra-intense orgasms and longer performance time.
CREATE A STAYCATION SANCTUARY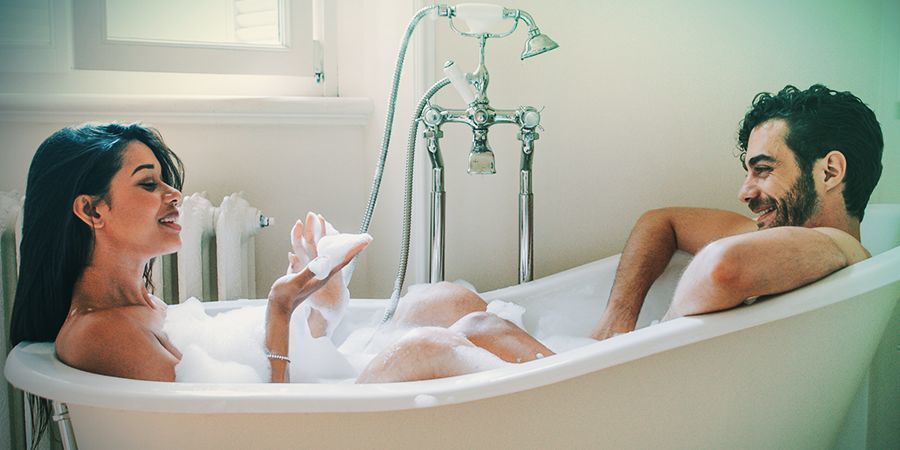 If Netflix and chill feels a bit too basic, it's time to turn up the relaxation. Bake your favourite cannabis-infused treats, take a long bubble bath together, and climb into the fluffiest robes you can find. If you want even more of a "spa" feel, add some mud masks and scented candles.
Now you're ready to Netflix. To really relax, try a spell-binding documentary like Planet Earth. If you've never tripped out to nature visuals and the soothing tones of David Attenborough, you're missing out. Of course, there are "sexier" options, but we'll leave that up to you and your VPN.
The best thing about staying home? Pillow forts.
BOND THROUGH DEEP CONVERSATION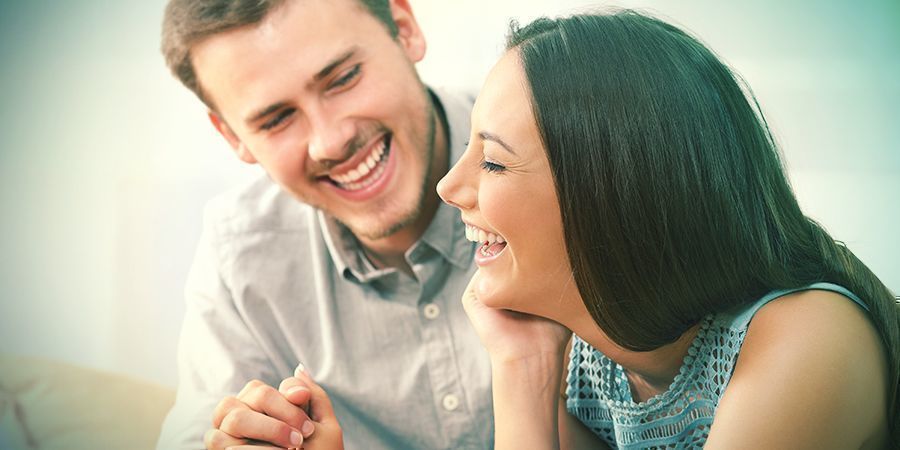 Physical connections aren't the only ones cannabis intensifies. Why not tap into the mind-bending, consciousness-expanding side of the high life? Getting stoned and talking deep into the night can bring you and your partner closer together. Just make sure you choose a social strain and let the euphoria take you there.
DAY TRIP
VISIT THE PLANETARIUM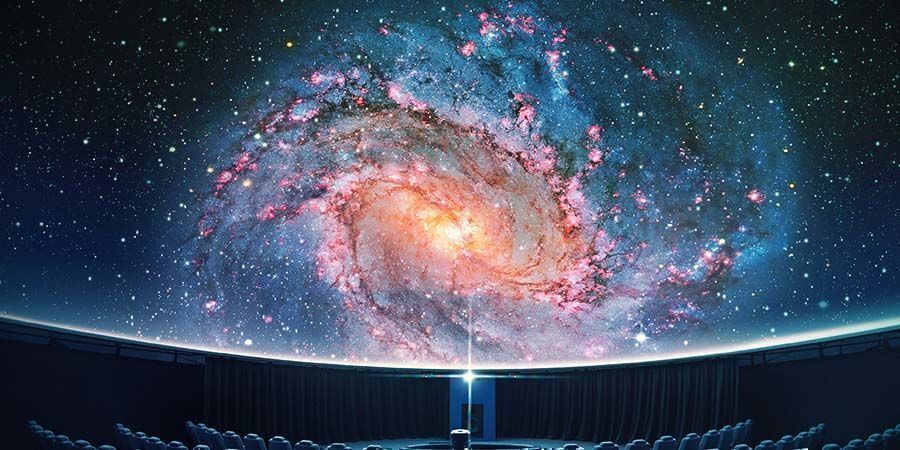 What's more romantic than a date under the starlit sky? Unfortunately, it may be hard to see more than a handful of stars if you live in a city. Luckily, humans invented planetariums.
Grab some ganja, grab your partner, and melt into the beauty of the cosmos together. It's an awe-inspiring experience on its own, but cannabis makes it even trippier. How did two tiny specks in this vast universe find each other? The important thing is, you did!
RIDE A ROLLERCOASTER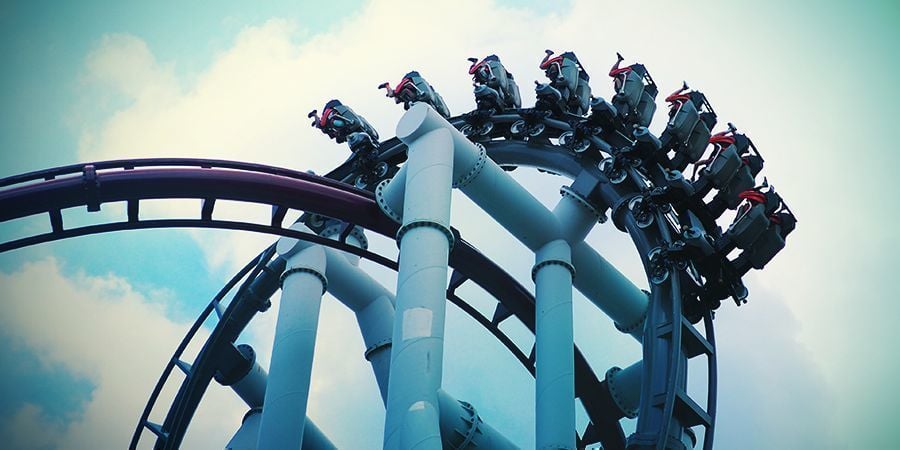 If you're looking for an adrenaline rush, try an amusement park. It's an easy place to spend the entire day, not to mention a stoner couples' dream.
Deep-fried munchies at every turn? Check. Exciting rides to delight your inner child? Check. Silly games so you can keep trying to win a giant stuffed bear for your boo? Classic.
Weed and theme parks go together like Cheech and Chong. Just remember to be safe and discreet. May we suggest that edibles are your friend?
HAVE A PICNIC IN THE PARK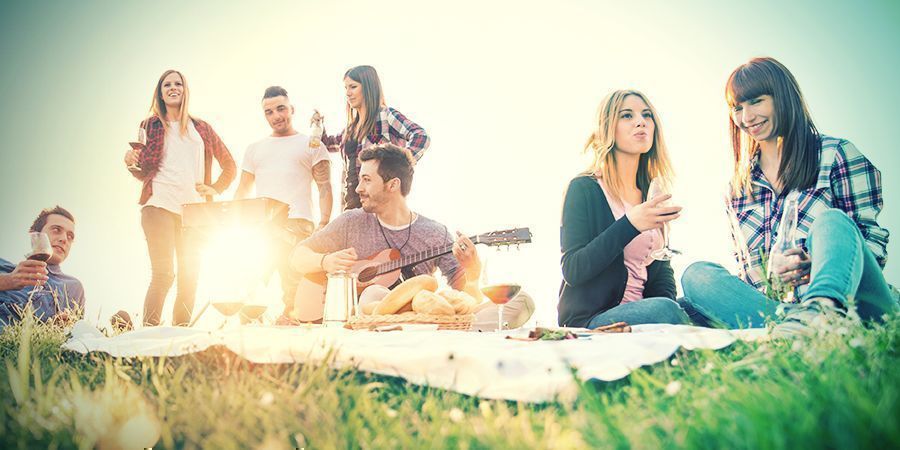 Picnic essentials: a chequered blanket, a wicker basket, a gourmet spread, and a vape loaded with sweet Mary Jane. Find a spot under a shady tree and enjoy the perfect lazy summer day.
Romantic picnics are where it's at, and good weed helps you chill out and enjoy the moment. The snacks taste better, the sun shines brighter, and the grass feels smoother. Time to relax with your favourite person and do whatever you want until the sun goes down.
RECONNECT WITH NATURE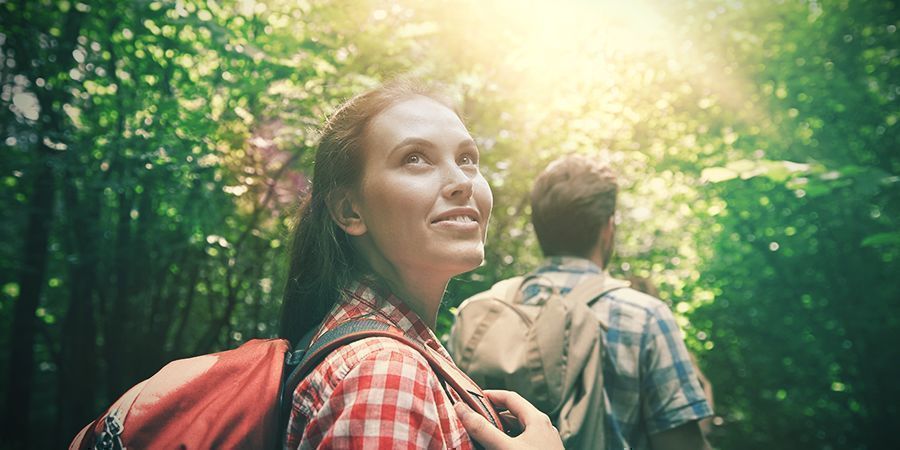 If screens, stress, and modern life have got you down, it's time to recharge in the wild. Grab some supplies, blaze up, and go for a hike with the one you love.
Sharing a joint and some good conversation is the perfect way to commune with nature (and each other). Just make sure you pick a safe, well-travelled trail. You don't want to find yourself high out of your mind trying to pass that joint to a wolf.
EXPLORE THE CITY WITH A MUNCHIES CRAWL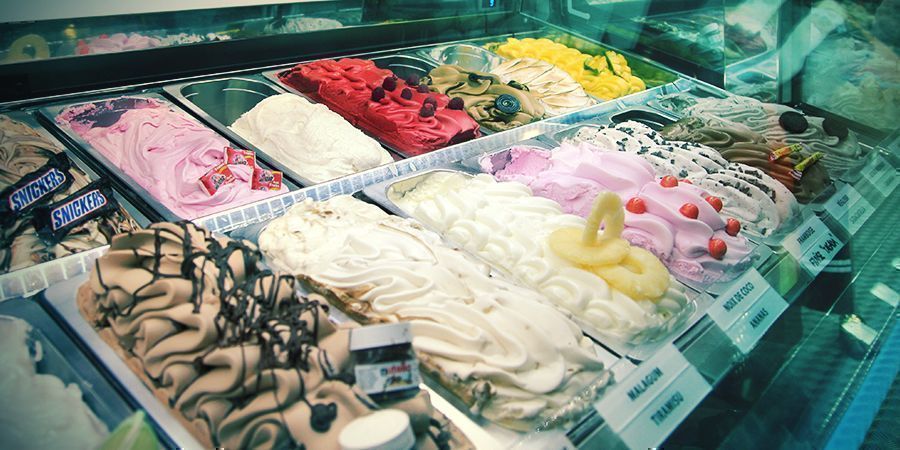 If you're in the city, going for a stoned stroll on a sunny day will lift your spirits. No destination required. You and your partner might even discover your new favourite spot! If you prefer to have a route, why not plan a crawl of the best ice cream parlours in town?
NIGHT OUT
EAT YOUR HEARTS OUT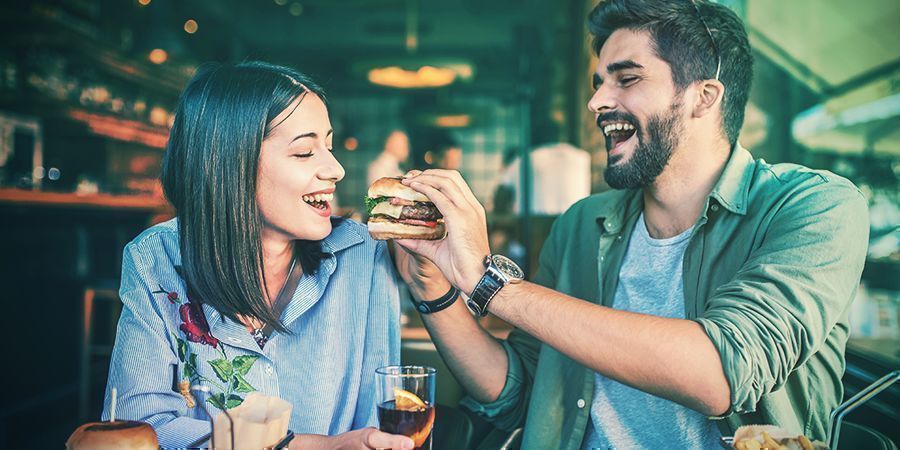 Getting baked like bread and eating until you're comatose never really gets old. Before you rip open that bag of chips, consider how to make the most of your date night.
Going out to eat adds a little adventure to the mix. Instead of forgetting your own names, you and your partner can make memories and satisfy your munchies.
...THE FANCY WAY
If you can afford it, try a multi-course meal at a fancy restaurant. The artful flavours of gourmet cuisine will taste even more sensational when you're stoned. It's an unforgettable experience.
...THE FOOD COMA WAY
If your budget is tight, all you can eat is two weed-lovers' dream. Seriously, how much sushi, spring rolls, or samosas can you eat when you're high? We genuinely want to know!
...THE BIT-OF-EVERYTHING WAY
So you both got stoned and now you can't decide what you want… because you want everything?
Go on a spontaneous tour of local food trucks. It's like a buffet, but fresher, more exciting, and outside. That means it's easy to puff, puff, pass between stops. It's also perfect if you're both craving different eats: one for you, one for them (then one for you).
GO TO A CONCERT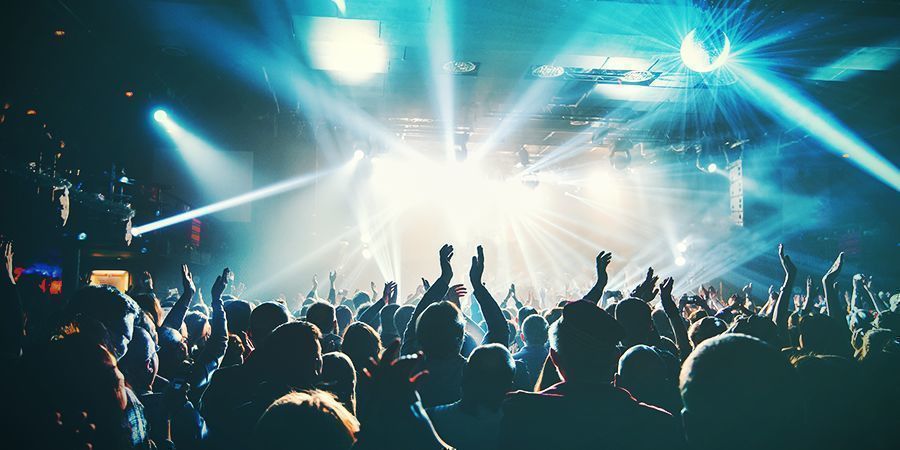 If there's live music playing, the smell of weed is probably wafting through the air. There's a reason smoking up and rocking out is a time-honoured tradition. Whatever your fave genre, cannabis will help you really feelthe music. Pure catharsis, baby!
So check out the local listings, grab your partner, and get stoked to hear your favourite song. It's the perfect moment to dance, jump, make out, or let the beat carry you to worlds unknown.
PLAY TRUTH OR DARE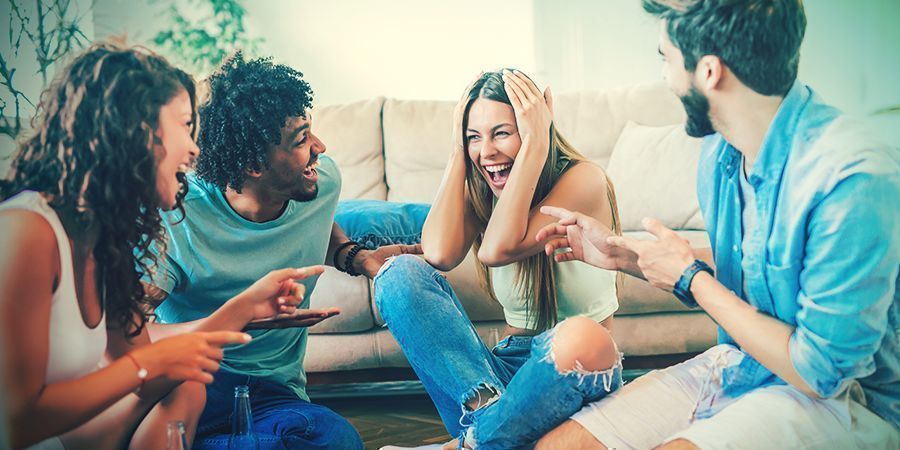 This classic game is the ultimate activity for cannabis-loving couples. It's free, and you can play it anywhere. Use it to break the ice with a new date or mix things up with a long-term partner.
The right strain of cannabis will help you lower your inhibitions, stay spontaneous, and laugh like a couple of maniacs. Now, go get silly with some top-notch sativa and see where the night takes you.
HONOURABLE MENTIONS
This list could be a mile long, so let's wrap it up with some honourable mentions:
Go to the movies (with popcorn)
Get creative with arts & crafts
Got a great idea that we missed? Share our list and add your favourite activities!
If the cannabis community has anything, it's creativity and a good sense of humour. So let's put our heads together and crowdsource a stoner summer-of-love like the world has never seen!