Blog


4 min
Top 10 Cannabis Strains For Relaxing

4 min
We've got 10 marijuana varieties designed to de-stress and help you kick back and relax after a long, hard day. If you grow your own already, get ready to make space in the garden for some new additions. Or if you are new to cultivation, why not get started with one of these top 10 chill-out strains?
Putting your feet up with a nice joint or a packed vaporizer is a stoner pleasure. Cannabis helps most users relax and unwind. Everyone's ECS or endocannabinoid system is unique. Tolerance to cannabis varies from person to person and builds over time with continued use.
Homeostasis is the term scientists use to describe a state of internal equilibrium. When it comes to cannabis, a diverse cannabinoid profile is more likely to deliver a well-balanced high. This is known as the "entourage effect". In particular, CBD and THC have synergy. CBD relaxes the body, but it also seems to curb the psychoactive effects of THC to help relax the mind, too.
WHAT'S BEST, INDICA OR SATIVA?
Genetics have a tremendous impact on the kind of high buds will be packing. Many pure (or near-pure) sativa strains have a powerful cerebral effect due to high THC content and negligible CBD. The effects are usually short-lived, but can be an intense, almost trippy ride. However, with the right sativa-dominant strain, the high can be a potent stress-reliever and mood-booster.
Indica cannabis is generally heavier on the body and induces a more dreamy high. Obviously, many indica strains are great for relaxing. That being said, hybrids are amongst the finest chill-out strains on our list. This is because of their amazing cannabinoid profiles and the chilled-out vibe they provide in just a few tokes.
ZAMNESIA'S TOP 10 CHILL-OUT CANNABIS VARIETIES - HYBRIDS
1. OG KUSH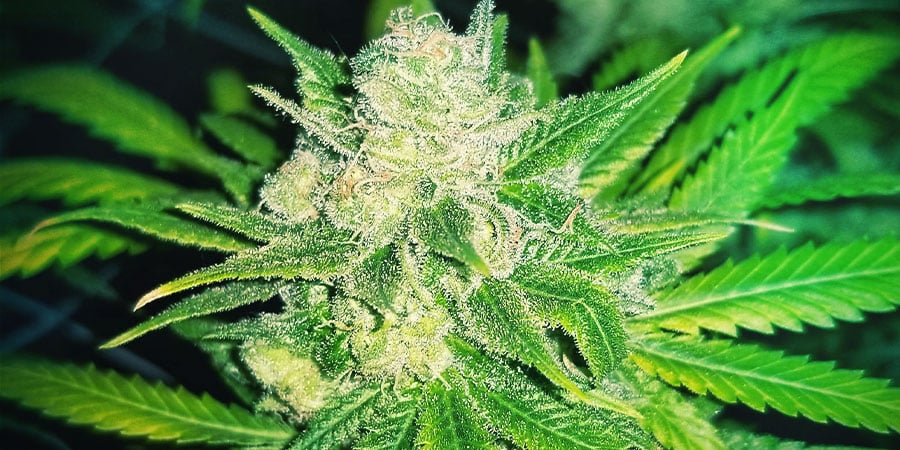 OG Kush is probably the most sought-after marijuana on the planet right now. This uber-potent Kush is world-renowned for its initial uplifting head buzz, followed by a powerful couch-lock. As is the case with game-changing genetics, this strain is often imitated and outright faked. If you want the real-deal dankness, we recommend our very own Zamnesia Seeds OG Kush and Dinafem Seeds OG Kush.
Aside from being perfect recreational chill-out weed, those frosty, lime green nugs also have medicinal applications. ADHD, migraine, stress, and depression patients have anecdotally reported improvements using this strain.
2. TRAINWRECK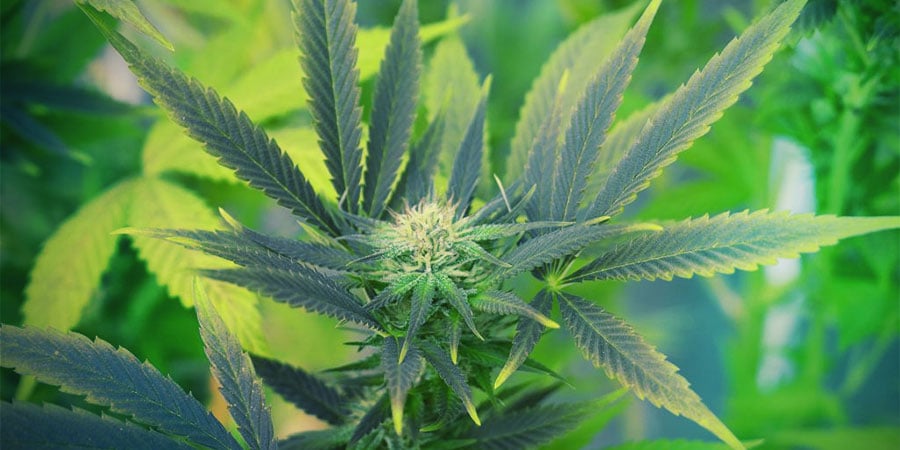 Trainwreck is another West Coast favourite that's perfect chill-out stash. This strain is a somewhat mysterious mix of northern California genetics. Her trademark uneven growing structure really makes her instantly recognisable in the grow-op. Plants are commonly weighed down during flowering with long-running colas and chunky side branches, often more prominent on one side than the other.
Rich, earthy flavours with hints of lemon and pine, coupled with a euphoric, cerebral effect and a mellow physical sensation make Trainwreck irresistible stash. Green House Seeds and Humboldt Seeds both offer outstanding original Trainwreck feminized seeds.
3. BLUE DREAM
Blue Dream is a delicious blend of Blueberry and Haze genetics. This strain hits you with a one-two head-body combination. For those that want the best of both worlds, the two-stage effects of Blue Dream are a real treat. Humboldt Seeds' version is some gourmet green.
First, a wave of euphoria gently rolls over the brain lobes. Stress and frustration wash away. The second stage of the high is a creeper. Gradually, a physical stoned sensation builds, relaxing the muscles and soothing aches and pains.
For growers with smaller grow-ops or those who are just too impatient for the 8-10 weeks of flowering required, there's a delectable autoflowering version called Blue Dream'matic by FastBuds.
4. GIRL SCOUT COOKIES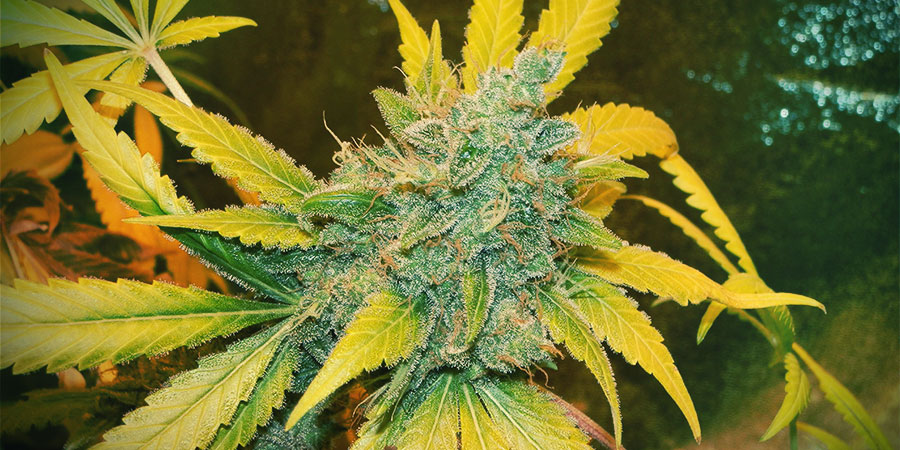 Sweet, sweet cookies. Girl Scout Cookies is a decadent dessert cannabis strain that won't exactly melt in your mouth. Rather, this weed will likely melt you into the couch. This awesome OG Kush and Durban Poison hybrid blend is devastatingly potent with THC levels 23% and above. Our very own Zamnesia Seeds edition won't disappoint pheno-hunters. Alternatively, Cali Connection Seeds will hook you up with the thin mint pheno.
Medicinal growers can now get ahold of CBD-rich cookies with CBD Crew's batch of Cookies. The signature baked goods aroma and sweet aftertaste is retained without the powerful psychoactive effects.
INDICA & INDICA-DOMINANT
5. BUBBA KUSH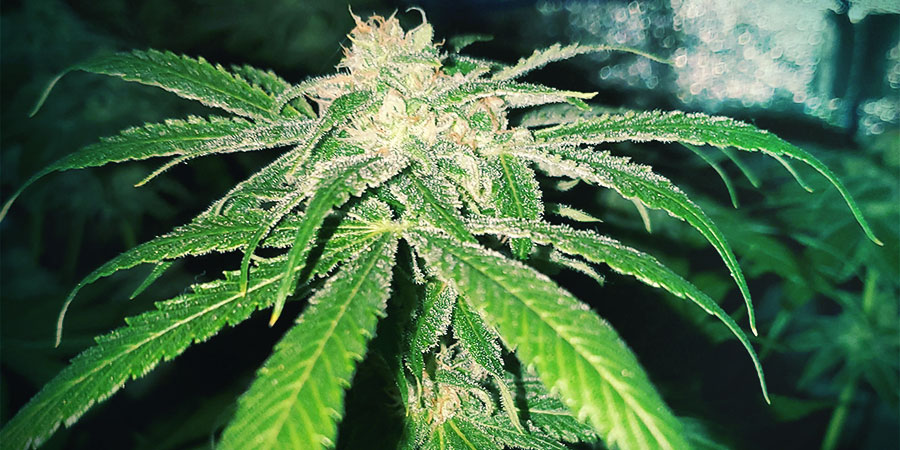 Bubba Kush is a heavy indica classic. Reputedly the result of crossing OG Kush and Northern Lights, this indica legend is dreamland stash. The strong hash-like flavour and scent, as well as a surprisingly sweet aftertaste make Bubba Kush the choice of connoisseurs. Dinafem Seeds and Humboldt Seeds have derived their versions of Bubba Kush from prized pre-98 Bubba stock. Bubba Kush won't give you any unpleasant surprises in the grow-op and will help you sleep like a baby.
6. NORTHERN LIGHTS
Northern Lights is the original couch-lock cannabis. Easy to grow, highly productive, and still potent even by today's standards, Northern Lights by Royal Queen Seeds and Zamnesia Seeds are true to the 1980's original.
The happy head-buzz and long-lasting physical stoned effects of Northern Lights are guaranteed to chill you out in just a few tokes. Full-bodied earthy-Kush flavour will keep you coming back for more. Northern Lights is perhaps the most versatile strain on this list and recommended for beginner growers or any grower with high standards.
7. BLUEBERRY
Blueberry is the juice your grow-op needs. You really should enjoy the taste of your chill-out cannabis, and this sweet indica delight does not disappoint on flavour. Master Breeder DJ Short's beans are the classic stretch indica original. While Zamnesia Seeds' stockier edition of Blueberry is more micro-grower friendly, both are bursting with sweet berry flavour.
The tranquilising physical effect of Blueberry is a fantastic pain-reliever and not too cerebrally overwhelming. It's hard to feel the blues after a few hits of this relaxing reefer.
SATIVA & SATIVA-DOMINANT
8. PURPLE HAZE
Purple Haze all in your brain and you can't complain. Jimi was onto something with this euphoric sativa. This old-school sativa is still available from Positronics Seeds and White Label Seeds. In an age of super-potent, ever increasing THC levels, the clear and uplifting high from Purple Haze is a rarity.
As the name implies, Purple Haze can develop a beautiful purple colour to her foliage and flowers in cooler conditions during bloom. Purple Haze is feel-good weed. Moreover, she tastes as good as she looks. Smooth and easy on the throat with a mix of sweet and floral flavours.
9. LEMON HAZE AUTOFLOWERING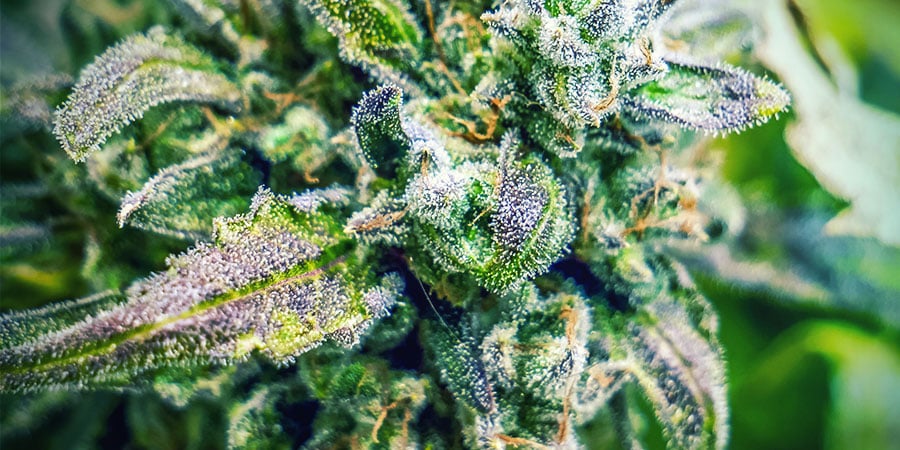 Sativa-dominant autoflowering hybrids reduce both the flowering period and excessive height of photoperiod sativa strains. Plus, they can do it independent of the light cycle. Ultra Lemon Haze by Auto Seeds rarely exceeds 1m in height and gives growers with smaller grow spaces the chance to crop a Haze in less than 100 days from seed.
Similarly, Super Auto Lemon Haze by Sensible Seeds is a low-maintenance auto Haze. However, she can stretch a little taller to about 1.2m. The combination of ruderalis and Haze genetics moderates the powerful cerebral sativa high and makes the auto hybrids more of a chill-out smoke. If you enjoy citrus-flavoured weed and just chilling out, consider these two autos.
10. STRAWBERRY COUGH
Strawberry Cough is the relaxation cannabis of choice for the veteran toker. Dutch Passion created this sativa-dominant beauty over two decades ago, and she is still a grow room favourite across Europe and the US.
Strawberry Cough's unique strawberry flavour and Skunky-fruit aroma continues to endear her to both medicinal and recreational users. Anxiety and bad vibrations will fade away with a lung full of Strawberry Cough. This mellow sativa will make you cough on the exhale, but she is not devastatingly potent. Strawberry Cough is a fun social smoke perfect for relaxing with friends.
Written by: Zamnesia
Zamnesia has spent years honing its products, ranges, and knowledge of all things psychedelic. Driven by the spirit of Zammi, Zamnesia strives to bring you accurate, factual, and informative content.

Find out about our writers
---