Blog

6 min
Best Strains For Making Cannabis Edibles
6 min
More than ever before, cannabis chefs are spoilt for choice when it comes to choosing strains for their creations. You can now make edibles based on the flavour, potency, or effects of a given strain with ease. In this article, we discuss the three best sativa, indica, and hybrid strains to infuse into edibles.
Even if you don't fancy yourself a lover of space cakes or infused brownies, cannabis edibles could still have a place in your kitchen. Whether you enjoy THC-spiked dressings or CBD smoothies, there's a way to ingest weed that satisfies both your stomach and your preferences as a cannabis consumer.
Love sativa edibles? There are some high-flying strains to send you into the stratosphere with just a couple bites! Lovers of indicas are not without options either; bask in the deep flavours and soothing highs inflicted by indica-dominant treats. Can't decide between the two strain types? Want to try a little bit of everything? No problem; many balanced hybrids on the market can be used to create all manner of delectable and diverse delicacies.
Without further ado, let's examine some of the top strains to render into edibles, broken down by strain type.
Best Sativa Strains for Cannabis Edibles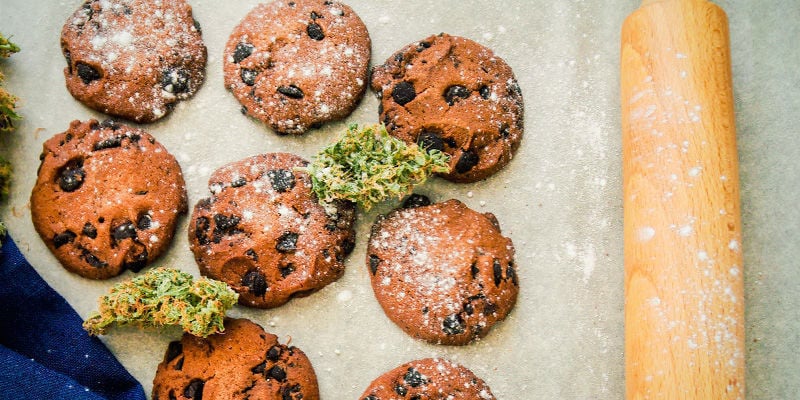 Pure sativa strains are renowned for the cerebral and energetic effects they give rise to. Not only that, but they contain an array of terpenes that augment the experience with distinct aromas and flavours. Looking to be productive after munching on that cookie? Planning on taking a long run later on? These sativa strains are the way to go!
Blue Dream (Zamnesia Seeds)
Zamnesia's Blue Dream is for those who like to indulge and take in the world around them. Despite its name, Blue Dream is very much suited to daytime endeavours, working around the house, and getting some adrenaline pumping. Mix up a Blue Dream protein shake or blueberry muffin to get your day started with energy and pizzazz.
Blue Dream contains around 19% THC, which, when concentrated, sparks a super-euphoric edibles high that comes on with feeling. Dose appropriately, and at the right time, as this stimulating strain will have you conjuring up plans and theories no matter the time of day. Augmenting the experience is a bouquet of terpenes that conjure notes of sweet vanilla, citrus, and, of course, berries.
Red Hot Cookies (Sweet Seeds)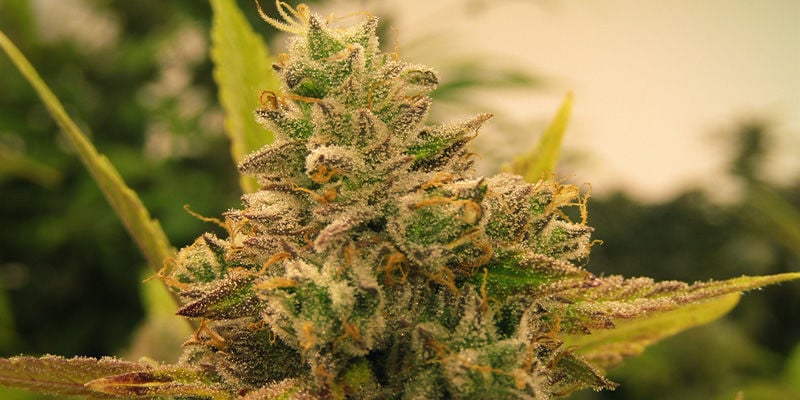 From the team at Sweet Seeds comes a strain bursting with tantalising, sweet citrus flavours and aromas—simply ideal for edibles. Whatever you're looking to cook or bake, be sure to include Red Hot Cookies' unique flavour profile in the mix. With flecks of mango and forest fruits, she's a tropical treat that lends herself well to everything from cookies to ice cream.
Not only bearing some great flavours, Red Hot Cookies also packs a psychotropic punch. With potent levels of THC (25% on average), she delivers a hard-hitting cerebral high that mellows into waves of deep relaxation. Perfect for cooking with friends, or if you just fancy baking some fruity treats for yourself. Besides, if you're not looking to share, we don't blame you at all. She's one moreish strain that deserves to be savoured to the very end.
Lemon Power Haze (Zamnesia Seeds)
Skip that morning orange juice in favour of Zamnesia's Lemon Power Haze! In fact, why not combine the two for a double-punch of citrusy goodness? Your wake-and-bake will never be the same. This classic Amnesia Haze and Lemon Skunk pairing not only delivers on flavour (you'll really have trouble masking these terpenes!), but catalyses a high that will inspire you to call up old friends, finish looming chores, or simply bask in the positive vibes.
A THC level of 20% equates to some long-lasting effects in edible form, but you'll be more than pleased with every hour you spend with Lemon Power Haze. Power through your day, or just enjoy life as it comes with this sterling sativa.
Best Indica Strains for Cannabis Edibles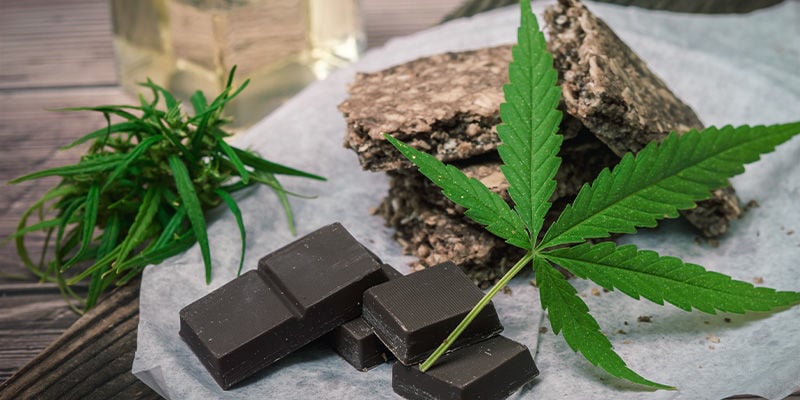 Indicas hold a firm place in most cannabis users' hearts—even sativa lovers. After all, who can resist a good body-slamming, blissful stone? The following strains are ideal for enjoying after a busy day for some seriously relaxing and indulgent edibles.
Runtz Muffin (Barney's Farm)
As the result of a three-way cross between Zkittlez x Gelato #33 x Orange Punch, one thing is for sure; this strain is packing some serious flavours—flavours that make it perfect for infusing into your finest edibles recipes with ease. With a punchy sugar-sweet flavour underlined by some welcome citrus tanginess, she'll effortlessly complement those sweet bakes or cannabis cocktails.
Runtz Muffin is certainly not just concerned with flavour. She packs a mean hit when it comes to her high. With a huge THC content of around 29%, she's a pure indica powerhouse—bound to put a smile on you and your friends' faces as you settle into an evening of edibles. Expect a huge initial euphoric rise that settles into deep relaxation ideal for a night on the couch.
Runtz Muffin (Barney's Farm) feminized
Parents: Zkittlez x Gelato #33 x Orange Punch
Genetics: 70% Indica / 30% Sativa
Flowering Time: 8-9 weeks
THC: 29%
CBD: Low
Flowering Type: Photoperiod
Skywalker Kush (Reserva Privada)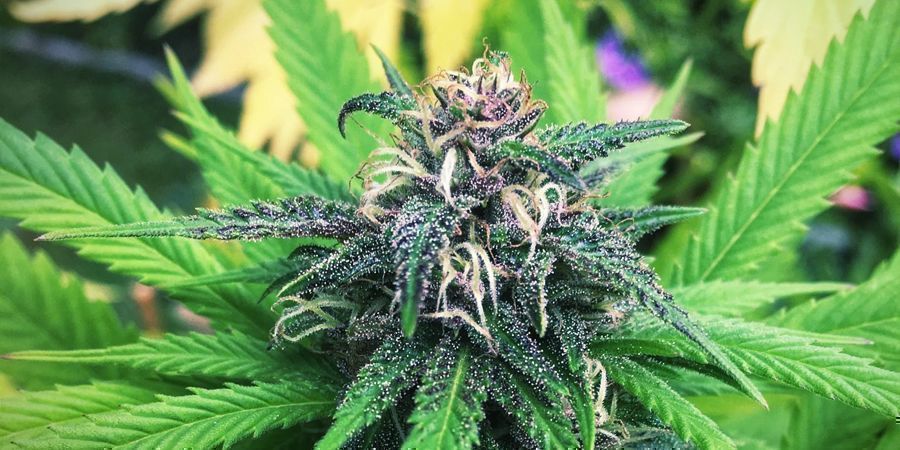 Skywalker and OG Kush both donated their top-tier genetics to give rise to a powerhouse indica with all the best Kush impulses. Perhaps its most winning trait in the realm of edibles is its massive resin content. As a result, Skywalker Kush by Reserva Privada makes superb raw material for hash and concentrates. Edibles will be packed with potency and flavour, so you can enjoy a long, soothing, and complex high every time.
Just because it's an indica doesn't mean Skywalker Kush isn't capable of delivering some welcome euphoria; on the contrary! Thanks to its high THC content, you'll enjoy both the cerebral and physical elements of a well-rounded high. All the while, flavour notes of fuel, spice, and earth come together in a terpene profile that really lends itself to savoury dishes.
Blue Cheese (Big Buddha Seeds)
Blue cheese is a bit divisive in the culinary world, but the same can't be said for the cannabis community. Blue Cheese by Big Buddha Seeds is a delicacy everyone can enjoy, with just the right mix of sweet and skunky flavours.
This cannabis cup-winning cultivar is a worthy addition to both savoury and sweet edibles, and is a bit livelier in its effects than the previous two indica-dominant cultivars. You can still expect a heavy bout of soothing relaxation, but you can rest assured you won't be sent to dreamland—at least not immediately, anyway. Just wait until you can test out Blue Cheese's dank and fruity flavour profile for yourself. You won't be disappointed!
Best Hybrid Strains for Cannabis Edibles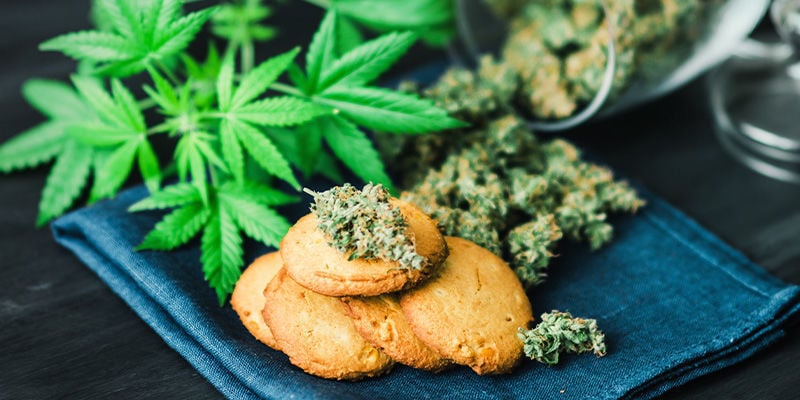 It's often said that hybrid strains combine the best of both worlds; and that's true. But, even beyond that, hybrids offer distinct experiences that cannot be attributed to sativa or indica genetics alone. Take a look at some of the most delectable and powerful hybrid strains to infuse into edibles below.
Gorilla Glue (Zamnesia Seeds)
Gorilla Glue, one of the heaviest hitters in the cannabis scene during the '10s, has been refined by Zamnesia Seeds to offer a balanced high that ticks all the boxes with a single toke. Convert this strain into edibles, however, and you can expect a truly intense and magical experience that nevertheless should be approached with caution. Why the warning? Well, with a THC level of around 26%, this beast means business. That shouldn't discourage you from making some Gorilla Glue confections, though.
Ditch the old birthday gift basket and infuse your treats with something your friends and family will really enjoy. With flavour notes ranging from the spicy and earthy to the sweet and citric, the sky's the limit in the kitchen. Thanks to the exceptional amount of resin produced by Gorilla Glue—a feat that earned the strain her name—you'll be overflowing with Gorilla goodies in no time.
GG#4 (Zamnesia Seeds) feminized
Parents: Chem's Sister x Chocolate Diesel
Genetics: 50% Sativa/50% Indica
Flowering Time: 8-9 weeks
THC: 26%
CBD: 0-1%
Flowering Type: Photoperiod
White Widow (Zamnesia Seeds)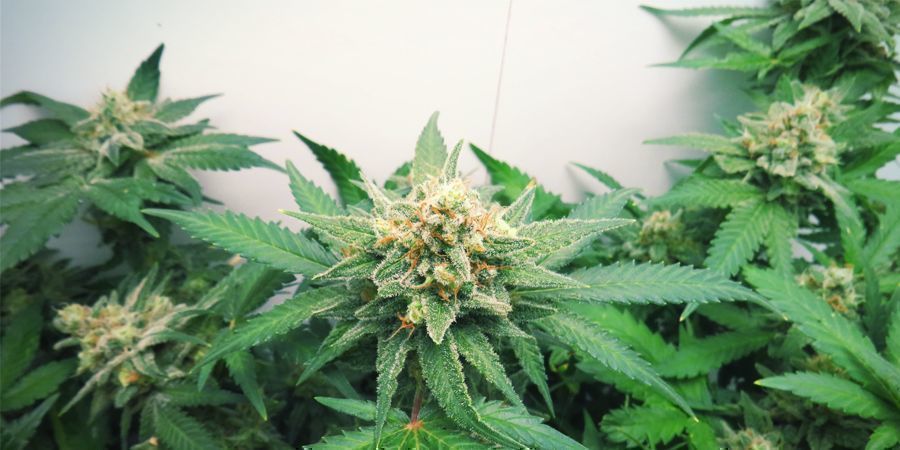 Is there such a thing as a perfect strain? Fans of White Widow seem to think so. Zamnesia's White Widow draws upon classic genetics to deliver a 50% indica, 50% sativa experience par excellence. Not sure what kind of edibles experience you want to go for? White Widow is always a safe bet!
With its surging cerebral high, this crowd-pleaser also impresses in the stash jar with its huge white slathering of trichomes. This abundance of resin can only mean one thing: cannabinoid and terpene-packed edibles that will impress even old-school cannabis connoisseurs. Spicy and herbal flavours accent a THC concentration of 18–20% for a high that lifts you up for hours when consumed in edible form.
Green Gelato (Royal Queen Seeds)
Green Gelato is one of the strongest and most sought-after strains to come out of Royal Queen Seeds. Harbouring the finest Cookies genetics, this 55% indica, 45% sativa strain is the stuff cannabis dreams are made of.
Despite a high THC level of 27%, users can still enjoy Green Gelato edibles without being totally overwhelmed, thanks to a fine balance of citrusy, sweet, and earthy terpenes. Still, you won't need to eat much to get sufficiently stoned from a snack made with this strain. Unlike some of the other options on this list, Green Gelato can be enjoyed in edible form at practically any time of day. It's neither a couch-locker nor an overly stimulating strain—perfect for any occasion.
Sativa, Indica, or Hybrid Edibles: There's a Strain for That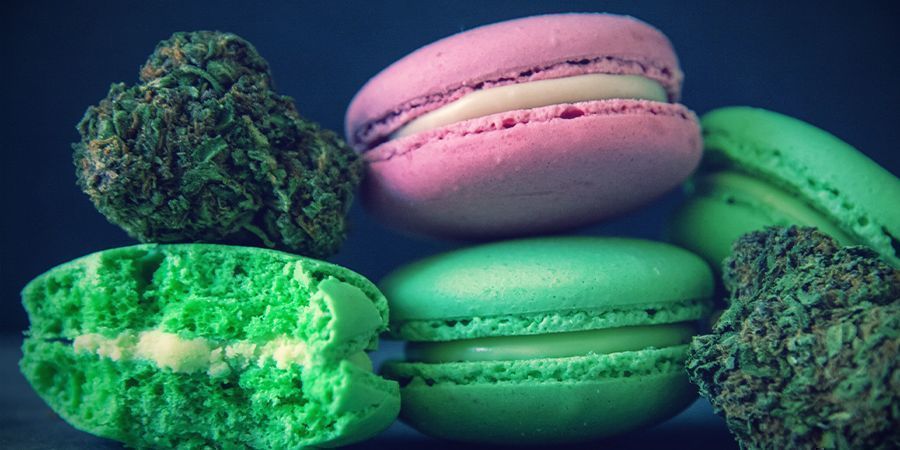 As you can see, it doesn't matter what type of strain you enjoy—there's a perfect cultivar out there for you to turn into a superb edible delight. Don't feel limited by the above selections, either! While the aforementioned strains are ideally suited for edibles—either for their potency, flavour, resin content, or a combination of all three—you can turn practically any strain you have into something delicious. Enjoy!