Blog

3 min
Greenmeister: New Coffeeshop App
3 min
Greenmeister is your virtual tour guide as you traverse the Netherlands in search of the finest weed. Find new locations, read reviews and ratings, and get info on prices and menus. Once you're done, leave a review to help other users know where the best spots are.
Navigating the bustling streets of Europe's cannabis capital can be an intense experience, especially with a brain bathed in THC. With hundreds of coffeeshops to choose from in Amsterdam alone—many of which are tucked away on side streets and dimly lit alleyways—it can be hard to know where to proceed.
A team of bright entrepreneurs have tackled this problem with Greenmeister. This free, streamlined app helps you locate hundreds of coffeeshops within Amsterdam and beyond.
Read on to learn how Greenmeister can help you navigate the cannabis paradise of the Netherlands.
WHAT IS GREENMEISTER?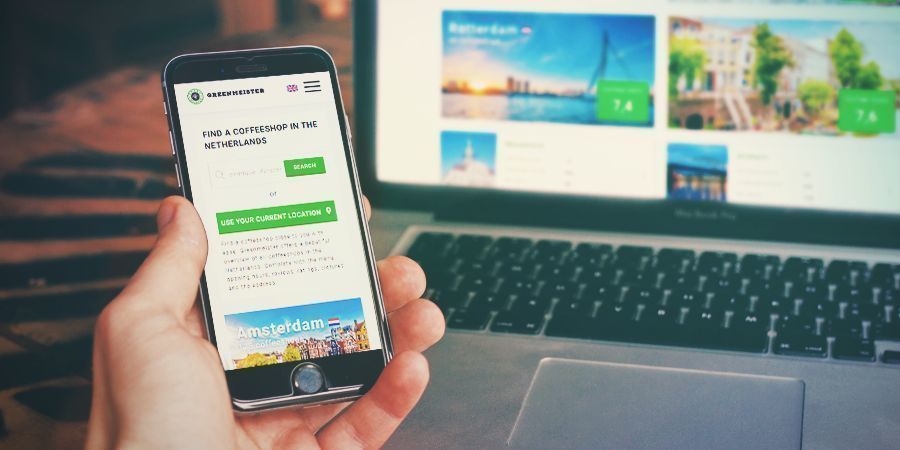 Greenmeister provides cannabis tourists with the precise location of coffeeshops in Amsterdam, Rotterdam, Utrecht, and other towns and cities throughout the Netherlands. But it's not just a digital map—the app features user reviews, ratings, and up-to-date data regarding cannabis quality.
Dutch DJ and hip hop artist Bizzey created Greenmeister with business partners Onnick Jessayan and David Messie. Along with his passion for music, Bizzey possesses a burning love for the herb. He wanted to provide a platform that would assist cannabis-loving travellers and locals in finding the best spots in the Netherlands.
WHAT CAN YOU DO WITH GREENMEISTER?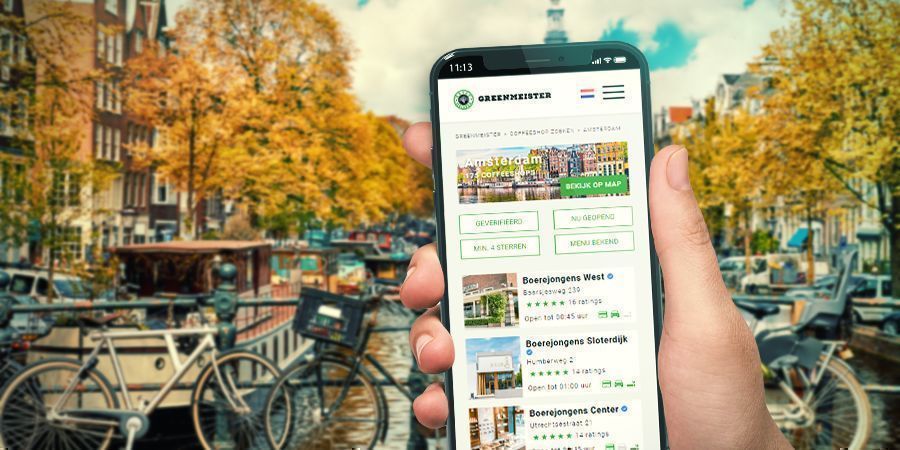 Look at Greenmeister as a virtual tour guide. Not only will it show you the exact location of coffeeshops throughout the Netherlands, but it also provides users with in-depth reviews and ratings that will help you decide where to visit next.
We've all had that moment in Amsterdam. You know, the moment when you dust off your last spliff in a busy coffeeshop. You look over at your friend's bright red eyes and realise they probably aren't capable of making a rational decision. The question is: where to go next? But neither of you have the answer.
The solution now exists. Simply unlock your phone, pull up Greenmeister, and look for the nearest place with the best reviews!
FIND YOUR WAY TO THE NEAREST COFFEESHOP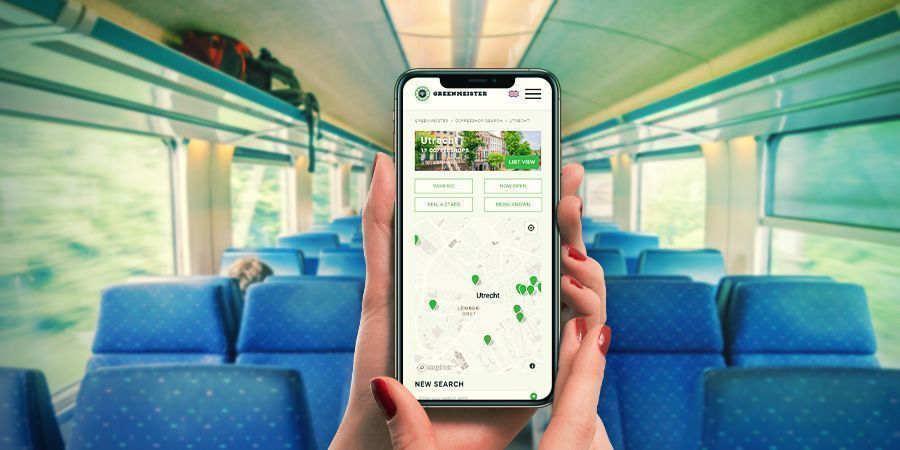 You can use Greenmeister to find the coffeeshops closest to you in two different ways.
You can use the search tool to narrow down your options by entering the name of your location or the province you're in. For example, let's say you're on the train to Utrecht in search of some dank flowers. Simply enter the town's name into the search bar and check out what comes up.
Narrow down your search using the filters "verified", "min. 4 stars", "now open", or "menu known" to find exactly what you're looking for.
Alternatively, you can use your current location to discover the nearest coffeeshops—this method is much faster and more efficient. Simply click "use your current location" to see if anything nearby tickles your fancy. Oh, and don't worry, your information won't be stored!
REVIEW COFFEESHOPS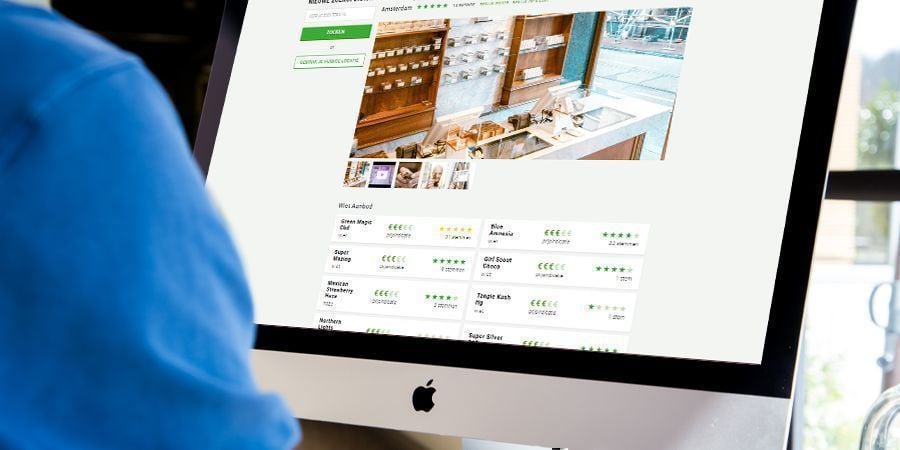 Once you've visited a new coffeeshop, you can leave a review on Greenmeister to let others know about your experience. Was the weed top-shelf or poor quality? Did you receive friendly service or feel like the staff didn't want you there? Should other tourists go out of their way to visit, or completely avoid the establishment?
It's easy to create an account. Just choose a username, email, and password. Now you're ready to post away on the Greenmeister website or app! You can also leave a 1–5 star rating along with your write-up to help others quickly identify the quality of a particular coffeeshop.
Greenmeister relies heavily on its user base to share up-to-date information. All users can post a new coffeeshop and post details regarding operating times, menus, prices, and facilities.
Greenmeister takes things further by verifying some of the coffeeshops that appear on the app and website. They routinely visit locations to ensure that the customer-generated content matches what their personnel witness on the ground. If everything checks out, the location will receive a verified listing. This way, users can trust the accuracy of details on all verified listings.
WHERE DO I FIND GREENMEISTER?
Greenmeister is available via their website or app—both are free!
The Greenmeister app is currently available on Android devices, with the iOS app release date set for March 2020.
LOOKING FOR THE VERY BEST COFFEESHOPS IN AMSTERDAM?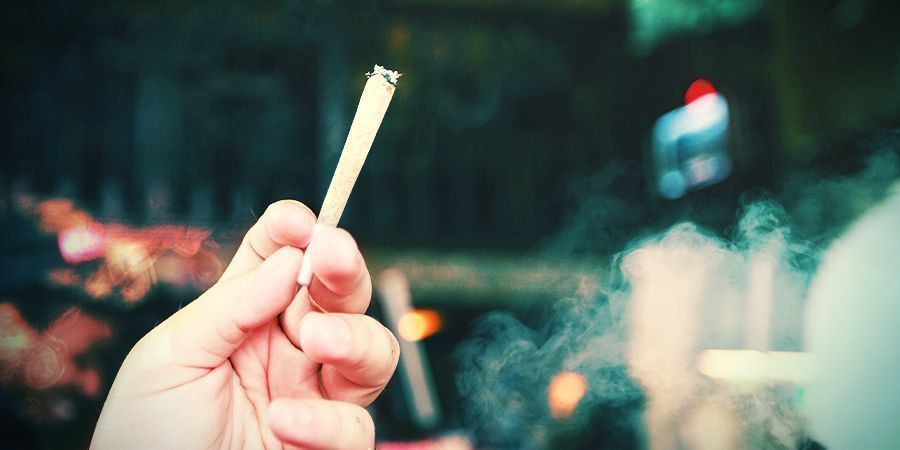 Relying on user-generated can be helpful; it does away with fluffy advertising and corporate interests and provides you with honest, succinct opinions.
However, Zamnesia has harnessed public opinion for years in pursuit of the very best coffeeshops in Amsterdam. The Zamnesia Coffeeshop Awards allows members of the public to vote for their favourite coffeeshops across several categories.
After we count the votes, we hand out awards at a prestigious ceremony for Best CBD Product, Best CBD Flower, Best Indica Flower, Best Sativa Flower, Best Hybrid Flower, Best Hash, Best Pre-Rolled Joints, Best Edibles, Best Brand, and Best Coffeeshop. Oh, and Bizzey himself attended as a special guest during the 2019 event!
Check out the results of the Zamnesia Coffeeshop Awards 2019–2020 to discover the 15 best coffeeshops the city has to offer.
ZAMNESIA'S JOINT TASTE TEST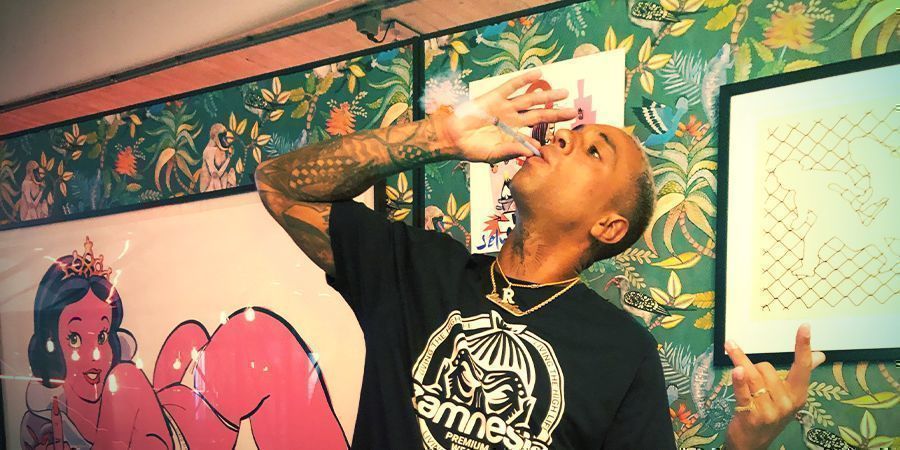 To congratulate the Greenmeister team on developing such an innovative platform, the Zamnesia crew decided to send them a gift. In a move of solidarity, we sent our cannabis-loving friends a few of our finest strains, each carefully crafted into a pre-rolled joint. Ready for the twist?
We sealed each joint in a separate envelope, each containing an unknown strain. The Greenmeister team let their main man Bizzey take on the challenge of tasting each of them and deciding which one he liked best.
AND THE WINNING STRAIN IS...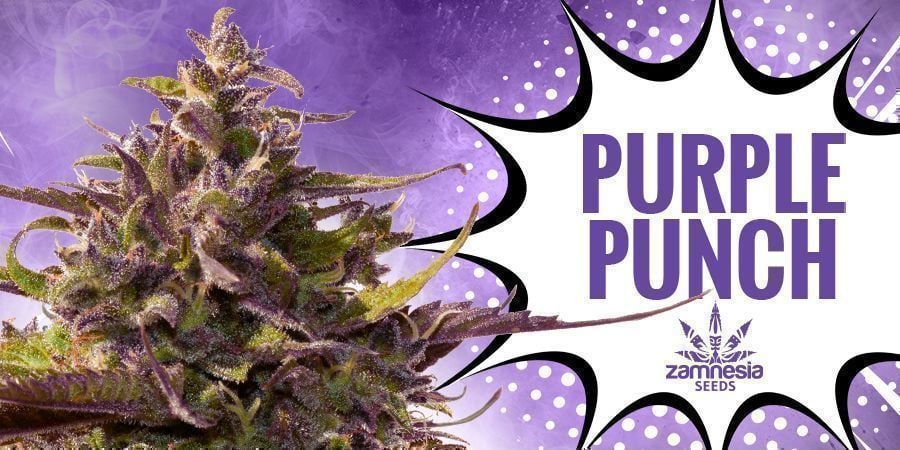 Bizzey decided upon a clean winner: joint number one!
The pre-roll contained a hefty amount of Purple Punch, an almost pure indica variety that provides a soothing and stoning effect. Bizzey labels himself as a "lightweight smoker" but claimed he enjoyed the heavy body high fuelled by a THC content of 21%. Purple Punch stems from parent strains Granddaddy Purple and Larry OG and delivers delicious tastes of candy, grapes, and blueberries.