Blog

5 min
Top 10 Best Indica Weed In Amsterdam
5 min
It's hard to beat the deep, relaxing stone of a quality indica. In this article, we'll show you where to score the best indica weed in Amsterdam according to the results of the 2019 Amsterdam Coffeeshop Awards.
Engaging over 500,000 participants in its inaugural year, the Amsterdam Coffeeshop Awards are back to highlight the best the city has to offer.
Cannabis is a huge player in Amsterdam's almost €6 billion yearly tourism industry. Unfortunately, the bud you'll find across the city's 500+ coffeeshops isn't all made equal. That's where these awards come in, allowing cannabis users in Amsterdam (both locals and tourists) to voice their opinions.
The results from this year's Amsterdam Coffeeshop Awards have been tallied. In this article, we'll show you the best spots in the city to score some top-shelf indica flower.
INDICA CANNABIS: WHAT IS IT AND WHY SHOULD YOU TRY IT?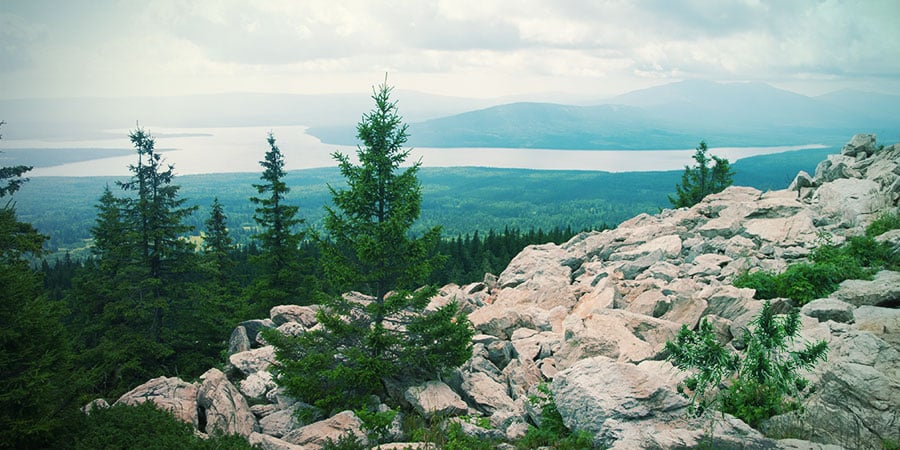 Cannabis indica is believed to originate from the mountainous regions of Nepal, India, Pakistan, and Afghanistan. In stark contrast to sativas, which are native to more tropical climates, indica cannabis plants are short and bushy, flower quickly, and are capable of producing dense, extremely resinous buds.
EFFECTS AND FLAVOURS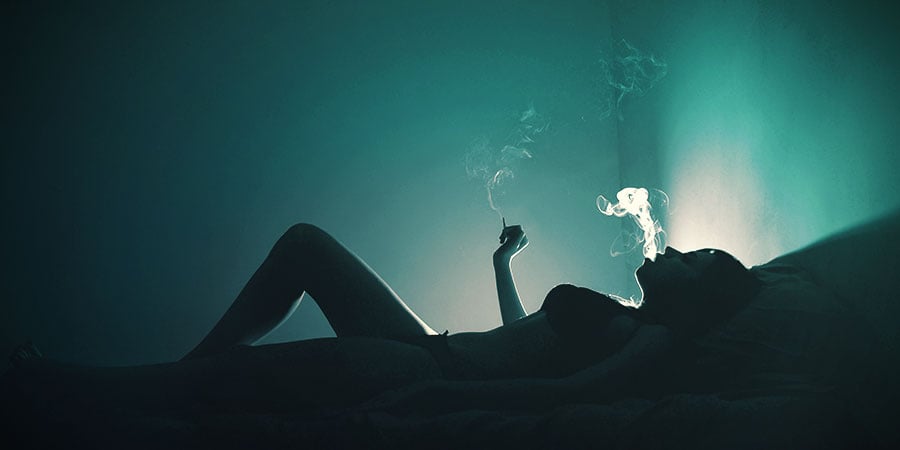 Indica cannabis strains are renowned for their unique effects and flavours. Whereas sativa strains tend to smell fruity, sweet, and floral, indica strains tend to have more musky, earthy, and herbal aromas.
In terms of effects, indica strains tend to produce a physically relaxing stone. These strains are great for when you want to kick back, enjoy a movie, listen to your favourite record, or before going to bed.
Cannabis indica owes its unique effects and aromas to its chemical constituents. A 2011 study from Fundación CANNA analysed the terpene content of 16 different strains sourced from private breeders. The strains were categorised as either mostly indica or mostly sativa based on the genetic information supplied by the breeder, then analysed for their terpene profile.
The study showed the dominant terpenes in indica cannabis strains to be myrcene, pinene, and limonene. Myrcene gives indica strains their musky and earthy aromas, while also contributing to the grape/berry aroma of some strains. Pinene and limonene, on the other hand, give indicas their piney and citrus aromas.
Myrcene has also been found to display sedative-like effects, and is believed to be one of the main compounds responsible for giving indicas their relaxing properties.
TOP 10 AMSTERDAM COFFEESHOPS FOR INDICA FLOWER
If you love the taste and effects of indica weed, here are the top 10 Amsterdam coffeeshops you need to visit:
THE STUD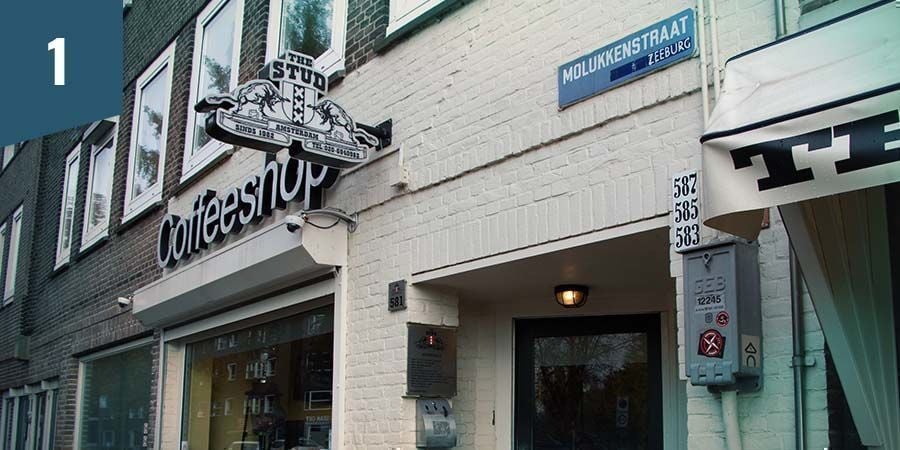 Founded in 1982, The Stud is a small, hole-in-the-wall coffeeshop located in Amsterdam East. It boasts a friendly atmosphere and usually caters to a good mix of locals and tourists. The Stud has a warm, modern interior and serves up a selection of delicious sandwiches, juices, coffee, and more.
In terms of weed, The Stud carries some of the best stuff in the city, which is why both Zamnesia and Paste Magazine crowned it Best Coffeeshop in Amsterdam in the past. For the indica lovers, The Stud carries some top-shelf Granddaddy Purple that'll leave you seeping into the couch.
GREY AREA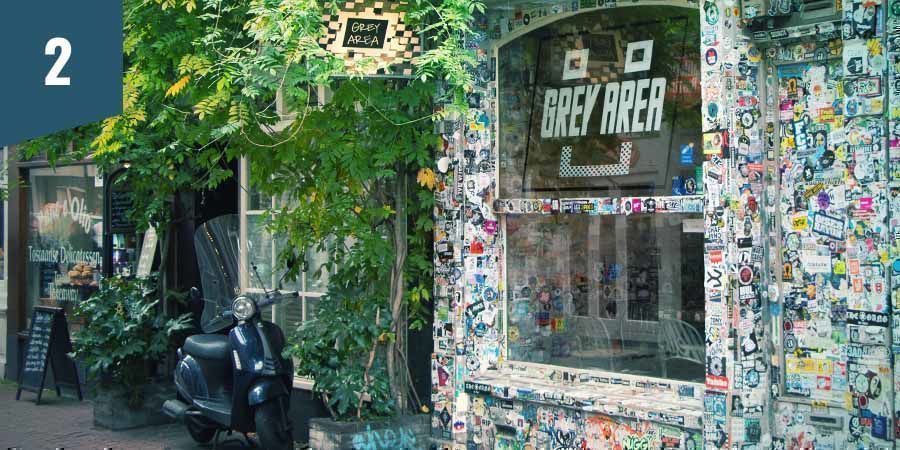 This year, Grey Area celebrates 25 years of business. And with good reason; this is by far one of the best coffeeshops in the city. Located only a few blocks from the Anne Frank House, Grey Area's location is pretty hard to beat. It also boasts super friendly staff and a welcoming vibe that attracts a lot of people from around the world (including celebrities like Snoop Dogg).
Grey Area has a variety of unique in-house strains. For a hard-hitting, relaxing indica stone, we recommend trying Greyberry, a delicious cross of Bubblegum and Blueberry. Alternatively, try out The Pink for a unique pure indica that's very hard to come by.
JOHNNY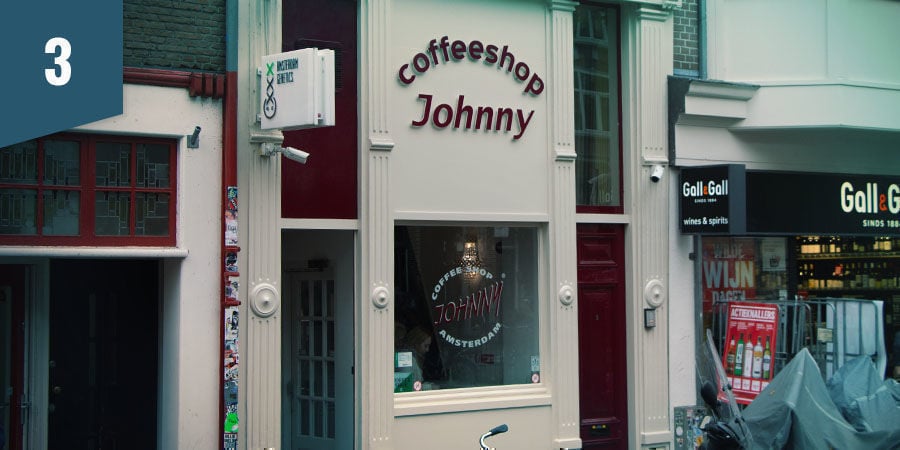 Johnny was founded in 1991 in the southern part of Jordaan, a beautiful residential area just outside Amsterdam's main tourist district. It boasts a really sleek, modern interior with fully electronic menus and points of sale, a few bar stools, and a fine selection of some of the best bud, hash, and edibles the city has to offer.
Johnny usually stocks a wide variety of indica strains. But nothing quite beats their Original Glue #4. A unique version of the famous Gorilla Glue, this strain boasts a pungent, earthy-pine aroma and produces a very relaxing, happy stone that's perfect for enjoying on a lazy stroll through the city.
BOEREJONGENS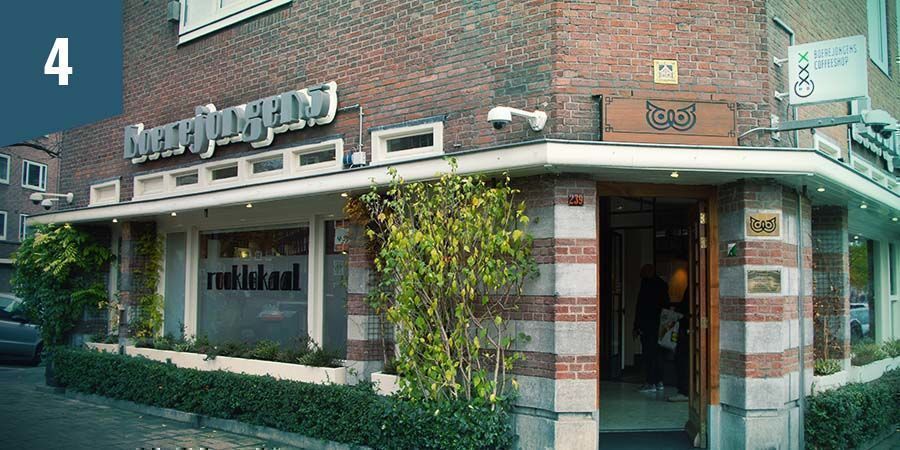 Boerejongens has long been one of our favourite Amsterdam coffeeshops. Stocking a unique line of bud, hash, and genetics by Amsterdam Genetics, each of the four Boerejongens locations offers a unique, modern layout complete with wooden decor, marble counters, electronic menus, and excellent boutique-style service.
Boerejongens stocks an ever-changing line of products from Amsterdam Genetics, a leading Dutch seedbank. There's always a good selection of indicas on the menu, but we highly recommend trying Banana Kush for a deliciously fruity, relaxing smoke.
AMNESIA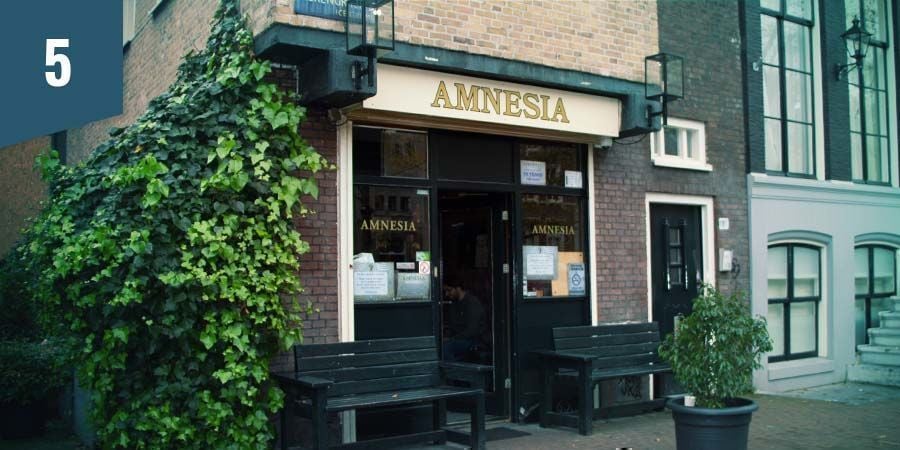 Named after the iconic strain that instantly became a coffeeshop favorite, Amnesia is another great establishment. Located a few blocks from the Anne Frank House and around the corner from Grey Area, Amnesia is a large coffeeshop with plenty of seating (both indoor and outdoor), a nice selection of food and drink, and an even better selection of weed.
Amnesia currently stocks two powerhouse indicas we absolutely love: Vanilla Kush and Pineapple Chunk. The former boasts a uniquely sweet aroma and powerful stone, while the latter is a potent, pure indica wonder.
1E HULP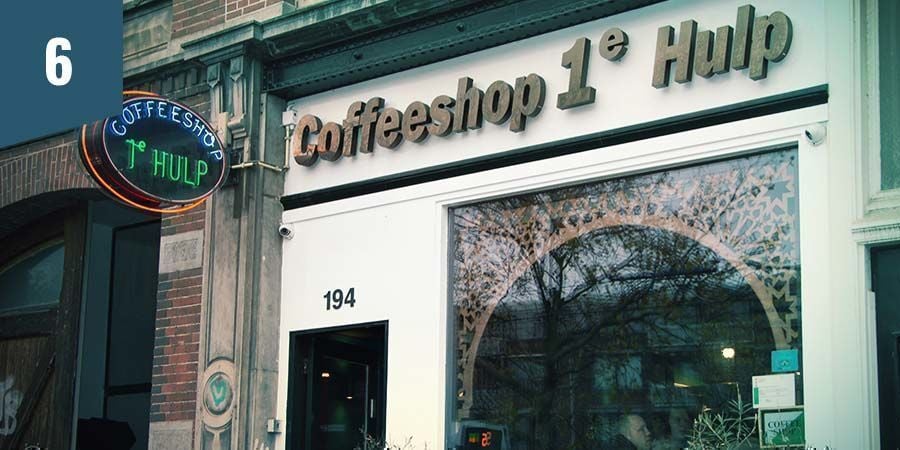 1e Hulp, or First Aid, is another hidden gem tucked away just outside Amsterdam's Jordaan district. Loved by locals and visitors alike, what this store lacks in size it makes up for in friendly service, quality products, and a mega-friendly cat who might sit on your lap as you light up.
Like most coffeeshops, 1e Hulp is always updating its menu with new strains. Right now, the store stocks a number of delicious indicas, but one of our favourites is Gelato #33, a unique phenotype from the Gelato family that boasts an amazing fruity aroma and a potent, ultra-relaxing stone.
BARNEY'S COFFEESHOP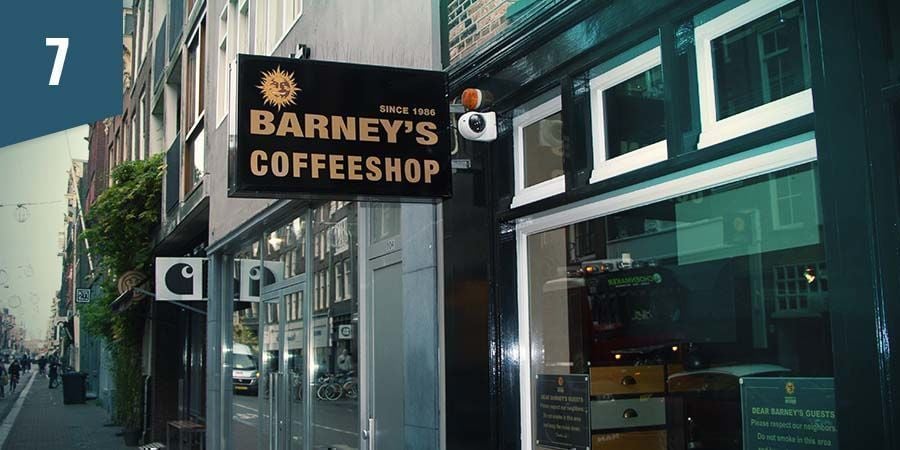 Run by the geniuses behind Barney's Farm, Barney's Coffeeshop has won multiple awards and shares a rich 23-year history in Amsterdam's cannabis scene. Today, the shop boasts a completely updated interior complete with bar-style seating, slick furniture, and a warm and friendly atmosphere.
If you love your indicas, we highly recommend checking out Barney's Orange Sunset. While it's pricey, this 2018 Cup Winner delivers a stone like no other. Alternatively, if you're not up for dropping that kind of dough, check out Barney's Blue Cheese for big flavour and a deeply relaxing effect.
HAPPY FEELINGS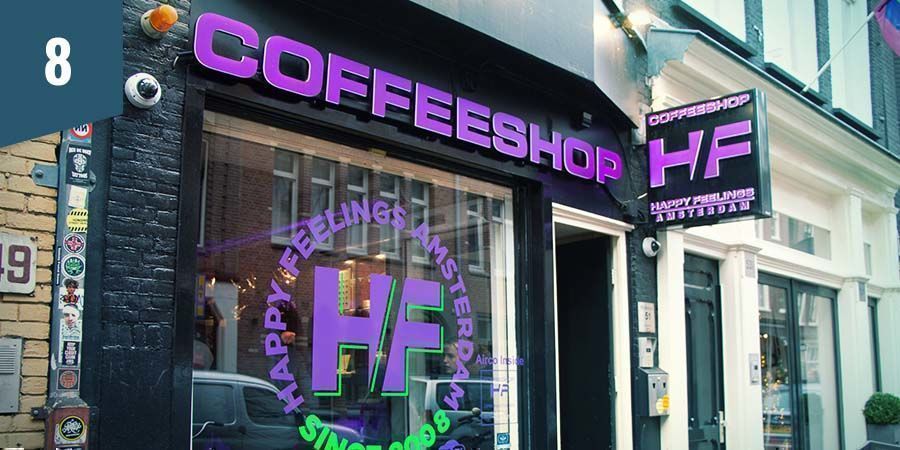 Located just outside the old West Amsterdam district, Happy Feelings is a small coffeeshop with a sleek, modern interior and a bar/lounge-like vibe. It offers a nice selection of snacks and drinks, and the crew at Happy Feelings also run a special smoker's canal cruise.
The Happy Feelings menu is loaded with a wide variety of great flower and hash. While the menu is constantly changing, it currently features a great selection of indicas, including Enemy of the State, an old-school strain that forms the genetic backbone of many other famous strains, including the entire Amnesia family.
GREEN HOUSE COFFEESHOP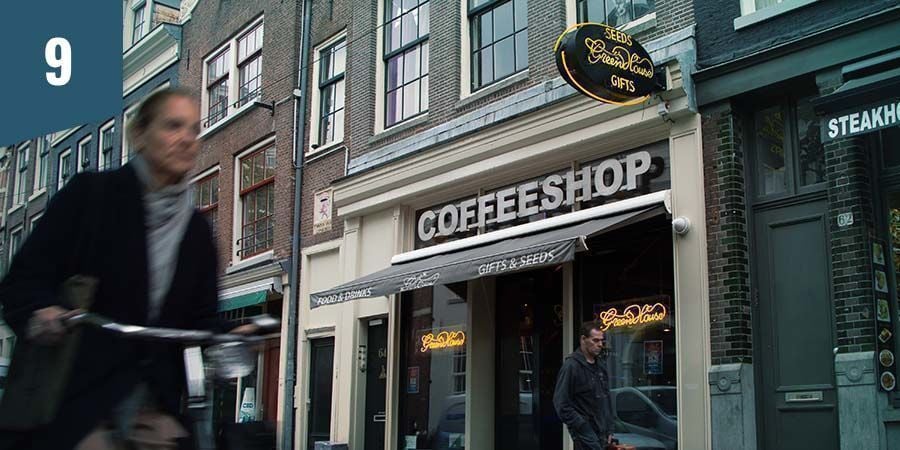 Green House has a lot on offer. Its canal-side patio is perfect for soaking up the summer sun, while its selection of sandwiches, pizza, burgers, cakes, drinks, and salads is great for when the munchies strike. And if that's not enough to lure you in, then Green House's epic cannabis menu definitely will.
If you're looking for a super relaxing indica strain to help you unwind, you can't go past Pure Kush. Nominated for a cannabis cup in 2014, this delicious Kush phenotype delivers a strong narcotic stone that'll lull even the most seasoned smoker into a relaxed daze.
COFFEESHOP AMSTERDAM (FORMERLY DAMPKRING)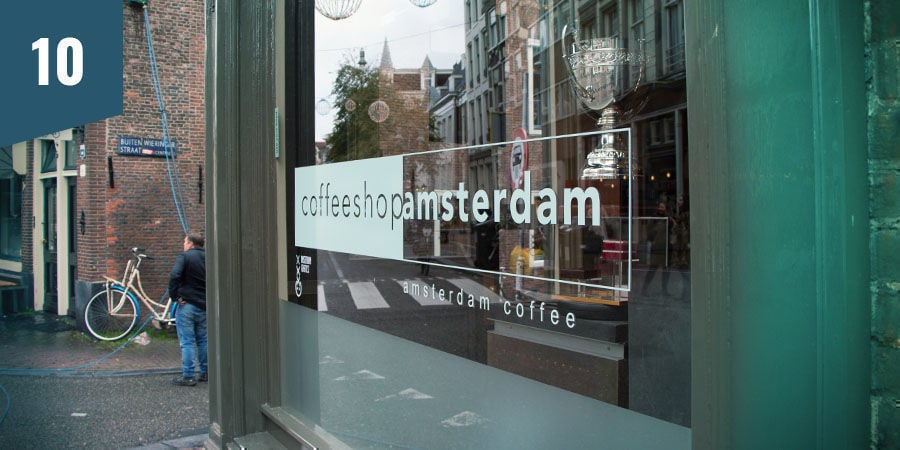 Previously the Dampkring, Coffeeshop Amsterdam is located in the heart of Amsterdam's city center. With a rustic interior, a cosy upstairs seating area, and a solid selection of food and drink to help you battle the munchies, it's no wonder this is one of the city's most iconic coffeeshops. And just like the other venues on this list, Coffeeshop Amsterdam stocks some of the best indica flower the city has to offer.
We highly recommend trying any of the homegrown indica varieties, as Coffeeshop Amsterdam only offers top-shelf strains from Amsterdam Genetics. The Girl Scout Choco, for example, is an incredibly aromatic strain that delivers a relaxing, euphoric, and happy high that'll stick around all day.