Blog

5 min
Top 10 Best Hash In Amsterdam
5 min
Hash is a delicacy in the world of cannabis. In this article, we'll show you where to find the best in Amsterdam.
Love your hash? Keep reading to find out where to find the best hash in Amsterdam according to the results of the 2019 Zamnesia Amsterdam Coffeeshop Awards.
AMSTERDAM COFFEESHOP AWARDS — BEST HASH
Zamnesia's Coffeeshops Awards are all about giving a voice to Amsterdam's weed lovers, whether local or visiting. This year's awards attracted over 50,000 votes from 50 countries, and below you'll find the results for the 10 coffeeshops serving up the best hash in the city.
DIFFERENT TYPES OF HASH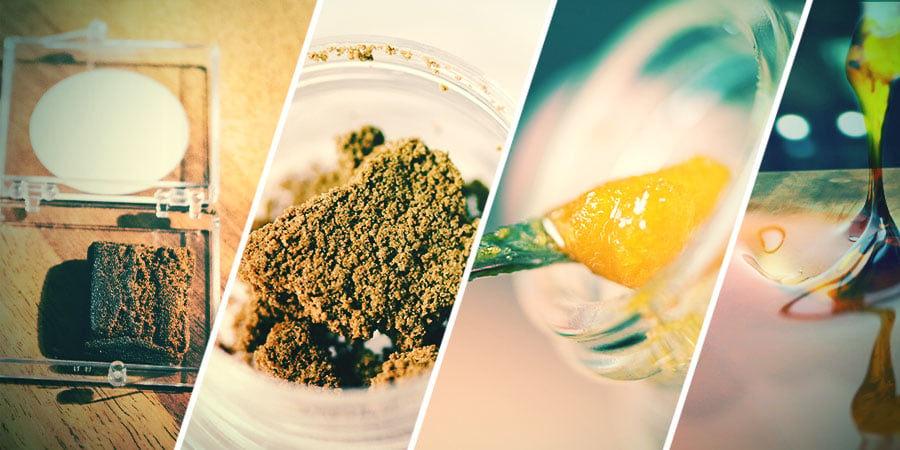 Weed connoisseurs have long considered hash a delicacy, but there are many different types of hash out there, and they aren't all made equal. Some of the different types of hash you'll find in Amsterdam include:
The afghan hash in Amsterdam is usually made by pressing and heating kief into blocks. It has a dark brown, almost black colour, a strong, spicy aroma, and usually produces a very relaxing, mellow stone as it includes Kush or other heavy indica strains.
Bubble hash is made using ice, water, and bubble bags to separate trichomes from frozen cannabis buds. The trichomes are caught using mesh bags and then dried and pressed together. Lighter colours are usually a sign of higher-grade bubble hash, while darker or greener hash is typically of lower quality.
This type of hash uses significant heat and pressure to extract the desired cannabinoids and terpenes from cannabis buds. Quality rosin has a sticky consistency, a golden colour, and is typically very aromatic.
Hash oil is made using a solvent (typically butane) to separate cannabis constituents from dried buds, resulting in hash with a potency of up to 90% cannabinoids. Hash oil is sold under many different names depending on its consistency; some of the most popular include shatter, wax, and budder.
WATERWORKS BY COFFEESHOP AMSTERDAM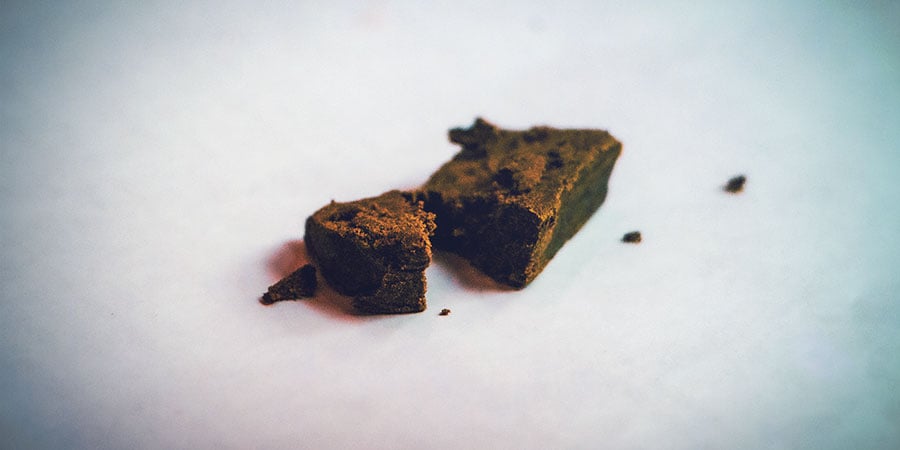 Hash is all about potency and flavour. And for those two criteria, you can't go past the Waterworks Hash at Coffeeshop Amsterdam.
You'll find the name "waterworks" on many Dutch coffeeshop menus, where it's used as an alternative name for bubble hash. And while there's plenty of good hash in the city, Coffeeshop Amsterdam's Waterworks is the creme de la creme.
TEST THE QUALITY OF HASHISH WITH THE BUBBLE TEST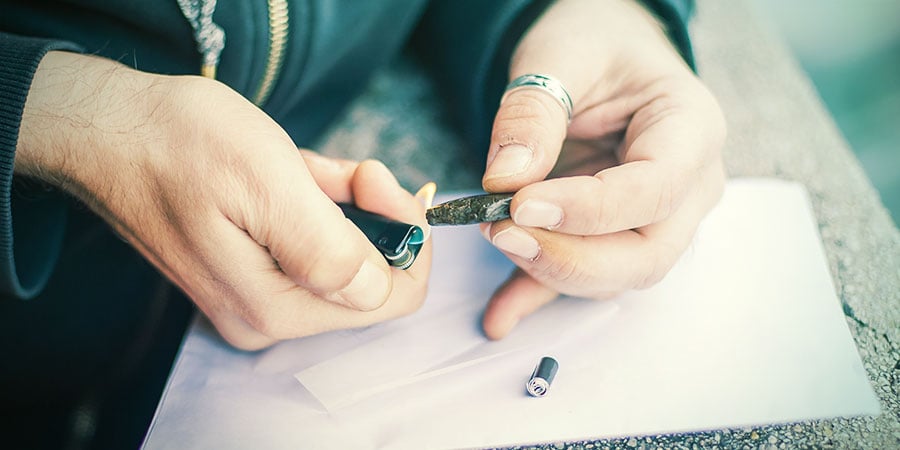 Well-produced hash will have a very high THC content, inducing a powerful high. But how can you tell great quality hash from the bad stuff. Well, there is a simple test you can do once you have procured your hashish: The Bubble Test! With a lighter - not a matchstick - apply a flame to a small piece of hash. If the hash bubbles noticeably, it is definitely the good stuff. The best hash will often catch fire almost immediately and burn with a soot-free flame. Hash that is blackened with soot after this test may indicate that certain contaminants combusted during the bubble test.
Hash that doesn't bubble can be seen as of lesser quality, containing a higher percentage of unwanted plant material or contaminates. However, hash that bubbles like mad is not a good thing either: this may indicate that there are added oils put there by savvy producers, aware of the bubble test. Look for the 'sweet spot'.
Additionally, your nose can help to determine the quality of your hash. Good hash should be mildly fragrant at the very least. Turnoffs are stale, mouldy, or plastic-like smells.
TOP 10 COFFEESHOPS FOR HASH
Without further ado, here's our list of the top 10 coffeeshops to hit up for hash as voted by over 50,000 participants:
1. COFFEESHOP AMSTERDAM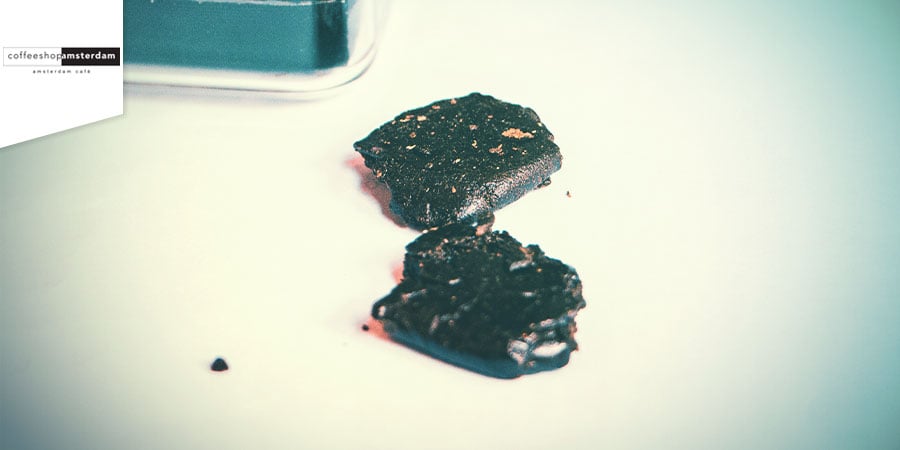 Coffeeshop Amsterdam, previously known as The Dampkring, has served as one of the most popular coffeeshops in the city for over two decades. It boasts top service, a cosy rustic interior with plenty of upstairs seating, and one of the best cannabis menus in town.
As we mentioned earlier, there's no beating the Waterworks Hash at Coffeeshop Amsterdam. With its light, crumbly texture, beautiful aroma, and extreme potency, this stuff is a real connoisseur delight.
2. THE STUD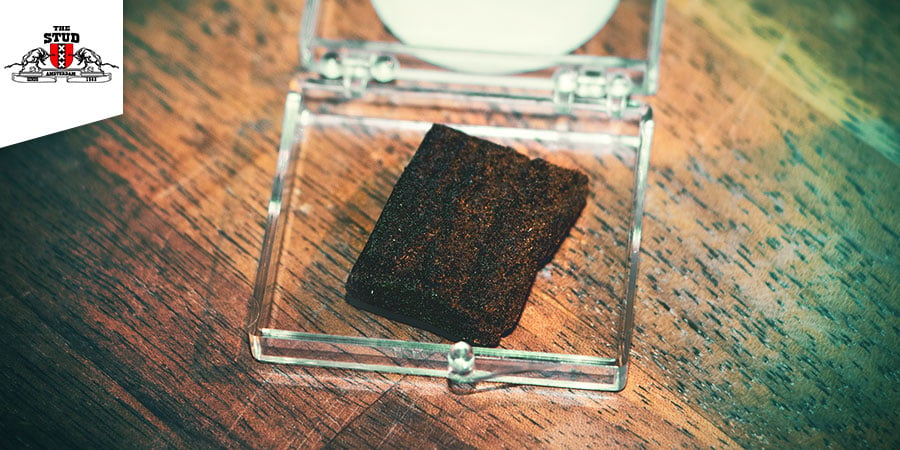 The Stud is located in East Amsterdam. While it's a very small shop with limited seating, the friendly attitude of its staff and the great selection of flower, hash, and edibles make this one of our favourite spots in the city.
The Stud usually carries a wide variety of hash that's always changing. Their top-shelf stuff, however, is listed on their menu as Canna Hash. This hash is extra potent and boasts some incredible flavours. Right now, our favourite Canna Hash at The Stud is Kosher Kush, which delivers an ultra-relaxing indica stone and some delicious kush aromas.
3. BOEREJONGENS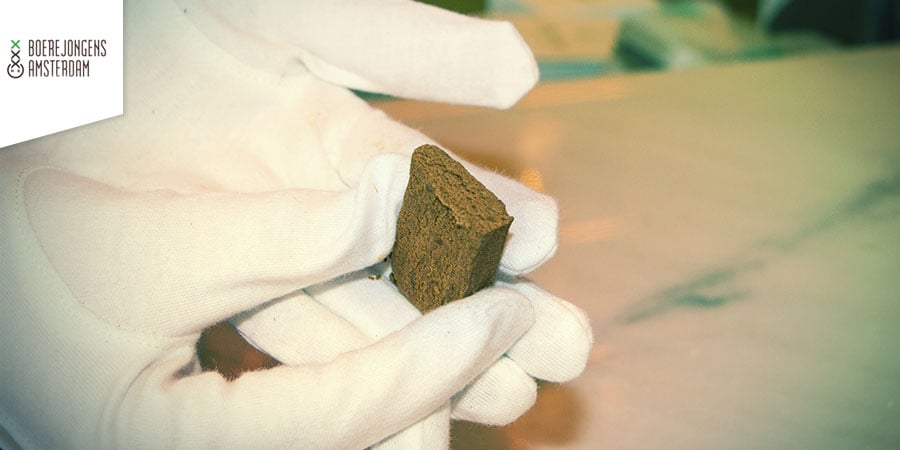 Boerejongens forever changed the Dutch coffeeshop scene by providing its customers with an upmarket experience similar to what you'd expect at a wine boutique. Imagine warm wooden interiors, elegant marble counters, and budtenders who know their strains like sommeliers know their grapes.
If you're a real hash connoisseur, there's no beating Boerejongens' Tangerine G13 Isolator Hash. Made using Amsterdam Genetics' Tangerine G13 hybrid, and the same ice water extraction method used to make bubble hash, this hash boasts amazing flavour and a super relaxing stone that'll last for hours.
4. 1E HULP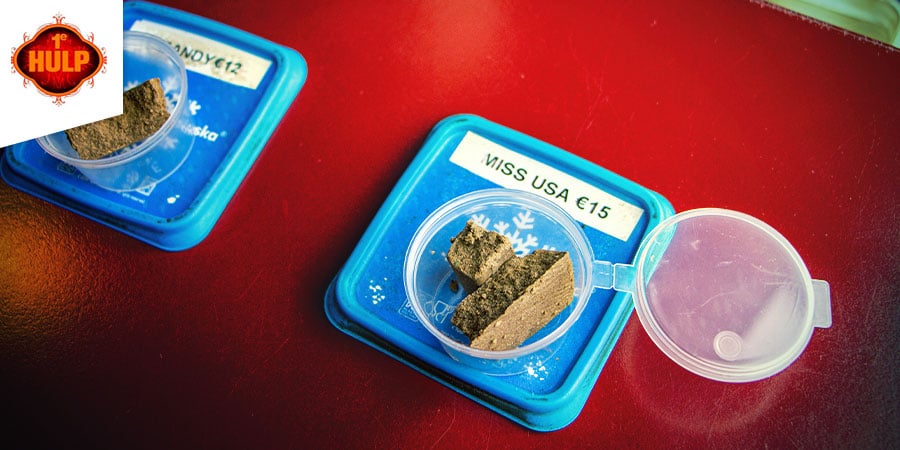 Situated on Marnixstraat just behind the Jordaan district, 1e Hulp (or First Aid) has received numerous mentions at this year's Coffeeshop Awards. And given its friendly service, modern vibe, and a great menu, it's not hard to see why.
While 1e Hulp also stocks a variety of isolator hash, we recommend trying the Moonrocks for something a little different. These little spheres of power are made by taking regular flower, covering it in sticky cannabis oil, and topping it all off with a thick coating of kief. While nothing like traditional hash, 1e Hulp's Moonrocks are a must-try.
5. BARNEY'S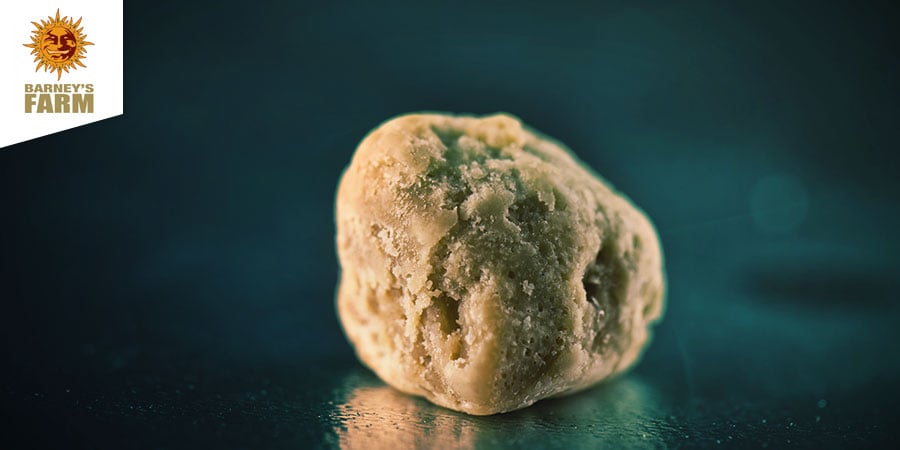 The team behind Barney's Farm seedbank has expanded its reach with coffeeshops and cannabis-friendly bars. With years of experience and a catalogue of strains dating back to the 1980s, it comes as no surprise that Barney's is where you'll find some of the best weed and hash in Amsterdam.
Barney's hash menu is loaded with cannabis cup winners. And while you can almost go for anything knowing it'll be stellar, we highly recommend trying Barney's Caramella Cream, or Barney Rubble (isolator) for extra potency.
6. HAPPY FEELINGS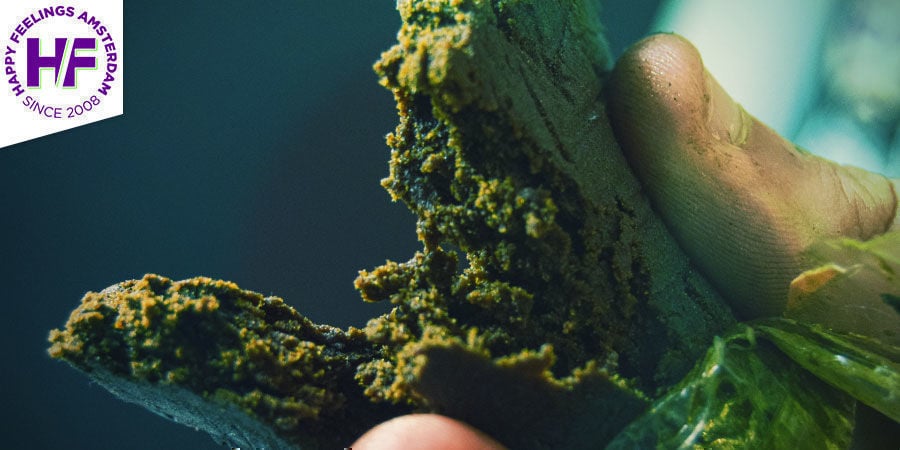 Happy Feelings is another smaller coffeeshop that sets itself apart with its killer menu. Located in the city centre, this store attracts a lot of tourists thanks to its unique 420 canal cruise that takes visitors on a THC-induced boat tour of the city.
Happy Feelings always stocks a solid variety of hash, and it's all worth trying. However, its pièce de résistance is without a doubt the isolator hash. Available as a sticky, pressed block or a fine powder, this stuff tastes great, produces a lovely stone, and won't break the bank like some of the other hash mentioned in this list.
7. AMNESIA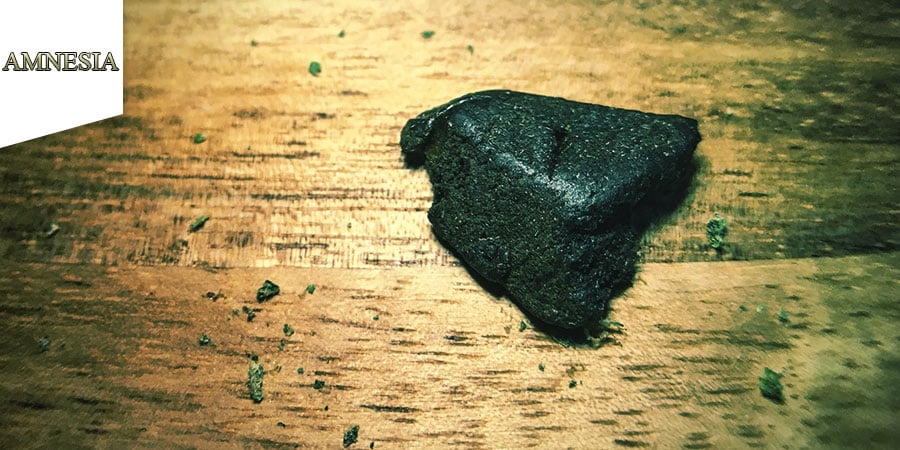 Amsterdam's Amnesia Coffeeshop has developed as big a reputation as the strain it's named after. Only a few blocks from the Anne Frank House on Herengracht street and close to the city centre, this store's location is pretty hard to beat.
Amnesia's hash menu will spoil you for choice, offering hand-rolled charas, pressed hash, and isolator cream. For something a little different, however, we recommend trying Amnesia's Nepali Pollen, which won the Hash Cup in 2012.
8. THE BULLDOG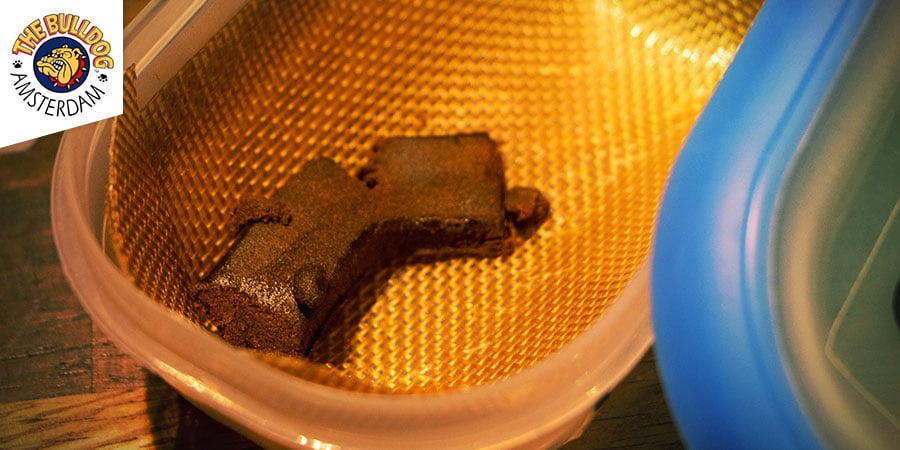 The Bulldog needs little introduction. While there are multiple Bulldog establishments spread throughout Amsterdam today, it all started with The First at Oudezijds Voorburgwal 90. Recognised as Amsterdam's first coffeeshop, The Bulldog's legacy is hard to match, as is its menu.
Try The Bulldog's Lemon Crossing hashish for a big, lemony aroma and an uplifting cerebral high that's perfect for enjoying on a stroll through the city.
9. BABYLON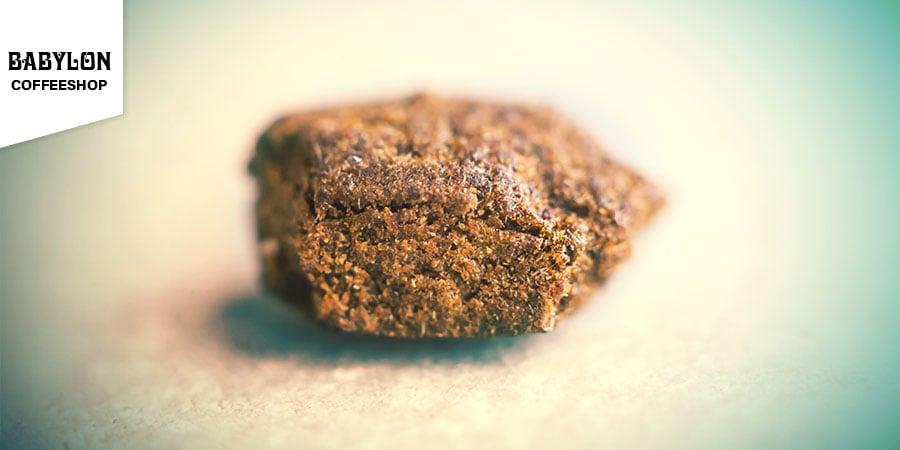 Babylon is beloved for its friendly service and top menu that brings together some of the best hybrid strains and hash varieties in the city.
Babylon currently stocks some great isolator hash at one of the most competitive prices. Alternatively, Babylon also stocks Moonrocks and a variety of pressed hash, including its own Super Babylon and Super Polm (pollen).
10. GREEN HOUSE COFFEESHOP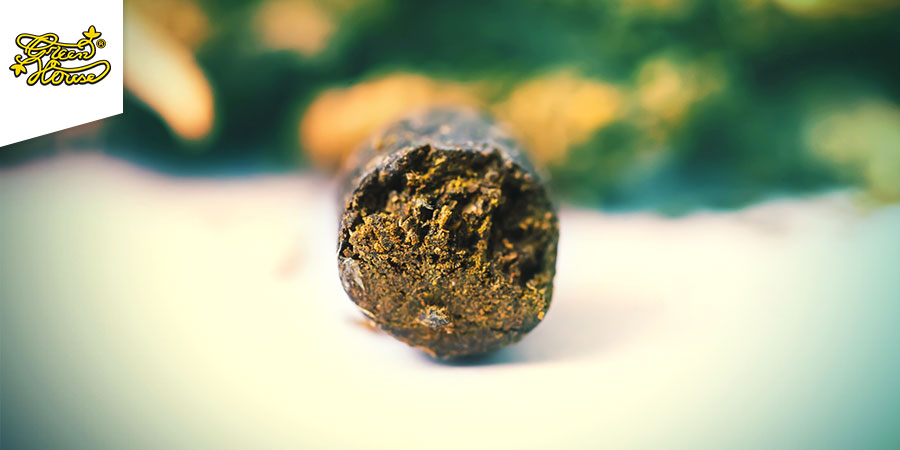 Green House Seed Co. is another one of Amsterdam's leading seedbanks. Today, you can enjoy a selection of Green House strains at each of their four locations, including Green House Centrum, located at Oudezijds Voorburgwal 191 in the heart of the red light district.
When it comes to the menu at Green House, there's no beating the Super Lemon Haze Cream. Made exclusively for Green House, you won't find this same hash (or at least not the same quality) anywhere else in the city.