Strain Review: White Widow

2 min
White Widow is the mother of the legendary "White" family. This most famous plant is known to be highly resinous and extremely potent, which is why it has won numerous awards since its birth in 1994.
The White Widow is undoubtedly one of the most successful cannabis varieties sold on the market today. Many breeders claim that their version is the original, but it was first released to the public in 1994 by Shantibaba, the former co-owner of Green House Seeds and current founder of the Mr. Nice seed bank. The exact origin of the mother plant he used to create White Widow remains somewhat of a mystery but the most educated guess is that it could very likely be the old school Brazilian landrace Sativa Manga Rosa.
Shantibaba discovered the father of White Widow during a trip to India, where he was approached by a man, who, after smoking a blunt with him, eventually led him to his cannabis farm in the mountains of Kerala. The farmer introduced him to an indica hybrid that had been particularly cultivated and bred towards optimum resin production for a very long time. After splitting from Green House Seeds, Shantibaba started breeding the Widow under the flag of the Mr. Nice seed bank and renamed it to Black Widow since the name White Widow was already being marketed by Green House Seeds. So, if you are looking for the original White Widow, you actually have to look for Black Widow.
| | |
| --- | --- |
| Brand | Zamnesia Seeds |
| Genetics | Indica/Sativa |
| Parents | White Widow |
| Flowering Time | 9 weeks |
| THC | High |
| CBD | Medium |
| Yield (Indoor) | 400 g/m2 |
| Yield (Outdoor) | Medium |
| Height (Indoor) | 60-100cm |
| Height (Outdoor) | 150-200cm |
| Available as | Feminized seeds |
The genetics of White Widow are made up of 60% indica and 40% sativa, bringing forth a compact plant of medium height. White Widow is relatively easy to grow, even for novices, because of its resistance to mold, mildew, pests and colder climates. Reared indoors, the strain flowers between eight to ten weeks. Grown outdoors, it is ready to harvest at the end of September/early October, even when planted as late as June.
White Widow performs very well in a ScrOG setup and particularly great in hydroponic systems. More experienced growers can expect a harvest of 700 to 800 grams per square meter indoors or up to 900 grams per plant when grown outdoors. While less experienced growers may get smaller yields, those that wait the last few weeks will have buds crusted in a snowy white layer of resin still more than worth the time and effort. The outrageous resin production makes White Widow an ideal contender for hash and BHO production.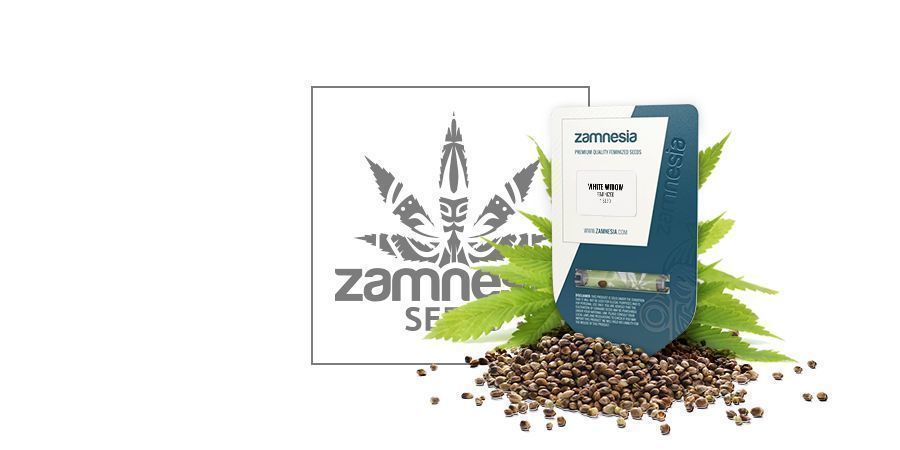 View Product
The buds of White Widow are very dense and exude a smell of passion fruit and kiwi, with an undertone of skunk. The taste of the smoke is very fruity, very smooth and has a finish like no other. You can taste a blend of citrus rinds for several minutes after every puff. And not only the flavor is luxuriant - with a THC level of around 20% White Widow is a highly potent variety.
The number one use of White Widow is to increase appetite for those suffering from anorexia like that brought on by AIDS or cancer. It is also used by those seeking relief from stress and anxiety disorders, such as PTSD. Since the strain still has indica effects, it is also chosen by those seeking to alleviate muscle tension and chronic pain. Due to the strong feelings of relaxation after the initial euphoria fades out, White Widow is recommended for evening use and chosen by many to drift into slumber.
Written by: Zamnesia
Zamnesia has spent years honing its products, ranges, and knowledge of all things psychedelic. Driven by the spirit of Zammi, Zamnesia strives to bring you accurate, factual, and informative content.

Find out about our writers
---