Sour Diesel: Cannabis Strain Review & Information
2 min
Sour Diesel is a popular sativa hybrid that stands out with an uplifting effect and unique fuel-like flavours. Read on for a comprehensive review of this specimen.
Sour Diesel is one of the most widely recognised cannabis strains. Her energising cerebral effect and distinct fuel-like aroma have earned the strain its legendary status. Artists, athletes, and the average stoner will all find something to love in this inspiring strain.
CHARACTERISTICS OF SOUR DIESEL
Sour Diesel is a sativa-leaning (70% sativa) hybrid with a medium-high THC content. The strain is one of the most famous sativas in existence and displays a uniquely savoury flavour profile.
| | |
| --- | --- |
| Genetics | 70% Sativa, 30% Indica |
| Parents | Diesel, Northern Light |
| THC | 18%+ |
| CBD | <3% |
| Flavours | Petrol, Skunk, Sour Citrus |
| Effects | Cerebral, Uplifting, Energising, Creative |

Sour Diesel is a potent hybrid bred from Diesel and Northern Light. Combining a surging sativa with a nearly pure indica immediately cemented Sour Diesel as an unprecedented top-shelf variety. She is, and will likely continue to be, one of the most famous sativa strains enjoyed all over the world.
The reason for Sour Diesel's success is in part due to an extremely pungent aroma dominated by notes of petrol, herbs, and a bit of spice and citrus.
In addition to her invigorating taste, Sour Diesel is equally respected for her buzzing head high that spares the body the lethargy that normally comes from strains of her potency. As such, this strain is considered a great daytime variety to help stimulate motivation and creativity. Depending on the seed bank and phenotype, Sour Diesel's THC levels range from 18% to 26%—certainly potent enough to exert its full range of effects.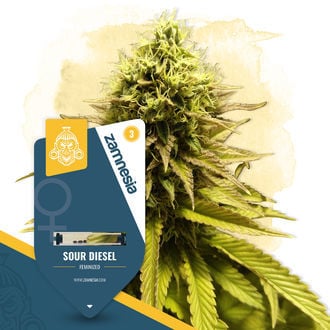 View
HOW TO GROW SOUR DIESEL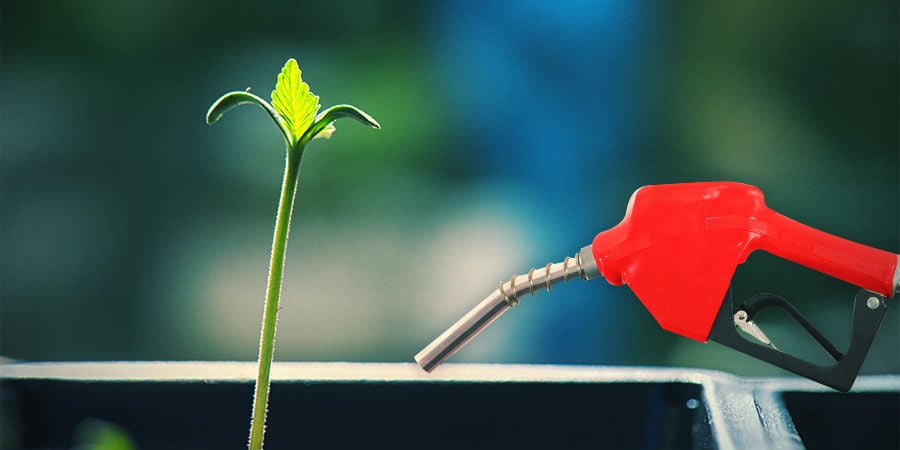 Sour Diesel is a strain of medium growing difficulty. Although she's not that difficult to wield, her long flowering period makes the strain more suited to those with some experience.
| | |
| --- | --- |
| Grow Difficulty | Intermediate |
| Best suitable to grow | Indoor / Outdoor |
| Climate | Warm, Sunny |
| Variety | Feminized |
| Height Indoor | 100–130cm |
| Height Outdoor | Large |
| Flowering Time | 70 Days |
| Harvest period (outdoor) | Early November |
| Yield Indoor | 450–600g/m² |
| Yield Outdoor | 600–700g/plant |
Sour Diesel produces good results both indoors and outdoors as she isn't quite as lanky as other sativas. In a typical indoor setting, plants will reach heights of 100–130cm, so she is still rather manageable. The drawback of this sativa-leaning strain is her long flowering period of about 10 weeks. Come harvest time, the strain will yield 450–600g/m² in optimal conditions.
Grown outdoors, Sour Diesel prefers it warm with plenty of sunshine. She also needs particularly fertile soil to produce optimal results. Her long flowering time can push harvest into the first days of November, so she can only be feasibly grown outdoors in Southern regions with long summers. If all goes well, however, outdoor growers can expect monster plants that each yield 600–700g.
SOUR DIESEL: FLAVOUR & EFFECTS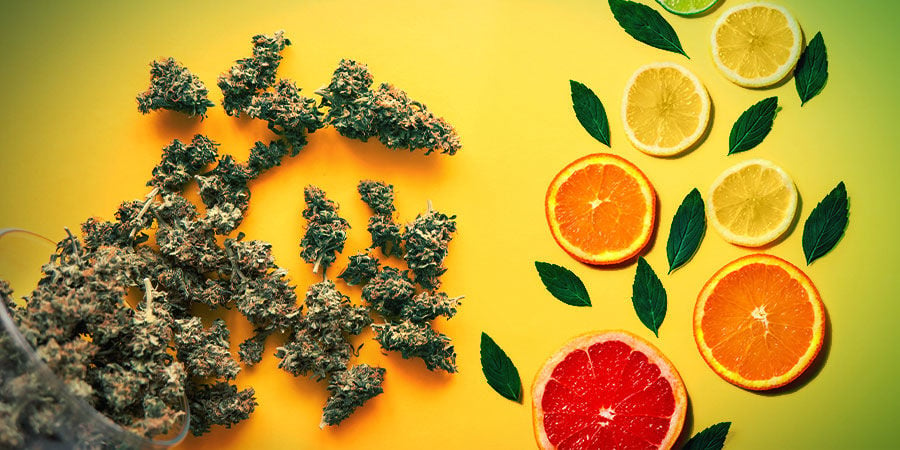 Sour Diesel has a particularly pungent aroma that blends trademark diesel notes with Skunk laced with sour citrus and herbs. Smoking this strain is like tasting a perfectly prepared meal from a Michelin star restaurant, only this meal will get you sky-high.
Her effect is mainly cerebral, supercharging the mind without sending it into orbit. There is little effect on the body; just enough to gently soothe without producing any significant lethargy. She has an invigorating and energising effect that complements all sorts of activities, from painting and writing to house chores.
This makes Sour Diesel a good daytime smoke for those seeking inspiration and motivation, as well as those looking for a great wake and bake candidate. Many users value the strain for its uplifting and happy effect. That said, given its heady nature, Sour Diesel is not recommended for those prone to anxiety and paranoia when smoking cannabis.
FINAL VERDICT: SOUR DIESEL IS NOTHING SHORT OF ICONIC
Although not the easiest and certainly not the fastest strain to grow, Sour Diesel is a must-grow for sativa lovers. Her standout flavour and "upper" high are too good not to capture.