Strain Review: Sour Diesel

2 min
Sour Diesel is a well-known cannabis strain with strong genetics and a unique flavour that has connoisseurs coming back for more.
Sour Diesel, also known as Sour D, is another one of the strains with a mythic status and a shrouded history. The original was thought to have been discovered by accident where it is rumoured that a ChemDawg plant was pollinated by a nearby Skunk hybrid. This original and real Sour Diesel is thought to be only available as a clone, although many seed banks and breeders have successfully back crossed to create a more stable and improved versions.
The popularity that surrounds Sour Diesel is one that is easy to understand, the combination of unique and exotic taste, mixed with a powerful and clear cerebral effect, and mellow body numbing qualities creates an experience to be sought after. As the name suggests, the aroma and taste of Sour Diesel is a strange, but highly enjoyable mix of jet fuel and skunk. It results in some extremely pungent product that can knock you back if you get a nose full. The high that is induced, as mentioned, is powerful. It energizes, motivates and uplifts the mind, without throwing it into the far outer reaches of space – giving you a real "can-do-get-up-and-go" attitude.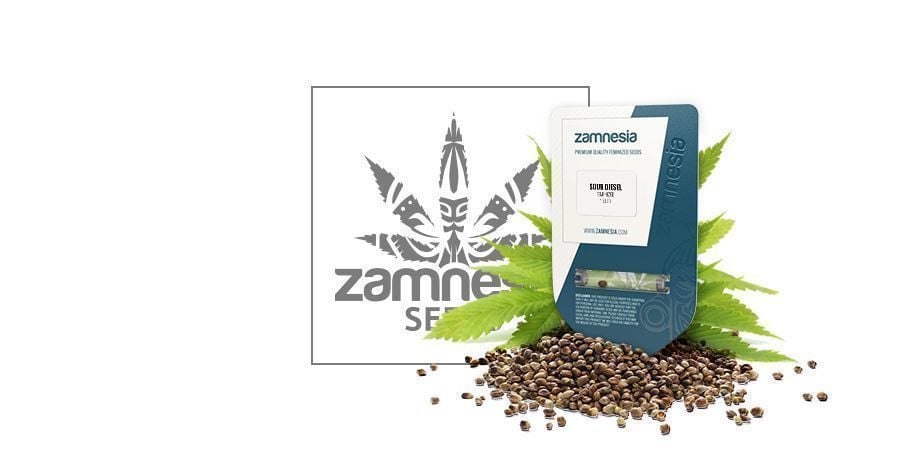 View Sour Diesel
Not only does Sour Diesel affect the mind, but the indica side of its genetics make it a popular choice among medical users for alleviating pain and soothing aches. It is the combination of clear headed high, and physical relief that makes it so popular with medical patients. Sour Diesel is anecdotally reported to be most suited for treating stress, pain and depression. However, it is also used to help with anxiety, ADHD, PTSD, Bipolar disorder and Migraines.
As a grower, Sour Diesel can be quite a demanding mistress, especially if you decide to grow her indoors. She is best suited to warmer outdoor climates, such as those found in Spain, Italy and California, and will really thrive in them. In this environment Sour Diesel can grow into an absolute giant, and produce mammoth yields. This gigantic size can make growing Sour Diesel indoors quite a challenge, especially in smaller grow rooms. However, with a skilled hand and some thought out training of the plant, Sour Diesel can produce just as pleasing results indoors. It is worth noting that Sour Diesel has a very distinct and pungent aroma – this should be taken into account if you are considering this strain, as you don't want nosey neighbors catching a whiff!
Sour diesel grows extremely tall and thin, often towering up to heights in excess of 1.3 meters – this skyrockets even further in an outdoor setting. Indoors, Sour Diesel has a flowering time of roughly 10-12 weeks, and in an outdoor setting, is usually ready for harvest around mid-October. In terms of yield, Sour Diesel can produce around 450-600 grams/m2 of some extremely high quality and THC rich bud, (THC varies from seed bank to seed bank, although they all tend to be in excess of 16%)
| | |
| --- | --- |
| Brand | Zamnesia Seeds |
| Genetics | Sativa-dominant |
| Parents | Diesel x Northern Lights |
| Flowering Time | 10 weeks |
| THC | High |
| CBD | Medium |
| Yield (Indoor) | 450-600 g/m² |
| Yield (Outdoor) | High |
| Height (Indoor) | 1-1.3m |
| Height (Outdoor) | Medium |
| Available as | Feminized seeds |
On the whole, Sour Diesel offers a very unique flavour and experience. It is well worth trying out in you can get your hands on it. It is a connoisseur favourite, and has an almost cult like status. Saying this, as a grower, it is a strain better suited for semi-experienced hands, as the large nature of the plants may cause first time cultivators to struggle. Not to say it's impossible, it will just take a little more effort compared to some easier and more forgiving strains.
Do you have an experience with Sour Diesel? Prefer one seed bank's version over another? Let us know your thoughts in the comments below!
Written by: Zamnesia
Zamnesia has spent years honing its products, ranges, and knowledge of all things psychedelic. Driven by the spirit of Zammi, Zamnesia strives to bring you accurate, factual, and informative content.

Find out about our writers
---