Blueberry: Cannabis Strain Review & Information
3 min
Renowned for her fruity flavour and chill effects, Blueberry has certainly amassed huge popularity over the years, winning multiple awards. Fans of fruity, sweet berry flavours take notice; there's plenty to like here. Find out all about this indica-dominant hybrid, and why she deserves a coveted spot in your grow room.
Blueberry is a multi-award-winning strain that has found its way into the grow room of many an avid cultivator, and for some great reasons! Fans of big, fruity flavours and easygoing growing will find refuge in Blueberry, as will lovers of chilled-out, relaxing highs. Let's take a look under the hood of Blueberry and see exactly what you're in for.
Characteristics of Blueberry
Blueberry is the result of a potent pairing of Purple Thai and Thai. A feminized strain suitable for both indoor and outdoor growing, she is quick to mature in any setting. With some impressive yields alongside a reasonably high THC content, Blueberry stands out from the average indica-dominant strain.
| | |
| --- | --- |
| Genetics | 80% Indica / 20% Sativa |
| Parents | Purple Thai x Thai |
| THC | 18% |
| CBD | <1% |
| Flavours | Sweet, Fruity, Berries, Earthy |
| Effects | Relaxing, Soothing, Body High |
Lovingly crafted by the good folks at Zamnesia Seeds, Blueberry takes the form of an 80% indica-dominant hybrid with a THC level of around 18%. Invoking the finest aspects of her parentage, Blueberry offers a well-rounded, soothing, and totally relaxing high that will definitely do the trick after a long day.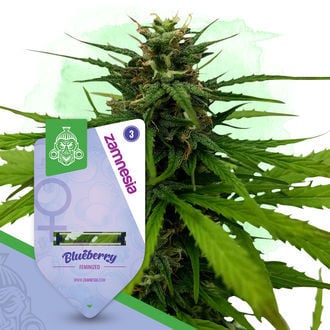 View
How To Grow Blueberry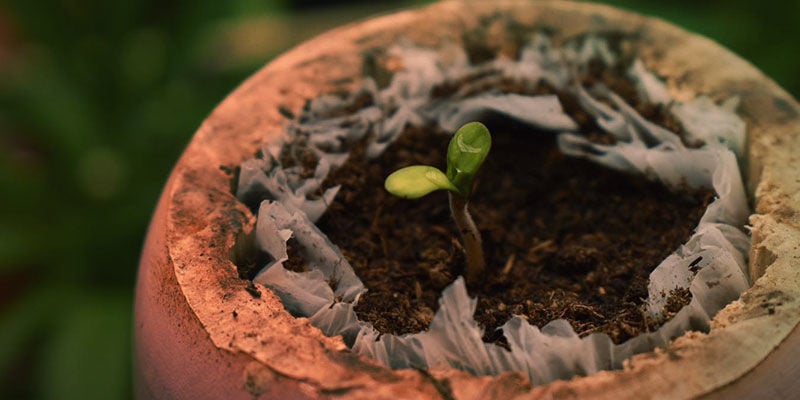 Growing Blueberry is a straightforward task, thanks again to some finely tuned genetics. Growers can expect an uncomplicated growing project suitable for almost all experience levels. Even first-timers will find a receptive plant in Blueberry.
| | |
| --- | --- |
| Grow Difficulty | Beginner / Intermediate |
| Best Suited To Grow | Indoor / Outdoor |
| Climate | Warm, Temperate |
| Variety | Feminized |
| Height Indoor | Medium |
| Height Outdoor | Medium |
| Flowering Time | 8 - 9 Weeks |
| Harvest Period (Outdoor) | Early October |
| Yield Indoor | Large |
| Yield Outdoor | Large |
Blueberry can easily be cultivated both indoors and out, giving the grower plenty of options when it comes to setup. Growing to a medium size, she won't take over any space. Couple this with a low-maintenance, zero-fuss attitude, and she's effortless to manage. A little pruning here and there go a long way to keep her in check. But for the most part, she'll practically take care of herself.
Grown indoors, Blueberry will quickly feel at home in a tent, room, or even a closet. As long as there is sufficient light and plenty of ventilation, the options are truly limitless. Taking just 8–9 weeks to flower, she's speedy and provides large yields.
Plants cultivated outdoors tell a similar story. They respond well to almost any environment and are resilient against external threats. Whether you're looking to grow her in beds, pots, or on a balcony, just be sure to position her in a spot where she'll receive plenty of light. Blueberry thrives in temperate and warm environments, but is generally easygoing with the right level of care. Come October, she'll be ready to harvest.
Those looking to implement LST and other training methods are in luck with Blueberry, as plants respond well to topping and other yield and height-controlling techniques.
Blueberry: Flavour & Effects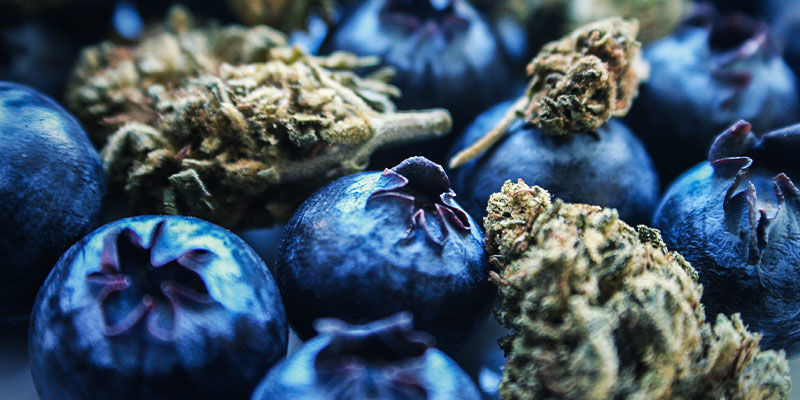 It's certainly no happy accident that this strain is called Blueberry; she's simply bursting with exceptionally fruity flavours and super-sweet aromas. She also has a slight earthy note to her profile that only adds to the experience.
With an average THC content of 18%, Blueberry provides a rich, soothing, full-body high. Smokers won't be locked to the couch, but the chill vibes will flow in abundance, and you probably won't want to do anything too serious under her influence. Whether smoked or vaped, the outcome is very much the same; she'll bring the mind into the present moment and momentarily lift away worry as her berry flavours fill the air.
Blueberry Automatic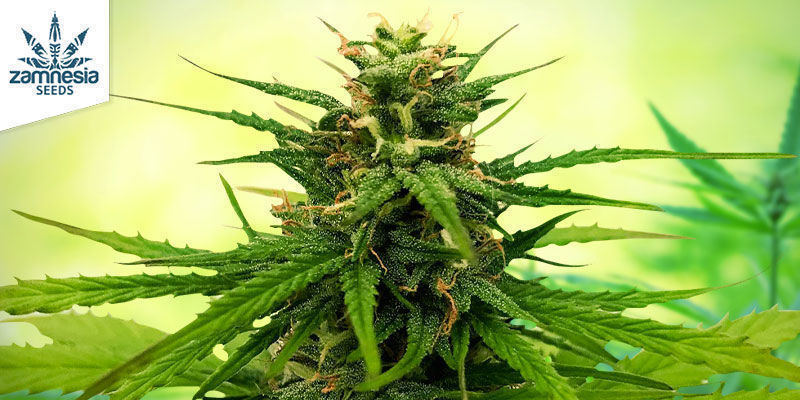 While Blueberry is an easy-enough growing project for all, those that prefer even more of an undemanding task can opt for Blueberry Automatic. By combining Blueberry with ruderalis genetics, the team at Zamnesia Seeds has produced an autoflower that is a cinch to cultivate.
There are a few key differences between the feminized and autoflowering variants. Blueberry Automatic is short (reaching heights of around 80cm), takes roughly 8–9 weeks from seed to harvest, and produces some decent yields in the region of 450–500g/m². Her bountiful buds still provide great berry flavours and aromas, but she averages around 15% THC and 3% CBD—so her cannabinoid content is slightly different from the feminized Blueberry.
Whichever version of Blueberry you opt for, one thing's for sure, you'll be blown away by her impressive flavour profile! Those looking for a hands-off growing project, or looking to speed up the growing cycle for a faster turnaround, may wish to opt for the autoflowering variant to achieve Blueberry buds in next to no time.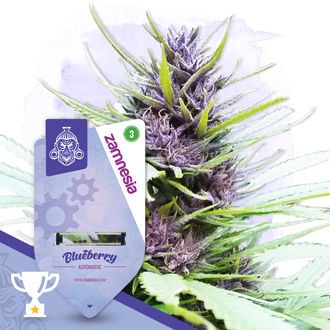 View
Blueberry Brings Beauty to Every Grow Space
Not only providing fantastic flavours and impressive yields, Blueberry is a hearty and robust specimen, displaying great vigour and resilience during her life cycle. She's versatile, and bound to bring exceptional beauty and aromas to any grow space.