Blog

4 min
The Origin Of Amnesia Cannabis And The Top 3 Amnesia Strains
4 min
Amnesia is one of the most popular strains out there and not by luck. In this blog, you'll understand more about the strain and how to grow these incredible plants.
In our The Origin Of series, we take a look at classic strains that forever changed the cannabis game. These groundbreaking genetics have spawned many of today's most popular strains, and continue to inspire old and new school breeders. If you are hungry for even more classic strain knowledge, check out our Origin Of blogs highlighting Haze, Gorilla Glue, and Blueberry.
Dutch Seedbank "Super Strains" is the home of the Original Amnesia, the famous cannabis strain renown the world over for her unique high. Created in 1996, Amnesia has managed to stay on top of her game, as she is still one of the most coveted smokes in today's stoner society, and has spawned an army of Amnesia-related hybrids.
There are nothing but accolades regarding this plant. With THC contents as high as 25%, consumers should expect a greenout when smoking too much of this strain. It's an extremely sativa-dominant plant with a ratio of up to 90% sativa and 10% indica.
This is a relatively tall plant with slim buds that show lighter tonalities than most. This happens because of the lack of chlorophyll. The lack of this important pigment doesn't change much, besides the fact that the plant will take longer to grow. Expect a flowering time between 10-16 weeks, which is very long considering some indicas do the same in half the time.
THE HIGH AND FLAVOUR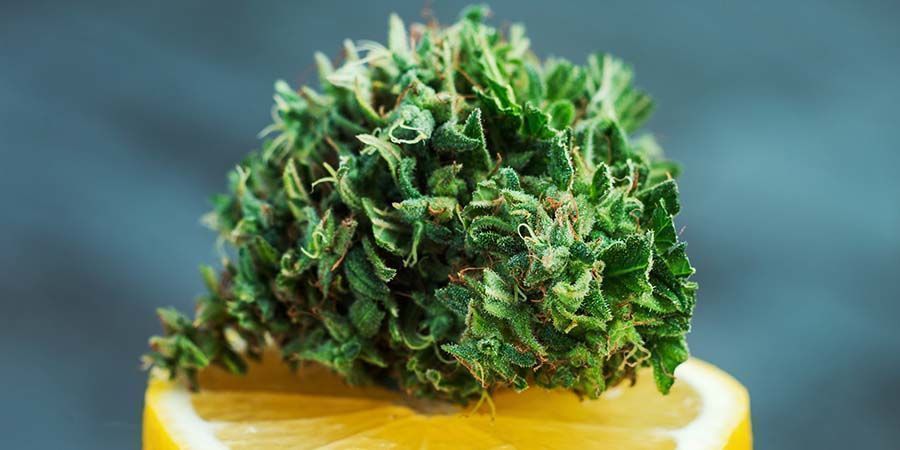 As mentioned, Amnesia strains are a hugely popular choice amongst the cannabis community. This can largely be attributed to the flavours, aromas and effects they produce.
Typically containing high levels of THC and being sativa-dominant, Amnesia has the potential to provide an energising, euphoric and uplifting high with huge cerebral effects. Ideal for chilling when a chill session is needed. While not providing couch-locking sensations for the user, Amnesia strains still have a slight indica side that shines through at the perfect moment, producing relaxing feelings that make it the perfect choice for a more social setting with friends.
Whether you're looking to smoke or vape your Amnesia strain, you'll find great flavours and aromas regardless. The first thing that will hit users is a unique citrus aroma that carries over flawlessly to her taste profile. Amnesia strains will usually showcase lemon-like flavours mixed with a little earthiness and a bit of pine for good measure. The result is a clear and beautiful blend, no matter how you choose to consume it.
When it comes to the high and flavour, Amnesia strains are a very accessible option for any cannabis connoisseur regardless of their experience. Consumers are treated to an outstanding flavour profile that is only matched by great potency and effects.
Top 3 Amnesia Strains
Break open a bud and you'll be left with a spicy scent, which will be appreciated by stoners who already enjoy the other members of the Haze family. Despite all this richness and consistency, the smoke is smooth. Overall, if you're a fan of cannabis, the sensations emitted by this beauty will make you fall in love with it.
1. Amnesia Haze By Zamnesia Seeds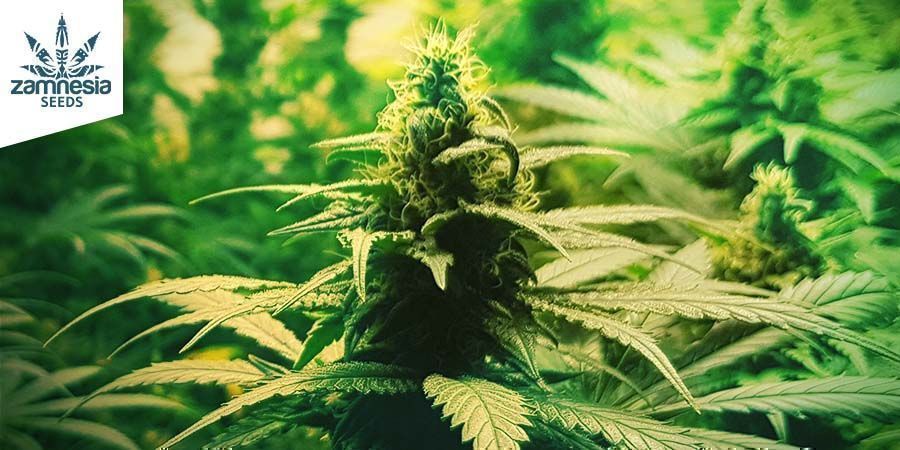 The great guys over at Zamnesia Seeds decided to mix the genetics of the already great Amnesia with the sativa Haze. This made an explosive strain that is as equally popular as it is highly-rated. You can expect great outcomes from these buds. Its energetic and euphoric effects are usually described as psychedelic.
For the beginner stoners out there, be careful. This is not a strain to puff on too much. Take a couple of hits and assess yourself. Only when you truly feel in control of your high should you consider smoking any more.
Much like the original Amnesia, the Amnesia Haze will have a flowering time of 12-13 weeks. That's the price you pay for such incredible experiences. Perseverance is rewarded with this plant. It can yield up to 650g/plant on an outdoor plantation. This doesn't come easy, but treat the plants with care and Amnesia Haze will do good by you.
2. Amnesia Haze Automatic By Royal Queen Seeds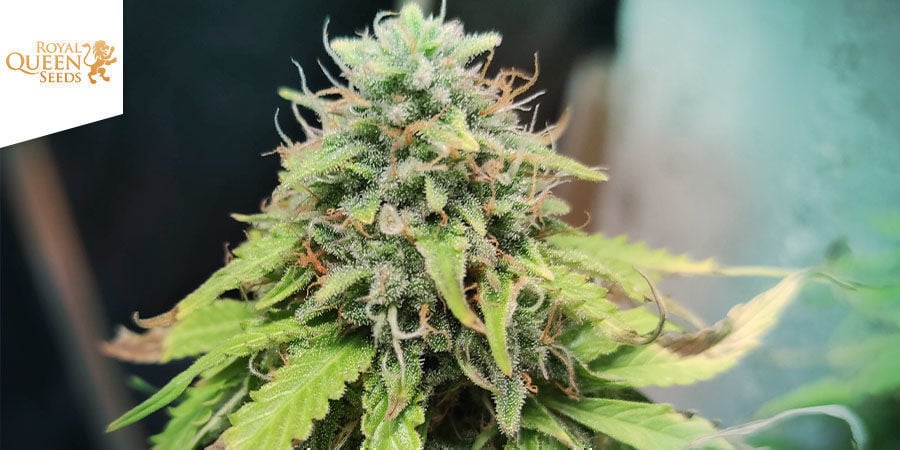 By crossing the original Amnesia species with some ruderalis genetics, the team at Royal Queen Seeds created Amnesia Haze Automatic. This autoflowering masterpiece is ideal for those that are already fans of Amnesia strains but want an easygoing home growing project. Able to provide some pretty sizeable yields, this is a plant that can perform when allowed to flourish in the proper setting.
The hallmark Amnesia musky and citrus aromas are still very much present here while she grows. Her flavour is also indicative of the classic cultivar as she boasts some impressive spicy and earthy notes coupled with moments of sweetness.
Not only recognisable in terms of flavour, but Amnesia Haze Automatic also provides a strong cerebral high that is uplifting with moments of euphoria. Eventually, she settles into some relaxing and soothing sensations that are bound to please all that try her.
Taking 12-13 weeks to flourish from seed to harvest, Amnesia Haze Automatic takes a little bit longer than the average autoflower. However, she's so easy to manage that the time simply won't bother you. Not an overbearing strain, she'll only reach heights of around 1m and will reward growers with easily around 350-400g/plant. Just be sure to provide a little love when required, and she won't let you down.
3. Amnesia Lemon by Barney's Farm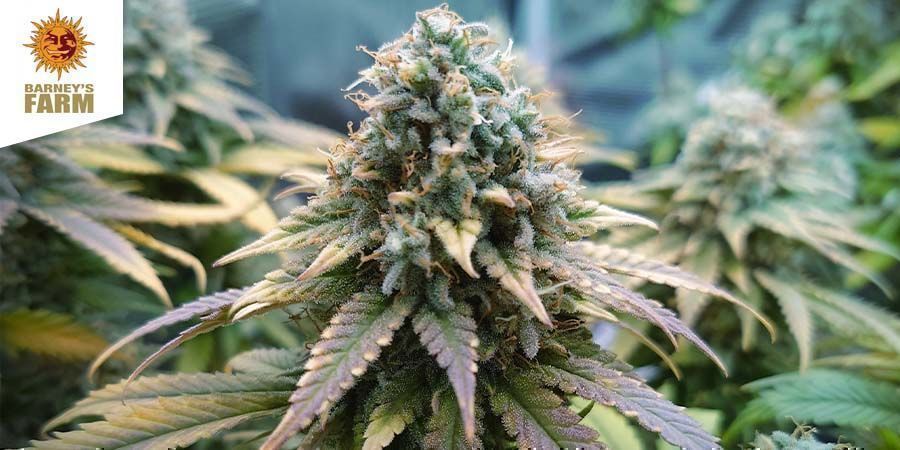 Amnesia Lemon is another great twist on an already amazing strain. It's a delicious genetic blend made by crossing Amnesia Haze with Lemon Skunk, two all-time greats in the cannabis world.
It was created by the masters over at Barney's Farm Seeds and the legendary Soma Seeds. This collaboration gave these companies the High Times Cannabis Cup in 2004. 3 years later, Barney's Farm was given the first prize for best sativa in the same competition for the same flower.
The fantastic flavours and aromas, in conjunction with the power of both lineages, produced this spectacular strain. The uplifting and cerebral high is noticeably sativa, even though it only comprises 60% of its genetics. Her effects will let you know straight away that she contains up to 21% THC. Be prepared for a great high. The Amnesia Lemon has a flowering cycle of just 8-9 weeks, which is fantastic for a Haze genetic.
DON'T FORGET ABOUT AMNESIA
These are all great seeds that will give you fantastic plants. It's only up to you to take care of them. Treat your Amnesia plant with the respect it deserves, and its buds will respect you back. You'll surely be satisfied with the experience of smoking these buds. Just be careful when including your inexperienced stoner friends in the sesh. Best of luck with your plantation and harvest.